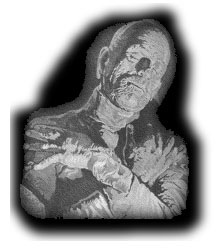 Columbine, the dark-haired moppet who runs the show around here, arrived first, in a teal tank top and khaki hiking shorts, a book bag slung over one slender shoulder. Golem scurried in moments later, wearing sunglasses, even though the sun itself was setting like a big orange sore behind the distant skyscrapers.

The loft was already a miasma of litter from the Issue-In-Progress. A map of England hung on the wall, and the executive-length table was strewn with ancient magic books, photographs of English and Scottish magicians, a handsome copy of Simon Says, Norrie Epstein's The Friendly Shakespeare, a Magic Castle drink menu from the sixties, copies of Effortless Card Magic and Show-Time at the Tom-Foolery and The Card Magic of Nick Trost, T.A.'s encyclopedia, Genii's British Performers Issue from September 1991 (great cover art!), H&R's List 17, ads from Kaufman and Falanga and Lee, The People's Almanac, Elspeth Huxley's The Mottled Lizard, The Billboard Book of Number One Hits, a 1983-84 Revised Edition of TV Movies by Leonard Maltin (really need to get a newer copy!), a copy of Fowler plus Karen Elizabeth Gordon's The New Well-Tempered Sentence and The Transitive Vampire, Simon Lovell's lecture notes, the gaffed cards from "Ghost Flight," Donald Barthelme's The King, a recent photo of Tom Mullica smoking 16 cigarettes at once, Jim Magus's new seance book, Garrison's Who's Who in Wodehouse, T.H. White's The Book of Merlyn (big fucking hint!), Duffie's Card Compulsions, Gertner's Steel and Silver, a Cape Girardeau newspaper with an ad for Brett Daniels' new show, a dictionary, dozens of sheets of paper, napkins, and so on bearing frantically written ideas and URLs, David Siegel's new Secrets of Successful Web Sites, the August 25 issue of People, the September 15 issue of The New Yorker, and a deck of cards floating in a glass of beer. (I'm not a writer, I'm a synthesizer.)

"Before we get down to work," I offered, "does everyone want to play What I Did on My Summer Vacation?" We had all just returned from a month off, even longer in the kid's case, and I thought I'd let them settle before cracking the whip for the British issue. I was prepared to tell them of my summer affair on the beach with a young fashion model whose father doesn't understand her. It's the annual desperate lie, but it amuses them.

Columbine ventured first.

"I took a class at the college," she said. "Introduction to English Lit, 101. It was way more interesting than high school. Chaucer, Malory, Spenser, Shakespeare, Donne, Milton, Dryden, Swift, Pope, Boswell and Johnson, the lot of them. Early stuff, that is. It was one of those Total Immersion classes. Want to hear me recite something?"

I was impressed. Stunned, actually. I had not previously considered the child in an intellectual context.

She fidgeted.

"I'm, ah, thinking of enrolling full time," she said. "One of my professors, Bob, needs someone to help him with his research on Piers Plowman. He thinks he can get me a grant or something to help with the tuition and incidentals. And anyway my boyfriend, J.R., thinks it's a good idea. He says brains are sexy."

"Always my motto," I concurred. "You call your English professor Bob?" Why did I feel like a character in a Woody Allen movie? Why do things have to change?

"Who's this?" she said, adroitly changing the subject by turning to a photo of Simon Lovell. "He's cute. Married?"

"Quate!" I said, now sounding more like a pretentious secretary in a Wodehouse novel. "That's Simon Lovell. And he has a charming wife."

"So be it," she sighed. "And this one?"

"That's Peter Duffie. Do you recall the card trick I did where some cards were torn, sealed in an envelope, and folded?"

"That was one of the best ones you've done in decades! That was his?"

I turned to Golem for some help here. He was still wearing the sunglasses.

"I picked up a little work on the coast," he said. "I did some computer graphics stuff for Roger Corman."

"The Roger Corman? King of the B-movies?"

"He's quoted as saying he never made a B-movie in his life. Now he does made-for-tv movies. We just wrapped Sorority Bloodbath II, Horror Honeymoon, and Night of the Sewer Babes.

As heady an experience as it must have been for Golem, I knew that Corman probably didn't pay him much. I recalled a story of a young Jack Nicholson having to climb over a locked fence to get in to shoot the original Little Shop of Horrors.

"So what, it was like an internship or something? He kept you in Big Macs and fries?"

"I made 75 grand in August," Golem said casually. "Of course that's before residuals. There's a big demand for made-for-tv movies."

I reeled at the thought of matching such a salary. What about art? What about magic? I wondered if Roger Corman could use an aging web journalist who knew some pretty good card tricks.

Why did I feel as if the floor could open up beneath me at any moment, a physical as well as metaphorical possibility in our current offices? How could I put out the magazine without them? And that was a great tank top I was looking at.

"OK, let's get started," I said with a sinking heart. "Can anyone get me the phone number of Hayley Mills on tour?"