THE HUNDRED YEARS' WAR — So, what if someone asks what you did with a year at home, isolated for Covid-19?
If you were Mike Caveney, you could reply that you finished a book, a project that began decades ago as a college term paper, its subject no less than a complete History of Sawing a Lady in Half, the study of a century-long (and then some) drama of creativity, performance, thievery, sundered friendships, fortunes made sand lost, and litigation, lots of litigation. Try to imagine world in which magicians would vie for audiences, luring them across the street on the strength of their version of a single magic trick. Here we go …
The new book Sawing, subtitled One Hundred Years of the Astonishing History of Magic's Most Iconic Illusion, is organized into three sections, Before 1921, 1921, and After1921. Although the first part covers ideas back to The Discoverie of Witchcraft, more recent incidents are of interest. An 1873 broadside advertised that a Professor Hengler would perform an illusion titled SAWING A LADY IN TWO! Did this trick ever happen? No one knows, to this day. Much later, circa 1921, P.T. Selbit witnessed Val Walker's Radium Girl illusion, in which 36 rods penetrate a girl tied inside a box. This gave Selbit the idea that would make him rich.
In the section 1921, the story takes off. Selbit's Sawing in Two illusion was a hit in England, and it didn't take long for the news to reach America. Although there was plenty of piracy and other shenanigans to around, Horace Goldin emerges as the principal villain of this book. He immediately glommed onto the idea of sawing a woman in two, but added the twist of separating the box halves, thanks to an extra woman. He launched it in partnership with Thurston, who also performed it. When Selbit was about to arrive in the U.S., Goldin both patented the illusion and copyrighted every permutation of the phrase "Swing a Woman in Half." Hence Selbit performed "The Divided Woman," Goldin sued, and the pbublcity served them both. Neither wanted a decision. This pattern of litigation would continue throughout Goldin's life.
Over the 100 years since1921, dozens of magicians would contribute to the development and history of Swing. The box became smaller, shorter, wider, with doors that opened at the front to display the girl, or out the back to permit secret maneuvers, or would be clear versions such as Jonathan Pendragon's Clearly Impossible or Les Arnold's See Through Sawing in Half.
The Buzz Saw version had its own trajectory. Did Goldin invent it and Blackstone pinched it? Or did Blackstone purchase it for sixty dollars from a down and out Lester Lake? After Goldin "invented" it following the death of Alpe Barbour, who had pitched the idea to him? Note that Blackstone also had the girl lie prone while everyone else had her lie supine.
Some versions were bloody: Richiardi, Simon Drake, Penn a&Teller. And some creepy: Rajah Rabid created a realistic bisection with the assistance of Johnny Eck; Kevin James would revive the method years later with his own abbreviated friend.
But I stop here. My original intent was to summarize the entire story. I had read the book cover to cover, took copious notes, and began to write. Alas, it can't be done in the space I have. Mike Caveney filled 438 pages and wasted no words. Indeed, Mike's writing as always is exquisite, this especially evident when he diverges from strictly magical history and tackles more general history, such as that of the first two decade of the twentieth century or the rise and fall of vaudeville. Hence I'll "condense" the story of Sawing's last 100 years to prominent cast members: Carl Owen, Claude Conlin, Linden Heverly, Walter Gibson, Al Flosso, Jack Gwynne, Eil Jarow, David Swift, Silent Mora, Charles Carter, Percy Abbott, Nicola, Cecil Barrie, Les Levante, Dai Vernon (yes, he performed the trick and married the girl), Charcot, Dante, Goldin, Selbit, Alpe Barbour, Harry Blackstone Sr., Frank Luckner, Lester Lake, Joseph Dunninger, The Great Lester, P.C. Sorcar, Joseph Ovette, Anastasius asfikis, Guy Jarrett, George LaLonde, David Bamberg, Rajah Raboid, Johnny Eck, Maurice Rooklyn, Cantarelli, Robert Harbin, Virgil Mulkey, Zati Sungur, Tihany, Torchy Towner, Kirk Kirkham, John Daniel, Irene Larsen, Virgil & Julie, Mark Wilson, Richiardi Jr., Channing Pollock, Alan Wakeling, David Copperfield, Steve Fearson, Jonathan Pendragon, Les Arnold, Penn & Teller, Simon Drake, Kevin James, and Jim Steinmeyer.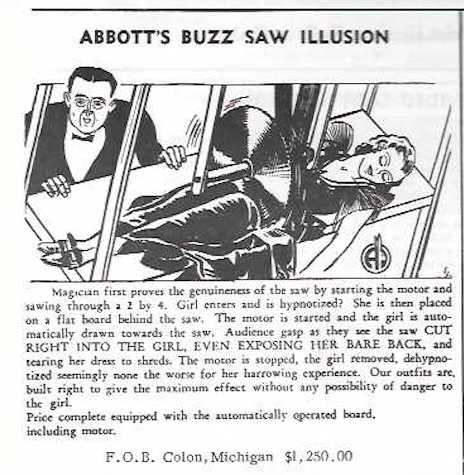 I contend that simultaneously the scariest and funniest version of the trick was at the hands of Mike Caveney himself. Under trying circumstances, he performed Abbott's Buzz Saw at a carnival, both his and his assistant's first time! What could go wrong?
Sawing is handsomely produced in large 9 by 12 format, gorgeously laid out, extensively and meticulously researched, wonderfully written, carefully proofread, and just all around great. I smiled as I read through all those names, because I know all the stories attached to them. $125 post paid, form Mike Caveney's Magic Words.
The job is done. Give Mr. Caveney an A+ for that term paper.
GET IT RIGHT — Now, as to other books ... Alas, some of my favorite performers, writers, editors, and publishers in magic nevertheless get punctuation dead wrong. (A few, not all.) Then new magi come along and either through emulation of magic books and/or unfamiliarity with real-world publishing also get it wrong. There are rules, and you sould obey them. So this advice: learn the rules from real-world stylebooks and usage, not from inside the magic universe. And yes, I appreciate the irony of said advice. Some of the rules can be found in the big fat stylebooks such as The Chicago Manual of Style or in smaller texts such as Strunk and White's The Elements of Style. Usage of course can be encountered in the novels and nonfiction of the major publishing houses and in such upscale journals as The New Yorker.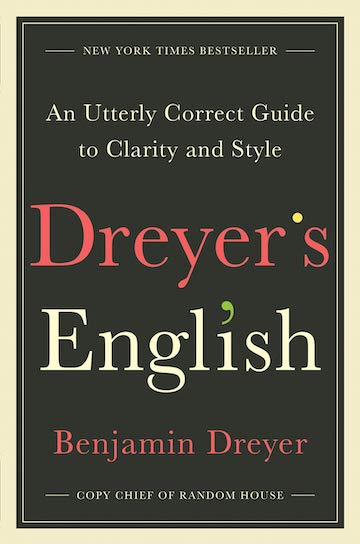 What brings me to this bit of preaching is a book I enjoyed last week, Dreyer's English, subtitled An Utterly Correct Guide to Clarity and Style. Mr. Dreyer was copy editor at Random House and knows what he is talking about. His advice extends far beyond punctuation, and anyone with a a fondness for correct usage should enjoy it immensely. It is thorough and quite funny.

YOU SAW THIS COMING, RIGHT? — Issue 4 is at hand of Hocus Pocus, Richard Wiseman's interactive comic series about the history and science of the paranormal. The latest issue focuses on Prophecy, but you saw that coming, right? Within its pages, hosting duties go to Yorkshire witch Mother Shipton, looking like something out of Tales from the Crypt, with inputs from Nostradamus and Paul, a German Octopus.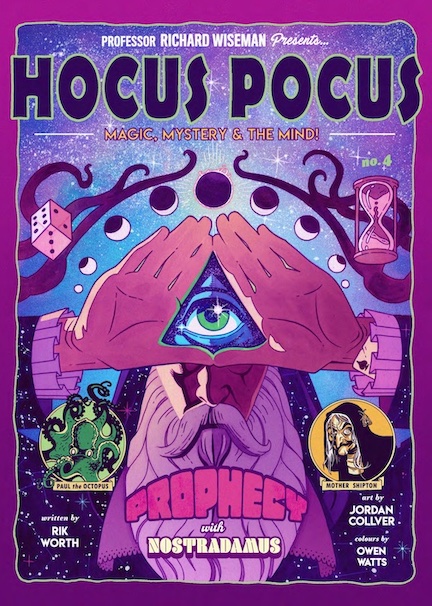 Nostradamus—did you know he was French and that his name was Michel?—shares his secrets to seeing the future, reminding me of David Hoy's Hurling the Headlines. He combines a study of history (it repeats itself, you know), a little astrology, and the Texas Sharpshooter Fallacy (draw the bullseye after the bullets have hit wherever) into a mix of 942 vague quatrains, and how can he not hit the mark occasionally?
The crafty octopus takes on dream premonitions, explaining them as consequences of mathematics, not magic. And Mother Shipton herself explains a method she calls the Mars Effect, introducing several of the interactive elements that make this comic series fun. No matter how freely you move from card to card, you end up on Mars! The book ends with a series of intriguing predictions.
As always, Dr. Wiseman's explanations are educational as well as entertaining. The prose is by Rik Worth and art is by Jordan Coller and Owen Watts. You can get the books here, and you can predict your own price!
FREE AT LAST— I was recently at a game store in the mall with my eight-year-old grandson, who was purchasing a Pokemon card.
"You're going to be jealous," he said.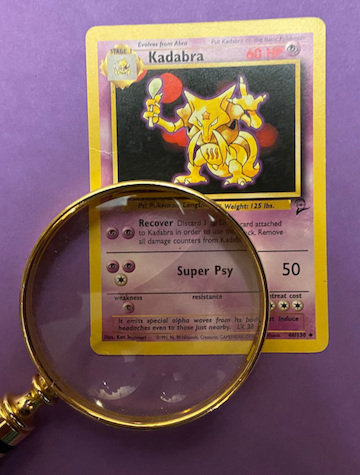 And I am. The card was a 1995 Kadabra. According to Twitter, Uri Geller has released a ban he imposed on the card 20 years ago (for using his likeness; notice the spoon). Uri apologizes for the ban and advises kids and grownups that Nintendo may print the card again. Thanks go to Uri for letting Kadabra back into the game. Ah, but my grandson Charlie has an original! So jealous.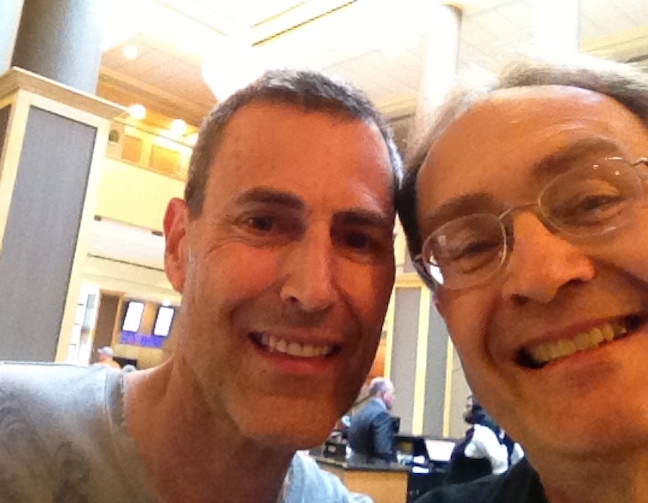 DEAD MAX— This item has nothing to do with magic (or Max Maven) but a lot to do with my love for all things spooky. Port Townsend artist Dana Sullivan has created (so far) a four-book set of Dead Max Comix. The series stars Derrick Hollis who, with the ghost of his dead dog, Max, navigates the perils of middle school. If you have a dog, a middle school kid, or a middle school mentality, you should love this. Sullivan had me laughing aloud multiple times.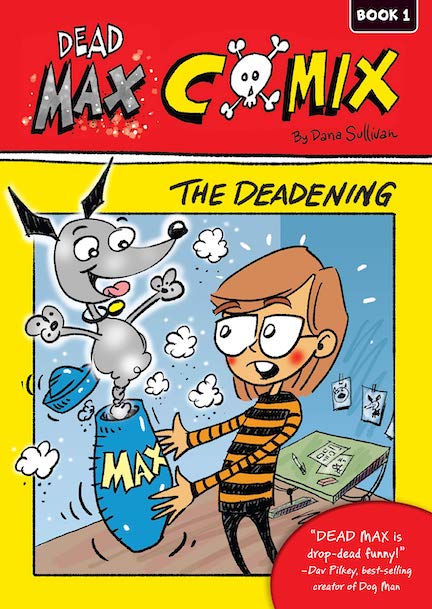 Go to Amazon and catch up with Book 1: The Deadening, Book 2: The Rocking Dead, Book 3: Bully for You, and Book 4: Furball of the Apocalypse. Each volume runs 64 pages and is filled with strikingly creative art, some by Dana Sullivan and some "by" his protagonist, Derrick, who draws an advice column for his school paper.

Our wonderful internet posts from the AMA, the Collectors, and so on have dropped off considerably, but we did "attend" an important Behind the Bookcase meeting, which follows.
BACK TO BEHIND THE BOOKCASE--Episode 117: John Carney oversaw a fantastic hour with Gabe Fajuri ("fa-hurry," it's pronounced) of Potter and Potter Auctions. A Michigan lad, Gabe's origin story was Abbott's, from age 6. After college at the University of Michigan, he moved to Chicago where he spent the Saturdays of the next four years rooting around in Jay marshall's collection. His eventual auctioning of that collection, at Jay's death in 2005, led to an amazing career of redistributing not only magic collections but many other genres as well (rare books, posters, comic books, slot machines, etc.). He has handled the estates of Johnny Thompson, Dai Vernon, Bruce Cervon, and will soon auction the Salon de Magie of Ken Klosterman (expected to take 3 to 5 sales). Gabe's extensive knowledge of magical history and his established business record make him a trusted ally for collections around the world. Each major auction produces a gorgeous full-color catalog, available for purchase, free to regular customers, or free as .pdf. Gabe, whom most of you know, is one of the really great guys in magic, and this was a special look into his world. Dip into it yourself at potterauctions.com or its retail outlet, Quicker than the Eye.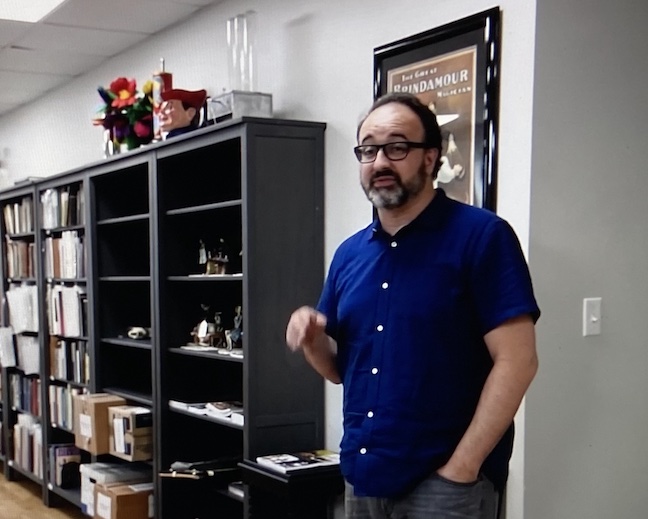 Late note: as of this writing (September 2021), items from the Klosterman collection are on line at Potter and Potter. Get out your credit card.