WHO DONE IT? — It was Jack Shalom's excellent web site (Musings, Memories, and Magic) that turned me on to the Eli Marks mystery series, by John Gaspard. Jack posted an audio interview with Mr. Gaspard, whose titles in the series are named after iconic magic tricks: The Ambitious Card, The Bullet Catch, The Miser's Dream, The Linking Rings, The Floating Light Bulb, The Zombie Ball, and The Magic Square. (Mr. Gaspard had intended to learn each trick, but gave that up when The Bullet Catch became his second title.)

I began my reading of the series with The Linking Rings, because I knew that Eli Marks and his mentor, Uncle Harry Marks, would be visiting the Magic Circle, which I have done and could judge the success. Nice job. The mysteries are light, and it amused me the magicians are far more concerned by the theft of a card trick presentation than by thoughts of which of their small band is a murderer and which is next likely to be murdered. The story was populated by fictitious but familiar magicians and by references to real magi and their world. All in all a fun way to spend a few hours. Oh, and it surprised me that the Linking Rings of the title were Himber, not Chinese.

PGET WELL, SIMON — I alluded last month to the sad news that Simon Lovell is ailing, having suffered a couple of strokes. He is being cared for by England's National Health Service and by his 90-year-old dad, who brings him two beers a day. This last act of kindness reminds me of the dedication to Simon's first hardback, Simon Says: "My mum and dad, Keith and Tony, who after thirty odd years now actually like magic! It is thanks to their love and support that I have been able to have the life that I have. I'm so proud that they are pleased with the way their little lad turned out. I love them both."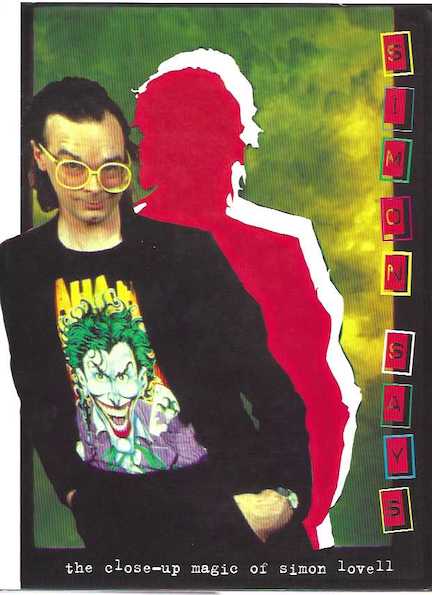 The book itself is one of the greatest books on commercial close-up magic ever, reviewed in The Little Egypt Gazette back in the day. Check it out. And thanks, Simon, for the memories.

We continue to suffer withdrawal as magi return to live performance, and the internet suddenly seems empty. And yet, new stuff appears, a reminder of how fantastically the community rose to the occasion during a year of lockdown. I hope for more.
21ST CENTURY CARD MANIPULATION — It was way, way back in the first MAGIC Live that Dave and Dan Buck introduced me and the magic world to their budding genre of Cardistry. If you would like a crash course in the subject, WIRED magazine has posted one here: 22 Levels of Cardistry. There are of course many more levels, but this will get you started. Good luck!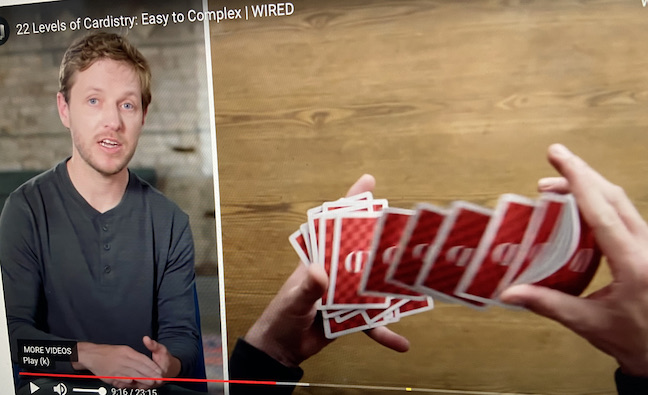 BACK TO BEHIND THE BOOKCASE — By the episode …
Episode 115: Jonathan Levit and Christopher Hart introduced the gang to the new General Manager, Herve Levy. He is very French, very well trained (culinary school, experienced at every level from busboy to front of house, very accomplished). The best way to gauge his qualifications is to look at his recent experience, where he served six years as General Manager of the Griffin Club Los Angeles. The Griffin Club, launched in 1926, was a favorite social hangout for actors such actors as Humphrey Bogart, Caesar Romero, Errol Flynn, and Joan Bennett. (This in a time when actors were not allowed in the Beverly Hills Country Club.) Mr. Levy's task was to implement a 20 million dollar makeover, which the did to great success. Such credits floated him to the top of the Magic Castle's 150 applicants. His advice as he takes the reins of theMagic Castle? Be patient.
Episode 116: Shoot Ogawa interviewed his friend Danny Cole. Danny was fresh off live performances at the reopened Magic Castle and at a new L.A. magic venue to me, Black Rabbit Rose. Shoot expressed shock that Danny was able to pull off his "Fool Us" act, with the stacking and floating letter blocks, in those situations. We highlighted Danny back in August 2018, and it was cool to hear his origin story again. Danny began as a Castle junior, met Shoot when they were respectively 17 and 14 (Shoot is the elder), was mentored by Loren Christopher Michaels, performed often at junior functions at the Castle, and performed with the adults in the Palace, thanks to Peter Pit and Ron Wilson. Nice childhood! (Note that Danny was also the subject of Episode 58, reviewed December 2020.)