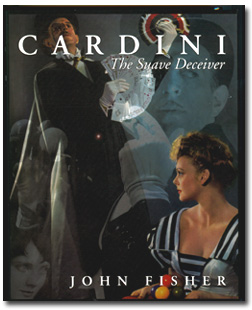 Manipulation 101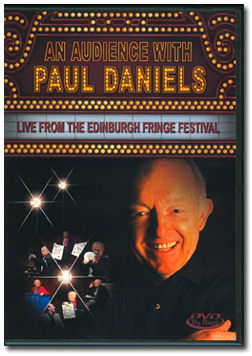 A star schmoozes with his audience.
PAGING MR. CARDINI -- Cardini/The Suave Deceiver, the massive new biography by John Fisher from Todd Karr, defies skimming. Skimming is what I attempted to do in order to paint a broad picture of the book before my September deadline, but the subject is so intriguing and the author so adept that any attempt to glide over the salient facts arrests your attention, draws you in, and you find that you just keep on reading. The following sentence from the book reveals much about both subject and author: "If Cardini had not existed, P.G. Wodehouse would have had to invent him, this ever-so-slightly tipsy but always elegant clubman about town, to whom playing cards were a nuisance like wasps at a picnic, cigarettes their own persistent will-o'-the-wisp, and billiard balls, whatever their colour, as irksome as so many pink elephants." Few manipulators have ever conjured up such a perfectly defined character, few magical writers have ever crafted such lovely and insightful sentences. The wealth of 24-carat prose is matched by a wealth of photographs, over 825. For those of us whose image of Cardini was formed by his Festival of Magic appearance on television, that of a tipsy elderly gent befuddled by cards and billiard balls, the copious photos of Cardini as a young man may come as a surprise. He of course lived a long life and for much of it was that dashing young man who was, in Billy McComb's words, "a tall, distinguished gentleman with impeccable manners and one-time filmic looks." The photos also reveal that Swan, arguably Cardini's better half, was a drop-dead beauty. I am taking a break from a leisurely reading of the entire text to pass along a timely recommendation that you should buy this book before it becomes unavailable, or available only at stratospheric rates on eBay. Much lies ahead for my pleasure and yours, including the real story behind those gloves in the trenches, a frame by frame analysis of Cardini's act, Cardini's relationship with Vernon, and plans to franchise the act to a lithe, young Charlie Miller. This is a 576-page whopper of a book, and a beautiful one, as we've come to expect of Todd Karr. $150 pp directly from The Miracle Factory (www.miraclefactory.net).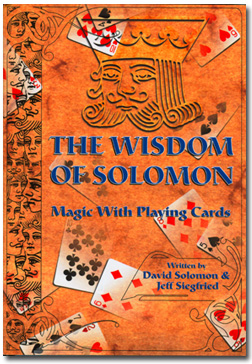 The latest from the Marlo crowd.
GHOSTS OF MARLO -- The Wisdom of Solomon, David Solomon's latest, is chock full of the clever, entertaining card tricks he is known for. Although I liked nearly everything, let's consider five favorites. (1) David's "Power of Poker" was one of the "money" tricks in John Bannon's Dear Mr. Fantasy, an immediate favorite of working pros. Although I've never encountered trouble selling it to a lay audience, thoughtful magicians have sought variants in which the dealing alternates, one for one. Successful solutions include R. Paul Wilson's "Refried Poker" (Paul's dealer item) and Harry Anderson's in his September 2007 MUM column. Each has its merits (Paul's has multiple ideas to guarantee the most favorable outcome), but for ease of handling I prefer the new one in David's book, "Revised Mexican Poker." Combine the ideas and you have the best version of Mexican Poker to date. (2) "What's Your Number?" is a startling transposition of two cards from known, different locations in the deck. It requires a half pass and is the best reason I've ever seen to study Aaron Fisher's book. (3) "Stinger Monte" begins as a four-random-pile monte routine and ends as a "Spectator Finds the Aces" routine. (4) "Hofzinser King City" uses John Bannon's "Discrepancy City Display" to excellent advantage in the standard Hofzinser plot. (5) "May's Take on Vernon's Trick" is a new method and a new effect that begins a la Vernon's "Affinities" (one of my favorite mathematical card tricks). No math is involved to reach a successful conclusion. All an all an excellent book. It suffers from too many punctuation and spelling errors for a work of this caliber, but is otherwise handsomely produced in the same format as Solomon's Mind. Hardback with dust cover, 212 pages, by David Solomon and Jeff Siegfried. $50 direct from David Solomon at davidsolomon.net.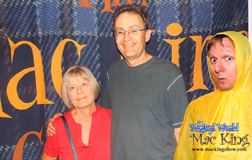 Honey, do you feel as if we're not alone?
APPARITION -- For sheer magic and a ton of laughs, the best way to spend an hour or two in Las Vegas is to attend The Mac King Comedy Magic Show at Harrah's. This I did in August, and, even though my date and I posed alone for a souvenir photo, the camera caught Mac in his Cloak of Invisibility lurking in our vicinity. A great idea, and spooooky. I wonder if Harry Potter's cloak looks like a yellow raincoat.
September 2007
Last month remains more important than this month, for it features a full-blown issue of The Little Egypt Gazette, containing 20,000 words and tons of photos regarding Milt Larsen's incredible 50-year run of It's Magic!. This month, on the other hand, deals with a surfeit of riches. In Las Vegas, there are no better ways to spend your time than by attending The Mac King Comedy Magic Show or an occasional installment of Stan Allen's MAGIC Live. Additional must-experience items this month include the superb new bio of Cardini by John Fisher, two videos from Paul Daniels, and (if you are a card buff) J.K. Hartman's Card Dupery and David Solomon's The Wisdom of Solomon. If you live in L.A. or need a good reason to visit, Milt Larsen begins 50 more years with an It's Magic! that features Amazing Johnathan. And just to frighten you, because it's almost Halloween, there are not one but two photos of ye ed on this page. At least I'm accompanied by blondes.
IT'S ALIVE! -- No, MAGIC Live III wasn't the best MAGIC Live. And no, no single event topped the Harry Anderson/Mike Close show held at the Orleans earlier this year for WMS. But yes, it was still one of the best conventions ever. The jam-packed event opened with a party featuring magical art and a Food Channel dinner for celebrity magicians and closed with a party featuring excellent Sweet 16 birthday carrot cake and Armando Lucero (I didn't catch whether he was paid or just performing impromptu, but he was terrific.) The three top highlights for me: (1) The Evasons on the final night's show. Sexy, exciting, and utterly baffling, one of the closest things I've seen to real magic. Whatever they are doing, they do it very fast and very well. (2) John Lovick interviewing Jason Alexander. An amazing amount of thought went into Jason's triumphant parlour show at the Castle. (3) Michael Weber interviewing Cyril. What a fascinating young man. (I find it interesting that two extraordinary magicians who "came out of nowhere," namely Cyril Takayama and Armando Lucero, were once Castle Juniors.) And so much more to enjoy, including:
Josh Jay's "Talk About Tricks" has come of age. Best trick taught was Simon Aronson's "About Face," which is also in the August issue of MAGIC. And kudos for Josh's informal evening session with the likes of Simon, J.C. Wagner, and Bill Malone.
Rick Merrill's home-schooled FISM act.
Humor from Shawn McMaster, Michael Weber, Chris Kenner, Kerry Pollock, and Max Maven, all dead on.
Eric Buss's Snake Can Symphony.
Johnny Thompson's lecture on Charlie Miller.
Dana Daniels's show and his story about trying to smuggle a parrot aboard a plane.
Earl "I'm the Perry Como of Magic" Nelson's rope routine.
Thomas Fraps' Punch and Judy show.
Mac King's work in progress.
Krystyn Lambert's ditzy blonde talk act. (I've seen her sizzling silent manipulation act, and this new talk piece was a delightful surprise to all, very funny.)
Chris Kenner's rant.
Raymond Crowe's hand shadows.
Mark Kornhauser's hilarious emcee bits.
The attendees, a true who's who of magic.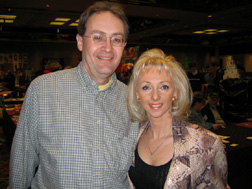 Fans of Paul Daniels.
BLOODY GREAT -- Paul Daniels is a major celebrity in England, a longtime television favorite, and for what is no doubt less than the cost of a ticket you can enjoy not one but two of his best live performances ever, via (1) An Audience with Paul Daniels/Live from the Edinburgh Fringe Festival and (2) The Magic of Max Malini. The former is a (seemingly) casual autobiographical touring show in which Paul kibitzes with the audience, answers questions submitted on cards, and performs his signature magic tricks. Paul is a master of making small tricks play large (David Copperfield should die of envy watching how easy Paul fills both an evening and a stage with magic), the first magician to entertain a full theater with the Chop Cup or to turn the old Six-Card Repeat into a huge audience interaction effect. Catch other favorites such as the Einhorn self-levitation, Card in Wallet, and Bill in Nut in Egg in Lemon. The entire show is a master class in how to control an audience. Delightful viewing. The latter (the Malini show) brings Malini's classic miracles to life for a 21st-century audience, featuring such items as the Malini Card Stab, Chink a Chink with sugar cubes, the Malini Egg Bag, the production of a block of ice, and many more. The vanish of a coin in a coin fold fooled me badly. Nicely produced by Meir Yedid. $19.95 each from Meir or your favorite dealer.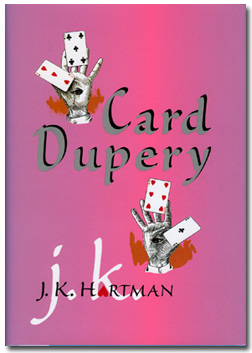 More from the prolific J.K. Hartman.
PAGING MR. HARTMAN -- Arriving just under the wire to make this edition is J.K. Hartman's Card Dupery, the 398-page new hardback from Hermetic Press. Happily, no recommendations are necessary to Hartman fans, for those who revel or have revelled in Card Craft, After Craft, and Trickery Treats know what to expect: dozens of devilish new moves and routines, most requiring only intermediate skill sets, and all ably illustrated by the now late and wonderful Joseph K. Schmidt. (One should no doubt purchase this book just to own Mr. Schmidt's last extensive contribution to magical illustration.) Because I expect to be away from home in the near future, I've been trying not to work my way through this material (like saving reading for the beach, except that I'll be in Evanston), but must mention two items I couldn't resist. "Patent Portent" is included, my favorite Any Card at Any Number effect ever since Hartman published it in Genii (1999), but updated with a major new feature: the magician does not touch the deck after the number is named, indeed does not even need to know the number. And yet the spectator's freely named card arrives at the freely selected number. Just way cool. There is also a section in the book on gambling routines, and in "Mexicali Ruse" Hartman invents an essentially identical solution to David Solomon's "Revised Mexican Poker" (discussed elsewhere this month) adding an alternate conclusion of a four-ace climax vs. a royal flush climax should you wish it. Great minds do think alike. Good stuff! $57 pp. from Hermetic Press.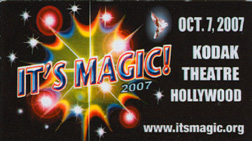 It's Magic! -- the refrigerator magnet.
THE NEXT 50 YEARS -- Last month's edition was devoted to the first 50 years of Milt Larsen's It's Magic!. The next 50 begin on October 7 with a new all-star lineup at the Kodak Theatre, including superstar Amazing Johnathan. Along with AJ you can enjoy Rick Thomas, Jason Byrne, Anthony Reed, Jay Johnson, Bruce Block, and the hilarious Snake Can Symphony of Eric Buss. Tickets are on sale at the Kodak box office or at www.ticketmaster.com. (Want a souvenir? I'll send an It's Magic! refrigerator magnet to the first 10 readers who e-mail me.)