HOLLYWOOD September 2006 — The sun shone a little brighter in Hollywood on the week ending September 17, 2006, spreading its light over the Magic Castle and its environs like, to borrow a phrase from F. Scott Fitzgerald, "golden paint over an art jar." For this was a week that saw a new star on the Hollywood Walk of Fame honoring Milt and Bill Larsen, a reunion party and group photo shoot for 50 years of It's Magic! alumni, and a climactic golden anniversary edition of It's Magic! at the Kodak Theatre, showcasing 14 of magic's finest acts on Hollywood's finest stage.
Throughout the week celebrity magicians arrived daily by jet, auto, rail, and just possibly flying carpet and broomstick. What began as a typical stellar Castle week (Doc Eason opened in the W.C. Fields bar on Wednesday entertaining the cast and crew of Mad TV; Dana Daniels did a tour de farce in the Palace as all three magicians) quickly mushroomed into the best convention of the year. Look in any direction and you spotted an idol. There's Mike Caveney. There's Mac King. There's Jeff McBride. There are all three U.S. FISM Grand Prix winners! (Lance Burton and Jason Latimer were in for the show; Johnny Ace Palmer worked the late Close-up Gallery.) There's Ricky Jay! (Ricky is in the cast of the new Tom Hanks magician movie, The Great Buck Howard, but spent more time in the library than at the Friday night wrap party.) There's Jason Alexander! (Jason hosted a Saturday night seance, then later performed impromptu magic in the Hat and Hare Pub.) As Milt Larsen is fond of saying, "Just another night at the Magic Castle."
Part little boy putting on a show, part elder statesman of magic, Milt is at the center of all these magical comings and goings, and it's staggering to consider how little of all this would exist had he and his brother not fallen in love with magic at an early age. This special edition of The Little Egypt Gazette takes a look at Milt's new star, at Milt's class reunion of the greatest magicians ever, and at the 50 years leading up to and including Milt's special Sunday night Kodak moment.
Just click on the headlines below for in-depth stories on 50 years of one of the finest live magic shows ever produced. (WARNING: Most of the links contain generous content. High speed internet or incredible patience is required.)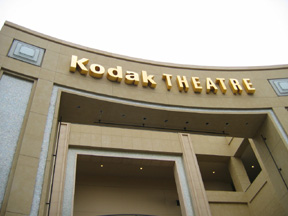 It's Magic!'s magnificent new home.
KODAK MOMENT — Milt Larsen and Terry Hill Present the Golden Anniversary Edition of It's Magic!. Enjoy an act-by-act review of the 14 top acts that made the 50th anniversary edition of It's Magic! special.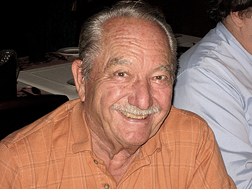 Milt Larsen's little magic show turns golden.
PRODUCTION NOTES — THE MILT LARSEN INTERVIEW — It's Magic! producer Milt Larsen discusses his first 50 years at the helm of southern California's flagship magic show. Read about the genesis of the show, the theaters, the directors, the orchestras, the art direction, the Tonight Show relationship, the publicity, the poster art, the family involvement, the fabulous magic acts, what went right, and what went (hilariously) wrong in the show's opening half-century. (Be patient. Milt has a lot to talk about.)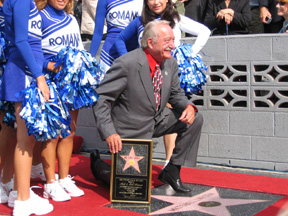 Cheers for Milt's and Bill's star.
A STAR IS BORN — Milt and Bill Larsen achieved Hollywood immortality on September 15, 2006, when they received a star in their name on Hollywood's Walk of Fame. Re-live the praise and introductions from such luminaries as honorary Hollywood mayor Johnny Grant, astronaut Buzz Aldrin, and game show host Bob Barker, along with Milt's and Irene's words of thanks. The entire Larsen clan, six Los Angeles High cheerleaders, a gang of well-wishers, and a mob of press photographers were on hand for a very moving ceremony and for the joyful reception at the Castle's Inner Circle that followed.
CLASS PHOTO — Alumni from 50 years of It's Magic! shows gathered on Saturday, September 17, 2006, for a party in the Magic Castle's Inner Circle and group photo shoot in the Palace. Arlene Larsen throws quite a party, and you couldn't move in any direction without bumping into a legend.
HONOR ROLL — Here is our cut at all the names, the complete list of who appeared when for the Los Angeles editions of It's Magic! from 1956 to 2006. It's a veritable who's who of 20th-century and early 21st-century magic.