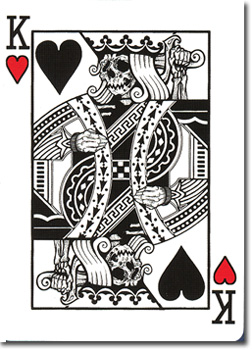 Ghostly king.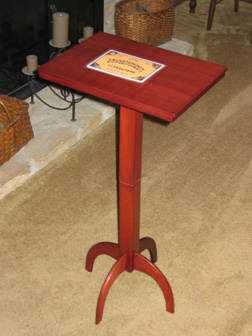 Lighter than air.
SPOOKY -- After years of coveting one, I finally found a reason -- an attempt to contact a former buddy in the spirit world, but that's another story -- to get my hands on one of Losander's incredible Floating Tables. You've seen Losander do it at conventions, and you can see him do it any time on his web site at losander.com, so you know how swell this looks from the audience's perspective. Here's what is so great: it's even better from the magician's perspective. For those who dismiss it as a "Zombie table" or for those who have read Tommy Wonder's books and think they "know" something about this, forget it. What Losander has come up with is diabolical and goes far beyond anything Joe Karson or Tommy Wonder ever conceived. The table itself is virtually examinable, the floating mechanism is completely invisible, and the actual operation is a dream. (I've spoken to folks who bought ripoffs of Losander's table and heard their complaints about how hard it is to float the tables they purchased. One can only imagine what monstrosities they possess.) With one of Losander's tables, you'll sense that you can actually cause a table to float, like real magic. Quite simply, this is the finest piece of magical apparatus I have ever owned. The tables come in various models from $800 to $2500, and they easily disassemble for storage in a protective metal packing case, which is included. Highest marks! Check Losander's site from our Dealer page for complete details.
JUST IN TIME FOR HALLOWEEN -- I recently acquired an assortment of playing cards from Ellusionst, who run those hip, streetwise, youth-oriented ads in the magic trades, just to see what the fuss was about. The cards are indeed beautiful to behold and to manipulate. I opted heavily for the Ghost Deck line, whose black-and-white backs look like negatives of traditional Bicycle decks, and whose faces are also black and white except for the small pips on the "red" cards, which remain "blood red." The gaffed Ghost Decks (Svengali, Rising) worked fine, but it was the general purpose gaffed deck that got me excited. Although it includes the usual gaffs, I especially loved the skeletal kings (these, I think, should be standard in Ghost Decks) and the fadeaway queens with which, if you are a color-change adept, you can create a real miracle. I also picked up a "regular" Masters Edition deck, a Bicycle deck made with the quality they all should be, and with the addition of a special ace of spades that looks like the Harley of aces. I like the deck, I like the ace. It feels like old times.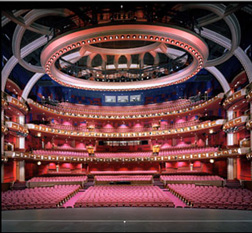 Performer's view of Kodak Theatre.
GOLDEN WEEK -- Although I plan to cover this in greater detail in another forum, I'll at least report here that the week ending September 17 was pure gold for Milt Larsen, as he and Bill received a star on Hollywood's Walk of Fame and as he produced with Terry Hill the 50th anniversary edition of It's Magic! at Hollywood's Kodak Theatre. I attended all the events and can vouch that a spectacular time was had by all.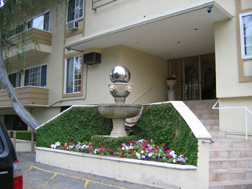 Entrance to Magic Castle Hotel.
SOUR GRAPES -- What might have been a fine article on the Magic Castle in the October issue of Los Angeles magazine ("Magic Castle Hocus Pocus") -- it featured great full-page photos of Andrew Goldenhersh, John Lovick, and Max Maven -- regrettably turned smug and bitchy (not to mention just plain stupid in parts) with the author paying too much attention to voices still mired in financial conspiracy theories and putting sinister spins on standard C.Y.A. accounting lingo. And by the way, if you are one of those voices reading this and are still wondering where Armando Lucero is, he recently closed the close-up show at FISM 2006.
THE PARTY'S OVER -- The scythe that has cut down so many this year has taken two more important names in magic, Ron Wilson's wife, Elizabeth, and the Magic Castle's wonderful gadgeteer and former General Manager, James G. Williams. Mrs. Wilson came to my attention during the Charlie Miller years of Magicana in Genii, when she would fill in for Charlie while he was off doing cruise ships. I always looked forward to and enjoyed her installments. As to Jim, he had been a hero for years, thanks to Milt Larsen's sharing his exploits. I finally got to meet Jim while working on the Magic Castle 40th anniversary story for Genii, when I attended a seance (most of the spooks were Jim's) and loved his "party," which you would hear as you walked toward the Museum down in the haunted wine cellar, and then just as you were about to enter the room you would hear, "Shhh! Here he comes," and then nothing. On my most recent trip to the Castle, I heard no party, and perhaps we never will again. Both these individuals will be sorely missed. Aloha.
September 2006
Even Columbine has phoned from her bungalow in the Keys to point out that this issue is, like, late (even though I will make the September deadline). Easy to explain, as I've only recently returned from a six-day visit to the Magic Castle, and I wanted to include those travel notes among the usual ramblings. I am happy to report that the Castle looks great, that Gordon Bean has left the library in excellent hands with Bill Goodwin, and that the adjacent Magic Castle Hotel treated me like a king. And so, welcome to a look at the Castle itself, at three killer performers (Doc Eason, Tony Picasso, Woody Pittman), at Losander's wonderful Floating Table, at some of the new decks from Ellusionist, at It's Magic! week in Hollywood, at a nasty bit of work in the Los Angeles media, and finally we must mention a pair of sad farewells.
FIVE WAYS TO HAVE FUN AT THE MAGIC CASTLE -- My recent trip to the Magic Castle completely recharged my magic batteries, partly because it was a great week anyway, with a strong performing lineup plus lots of extra talent in for It's Magic!, but also because I am older and smarter than when I first started coming to the Castle in the sixties. Hence, here are some ways to make your visit even better:
1. Dine. The food and beverage wars are over, and you are the winner. The food is great! Not only are there great dishes on the main sitdown menu, but you can order appetizers (I loved the Filet Mignon Steak Tips and the Crispy Artichoke Hearts, with Magic Castle Chili also a standard option) and desserts (just try to complete the White Chocolate Toffee Bread Pudding alone) from any bar at any time. Oh, yes, I hear they also serve drinks at the Magic Castle!
2. Mingle. I am not normally gregarious, but magicians are mostly nicer than people, and most will talk to you if you are nice also. At risk of being a name dropper, I am going to list nearly 50 (!) people I either met or spent serious time with in six short days. Click Steve's A-list friends for the complete list. Thanks to each of you for showing me such a good time!
3. Watch some magic. That's why Milt built the place, isn't it? Below I'll expound on the three magic acts that knocked my socks off, but I also loved the little moments. I don't consider a trip to the Castle complete if I don't see the latest handiwork from Neil Lester or the latest brainchild of Norman Gilbreath. I not only had those wishes fulfilled, but Bill Goodwin showed me a killer sandwich trick move among others, just superb. It joined my sandwich routine immediately.
4. Invite in some lay friends. One of the best ways to enjoy the Castle is to invite in someone new to it, and to see the Castle afresh from their eyes. I did this, and what fun to visit with Irma as if for the first time, or to "see a magic show" in the Palace, maybe even get a guest invited on stage to assist the magician. Again, a nice week as all my wishes came true.
5. Champion the dress code. Go with it, don't fight it. Get spiffed up and feel good about yourself. This is Hollywood, the women are fantastic, and they come to the Castle dressed to kill. If that isn't sufficient reason to put on a tie and join them, I don't know what is. My eyes are still bugged out. And if some movie star gets past security some night in casual duds, big deal: it means, on that night, that you saw a movie star. Most of them are also nicer than people, most are smart enough to get it if they are underdressed, and most want to look great as well. In the old days, we never saw Cary Grant looking like anyone other than Cary Grant. Meanwhile, I give the ladies who were there while I was an A+.
MASTERS OF THEIR DOMAIN -- The entire lineup during It's Magic! week at the Castle was very strong, but I watched the following three performers as often as I could. In a word, they were special.
Doc Hollywood. I am a friend, a fan, and a student of Doc Eason, and his videos are among the only three magic-related videos that I routinely pop into my dvd player for sheer enjoyment (the other two are Bill Malone's and David Regal's). It was therefore thrilling to learn that Doc would be in the W.C. Fields bar throughout my visit to Hollywood. Doc opened strong on a Wednesday, two days earlier than the bar magicians usually do, to a packed house of fans who happened to be the cast and crew of Mad TV, a big-spending crowd (to management's delight) who rewarded Doc with chants of "Doc! Doc! Doc! ..." I'd love a movie of the evening, not only for Doc's brilliant and laugh-filled work, but because he was assisted by a bartender named Pili, a new employee from the big island of Hawaii. She is drop-dead beautiful with a smile that lights up the room, she loved Doc and worked great with him, and if she spends much more time in Hollywood you might see her some day on a movie screen. Oops, back to magic: Doc continued to kill throughout the week, including once in the Hat and Hare when a Tom Hanks movie wrap party took over the Inner Circle and once in the Museum when the post-It's Magic! party took the room over. It didn't matter: Doc can do it all, and magical royalty filled his audiences wherever they had to go to find him. One session saw Irene Larsen, Marvyn Roy, and Steve Valentine in the audience, another Mark Wilson and Nani Darnell, another Monte Smith. Doc closed the week with a strong Sunday lecture, again to a packed house that included the likes of Joe Porper and Tony Picasso. And speaking of Mr. Picasso ...
Dark Angel. Although I have enjoyed his intense theorizing about magic for years, this trip afforded me my first opportunity to witness the dark, edgy, Sinatra-cool card stylings of Tony Picasso. His look is his own: that long black coat draped over a wiry, soccer-player physique, a dark curly ponytail exuding from a trim black derby, a small black violin case that might contain a miniature tommy gun but instead contains the decks of cards that are his stock in trade. His card and coin handling is crisply efficient and his methods ruthlessly bold: he cuts exact quantities of cards with ease, he finds selected cards under his camera, he elevates -- who would have thought this possible? -- the hoary old three and a half of clubs gag to a moment of intense emotional confrontation. But it is neither his looks nor his repertoire that sets him apart, but his talk: with a distinctive Johannesburg accent he creates a world unlike any you've ever experienced in close-up magic, a gangland-gambling hall-con artist fantasy world in which he is the chief exponent of deceit and you are the mark. Always sexually threatening to any lasses in the crowd, always over the top, always the provocateur, he delivers lines each more outrageous than the last, and you want him to continue just to hear what he will say next. I met up with Mark Kalin the morning after seeing Tony, and Mark and his staff were quoting Tony's lines with awe. Tony lurks and performs in the W.C. Fields Bar, the Hat and Hare Pub, and the Museum of the Magic Castle. The next time you visit, descend into one of his subterranean venues and experience his strange and compelling world. It's a marvelous act, as idiosyncratic as those of Del Ray's, Eugene Burger's, and Ricky Jay's. And speaking of unique acts ...
The Woodman. No, not Woody Allen, but Woody Pittman, who performed for the Saturday and Sunday brunches during my first week at the Castle and for the late Parlour the second week. Let's face it, in the current world of standup comedy Woody Pittman is funnier than Woody Allen. (Woody Pittman also makes movies, but so far they are three-minute silent movies on his web site. They are funny; he just doesn't yet have Scarlett Johansson starring in them.) Woody's stage persona is that of a sweet, shy, sort of overgrown kid. Through that character Woody gets amazing laughs. I joined Doc Eason (at the Castle all this stuff weirdly intertwines) for one of Woody's brunch shows, and we probably laughed the most. Fortunately, I don't have to write much more here about what Woody does because you are in luck: you can see a great six-minute sample of his act on his web site at woodypittman.com. I've been watching it a lot. (By the way, while there, you might want to pick up his brief booklet called The Big Picture/Character Development for Magicians. It's a classic.)