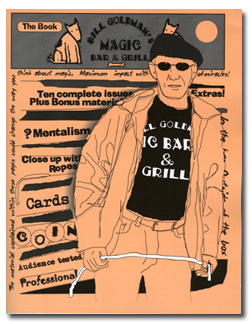 Magic Bar and Grill: The Book.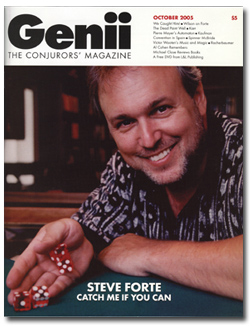 Forte exposed.
OTHERWORLDLY -- In July we reviewed Steve Forte's mammoth Casino Game Protection, the essential treatise on cheating at casino games. October's issue of Genii (Richard's publishing schedule keeps defying the laws of space and time) ran a long-awaited full cover issue by Paul Wilson on Mr. Forte, a really nice guy but you really wouldn't want to play cards with him. The jaw drops at the skills attributed to him (the Bill Malone interview was particularly intriguing), and, unlike many whose skills have been legendary but highly guarded over the decades (and therefore possibly apocryphal), Forte's skills have been caught on tape. His Gambling Protection Series videotapes have impressed the best in magic, and Richard Kaufman notes that new DVDs are in the works. Don't overlook the current issue of Genii if you are interested in learning just how good one can get with a deck of cards.
HALLOWEEN EXCLUSIVES -- Hank Lee is selling two exclusives that constitute perfect Halloween fare. One is Cyril Harvey's "Pocket-Lev," in which you wave a dollar bill around and cause a lit candle to float in the air. The candle looks great (it's real) and the effect is eerie. You must be wearing a black button-up shirt to do this to best advantage, but you probably already are if this is the sort of trick that appeals to you. (You need not use a dollar bill, just something of that approximate size; you may also levitate other small objects.) $39.95. The second item is Jesse Feinberg's "Pen Through Arm." This looks disgusting: you take a Bic pen and ram it right into your arm. Check Hank Lee's web site for a video demo. Yecch. (With some work you can hand it out for inspection, the same pen, but I wouldn't bother.) $34.95.
SIGHTED -- New sites (or old sites new to me) keep cropping up in the ever-expanding cyberspace universe. Of great interest is Mark Edward's new site, with his complete line of books on seance work. Mark is regarded by many as the best seance worker around. Also hijacking my attention this month were David Parr's fine site and Jeff McBride's delightful The Secret Art journal. All are recent addition to our Favorite Links. Coolest site of all: The Magic Castle has recently overhauled its web site, and it's just beautiful. Even non-members can enjoy many of the new features. At the top banner, four cards spin at your mouse touch to take you to primary menu locations. If you move your mouse cursor across the top of the page, a swath of stars follows it. And the Castle itself, pictured in a crystal ball, alternately changes from a daylight scene to a night scene. The best feature is the virtual tour, in which you engage an exploding view of the Castle layout. Use your mouse to home in on a given room until you bring up a photo of the room itself. It's magic!
September 2005
Having just enjoyed a day in the 60s rather than the 80s, fall may be going to arrive after all. First, my heart goes out to Jon Racherbaumer, Harry Anderson, their families, and everyone else, magicians and otherwise, who had to endure what the recent pair of hurricanes (and years of political ineptitude) have wrought. We all know someone who was devastated by this. But to matters magical: this month we consider collections from Bill Goldman, Karl Fulves, and The New Yorker; Steve Forte is profiled in Genii, Google publishes just about everything; Hank Lee has creepy exclusives; and there are new web sites from Mark Edward, David Parr, Jeff McBride, and the Magic Castle.
COLLECTED GOLD -- From time to time we've mentioned Bill Goldman's Magic Bar & Grill, which was not really a magic bar but, instead, was an occasionally published journal of magic and humor with great appeal to magical insiders as well as the lay public. Most notably, from March 2003:
What a find! There is plenty of humor and cool stuff to think about, along with such repertoire enhancing magic as a flashy napkin restoration ("Hot Plate Special"), a version of "Immaculate Connection," a "Chameleon Bill" better than most currently on the market, a page-in-magazine miracle ("Like a Bird on a Wire"), two newspaper restorations (both eschew the tearing part), and "Whatever," a "Confabulation"-type mental experience. Goldman takes extreme pleasure in fooling other magicians, and there are items in here for that low purpose as well.
There were ten issues for around $11 per issue, and the whole kaboodle is now available in one softbound edition for $50, including bonus material. This is very commercial stuff with a high "wish I thought of that" index. Also still available is Bill's fine little book of wisdom, The Little Book of Big Secrets for $19.95 (see January 2005).

JERSEY -- Another fine journal(s) of ten issues to recently wrap up is Karl Fulves's Latter Day Secrets, Charlatan, and Discoverie (I've forgotten which was the one I paid for and which two were the free bonus journals). The concluding issues contained the usual thought-provoking material and came with complete indexes to the three runs. Karl announces that his next 10-issue journal will be advertised around January (no title or details yet) for $150. He also has three new books available: Clockwork ($18.50), Card Counting ($16.50, a reprint of a 1982 release), and Combo II ($22). The first two deal with clocking a deck (a recent interest of mine), and the last with techniques for memorizing runs of cards. Add 15% postage, and the address remains P.O. Box 433, Teaneck, NJ 07666.

AND YOU THOUGHT THE SPHINX FILE WAS LARGE -- In stores now for only $100 ($63 at Amazon!) is the first 80 years of The New Yorker, every page on CD-ROM. There is good news and bad. The good is that it is far more readable that .pdf. I can do so without getting dizzy, or worse, as happens when I attempt to scroll through .pdf files on screen. The bad is that it is far less searchable than .pdf. You can't search on any word in the text, and you can't highlight and copy any text. (You can print pages if you wish, but only entire pages.) To compound the issue, there are flaws in the search engine provided, which I hope updates will correct. Nevertheless, I was finally able to locate the 1941 E.J. Kahn, Jr., Profile on Dunninger, and it's a hoot. If you thought David Blaine and Criss Angel were good at self-promotion ...

COPYRIGHTED? -- Although they are now involved in a legal hassle over this, the folks at Google have come up with the ability to look at fair use snippets of any book or the entire text where the publisher allows it. For example, you can currently read the entire text of Practical Mental Effects online. Check it out at print.google.com. This too is easier for me to read than .pdf used to be, so I hope that either the format or the readers are in general getting better.