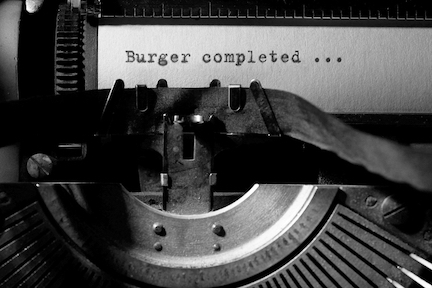 The Eugene Burger creative output completes this October 31 with the publication of Eugene Burger: Final Secrets. This final volume will be 352 pages in the same format as the Kaufman/Burger books, including 17 unpublished card routines and access to 27 Eugene Burger videos. The mgic will be feature Eugene's brilliant work on The Trick That Cannot Be Explained. Can't wait! Orders may resume October 24, at TheoryandArtofMagic.com , and shipping is free. To whet your appetite, here is what I had to say bout the book's predecessor back in November 2019:
HE'S BAAACK! -- Try as he might, and despite the countless seances held in his name, Houdini has never convincingly returned from beyond. October 31, 1926, was his last earthly appearance. I cannot help but smile, and I suspect there is an even bigger smile on the other side of the Great Divide, at knowing that Eugene Burger contrived a way to come back, in the form of two posthumous books, Eugene Burger: From Beyond (just published) and Eugene Burger: Final Secrets (two years away). Thanks to the speedy arrival of From Beyond, I just spent the last weekend in the very real presence of Eugene, happily immersed in his philosophy, his brilliant magic tricks, his sense of humor, and, even more so than I had dared hope, his iconic voice.
The story behind this feat will become legend. In 2010 Eugene approached his Mystery School colleague and close friend Larry Hass with the proposal that Larry write up all Eugene's unpublished material. The project was to be top secret, and the publication was to be postponed until Eugene's death. (After all, Eugene was still performing the material.) When Larry agreed and the two began collaborating, it became obvious that two books would be required. Eugene wanted the books to be read, hence a doorstop volume would compromise that enjoyment. By design, the first volume would conclude Eugene's discoveries in spirit magic and would be anchored by his spirit slate routine. The second would be anchored by Vernon's Trick That Cannot Be Explained. Complete details of the plan are spelled out in Larry's Introduction "From Beyond: Eugene Burger's Secret Project" and in the interview "Eugene Speaks!" Eugene was aware that the Bert Allerton book by Robert Parrish might have been better had Allerton lived long enough to supervise Parrish's work. Accordingly, he remained quite involved with Larry's work. (Eugene was always influenced by his Chicago magic roots, with early performance pieces from Bert Allerton and Matt Schulien. Even this final legacy owes to Chicago considerations.)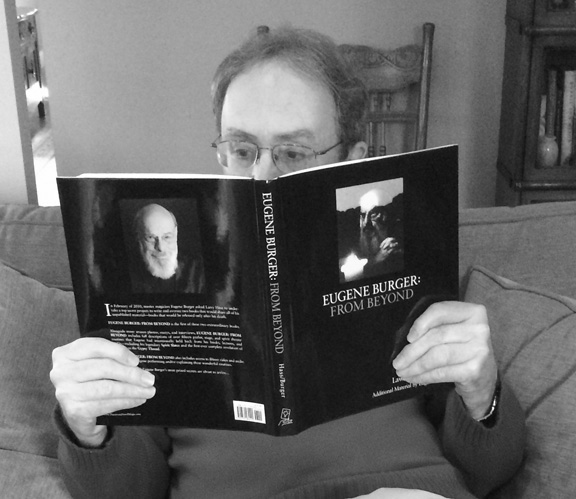 Happiness is a new Eugene Burger book.
The subsequent organization is a delight. PART ONE: MASTERWORKS contains two essays (including the landmark "A House with Many Rooms") and three tricks: Thirteen at Dinner, Shotglass Surprise, and Eugene's Gypsy Threads (he had five versions). By the way, it is worth reading everything in such a book. I am not a great fan of Gypsy Thread in general, but if I had skipped over this I would not have learned of Eugene's project of a large magical stunt for the Chicago White Sox, for which he drafted Danny Orleans to appear dressed as a giant baseball!
PART TWO: WISE REFLECTIONS AND STAND UP MAGIC contains six essays and six tricks, Among the tricks were such surprises to me as The Spot Card and The Paper Hat Mystery and such personal favorites as Voodoo Poker and The Last Dream.
PART THREE: HALLOWEEN MYSTERIES AND SPIRIT THEATER completes the record of Eugene's work on spirit magic, with three essays, a poem, and five trick sections. Among the essays was "Spirit Theater Show Order Materials," Eugene's and Larry's playlists for various shows they performed. I was pleased to note among them a couple of routines from The Little Egypt Book of Ghosts, and an effect called Disguise is a decidedly spooky use for a Full Light Seance cloth. Dr. Slade and the Night Visitors is his "anchor" routine, a spirit slate routine in which all four sides of two slates are numbered via colored chalk, and then spirit messages are received on all four numbered sides in chalk of a different color. Creepy and baffling!
By the way, in addition to his Mystery School colleagues Jeff McBride and Larry Hass, Eugene had many friends who shared his love of mystery effects over the years. No doubt his most creative and informed collaborator and confidant over his career has been Max Maven, and that is the case with some of the material in this book. Indeed, Max takes over the writing himself for his mechanical approach to Thirteen at Dinner.
All the way back to Spirit Theater, we have known that Eugene employed poems in his spirit magic shows. New to me is his use of "The Elf Child" (the original name for Riley's "Little Orphant Annie"), provided here on audio, and he includes the complete text of two Tennessee Williams poems and of Edna St. Vincent Millay's "Ballad of the Harp Weaver." I can attest from experience that these are wonderful mood-setting additions to a spook show.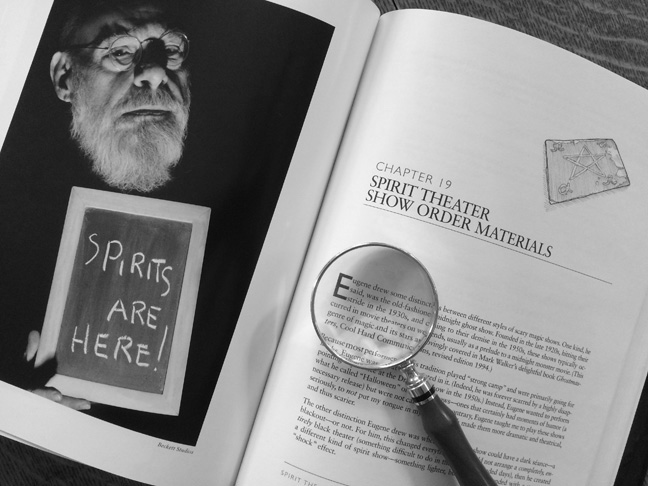 Let's put on a spook show.
Larry Hass has done a splendid job of assembling, writing, and producing this prized volume. When it arrived, my immediate reaction was that it was gorgeous. It is. In physical heft it matches Eugene's five hardbacks from Richard Kaufman. The elegant design and layout are by Stina Henslee, and the charming instructional and spot illustrations are by Jay Fortune. (All chapters close with a drawing of a hand, in a posture known as Gyan Mudra, and I got a kick out of the "blackout" on page 194.) Numerous photos are relevantly tucked into the text, and the center of the book holds eight pages of glossy photos in full color. The book provides secret access to fifteen video and/or audio online resources, a great complement to the book but one I advise enjoying as soon as possible. Recall that the original edition of Spirit Theater included a phonograph record. Today's new readers must wonder what the heck that is!
But the bulk of the work went into the content, and here is where Larry put in all the hours to share unpublished routines, essays, interviews, scripts, edited drafts, and talks, along with a few "previously published items that felt so essential, so necessary to include in this capstone project." (Note: In order to keep the "posthumous project" to a reasonable -- readable! -- size, six close-up routines and several essays had already been diverted to Larry's and Eugene's 2017 book Teaching Magic.)
The final product, a gift from the Other Side, is hardback with dust cover, 8.5 by 11 inches, 240 pages, $79.95, from TheoryandArtofMagic.com or select dealers. Props for a couple of the tricks are available from the quoted source, as is a lovely signed poster of the program Ghosts.
The highest accolade I can give this new book is that I feel I've just spent a weekend with Eugene. How nice to have you back, old friend!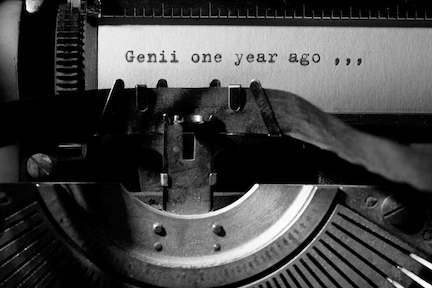 A year ago, I was thrilled to have a four-part contribution as the cover story for the October issue of Genii. This included an article on the use of poetry in spirit theater, a lengthy poem about a contest to determine the greatest spirit medium of all time (spoiler: Eugene Burger scores high), a three-phase seance that can be performed in only five minutes, and Crypt-ography, the eeriest trick from The Little Egypt Book of Ghosts. You can now read the poem, "Beyond the Final Houdini Seance," here, or you can access the beautifully illustrated version in the October 2020 Genii. Here is what I had to say about the magazine in last year's Little Egypt Magic:
PAGING HARRY HOUDINI -- A few months ago, a poem about a séance, titled "Mummy Possesst" in a novel by A.S. Byatt, inspired me to "attend" a séance in my imagination, an afterlife gathering of departed mediums hosted by Houdini. (In the story, Houdini hosts a competition to determine the best medium of all time. Can you guess who wins?) I sent the results to Genii, along with a hodgepodge of spooky ideas, and am now thrilled to see it all in the pages of the October issue. Richard Kaufman and Liz knocked it out of the park with graphics and layout, and I couldn't be happier. Add to my pages a grand piece ("The Room with Thread in its Walls") by Rob Zabrecky and Jim Steinmeyer on the past and the future of the Magic Castle's Houdini séance. Dining with the dead never sounded so tempting, with promises of new ghosts, manifestations, visual magic, music and sound, appearances of the likes of Bess Houdini and Arthur Conan Doyle, and a cast of celebrity voices, all wrapped up in a new story line. One can only hope that the dark clouds of politics and pandemic will clear and make it possible for us to enjoy this ultimate E-ticket ride.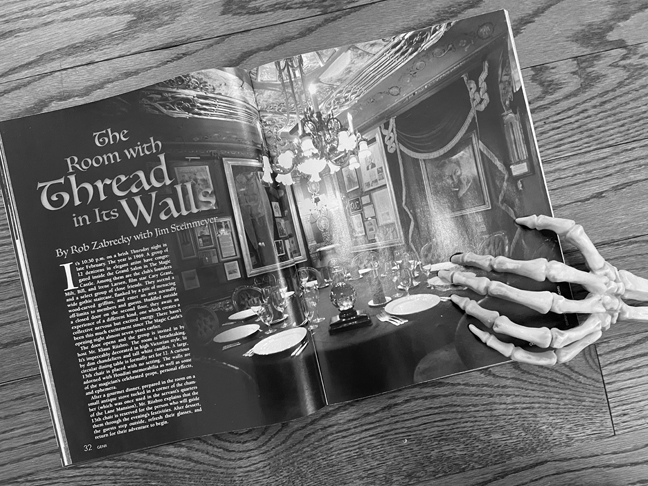 This is one spooky issue of Genii, riddled with images of cats, bats, and cobwebs, Halloween-themed magic tricks, and links in the online version to a wealth of ghostly activity, especially at the Haunted Mansion. Add of course the usual columns, a timely report by Dustin Stinettt on the AMA awards show, and ads from the usual suspects. Notably, the Charlie Miller book is now shipping, the Jennings book is taking orders, and Jim Steinmeyer has a new Impuzzibilities.
| | |
| --- | --- |
| Genii has long celebrated séances at the Magic Castle. Subscribers are encouraged to revisit the issue of January 2003, which devoted 6 pages to the Castle's 40th anniversary and 28 pages to its spooky nature. The latter included "Haunted Mansion" (11 pages on spooky gags and goings on, such as the Robert LaPlaine/Jim McKee "bare bones" displays used here in the title images), "Bumps in the Night" (a 5-page scare by scare report on a séance my friends and I attended), "Dark Secrets" (4 pages behind the scenes with James Williams), "Leo Kostka House Medium" (a 5 -page interview with Leo), and "Have Ghosts Will Travel" (3 pages on Leo's clever séance you can do in the homes of others, plus a great full apparition). A nice companion to the current issue for getting into the Halloween mood. | |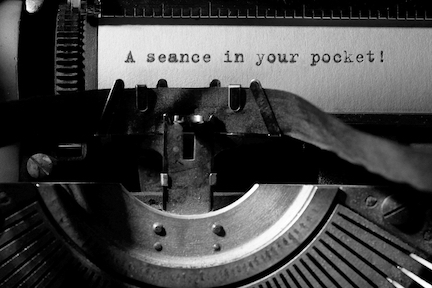 Eugene Burger influenced all my spooky magic as well as my magic in general.He was certainly on my mind when I acquired and reported on a Haunted Key in June 2020. Here is what I had to convey about that.
THE HAUNTED KEY DELUXE – In chapter 19 of Eugene Burger's Spirit Theater, "Spirit Theater for the Close-up Entertainer," Eugene opens with a routine for The Haunted Key, attributing most of the routine to Bruce Bernstein. It is, he asserts, a strong routine, that the key alone is all you need to create a truly spooky experience. For it to turn in your hand by seemingly unseen forces, the key of course must be of the proper size, the proper weight, and it must look old. "If it looks like the key to an old castle … or a haunted house … you've found the right one."
But that isn't easy. Eugene continues, "Finding the right key will require a search. You will need to keep your eyes open, frequent antique shops, specialty shops that deal in items for the bar or fireplace, and, sooner or later, you will find that a key will cross your path. Don't hesitate! Buy it immediately! It may be your only opportunity!"
Fortunately, you need search no longer; your opportunity is here. Murphy's has rjust eleased The Haunted Key Deluxe. The ad promises, "This is more than just a bridge to the spirit realm. It comes with a ton of bonus routines that take the standard effect to new heights."

It does indeed look old, it is perfectly weighted for the core spirit animation effect, and its teeth are conveniently spaced if you wish to add invisible thread motivation. You can of course keep it simple, using nothing more than the key and an appropriate story. In Eugene's book he describes Tony Andruzzi's routine as well as the more extensive Bernstein routine. Neither requires anything but the key. For the story-only approach, you can find a nice Houdini séance version in Séance magazine (either the hardback compilation or Spring 1991). Or you may complicate the routine, animating the key as part of a card revelation or a Living or Dead test. You can add standard thread animation – a few ideas are in the download – or you can, my preference, use loops. It's your choice. It's a séance in your pocket.
And the amazing part: it is only $14.95, for the perfect key and a generous download of instruction and ideas. Take Eugene's advice: don't waste your opportunity! From your favorite dealer. I bought mine from Vanishing, Inc.