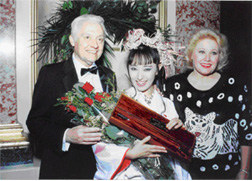 Royalty, 1990.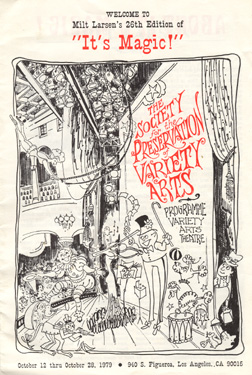 Early It's Magic program.
DARK ANGEL -- Criss Angel's previous one-hour specials have been extraordinary, not to mention his current most interesting series on A&E. Criss will present a new special on Halloween, at 10:00 Eastern on A&E. If things from his "normal" series included the meat hook suspension and being buried alive, what will the spooky special offer?
49 AND COUNTING -- One of my childhood ambitions was to perform the second half of It's Magic!, Milt Larsen's long-running live magic revue, with a spooky stage show. Decades later, Criss Angel is beating me to the punch, thank goodness, with what I hope includes excerpts from his Broadway show and hints of a Las Vegas show to come. Opening for Criss on October 29 and 30, at the Ricardo Montalban Theater, are Erix Logan, Shimshi, The Mums, Les Arnold and Dazzle, Rich Bloch, and Tina Lenert. This is Milt's 49th outing, just an incredible feat, and it should be one of his best.
CLUELESS -- I don't have a clue at to what Max Maven's new book from Hermetic Press, The Protocols of the Elders of Magic, is all about, but I learned to trust Max and Stephen Minch years ago, so my check is in the mail. You might wish to do so also ($50 plus postage; see the web site), as Stephen is printing only 500 copies. All he admits is that it is "an unpleasant little book," that it was "over a century in the making," and that it contains "no tricks," only "one secret." Hmm.
October 2005
Happy Halloween. Precious little magic crossed my path this month, as I was busy on an alternative Halloweenlike project, hence this issue deals more with portents of things to come than with reviews of things past. My Magic 8 ball sees new stuff from Criss Angel, Max Maven, Penn and Teller, Milt Larsen, and Princess Tenko (to drop a few A-list names), along with one nifty coin trick from Ken Sanders. Meanwhile, ...
Boo!
THE PRINCESS DIARIES -- I've long felt there should be more magicians in the world who look like Melinda or Princess Tenko than like, say, Charlie Miller or Ricky Jay (aside: I'm a huge fan of all four just named). For those who wish to test my theory, Princess Tenko is bringing her full stage show to Las Vegas for performances on November 4,5, and 6. She'll be at the Cashman Theatre with guest magician Norm Nielsen. Ticket prices are $35, $45, and $55, and you can purchase them from Ticketmaster at 702-474-4000. You might want to check out the brief Wikipedia article on this former pop singer turned magician at Princess Tenko.
ALL WET -- More than a few magicians think Penn Jillette is all wet, and he is about to prove them correct as he and Teller launch their first special in a few years, a two-hour (!) special on NBC November 13 called Off the Deep End. The entire show, according to the promos, will take place under water. In Penn's words, "Magic needs a good head soaking." No better place to start!
GONE -- Way back around the middle of the last century, Ken Allen marketed a coin vanish called Scoop. You placed a nickel on the palm of your right hand, waved the left hand over it as you closed your right hand, and then showed both hands empty. It was cool, and it might fool many today. The look and feel of Scoop is how I would choose to perform any Raven-type coin vanish, as it throws in a tad of time misdirection, but you can, with Raven for example, vanish a coin off the back of someone else's hand if you like. And now along comes a new vanish from Ken Sanders called Subterfuge that gives you the same options. While it employs some of the technology of Raven (and Scoop!), it does so in a delightfully novel way, being more like Scoop (which I know most of you under, say, 50, are unfamiliar with) than Raven in that it uses nothing mechanical. Your hands are clean and empty after the vanish. For your money ($45) you get the multiple gadgets necessary to vanish the coin and a dvd explaining the details of performance (it's a very basic dvd with poor sound, but the guys on it are sincere and full of justifiable enthusiasm). You do not get the coin itself and will need one of the type used with Raven. (Scoop, to dwell a moment in nostalgia, cost $2 and included the coin. But a gallon of gasoline was around 35 cents at the time.) I've not yet foisted this on any laymen, so can't verify how it plays, but it's a heck of a lot of fun to practice, is easy to do, and is an intriguing and new use of not one but two ancient principles.
ADDENDUM -- Last month I threw in a few kind words about the complete digital version of The New Yorker magazine, all 80 years. Re the magazine, the kind words remain. Re the search engine that comes with it, the only word I can come up with is sucks. They've issued one update so far, but they've a long way to go to bring it up to the level of quality the magazine is known for.