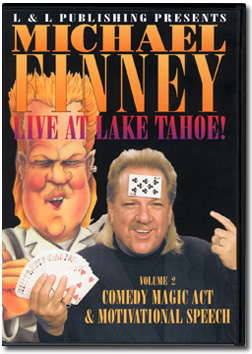 All you need is six tricks.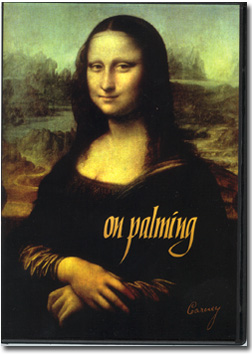 How to make palming an art.
PALM READING -- When you first become involved in magic, palming is one of the first "moves" you hear about. Most beginning texts discuss palming coins, but it's palming cards that quickly becomes a killer tool in the hands of the professional closeup magician. Among the best at this skill (as well as many others) is John Carney, whose palming roots harken back to Erdnase, and who was tutored from there by Dai Vernon himself. John has just released a new, beautifully packaged dvd called On Palming, and its chief merit, among many, is purely inspirational. That is, you get to see John execute over ten classic palms yet you don't "see" anything. You indeed don't even suspect anything, yet the cards are suddenly in his hands. I do not suggest attempting to learn some of the more difficult palms from this dvd alone, for a couple of reasons. First, I still favor books, and I think moves such as the Erdnase Diagonal Palm Shift are best served by numerous stop action illustrations. Two fine sources come to mind, Erdnase itself (and the best incarnation is Darwin Ortiz's The Annotated Erdnase, if you can find a copy) and John Carney's own The Book of Secrets, which contains an excellent chapter on palming that was no doubt the genesis of this video. Second, on this dvd John palms with the opposite hand than most of us do (I am left-handed, as he is, yet palm right-handed), so this may or may not lead to confusion where intricacies are involved. Most of you probably have a copy of Erdnase and you should have a copy of The Book of Secrets. With those references handy, this dvd now becomes an excellent teaching medium, especially with John's emphasis on demeanor, misdirection, and management, the real secrets that make palming work. A most valuable addition to the palming canon. $38 pp only from carneymagic.com. Big news: a limited second edition of John's The Book of Secrets is also available, at $58 pp.
BITS AND PIECES -- We're pleased to note a favorable review for The Little Egypt Book of Numbers from Michael Close in the October issue of MAGIC. Fair warning: order a copy from H&R Magic Books before the boys run out. Also, just in the mail today, is a Special 20th Anniversary Edition catalog from L&L Publishing. Congratulations to Louis Falanga and staff on 20 years of great books and dvds.
October 2004
Okay, just how many are going to the Magic Castle Halloween party dressed as Martha Stewart in stripes? Only in America. This month, amid all the usual Halloween magic goings on, we take a look at Michael Finney's "old" dvds, John Carney's newest dvd, Mickey Silver's demo dvd, and Steven Youell's lecture notes. All great stuff.
COMEDY TONIGHT -- I have always favored books over dvds as a teaching medium. The advantage of dvds, their raison d'etre, is that they can record wonderful performers in their primes. Hence while you can learn a lot from some of my favorites, such as my Bill Malone, Doc Eason, and David Regal dvds, the best thing about these sets is that you get to see these guys perform. You can share with your family why it is you travel to Boca Raton or Snowmass or conventions. Even though it has been on the market for quite some time, I am pleased to add, to my list of favorites, the three-volume set Michael Finney Live at Lake Tahoe!. That this set includes more performance than teaching makes it all the more valuable to me. Volume 1 contains Michael's classic standup comedy routines, with no magic. (I regret to say that my own medical history now includes a procedure that Michael describes in excruciating detail. The whole time I was going through it, I was thinking of Michael's lines.) Volume 2 features Michael's magic show, with all his great routines, plus a motivational speech that Michael gives in his lectures. Finally, Volume 3 contains the secrets. And while some might tend to dismiss Michael's magic as "easy" (he does Six Card Repeat and Professor's Nightmare, after all), time spent trying to understand what Michael does will give you a whole new respect for the incredible work and timing that have gone into this act. I also applaud Michael's selection of material that, like Mac King's act, packs small and plays big. Michael has made this material available in a teaching dvd set decades before he probably should have, and we should thank him by understanding what he is really teaching: how to perform magic that fits your personality. Or better still, just buy these dvds to simply enjoy Michael's routines. Invite some friends over, make some popcorn, and be prepared to laugh. $99.50 from L&L Publishing.
DON'T BLINK -- At Stan Allen's recent MAGIC Live II, I had the great pleasure of meeting Mickey Silver and seeing him demo his marvelous new retention vanish of a coin. You will believe, you will swear, that Mickey places a coin into his hand or into his mouth. You see it there. If you don't believe it, Mickey will open the receiving hand and show you that it is there. But, it isn't there! It never was there. Wonderful routines are possible with this vanish. On a new demo dvd that Mickey is distributing to many interested parties, he explains the thought that went into the move and many uses for it. He does not explain the specific mechanics. That he will presumably sell later when there is sufficient clamor for it. Oh, my. This is just soooo good. I do not know if it is easy, as I don't know the secret. Mickey certainly makes it look easy, and he does it a kazillion times on the dvd. If you have an opportunity to see the dvd demo or to see Mickey in person (he's making the convention rounds), don't pass it by. Meanwhile, as Pete Biro would say, stay tooned for those ads.
NOW YOU SEE THEM, NOW YOU DON'T -- Steven Youell pops into and out of view* in magic over the years, and he is currently quite visible with a great set of lecture notes titled "Weapons of Mass Destruction." The notes include 20 titled items in 65 pages, and it's all strong stuff. Steven's "The Card Trick That Has No Explanation" is an old favorite of mine, and I loved the premise of the "Infamous Non-working Self-Working Card Trick." His "Hacker Stack" could become your favorite memorized stacked deck (very possible if you can faro), and there are some fine uses for it here. "Flummoxed" anticipates Tamariz's work on the half stack, and "Harry the Hacker" is a dead easy miracle with a stacked deck. The mss concludes with a few essays and sleights, of which I especially enjoyed the bits on "Proactive Control and Strategies" to be able to handle any slipup or any difficult spectator with aplomb.
*I once attempted to learn a Steven Youell card trick that involved my eating an old French fry from a Burger King bag. The taste of that old French fry still lingers ...