Congratulations to Dustin Stinett, John Bannon, Rachel Wax, Bob Farmer, David Sandy, and Lance Rich, for the following ...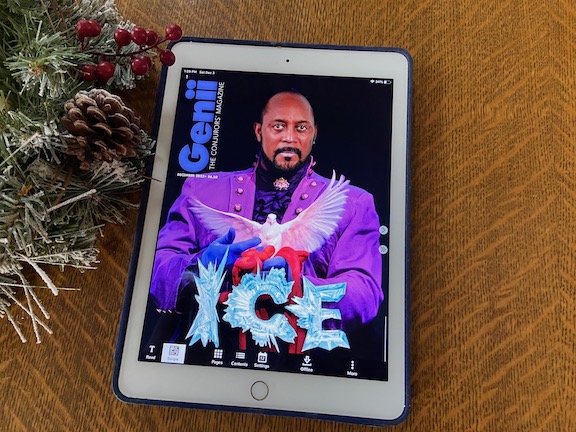 MISSION ACCOMPLISHED — First, congratulations to Dustin Stinett for editing an entire year of Genii: What an assignment! It was an excellent turn, with this grand old magazine at the top of its game, including a mammoth double issue on FISM Quebec. Well done! I love having breakfast on the 20th of each month with Dustin (and Richard before him) speaking to me via video.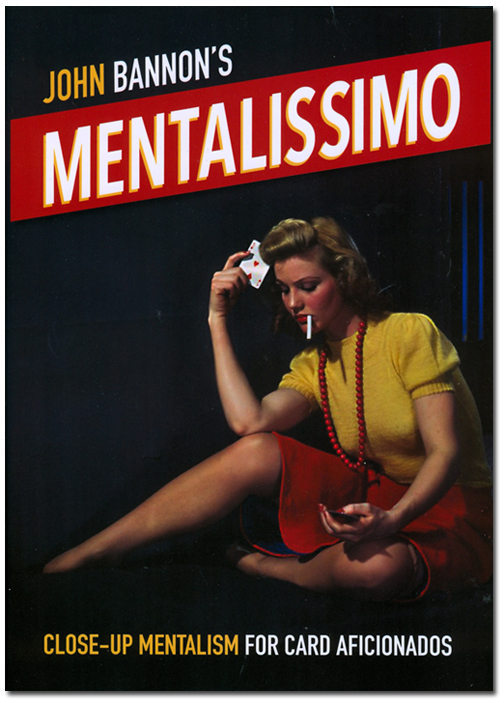 THERE BE QUEENS — And speaking go Genii, one of my go-to columns is John Bannon's "Dealing with It." In December he knocked it out of the park with Con-ttourage, a takeoff on Gordon Bean's Entourage. The magi displays four face-down cards sandwiched between two face-up black jacks. The spectator imagines the face-down cards to be queens, and one by one eliminates them, suit by suit, until only the imagined queen of hearts remains. It is turned face up, shown to be the actual queen of hearts, and is then dealt face down to the table with the other face-down queens. They are turned up and shown to be not queens but aces, and the queen of hearts turned up and shown to be the final ace. The jacks are spread and a face-won queen of hearts lies between them.
I look forward to John Bannon's new book, Queen Spirit, from Vanishing Inc.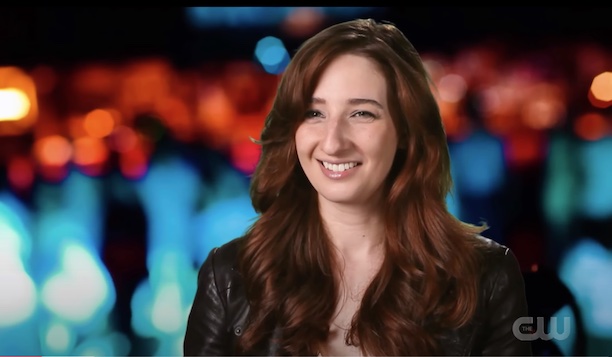 TRIUMPHANT — Congratulations to Rachel Wax for losing the war but winning the battle on "Penn & Teller Fool Us." Her trick was Signed Bill to Impossible Location, but her magic was Rachel herself. She took no prisoners. This is how the game should be played.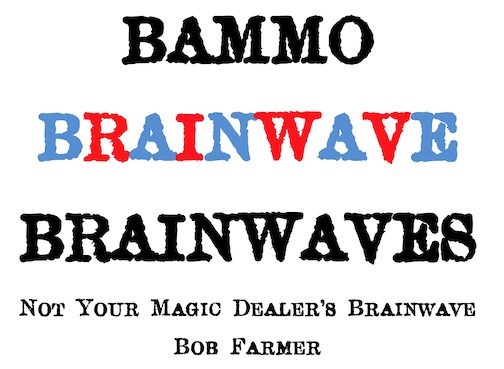 NOT YOUR FATHER'S BRAINWAVE DECK — Robert Farmer has completely deconstructed and rebuilt a new version of the Brainwave deck. The new deck and its routines allow you to:
1. Predict the ending in writing before the card is revealed,
2. Show a regular deck top and bottom before the face-up card is revealed.
3. Predict three choices in writing. No forcing.
4. Destroy a spectator's freewill as he selects a card from a deck he has shuffled and examined.
5. Cause a selected card to vanish and appear elsewhere.
Considerable craft work is required, but that is true of an "ordinary" Brainwave deck. The new mechanics, camouflage cards, locations of cards in the deck to avoid trouble (you wouldn't want the ace of spades to be the bottom face-up card, for example), and markings make performances easier and more deceptive than ever. I used to close my close-up sets with a Brainwave deck and would love to have used the Farmer deck. Bammo Brainwave Brainwaves is a download from lybrary.com ($25) (alas, not the deck itself), and comes with complete construction details, handling, a half-dozen complete Brainwave routines, origins of the Brainwave deck, four bonus Dr. Jaks routines, plus more.
MEMORIES WELL SERVED — Two episodes of David Sandy's and Lance Rich's Collectors Corner Online have appeared since we last spoke. I love this marvelous free resource, and the Zoom participants usually constitute a who's who of magic. The first fepisode featured an amazing tour of Houdini's final home as it now exists. The second was devoted entirely to the magic of Paul Daniels, with Debbie McGee on live to answer questions. Brilliant. David asked viewers to share any magic they might have from England. My favorite is the attached photo!

Kostya Kimlat's wife, Amy Kimlat, has written a delightful picture book to entice young readers into a study of magic. The following paragraph constitutes my review sent into Amazon, and the book would make a nice gift to a birthday party client with young children.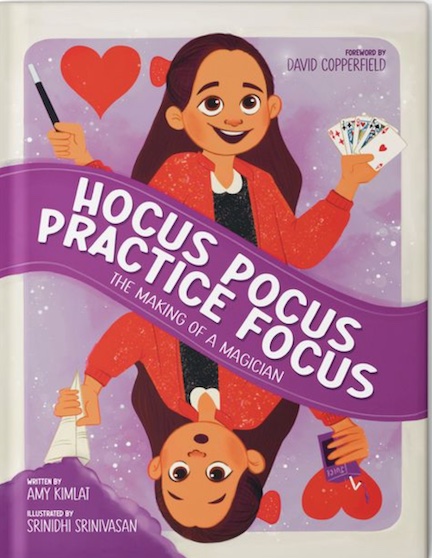 When I was a boy, my second grade spelling book described a magic show at a child's birthday party. There was a black backdrop, and a coin appeared from thin air. Like magic, that week's spelling lesson lured me into a lifetime pursuit of amazing friends, family, and total strangers. In Amy Kimlat's new picture book, Hocus Pocus Practice Focus: The Making of a Magician, birthday girl Mila is similarly smitten by magic. A show by Greta the Great starts her on a study of magic where you have to acquire knowledge and practice hard, not just say magic words. Amy Kimlat was an amateur magician and is married to a professional magician, so she writes with authority. Readers who know a little about magic will notice that Mila's P & T Elementary School is named after a professional magic duo, and that the names on the spines of the books Mila checks out of the library are real-life magical writers. Mila's story is told in cheerful rhyme and charming artwork, and it closes with two magic tricks that readers can learn with a little practice. And focus! Young readers should find Mila's story as enticing as a magic show by Greta the Great herself.
What was your introduction to magic? Available from Amazon or your favorite dealer, $19.99 hardcover and $14.99 paperback. Written by Amy kimlat, illustrated by Srindhi Srinivasan, with foreword by David Copperfield.

And some folks left us, including Andre Kole, Earl Nelson, and the incredibly wonderful Max Maven. More on Max below. Farewell also to the wickedly talented Jerry Lee Lewis. He and his rock and roll cohorts provided the soundtrack to my puberty.
PASSINGS — I first saw Andre Kole when I was in college at the University of Illinois. I even sat through his sermon to witness one more trick. I was later to realize he had invented Melinda's Drill of Death, one or my favorite illusions to watch.
I saw Earl Nelson perform at the magic Castle, and could not wait to try my own material soon to see if I could make it that smooth. I never could. He was a wonderful performer..
My only regret regarding Jerry Lee Lewis is that I never learned to dance properly. But oh, I like that music. My 45 collection is still a favorite possession. Aloha, Killer.
I shall miss them all.
ALOHA, MAX MAVEN —And now toMax, who has finally left us after a long illness. Magic saw it coming, there was time to honor him while he as still around, and there was time for him to say goodbye to magic, but still …
It would be ridiculous to attempt to summarize Max's accomplishments. He was one of the most creative magicians of the twentieth century, in that big league with Stewart James and Ed Marlo. Rather, here are a few personal observations that clamor to be mentioned.
Max was an early participant on internet forums. I encountered him on the Electronic Grimoire in the days we had dial up modems. Being young and inexperienced, I would occasionally try to debate him onside topic. He would always trump me with facts. Politely and succinctly.
Max was a must-read columnist. His "Parallax" enlivened the early years of MAGIC, ,especially its "Meow Mix" subtopics. And for 60 installments, his "Inquisition" puzzles in Genii thrilled me. Occasionally he would burst past the limits of a single column and write/edit an entire issue. A favorite was the September 1996 issue celebrating 60 years of Genii. Here is a 50-50 split, half devoted to a decade by decade history of Genii and magic in general, and half a rick section featuring performable material from some of the finest magicians of the day. (Erika was editor at he time. I suspect Max worked even harder on this issue than usual.)
At least two of the Genii issues featured Max on the cover, March 1981 and February 2018. The 1981 issue took a swing at listing all of Max Maven in print. Worth a look. The 2018 issue has numerous photos of Max when young, before all the black clothes and the widow's peak, when rock and roll was still as alluring as mentalism.
Max had an encyclopedic knowledge of magic. His Storytime with Max Maven were my favorite Behind the Bookcase perks that entertained us from the Magic Castle during the pandemic year. He could weigh in on a factual debate, or he cold suggest material to his friends such as Mac King that might be really, really useful in their acts.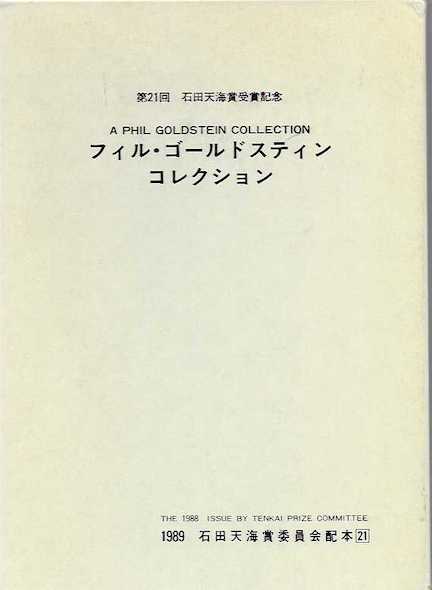 Max's knowledge derived not only from being well-read but well-traveled. In particular he influenced Japanese magic, and Japan influenced him.
Max was a vital citizen of the Magic Castle's AMA. He has served on the boards, has done a stint as Entertainment Director, and most importantly has been a performer. I believe he holds the recrord for being the only performer to have worked in ALL the rooms at the Castle (this includes the seance chamber and the Haunted Wine Cellar stage).
Max was feared. His audiences feared this man-in-black whose opening line was "Boo!" and regular Joes at magic conventions feared approaching him to chat. "You spoke to Max Maven?"Sometimes he could frighten you only with images of his eyes. Or his hairline. I attended a convention in Nashville that the locals boycotted, because Max was on the bill and he was in league with the devil. "That's ridiculous, " he scoffed. "We're barely on speaking terms."
All this of course belies the fact that he was often the sweetest, most sharing guy in the room.
Max developed a reputation as being the go-to guy for interactive magic or mental tricks on television. It was a niche he was proud of.
For many years I had seen Max perform only a single item, never a full show. I finally got to see him do his full show at the Genii convention . My full review on that show: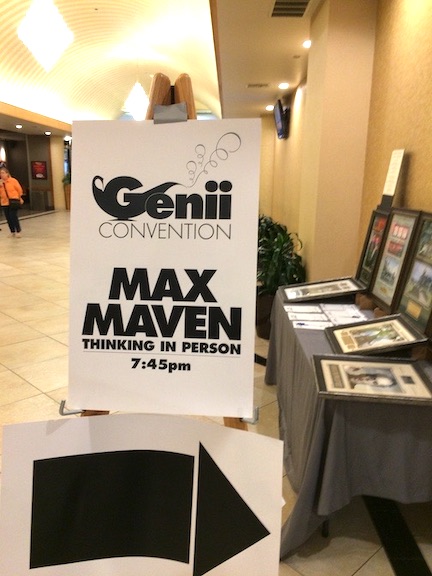 I had to name the three items that made this convention one of the top gatherings ever, it would be the two interviews plus Max Maven: Thinking in Person. Max made a triumphant return from his absence two years earlier, and he had me from the get go, with the erudite dissection of his four opening words, "Once upon a time." Thinking in Person is a two-hour show with a 15-minute intermission (during which the performer revamps his hair style). There is some mentalism along the way, things with cards and chairs and keys and the mystery of whether a dime under a cup is face up or down, but the memorable bits are the grand sweeps of language and the frequent pedantic chiding, the knowing sidelong glances. It's nice that the audience is invited to think along with him.
A lovely show. As mentioned, Max had time to bid us farewell, and addressed his illness courageously in this interview with Luis de Matos, at FISM Quebec. To this Max adds these words are from his web site:
"I made my life about words, reading them and writing them. I wish I had a more elegant way of telling you that I love you.
"I had a good run, made wonderful friends, shared many laughs, and I learned a great many things. I learned that magic allows us to be so much bigger than we are. I learned we should be kind to one another and forgive people for being flawed and prideful.
"The one thing I know is that we can all do better, and I think we will."
Wow, Max.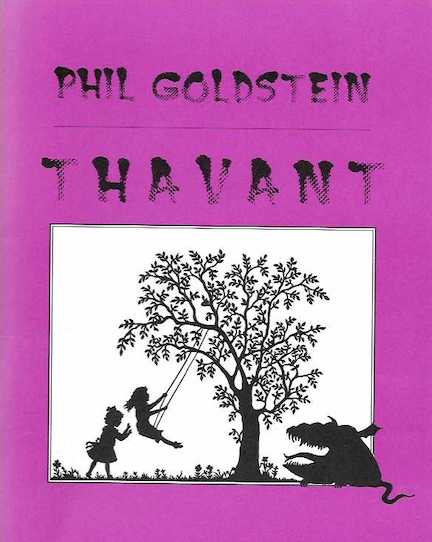 I shall close this page with a poem from Max's book Thavant. (You might look it up for a great trick called Mix Me Deadly.) I don't know if it is from some unnamed poet or from some guy named Phil Goldstein, but it seems appropriate.
Meanwhile, aloha, Max.Thank you for being nice to me.
To put us in a slightly better mood, here is a review of Max's Prism, from February 2005. From when Max was younger, and many of ihs mysteries lay ahead. I trust you posses this book!
FULL SPECTRUM -- If speculative pricing on eBay is any indication, Max Maven's Prism must be one of the most eagerly awaited volumes in many a day. As all must know by now, Prism is a handsome hardbound compilation of Max's long unattainable color series on mentalism (The Blue, Red, Green, Yellow, and Violet Books of Mentalism). While it has been my misfortune to be among those who have been waiting, I am more than pleased to finally have the material in my hands. The writing is refreshingly concise, and the material itself is reminiscent of those practical, entertaining nuggets one used to encounter in The Jinx. This series began in 1976, along with Max's reputation, and, as Max notes in the foreword, the material has held up well. (As has the reputation!) Among my favorites: "Desire" melds a Living and Dead test with Pseudo Psychometry methodology (and a little more) for an effective piece that is anything but Living and Dead. "Satan's Nightmare" is a sort of signed Tarot card to envelope with the feature that all evidence of chicanery is destroyed, literally, before the final revelation. "Vision Version" is one of several items for which Max developed a new "ESP deck," featuring two design duplications and one strong prediction. "Nucleus" will fool those familiar with Gary Plants' "Magnetized Cards." (You can apply Mike Close's interesting presentation from Closely Guarded Secrets to this effect.) Finally, I close my own set of card material with an item that has its genesis in these pages, "The Spirit Is Willing (To Write)." That item was later varied by Eugene Burger and Rick Maue and eventually myself, but it all started with Max. There is much more of interest among these 53 items, but what I've just described would make for a most interesting set of dark experiments. As for production, this book is one of the best Stephen Minch has put out, a pleasure to read and behold. I hope both he and Max are rolling in moolah as a result. If so, can a consolidated lisp series be far behind?