FINAL SECRETS — As with the best of Eugene Burger's books, beginning with Spirit Theater, the new Eugene Burger: Final Secrets is a marvelously labyrinthine affair. You can get lost in it for days. In what author Larry Hass calls layers and levels, here lie "essays, handouts, interviews, routines, unrecorded ideas, conversations, sleight descriptions, rigorous arguments, poetic meditations, and magic-dharma talks." Add to this an introduction, multiple prefaces, final words, letters, scripts, lists, line drawings and photos (color too), and access to 27 videos. And at its heart: secrets. So many secrets.
I don't recall having anticipated a book more than this. What got me through that last week, awaiting a promised Halloween delivery, was Nathan Coe Marsh's excellent review in Genii. I read it over and over. And the book delivered, all promises satisfied.
Among its myriad layers, the book's largest-scale organization falls into five Parts. (Subsets include numbered Chapters and then Sections, Talks, or Entries.)
Part One Classics is a mix of essays and four strong card tricks, including my favorites, Influence and Destiny Has a Name. The latter item is a self-working, highly deceptive multiple out routine, the one I am most likely to perform from this book. Like many of the effects, it evolved from a Max Maven trick.
Part Two Growing in the Art of Magic had its origin as a set of audio tapes in 1992. It is safe to assert that Eugene Burger's voice contributes heavily to his status in our world, both his deep physical voice that most of us first heard on a plastic phonograph record inserted in Spirit Theater, and his writing "voice," his professorial teacher-to-student address, as compelling, authoritative, and idiosyncratic as that of Harry Lorayne. Both the written and the spoken are here, the spoken spread over 10 of the 27 videos. A Michael Caplan interview extends the project.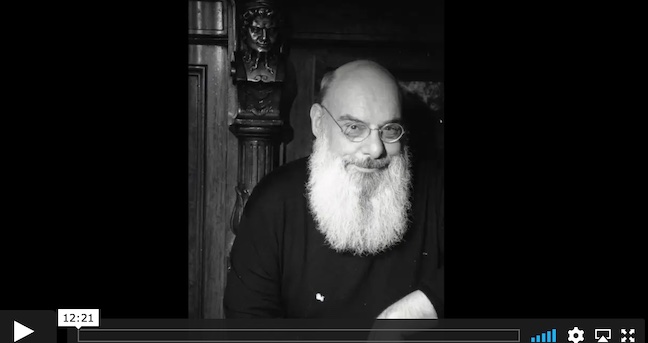 Part Three Close Up Card magic and Performing Philosophy provides more than a dozen moves, tricks, and subtleties along with a few more essays and interviews. The killer in this bunch is Fishing, in which the spectator selects five cards from a "sea" of swirled cards, eliminates three of them, and then chooses from the last two. He always chooses the predicted card.
An aside. One of the tricks that was completely new to me was The Robot, a card revelation involving a wind-up nun that spits sparks out her mouth. Eugene called it Nunzilla. I had used one differently, years ago, and ran a photo of it, with a gag caption, in The Little Egypt Book of Ghosts. I eventually used all three gizmos from that photo, with that same line, in a real trick. I found it interesting that Eugene employed the same prop for a card trick but hit on a totally different method. Great minds think alike.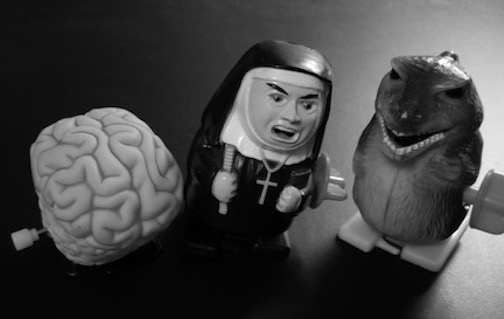 Part Four Conversations covers seven discussions, my favorite being Early Professional Days: An Interview. Here Larry Hass and others chat with Eugene about his earliest involvement with magic, his college and day job days, his turning pro with all the details: which restaurants, which days worked, how long at each and so on, Perhaps the most revealing interview in the book. The funniest, to me, was the complete story of The Magic Beard, Eugene's stand-up full evening one-man show. Funniest because it was the opposite of Eugene's philosophy of less is more. I was exhausted just reading it.
And finally Part Five Psychological Magic. This was the reason to buy the book, the reason I have been waiting for decades for Eugene to write it: to finally learn the secret to Eugene's take on Dai Vernon's The Trick That Cannot Be Explained. This is bucket list information.
As Nathan Coe Marsh tipped last month in Genii, Eugene used equivoque to steer the spectator to a predicted card in a shuffled deck. But the devil is in the details. Chapter 25 is Eugene's Approach to Equivoque; Chapter 26 is The Trick That Cannot Be Explained. Heavily influenced by Max Maven's work, Eugene's system with equivoque is precise, always the same for two through five options. (I can recall him fooling me badly when he got down to two choices.) Eugene had taught workshops on the subject and provides material from those along with an extensive bibliography. Excellent card tricks based on his approach beg to be performed, including an advanced version of Eddie Fields' Cool Spell and an ungaffed version of B'Wave.
And then he explains the unexplainable. Despite his and Larry Hass's clear instruction, the student is likely to learn more from 19 demonstrations spread over 6 videos. Many contingencies rise, and the search always narrows to the inevitable. It is as if you have been given s front-row seat to a private workshop, and you get to take the copious notes home. How nice!
These final chapters along with the book as a whole are all I hoped they would be. Indeed Eugene's posthumous project of two defining texts is one of the great events in magic history, amazingly conceived by Eugene and perfectly executed by Larry.
There is plenty of compelling magic, essentially self working, in the 17 previously unpublished routines, and I have barely mentioned the wealth of wisdom in the essays and interviews. Final Secrets is a handsome volume, designed (as was From Beyond) to match the Richard Kaufman/Eugene Burger books and to be comfortable for reading in bed. (Confession: it weighs in at 352 pages, nearly 120 more than its predecessor, and some excellent magic was shuttled off to Teaching Magic to help manage its size.) Essential for Eugene Burger fans. $120 postpaid from TheoryandArtofMagic.com.

BEWILDERINGLY — It was back in 2002 that Jim Steinmeyer introduced a new format and a new niche he called Impuzzibilities, aka Strangely Self-Working Conjuring. He has followed this with still more that are Further, Unexpected, Subsequent, Ensuing, Treacherous, Devilish, Curious, Virtual, and, now, Bewildering. (The complete subtitle of the latest is Demonstrations of Incredible, & Yet Incredibly Self-Working, Conjuring.) And so it is. When you tackle something as mentally demanding as Eugene Burger's TTCBE or Larry Jennings' sleight of hand, it's fun to just deal through a small packet of cards a few times and create a surprising miracle. So it is with this tenth compilation of eleven new routines.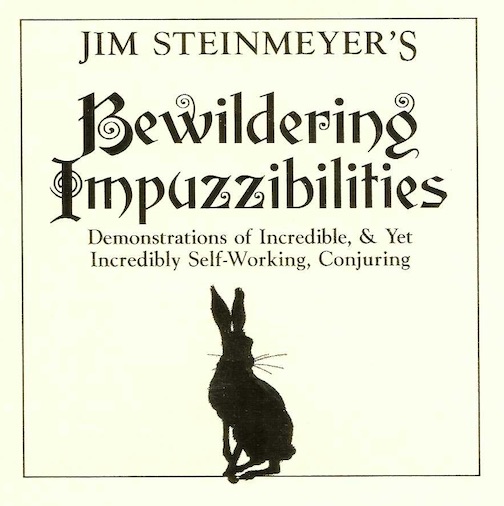 Three that I especially liked:
In Traveling Companions, you take an imaginary trip with three friends, spelling the day of the week, the date of the month, a country in Europe, and the season. Only eleven cards are in play, and your dream trip comes true.
In Fastest, Neatest, you seemingly scramble the cards in a packet of fourteen. But when you display the results of the scrambling, the cards appear to actually be mixed. Ah, but thanks to a simple code, they are seen to be in a precisely predictable order. (I first toyed with the idea of "interpreting" an outcome with a set of Patrick G. Redford photo cards, after Magifest 2020. I think it has possibilities.)
In Will I Be Lucky?, spelling out a bunch of Magic 8-ball type questions with a packet of nine cards always arrives at your lucky card, the 10 of hearts. Just as the spectator guesses that all the cards must be 10 of hearts, you show them to be one 10 of hearts and eight blank cards.
Softbound, 36 pp in the usual charming format, $26 plus postage from jim steinmeyer.com.

HOARDERS — Two wonderful books appeared this month concerning collections of magic: Exemplars from The Ricky Jay Collection and David Copperfield's History of Magic. Each, I thought, made an odd choice regarding point of view. Ricky wrote his chapters in third person ("Perhaps Mr. Jay's favorite area of collections is broadsides …"), while David, despite two heavy-duty waters on the project, chose to write entirely in first person ("I have performed several de Kolta illusions over the years …"). More about this in a moment …
RICKY'S COLLECTION — Ricky Jay's collection of magic and associated subject matter, sold at auction at Sotheby's last month ($3.8 million), numbered some 10000 items from over fifty years of travels. During the months before his death, he prepared the collection for eventual sale, assembling along the way this lavish new book. He had completed a draft of every chapter and had begun editing, and I can only assume that his choice of third person was to put the emphasis on the collection and not the collector. His interests were eclectic, as evidenced by the titled contents: The Great Magicians; Harry Houdini; Matthew Bouchinger; Rare Books on Magic/Blow Books; Remarkable Characters/Pedestrians, Centenarian, Low Life, on Men, Poker; Pickpockets & Shoplifters/Cant; Frauds & Hoaxes; Dr. James Graham; Devices of Wonder & Pre-cinema/Automata, Automaton Chess Player; Spiritualism & Spirit Photography; Women; Phenomenes; Armless Artists; Performances & Various Unusual Acts; Learned Animals; Menageries; Music Hall & Vaudeville; Ventriloquism; Jugglers & Acrobats; Peter Larkin; Museums; and Circus.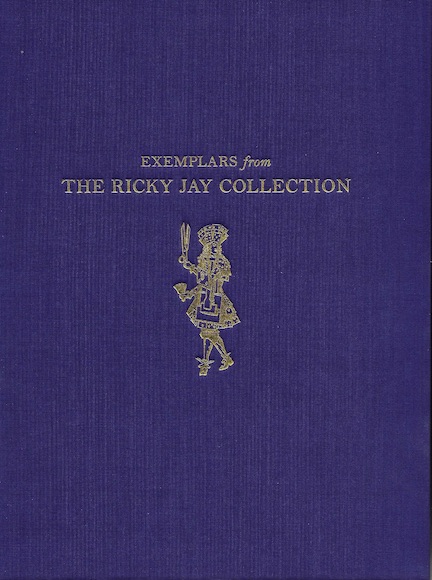 Images of the items in the collection are accompanied by captions drawn from Ricky's books, where many of the images first appeared.
Rounding out the contents are frontal matter including "By Ricky Jay" ( a list of his published items), "The Ricky Jay Collection" (an overview of the book's contents), "About Mr. Jay" (Ricky's credits as a premiere collector, the author and contributing editor of books and a quarterly journal, a writer and lecturer on varied topics, a performer of sleight-of-hand magic, an actor in films and television, a consultant (co-owner of Deceptive Practices), and subject of a documentary ("Deceptive Practice: The Mysteries and Mentors of Ricky Jay"), "The Finest Exemplar" (an appreciation by Steve Martin), and an "Afterword" (an appreciation by David Mamet).
These last two items are the highlights of the book, outstanding prose from Steve Martin and David Mamet. Steve Martin celebrates Ricky as "the swindler who never swindled, the conman who never conned, the cheat who never cheated" and who was "the finest evaluator" of his collection, who "knew the tendrils that relate one object to another." Steve's piece is accompanied by a hilarious broadside (by Ricky) extolling the virtues of The Great Flydini. David Mamet praises Ricky and She Silverstein as autodidacts, paragons "whom the cold, moist hand of education never defiled," and declares himself proud to be Ricky's and Shel's "third Musketeer."He bemoans that no one is left in his circle who gets the jokes. High praise indeed.
Caveat: As superb as these pieces are, I still champion the Luc Sante appreciation of Charles Addams, mentioned here in February 2021. Just crazy good writing.
The book has been lovingly put together by Conjuring Arts as a boxed hardback, extremely well packaged, 352 pp, $139 including postage. One thousand were printed, and mine is numbered 791, so be warned.
DAVID'S HISTORY — Whereas the Ricky Jay book focussed on hRicky's collection itself, the David Copperfield book uses David's collection/museum as a springboard to convey considerable information about the history of magic (and, when applicable, how that history has impacted David or vice versa). David employed two of my favorite writers, Richard Wiseman and David Britland, to do (I assume) most of the writing. Hence it is confusing, given that the writing is cast as first-person-David-Copperfield, as though every word came out of David's mouth and experience. It might have been interesting to know what Wiseman and Britland each contributed. And yet, let's be fair. David Copperfield does have a lot of experience with his topics, and the end result flows smoothly. (Of the three co-authors, give the writing prize to whoever wrote the last sentence in the Harry Kellar chapter. And that might have been David Copperfield himself.)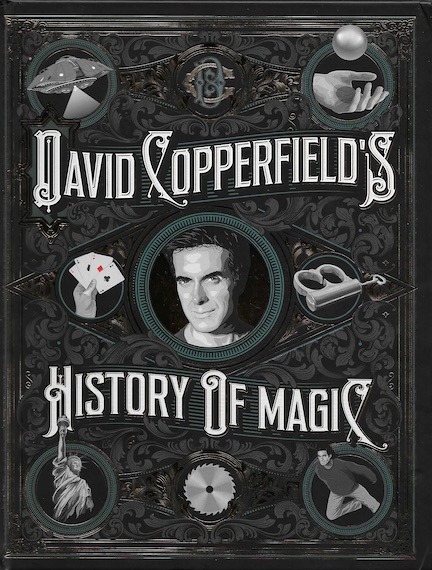 Point of view misgivings aside, I should cut to the quick: This is a wonderful book. Given that it is a heavily illustrated coffee table book, I had planned to merely skim the text. But no! The fresh writing and surprisingly detailed scholarship made it a real page turner, absorbing throughout. I learned something, and occasionally a lot, in virtually every chapter. There are 28 such chapters, or 29 if you bought it from Barnes and Noble (as I did). The subjects of those 29 chapters include such topics as Discoverie of Witchcraft, Robert Houdin, magi who entertained Presidents, John Nevil Maskelyne, Alexander, Professor Hoffman, Buatier de Kolta, Harry Kellar, Adelaide Hermann, Martinka's, Erdnase, Max Malini, Chung Ling Soo, Houdini, Howard Thurston, Okito, Dante, Harry Blackstone, Cardini, Arthur Lloyd, Dell O'Dell, Channing Pollock, Richiardi, Jr., Dai Vernon, Tannen's, Al Koran, Doug Henning, David Copperfield, and Orson Welles. Imagine owning pieces of all that history!
All this, and so far I am discussing only half the book. The other half is those lovely photographs, courtesy of Homer Liwag. Homer's rich photography is the closest I can imagine to a tour of David's museum and will lure many back to the book, time and time again. Text and art are beautifully laid out by Paul Dippolito. Kudos to everyone involved. The chapter titles, by the way, were fun to read. Can you assign the following to the correct subjects from the list above? Titles: "We're Off to See the Wizard," "The Queen of Magic," "Free Rabbits," "In Pursuit of Perfection," "The Mystery Box," "The Man Who Believed in Real Magic." (Answers next month.)
Hardback, Simon and Shuster, 282 pp, $35 ($29.99 from Barnes and Noble with bonus chapter). A bargain!

DUES WELL SPENT — One of the silver linings of magicdom's going through a pandemic is that the Magic Castle/AMA developed the ability to stream its perks. Although streaming has dropped off since the Castle doors reopened, the technology survived, and has been put to use for two recent events. For each of these, audiences were both in person at the Castle and virtual around the world. Both were great fun.
First up, on November 3, was Storytime with Max, my favorite of the continuing perks. I was happy to see Max looking fantastic and full of enough energy to entertain and educate us for over two hours. In his role as raconteur-in-chief, he shared stories of Stan Allen, Nani Darnell, Gay Blackstone, Jay Ose, Lou Derman, Bill Derman, Virgil and Julie, Tommy Wonder, Ton Onosaka, Jack Goldfinger, Channing Pollock, Aubrey, John Daniel, Kirk Kirkham, Milt Larsen, Charlie Miller, Carl Balllantine, Harry Anderson, Larry Jennings, Irene Larsen, Gorgeous George, Eugene Burger, Doug Henning, Billy McComb, Jay Marshall, Liberace, Peter Pit, and Liberty Larsen, plus others mentioned in passing.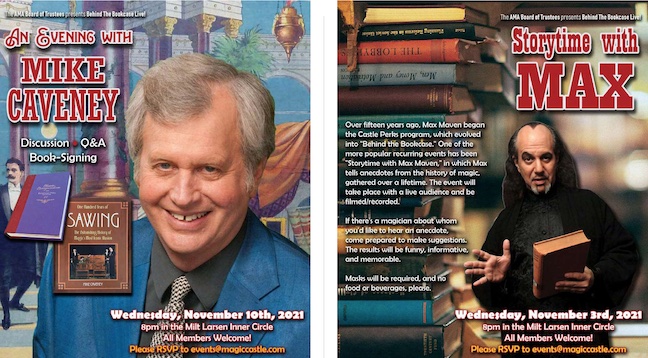 A week later came the perk An Evening with Mike Caveney, a book signing for Classic Correspondence IV and One Hundred Years of Sawing. Mike's talk recounted the rise of his Egyptian Hall museum and of course some sawing lore, including the ultra-realistic version that featured Johnny Eck. I reviewed the Sawing book in September and have yet to acquire the latest book of letters. Perhaps for Christmas!