OVERDUE BOOK REPORT -- I've been praising the Nick Trost's Subtle Card Creations series ever since H&R Magic Books began churning them out in 2008. As longtime readers know, six of an expected nine volumes are currently in play, all wonderful, and I've recently learned that Volume 7 has been slightly delayed until spring 2019. In anticipation of the next installment, I read back over my musings on the first half dozen, consolidated in my March 2017 issue.
Although I commented on all six books over the years, I failed to fully explore the initial volume from 2008, perhaps because H&R and I were also busy that year putting out The Little Egypt Book of Ghosts. Whatever, this strikes me as a perfect opportunity to rectify the omission, hence I have just enjoyed re-reading Volume 1.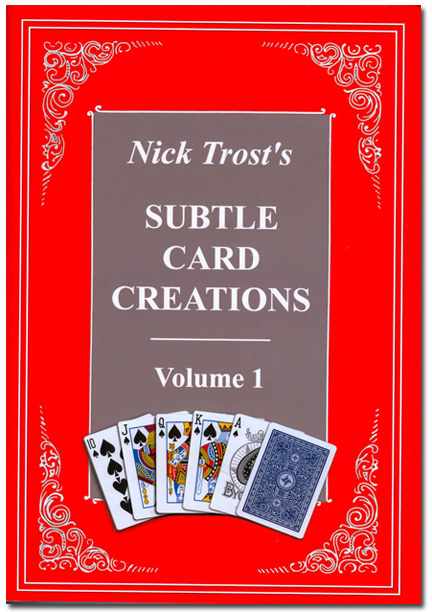 The book that started the H&R Trost library.
To repeat my previous thoughts on the book: First, in the Introduction, Nick Trost details what distinguishes his card magic: "Most of the tricks require little or no sleight of hand. They are based primarily on clever principles, procedures and subtleties. My goal has been to get the maximum effect with a minimum of effort." Second, and this is so far true of the series, this is the only volume to contain an appendix of sleights and subtleties. This appendix is one of my favorite spots in my library, with over 40 potent ruses (moves, counts, forces, false shuffles, etc.) for accomplishing most modern card magic. I refer to it frequently to keep my knowledge and skills in tune.
The series begins with a generous range of chapters: Unique Card Effects, Coincidences, Court Card Capers, Gambling Tricks, Poker Tricks, Predictions, Transpositions, Fake-Card Foolers, Special Decks - Part 2, Packet Tricks - Part 1, ESP Cards - Part 1, and (already mentioned) Appendix: Sleights ad Subtleties.
A few individual tricks I found special:
Jacks Are Wild with an Elevator Finish: Show a poker hand of five jokers. They instantly change into five jacks. The jacks are then inserted one by one into the deck where they travel up and down in elevator fashion. You end clean.
Sympathetic Suits: Deck is fairly shuffled. The hearts and spades are extracted and the hearts are set aside. Spectator reverses any card in the spade packet. The spades are now dealt to the table, switching whenever the spectator says so. The two packets are placed side by side and their order revealed, an exact match, even the reversed card.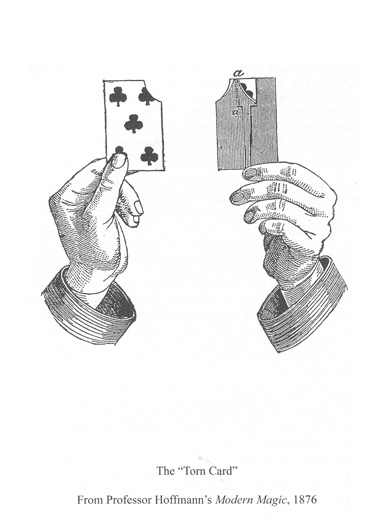 Vintage decor.
Wild Bill's Poker Hand I: This one enticed me to re-read the entire book. Two hands are dealt. Wild Bill gets the expected two pair, aces and eights, and his partner Charlie Rich gets an unknown hand. A shot rings out! But not over a lowly two pair. Charlie has four eights, Wild Bill has a royal flush. Wild Bill's Poker Hand II is the same effect but with a different and just as easy method.
Ambitious Ace to Five: Show five cards, AC through 5C. AC is placed second from top and it rises to the top. This is repeated with the 2C, 3C, and 4C. The 5C changes to the 5D. It doesn't get any easier.
Fifteen-Card Mystery: Trost's version of the Traveling Card from Marlo's The Cardician. A selected card moves from one packet of five to another. And another.
Trost on Hamman's Magic Cards: With minor modifications* this is my favorite in the book. Three random cards are placed face down in a row on the table, say AD, 4S, and KD. A packet of three "magic cards" (jokers) is removed from the pocket and dropped onto the AD. All four cards are now shown to be ADs. The jokers are then dropped onto the 4S, and each of the four cards becomes a 4S. And so on with the KD. The displays look really clean. Finally, the three jokers are once again shown to be jokers.
I notice that my selections above gravitate to the use of the Diminishing Count, an easy and deceptive sleight. If you like the sleight, you will love the routines. But then all of the routines in the book are easy, which was Nick Trost's gift to us.
In all, a fine book of card tricks, harbingers of wonderful tricks to come. The book features a Foreword by Karl Fulves and a brief Introduction by Nick Trost. Hard cover, dust jacket, nicely illustrated by Tony Dunn, and decorative vintage line art, in what would become the usual H&R Magic Books/Trost series format.
Alas, although Volumes 2 through 6 are still available, I no longer see Volume 1 on the H&R web site, so good luck. This gives you insight into the secret of my success--timing!