SIX PACK -- As a teenager, I first became aware of Nick Trost through his "Conjuring with Cards" column in The New Tops. I recall being amazed that anyone could think up a new card trick every month. Little did I realize how prolific serious card magicians were when I was new to magic, but even today I am properly amazed at how prolific and consistently excellent Nick Trost was. His Nick Trost's Subtle Card Creations series from H&R Magic Books has now reached six of a scheduled nine volumes. This is a staggering achievement, unfolding before our eyes since 2008. (NIck planned out the entire series; this is not a case of diminishing returns.) The "bad"news is that three full volumes are still locked away. The good news is that the secrets in Volume 6 are now laid bare. I urge you to acquire this latest entry; you are going to enjoy it. But to give you a feel for the scope of the project, I am reprising below my reviews of the first five volumes along with a new review of the sixth. In these reviews I point out my favorite routines, but please realize that my choices only scratch the surface of the material at hand. There is so much more! And by the way, monster thanks to Charlie Randall and the resources at H&R Magic Books for sustaining this essential, compelling collection of card magic. Nick Trost couldn't have left his babies in better hands.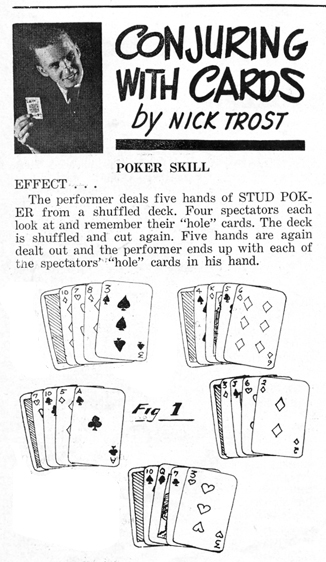 Trost in The New Tops, 1963
SIX SHOOTER -- There are few things I anticipate more in magic, especially card magic, than a new edition of Nick Trost's Subtle Card Creations. Soon to be printed, from H&R Magic Books, is Nick's sixth in this simply amazing and prodigious series of solo invention. Fans are soon to rejoice as pages 1351-1588 (not counting frontal matter) and chapters 59-71 extend the legacy. My particular favorites, a few of which I'll single out, are those involving aces and poker deals, especially poker deals that take advantage of the Gilbreath principle. Volume 6 includes a third generous chapter of such routines. Prepare yourself for Unique Card Effects, Amazing Coincidences, Court Card Capers, Blackjack Bafflers, Poker Puzzlers, The Four Aces, Diabolical Divinations, Gambling Tricks, Revealments, Gilbreath Plays Poker -- Part 3 (23 routines!), Pasteboard Predictions, Triple Dealing Effects, and ESP Card Tests. (By the way, that penultimate chapter contains 14 items that exploit the Colm Mulcahy ruse mentioned last month, in the Marty Kane book review.)
Items destined for the repertoire ...
Curious Aces produces the four aces via the Curious Count introduced in an early Pallbearers Review. Fun to do; the math does the work.
The Devil's Elevator--Revisited is a small-packet effect: the magi effortlessly deals seconds, thirds, fourths, and bottoms before a kicker ending of the cards turning to aces. Based on a trick in Epilogue and elsewhere.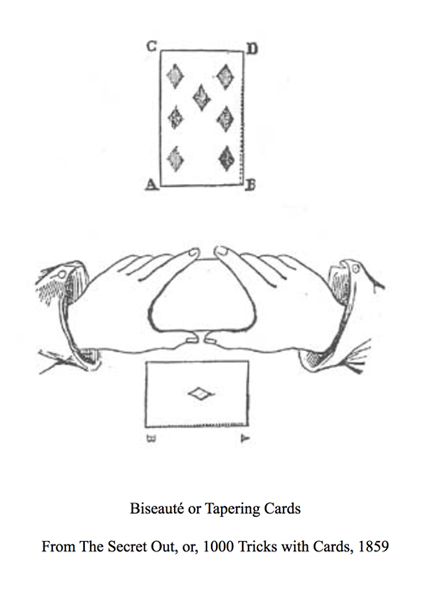 Pat-Hand Poker Deal begins with a self-working production of the four aces atop four piles. From the rest of the recombined deck, the magi (false) shuffles and deals six hands. Five get a full house and stand, while the magi draws four cards and gets a straight flush.
The Dead Man's Hand, in the Gilbreath Poker chapter, is one of many Wild Bill Hickok routines in the Trost series. In this one, the magi spells the trick's name from a shuffled deck, then deals five hands. He gets the aces and eights.
A description straight from the book: In The Sleeve Holdout, a spectator selects a card from a shuffled deck and places it up his sleeve for use later. He then shuffles the deck and deals five cards face down onto the table in a row. The five cards are turned up, and the spectator has dealt a straight flush (or royal flush) in spades except for one card, a red three. He exchanges the red three for the card in his sleeve and now has a complete straight flush!
In The Cincinnati Kid Poker Deal, the famous final hand of the movie is re-created, thanks to ten cards drawn from a truly (Gilbreath) shuffled deck. I love the idea of the re-creation, but unfortunately Trost relied on a 1977 book about the movie for details. Anyone who saw the movie remembers that Lancy Howard's straight flush was in diamonds, not hearts, and the details of the wagers are also incorrect. A great trick, but check the movie yourself for the patter particulars. Great final tag line: "I'll take your marker, Kid."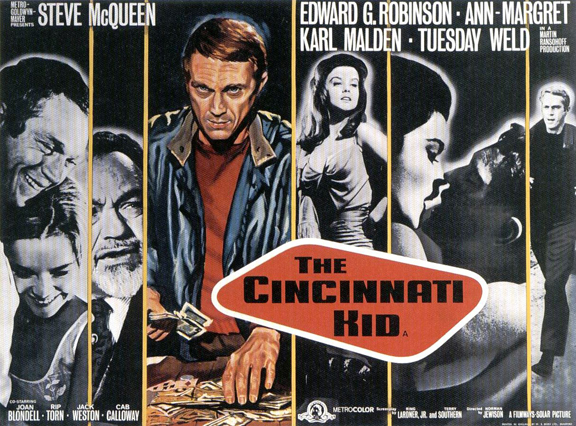 Patter ideas are pure gold.
Joseph K. Schmidt's Subconscious Poker II from Pallbearers has long been one of my favorite poker deals. Five hands are dealt. The central card of the third hand is noted. The cards are gathered and redealt, with the central third-hand card controlled to the same spot but the hand improved to a straight flush. In Trost's Gilbreath Meets Subconscious Poker, it happens from a truly shuffled deck. In the Again version, the central cards of two hands are noted, and the cards swap positions after the final shuffle, with both hands improving significantly.
Four Pat Hands may be as close as you can come to the Vernon Poker demo from a spectator shuffled deck.
Texas Hold'em Poker Deal is a really sweet instance of the genre. This is not a Gilbreath routine, yet all the cards are seemingly shuffled prior to 16 cards being selected to form four hands and the five flop/turn/river cards. The magi wins with four aces. No skill required, minimal setup. (Note: This has become my favorite routine of any discussed in this issue. It's fun to practice and watch it play out. I performed it last night just as a Texas Hold'em game was about to commence, and I think the players are still examining the deck for secret marks or some other explanation.)
Volume 6 contains all the elements you have come to love in the previous five installments: Nick Trost's refreshingly straightforward prose (technical writing at its best, a la that of Karl Fulves), copious illustrations by Tony Dunn and decorative vintage line art, dead-on epigraphs, precision editing by Charlie Randall, and of course over 100 baffling, easy-to-do card tricks. There is a foreword by Richard Vollmer and an introduction by Nick Trost. Beautifully packaged by H&R Magic Books, 253 pages, hardback with dust cover. The book will sell for $50 and will be ready in time for the FFFF convention (April 26th).
* * *
HIGH FIVE (From January 2015) -- The prodigious card trick legacy of Nick Trost, projected to run to nine volumes, continues with its fifth: Nick Trost's Subtle Card Creations Volume 5. By the numbers, Volume 5 extends the work from page 1133 through 1349, with over 100 new tricks and twelve new chapters. Their titles reveal more of the familiar themes: Select Card Effects, Coincidence or What?, Royal Roundup, Poker Tricks and Deals, More Divinations, Tricks with Aces, Gilbreath Plays Poker Part 2, Still Further Gambling Tricks, Further Predictions, Further Revealments, ESP Cards Part 5, and More Pinochle Puzzlers.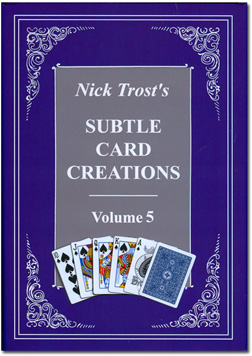 More subtle mysteries.
A few highlights:
Although I don't normally like surprise plot twists, Blackjacked!'s straightforward climax and devious method (an old favorite) won me over. It begins as Daley's Last Card Trick, then finishes with the supposed black aces becoming a black blackjack hand and the red aces a red blackjack hand.
With Out of This World--Another Handling, the spek shuffles the deck and deals the cards, to the familiar result.
Although I didn't particularly like the effect Mystic Jacks, it contains a description of Tom Hubbard's work on the Criss-Cross Force. I was at a small Magifest session when I first saw Tom Craven demonstrate this, and Nick Trost was there as well. Perhaps this is where Nick first saw it? Whatever, it's a terrific enhancement.
I love Nu-Wave Intuition Poker, in which the spek selects five cards from a deck he shuffled. He discards one (a low heart, say), then select another which proves to be the perfect card to complete a straight flush. Did I mention that the deck was shuffled? And as usual, Nick's patter covers the necessary selection processes.
Revolving Poker exploits a Karl Fulves method that allows the spek and magi to alternately select cards from twenty cards, ten each faced to each other. This one fools me whenever I do it. There is also a Revolving Blackjack trick in the book, but I like the poker version better.
Christ Meets Gilbreath allows the magi to predict a card that will fall at a mathematically derived spot (my previous fav version of this required me to inspect the deck first) from a spek shuffled deck. (Note: Nick uses a pair of jokers and predicts a joker. It's pretty easy to modify the trick to predict, say, a red nine from a shuffled deck handed to you. And the spek gets to shuffle again before the procedure begins.)
Synchronicity Revisited is a great boy-girl effect to do for a couple. Nick used a joker. I would use a queen of hearts and write, "If love is at work the number 6 will be special to both of you."
Ten-Card Poker Idea: this is a completely new method to me for the ten-card poker deal, and I like it. Wonder if it or any like it will be in the new Farmer book.
There are a couple of fine methods for either producing the aces or turning jokers into aces, namely Ace-Predicti and The Jokers Are Wild. Either would make a nice intro to produce the aces before doing a stronger ace routine.
There are three killer tricks for demonstrating that you can distinguish face up from face down cards beneath the table or psychically, including Scarne's $1000 Card Trick, Laying on the Hand, and A Hummer Routine. These feel like the real thing.
I hope that's enough to whet your appetite. I noticed throughout the book that Nick occasionally used methods familiar to me as a boy to new and stronger results, giving those routines a nostalgic appeal. The book features a foreword by Aldo Colombini and a brief Introduction by Nick Trost. Hard cover, dust jacket, nicely illustrated by Tony Dunn, in the usual H&R Magic Books/Trost series format. From H&R Magic Books, $50. Bring on Volume 6!
* * *
TROST CHAPTER FOUR (from January 2013) -- For Nick Trost fans, Christmas continues: Nick Trost's Subtle Card Creations Volume 4 will appear only a few weeks into the new year. In the same elegant style (vintage decorative art, Tony Dunn explanatory art, inspirational epigraphs) and same elegant prose, here are a dozen more chapters extending the Trost legacy. Specifically, add Gemini Twins Effects, More Royal Marriages, Gilbreath Plays Poker Part 1, More Revealments, Spelling Tricks, Tricks with Two Decks, Cards and Dice, Special Decks Part 3, Packet Tricks Part 4, Special-Deck Gambling Effects, ESP Cards Part 4, and Special Props.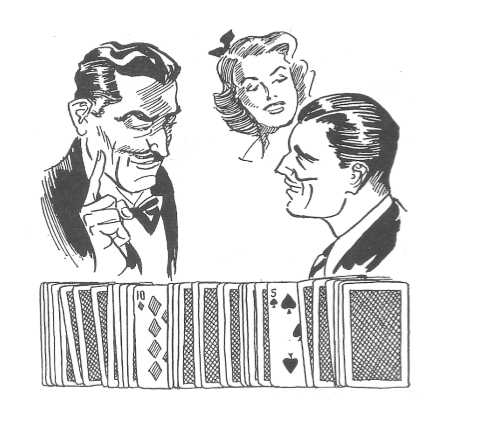 From National Magic Co. Catalog No. 7, 1947.
Any of the Gilbreath-Poker routines should kill, virtually all allowing a genuine spectator riffle shuffle before the devastating hands are dealt. Trost Poker Demo is (at least) a strong double duke deal that invokes supplied poker lingo. In You Do As I Do Poker Deal the spec shuffles half the deck, deals himself four of a kind, and then lets you deal yourself a royal from the same shuffled half. In Crooked and Straight Dealing, the spec shuffles and deals off the top or bottom to no reward, then lets the magi deal everyone office hours (9 to 5 straights) and himself a royal flush.
Re more gambling, the Special-Deck effects allows the magi to demo his prowess at euchre, bridge, blackjack, fan tan, hearts, and Kaluki! For the right audience, you can look like the best-informed gambler on the planet.
The first Multiple Deck trick I saw, similar to Scarne's in Stars of Magic, was done on TV by Jay Ose, and I've always had a soft spot for them. Trost's Triple Coincidence II and III are very nice additions to the arsenal. Of the variants I am most likely to perform first, I like Update on Eddie Joseph: any card is reversed in a red deck and left in position. Pairs of cards from the red deck and a companion blue deck are now dealt off the top, and none match. Until ... the reversed card is reached, and the blue card at that position is an exact match.
The Revealments chapter contains Cabalistic Countdown, which exploits one of my favorite math principles, and an easy version of Diamond Cut Diamond. My favorite was Pseudo Princess, in which Trost gets into the Princess card trick genre by starting out with a Si Stebbins stack. I explored Princess variations in The Little Egypt Book of Numbers and have always admired what the strategy offers. This is a nifty addition to the methodology.
For those of you who enjoy Steinmeyer's Nine-Card Trick, Trost's Eight-Card Lie Speller provides a very sneaky way of getting the selection into position to begin the trick as you apparently "program" the packet based on spectator answers. You never know where the selected card begins, but the process sets it for the usual killer finale.
Of course, some of Trost's most famous routines involve specially printed cards or props. I owned a Pizza Poker disk when I was younger and didn't even realize it was a Nick Trost creation. The current book includes a full chapter of special decks (there is even a specially printed version of Stewart James's Further Than That) and another of packet tricks. As I have written elsewhere, Jon Racherbaumer once buckled my knees with a squeaky clean version of Twisting the Aces. I had no idea that Jon could be so underhanded as to use gaffed cards, but he did, a Trost invention. That trick is in this book.
Nick Trost left behind a wealth of easy to do card magic, and it is a pleasure to watch this legacy unfold. This is the fourth of what could potentially run to nine volumes, and I may have to set up a little database to keep track of favorite routines. I have enjoyed fooling people with this material and look forward to many more such occasions. As usual, the book is from H&R Magic Books, edited by Charlie Randall, taking us from page 581 to page 862 in the series, not counting the frontal matter that includes a foreword by Roy Walton and a brief introduction from Nick Trost, $50 ($44 through January 31). Highly recommended.
* * *
OHIO STATEMENT (from April 2011) -- When I was a student at the University of Illinois, we quipped that we were good students because winter socked us in and there was nothing to do but study. Perhaps it is the same over in Ohio; for some, there was nothing to do but invent card tricks. As of this month, Ohio State alumnus Nick Trost's incredible legacy continues with Nick Trost's Subtle Card Creations Volume 3, from H&R Magic Books. To borrow a few words from my previous Trost review, H&R Magic Books began publishing a new series of Nick Trost magic in 2008, titled Nick Trost's Subtle Card Creations, drawing on 21 notebooks of Trost innovations. Volume 1 contained 11 chapters along with a 51-page appendix on all the important moves, shuffles, counts, and cuts you might need to tackle most modern and ancient card problems. The series is handsomely laid out, with vintage decorative illustrations at the start of each chapter and the tricks themselves copiously and competently illustrated by Tony Dunn.
Volume 2 appeared in 2009 with chapters 12-22, and Volume 3 is now at hand extending the work to chapters 23-34. The new contents cover Further Coincidences, You Do As I Do, The Royal Marriages, Further Gambling Tricks, More Poker Deals, Revealments, Reversed Card Effects, Further Transpositions, Special Decks - Part 2, Packet Tricks Part 3, ESP Cards Part 3, and Computer Cards. The foreword is quite special having been written by Martin Gardner.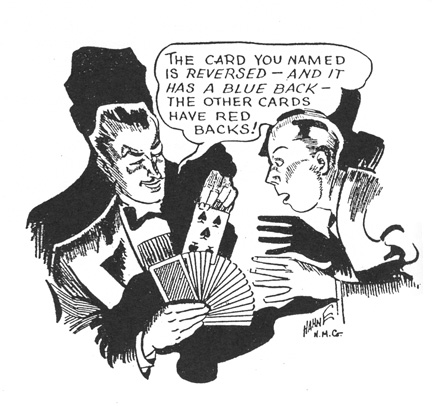 Illustration for chapter 29, Reversed Card Effects.
A quick skim of the material easily isolated a number of must-perform items (basic text is straight out of the book; parenthetical additions are my own thoughts):
1. Zens Poker Deal, Redealt: A spectator names any kind of poker deal from a pair to a royal flush. Assume he wants a full house. The performer shuffles the deck and deals five hands. He now asks the spectator which hand should receive the full house, hand No. 1, 2, 3, 4, or 5. Say the spectator selects hand No. 3; the performer marks this position with a poker chip. The five hands are gathered, the deck is cut and five more hands are dealt. The performer shows that hand No. 3 is a full house (the called-for hand), which ended up at the position named. (This is so easy. If you can cut the cards, you can do this routine.)
2. High-card Poker Deal, Revised: The deck is shuffled, and then the high cards are removed for a poker deal. These cards are cut in half, the halves ribbon spread on the table, and then the spreads are pushed together, interlacing the cards. (The shuffle is very convincing.) A spectator deals five poker hands, but they are just average. The cards are gathered and cut, and the performer deals five more hands, the fifth to himself. Each of the first four hands is a 10, J, Q, K, and A -- a straight. The performer's hand is the winning one -- four nines. (Note that initial shuffle, and also that the end result would get a lot of money onto the table. This is a really fine self-working routine. It's followed by a Steve Forte version.)
3. Shuffle Tracking: The performer patters about a system of "shuffle tracking" used by gamblers to keep track of cards in a game of poker. He uses half of a deck, shuffles it and then deals five hands of poker, shuffle tracking a full house for himself.
The cards are gathered and cut by a spectator any number of times, and then the performer explains he will mix them in a special way by dealing them into two, three, four, six, seven or eight piles, whatever number is selected by the spectator. This mixing process is carried out any number of times. Finally, the performer deals five poker hands, the fifth to himself. The other players get Aces and eights (Dead Man's Hand), a nine-to-five straight (Office Hours), four deuces (quadruplets), and fives and tens (a Woolworth), while the performer wins with a royal flush. (I just love the patter on this one. Self working; picking up the piles is especially fun if seven are dealt.)
4. Significator Cards: A spectator selects a card under absolutely fair conditions and loses it in the deck. All this is done while the performer's back is turned. The deck is spread on the table, and the spectator pushes out four face-down cards. Using these four cards as "significators," the performer reveals the selected card. (This is one of two tricks cited by Martin Gardner as special, and it is the trick Charlie Randall used to fool Marshall Petersen. I love it because it has a Trick That Cannot Be Explained aspect, fun to do.)
5. Al Thatcher's "Affinity Cards": Spectator A thinks of any number from 1 to 10 and notes the card at his number in the deck. Spectator B thinks of a number from 11 to 20 and notes the card at his number. The performer takes the deck behind his back, makes an adjustment and then brings it forward. The two cards now at the spectators' numbers are laid aside. They are not the selected ones.
The two cards laid aside -- "affinity cards" -- are placed face up in the deck at spots designated by the two spectators. The deck is spread, and the cards directly next to the affinity cards are found to be the selected ones. (This is the second trick cited by Martin Gardner as special. I love it because of Trost's patter line: "These are not your cards, but they have an affinity with your cards--they occupy the same positions in the deck as your cards did originally." Rock solid Ohio logic.)
6. Oscar: A spectator thinks of any card in the deck. The performer says he will name the card, so he names it "Oscar." The spectator thinks it's a gag until the performer shows different names--such as Al, Henry, Bert, and so on--printed on the back of each card. The spectator's thought-of card is turned over, and it does say Oscar on it. (This was Trost's bestselling marketed version of the Fred trick, featuring the use of only one deck and no rough-smooth. It's easy to make up and ideal for using Eugene Burger's idea of having the card bear the spectator's name.)
As usual, an excellent book of original, subtle card mysteries, 292 pages, hardback, $45 from H&R Magic Books.
* * *
TROST TRICKERY (from February 2009) -- At the IBM/SAM Convention in Louisville last summer, Jon Racherbaumer buckled my knees with a Nick Trost packet trick. I had no idea what was going on. That a sleight-of-hand artist of Jon's standing would resort to such a nefarious subtlety is a testament to what Nick Trost's thinking can do for you. I've been a fan since I first encountered Trost's work decades ago in The New Tops, and I was particularly thrilled to meet him a couple of years ago at Magi-Fest. Over time, Nick Trost has been extaordinarily prolific, his quality and quantity ranking up there with the likes of Marlo, Maven, and Hartman.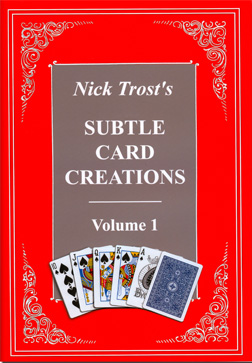 Volume 2 ships this month.
As Trost fans know, H&R Magic Books began publishing a new series of Nick Trost magic in 2008, titled Nick Trost's Subtle Card Creations, drawing on 21 notebooks of Trost innovations. Volume 1 contained 11 chapters along with a 51-page appendix on all the important moves, shuffles, counts, and cuts you might need to know to tackle most modern and ancient card problems. (Volume 1 is worth having for this appendix alone; the descriptions are first rate.) The series is handsomely laid out, with vintage decorative illustrations at the start of each chapter and the tricks themselves copiously and competently illustrated by Tony Dunn. Regrettably, Mr. Trost passed away in October 2008, and Volume 1 is the last he was to see published.
The good news is that Volume 2 is at hand, with the chapter numbers and pagination picking up where Volume 1 left off. Accordingly, chapters 12 through 22 include More Coincidences, Hotel Mysteries, Divinations, The Four Aces, More Gambling Tricks, Poker Deals, More Predictions, More Transpositions, Pinochle Puzzlers, Packet Tricks - Part 2, and ESP Cards - Part 2. Of them all, only the Pinochle chapter might require special knowledge of the game. (But then, there is a religious sorority in my home town called the LutherAnns, that plays the game weekly and reports the scores in the local paper; the ladies might enjoy these unusual Trost explorations.) Most of Trost's work can be done with an ordinary deck and ordinary skill levels (most, indeed, require no skills at all). A few, particularly in the Packet Trick chapter, might require special cards, some of which are still readily available from dealers (notably L&L Publishing). Even should you not purchase the special cards, it's nice to see these Nick Trost specialties recorded for the ages.
My supreme regret is that I did not read this volume prior to attending Magi-Fest. It would have been tempting to assume command of a table, announce that I had some new Nick Trost mysteries at the ready, and proceed with the demonstrations. In that imaginary setting, here is the material I would have presented.
1. The Hotel Mystery. You know the plot, particularly the Diaconis variation. Two ladies and four gents are up to hanky panky in a nearby hotel. The hotel detective bursts in to find the ladies alone in one room, the gents in another. Trost provides five clever methods, equally compelling.
The remaining descriptions are straight from the book.
2. Mental Fingertips. In this double-barreled effect, the performer hands the deck to a spectator and turns his back. A spectator removes a small number of cards and slips them into his pocket. A second spectator then selects a card at random, which he pockets. The deck is shuffled and dropped into the performer's pocket.
Explaining that he has "mental fingertips," the performer removes two cards from his pocket. When the values of the two cards are added, their total corresponds to the number of cards hidden in the first spectator's pocket. For the second climax, the performer produces from his pocket the exact mate to the second spectator's card.
3. The Eleven Routine. The performer writes a prediction, and a spectator drops it onto any one of nine tabled pairs. The pairs not selected are shown to add to different totals. The prediction reads "The mysterious total is 11," and the spectator's pair totals 11! The cards are shuffled, then the performer deals pairs one by one on the table and has a pair selected. The other pairs show different totals again. The selected pair totals 11! The cards are mixed thoroughly and dealt into two piles. The spectator eliminates either pile. The procedure is repeated until one pair remains. Again, just as predicted, the pair totals 11!
4. The Slippery Aces. The four face-up aces are sandwiched between the two face-down red jacks. The sandwich is dropped on top of the deck, then the top two cards are immediately turned face up. They are the two red jacks, but the four aces have vanished! The red jacks are tossed aside, then the deck is ribbon spread face down on the table to reveal the two black jacks face up with four face-down cards between them. These face-down cards are the missing four aces.
5. Triple Climax Clock Trick. The performer places a prediction card on the table, then pockets one other card without showing it. The rest of the deck is shuffled as a spectator thinks of any hour from 1 to 12. He removes a corresponding number of cards from the deck and conceals them. If he thought of 8, for example, he removes eight cards. A clock dial is formed. While the performer turns away, the spectator notes the card at his thought-of hour, eight o'clock in this case.
The performer faces front and removes the card he pocketed earlier. It is an eight, corresponding to the spectator's hour. Now the card at eight o'clock is shown to be the KH. The prediction card matches perfectly -- it's the KD. The odd thing is the KH and KD are both red, but the rest of the cards in the clock are black!
All the above play exactly as described, and all are dead easy. If I needed an encore, I'd have considered Shuffle Tracking the Aces, a takeoff on a James Swain trick that fooled me as I performed it and would easily fool an audience. The aces are randomly lost in the deck, then are located at positions indicated by each of four spectators rolling a pair of dice. Despite all the mixing and dealing, the deck is also found to be separated into suits.
An excellent book of original, subtle card mysteries, 288 pages, hardback, $40 from H&R Magic Books.
* * *
ONE FOR THE MONEY -- To my surprise, I did not review Volume 1 of the Nick Trost series in these pages. Perhaps I was busy: Volume 1 came out in 2008, the same year H&R and I were laying out and publishing The Little Egypt Book of Ghosts. Although I could review it today, I choose to postpone that review until some month that we are light on material. For the moment, I'd rather you support the series by acquiring Volume 6.
Two bits from Volume 1 are worth noting. First, in the Introduction, Nick Trost details what distinguishes his card magic: "Most of the tricks require little or no sleight of hand. They are based primarily on clever principles, procedures and subtleties. My goal has been to get the maximum effect with a minimum of effort." Second, and this is so far true of the series, this is the only volume to contain an appendix of sleights and subtleties. This appendix is one of my favorite spots in my library, with over 40 potent ruses (moves, counts, forces, false shuffles, etc.) for accomplishing most modern card magic. I refer to it frequently to keep my knowledge and skills in tune.