MR. ELECTRIC -- No, not that Mr. Electric, the other one, the equally successful magician who chose secret electrical assistance, the elusive Del Ray. I regret that I never got to see Del Ray perform live, but thanks to a new package book and DVD set from producers David Baldwin, Robert Escher, and William Spooner, I and anyone else lucky enough to have acquired a set can not only see the stage act that made Del Ray the most successful night club magician ever, but also highlights from what is arguably the best close-up material ever.
You get the handsome book by John Moehring featuring, first, a 367-page exhaustively researched biography, ranging from Del Ray's early years in an orphanage (a financial expedient: his parents were still alive, and he eventually spent fruitful years with a father who helped him with his mechanical creations) to his last years presenting a series of farewell performances and, second, a 61-page trick section compiled by Gary Plants.
The bio details Ray's early years assisting Blackstone, his innovations and drive that led to his own Ed Sullivan and Steve Allen television appearances, his night club career opening for the creme de la creme of American entertainers (often in casinos run by gangsters, including stints in Cuba that read like scenes from Godfather III), his post-nightclub era career with golf tournaments and country clubs (including Bing Crosby's Pebble Beach event), his corporate career (GE paid him $12K a week), his long (and often long-distance) happy marriage to booking agent Anne King, and his magic convention appearances and relationships with magicians over the decades.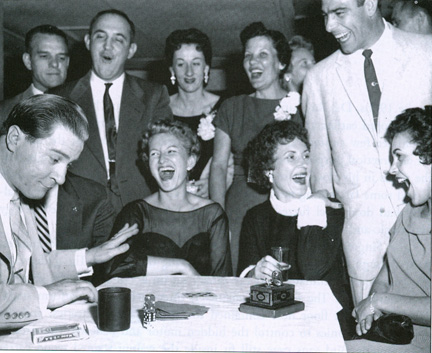 Audience reaction to die for.
The DVD provides such Del Ray signature pieces as his singing bird that predicts the rolls of dice, Wee Willie the mouse that scoots around the table to find cards, and a blackjack deal with which Del Ray beats six opponents with a shuffled deck. Del Ray's mixture of sleight of hand, secret electronics, and gruff, working class chatter (described by Ed Eckl as that of "a cultured Jimmy Durante") make for hilarious and baffling entertainment. Eight of the items are described in the book, and I must admit to being completely fascinated by the blackjack deal.
It was a couple of years ago that John Moehring told me he was working on the book, then a secret, his having picked up the gauntlet from David Ben, and I am thrilled to see it come to such a successful fruition. This is a handsome 448-page hardback book with a DVD that you are not only going to watch over and over, but are probably going to invite your friends over to see it. Del Ray is simply that good. Warning: according to the Genii forum, the wholesalers have already sold out of this book. The only copies remaining are in dealers' hands. I got mine from H&R Magic Books. As Del Ray says when he does his blackjack deal, "Good luck!" $68 if you can find a copy.
DO ANDROIDS DREAM OF ELECTRIC SHEEP? -- One my absolute favorite places to drop in of an afternoon is Magic, Inc., in Chicago. I recently did just that, with the express purpose of acquiring a Magic, Inc. exclusive -- the Selec-trick Deck. Inventor Danny Rudnick has taken a great gag, the Electric Deck, and turned it into a great trick.
Basically, you do all the schtick you usually do with the Electric Deck and then have a card freely (?) selected from the spread. Then, commanding the card "to reveal itself," the card visibly reverses itself in the spread, as if by magic, exactly in place, and the spread can be shown on both sides. This takes no skill whatsoever. (I can do it and don't even know how it works.) Danny was in the shop to demonstrate it for us last Saturday, and you can see him do it thanks to a video on the Magic, Inc. web site. While visiting the site, you may also wish to pick up a copy of Beating a Dead Horse, Sandy Marshall's stellar biography of his father, Jay, reviewed here in January. The deck: $19.95. The book: $69.95. Each is a steal.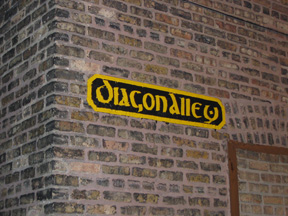 Alley behind Magic, Inc.