ONE OF THE BETTER CHEAPER BIOGRAPHIES -- In 1996, in Erika Larsen's Genii, Max Maven published an extraordinary 16-page tribute to Jay Marshall, with 13 pages of biography and a 3-page interview. Even those of us whose lives flowed parallel to Jay's for 50 years or so were made considerably wiser by Max's detailed research and friendship with Jay. But that was '96, and Jay Marshall passed away in 2005: there are new magicians on the block who need to know about Jay Marshall, and all of us who thought we knew all about him were about to find out, mostly to our delight, that we didn't. Enter Beating a Dead Horse, the hefty, 526-page biography of Jay by his son, Sandy Marshall, and just about the nicest Christmas gift I've received this century.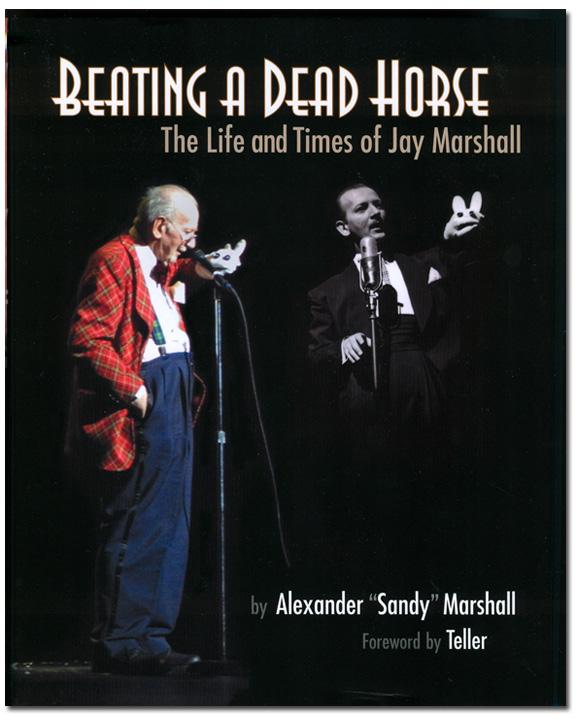 The kid tells all.
Surely no reader of this rag needs introducing to Jay himself, who proved to be an amazing magician, ventriloquist, comedian, collector, raconteur, Punch & Judy operator, emcee, Broadway actor, magic shop owner, magazine publisher, book author, player of the ukulele and the bagpipes, world traveler, master teller of dirty jokes, and friend to thousands. If you ever saw "The Ed Sullivan Show" or "Don Alan's Magic Ranch" or attended many conventions in the last half of the twentieth century, you are familiar with Jay's Linking Rings, Serpentine Silk, Troublewit, Juan Escadero, Golf Routine, and his wonderful talking glove, Lefty. You can't have swapped many tales with other magicians without touching on Jay Marshall stories that have achieved mythic status, such as when he saw no reason to book a hotel room because it was "only a three-day convention."
What is new in this dense opus, along with the detailed history that plays out in an appropriately enumerated 69 chapters, is the human side of Jay Marshall. This is the book Sandy Marshall was born to write, and it's as much an autobiography of Sandy as it is a biography of Jay, which frankly makes it doubly wonderful. Sandy is a fascinating character in his own right--I enjoyed his comedy magic in person at the Magic Castle, back in the golden years--an Emmy-winning writer, director, producer, and actor, and a guy who comes across as pretty proud to be the son of Jay Marshall and the grandson of Al Baker. Sandy is just about my age, and you don't get this old without significant losses, without uncomfortable family memories, and Sandy treats these aspects of a life with maturity and good will. There are lows, but, oh, some really nice highs.
Although I expected a wealth of detail from the page count, I was unprepared for how bountifully the book is illustrated and how exquisitely it's laid out, not only with rare photos of Jay but with all sorts of posters, letters, and personal memorabilia. Sandy Marshall is an excellent writer, and both his skill and his subject matter make this book a page-turner. I laughed out loud frequently during the reading of this book, wept when I reached Jay's passing, then laughed harder than ever over something that transpired at Jay's funeral. What more can I say? This book is a treasure, a must read. $69.95 from Magic, Inc.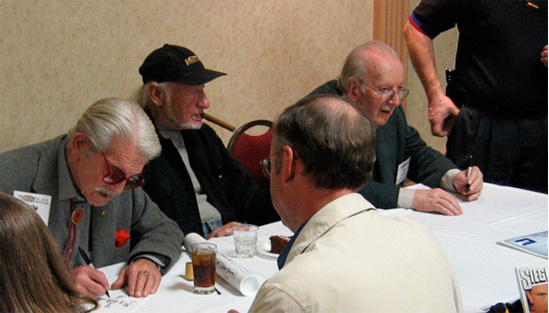 Son of a gun! He is left-handed.