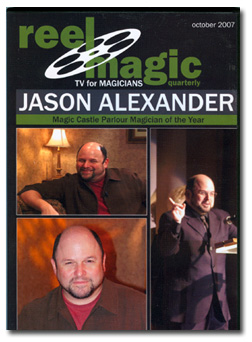 A great video magazine for a song.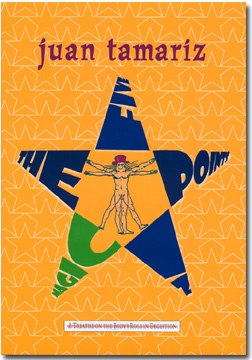 A classic returns.
ALL THE TRICKS IN THE BOOK -- A few years back, family circumstances forced me to miss a Magic Castle Dream Team performance by Jon Armstrong, John Lovick, David Regal, and Andrew Goldenhersh. Ever since, I've looked forward to seeing the boys in action and therefore jumped at the chance to catch Mr. Armstrong's recent lecture in Indianapolis. It was a delightful evening that drew Indy's finest (including Mr. Riser, shown above), with Jon teaching a half-dozen items with a deck of cards and one of those British friction pens. The tricks listed in the lecture notes were (I'm happy to report) of only modest difficulty, but it was Jon's sleight-of-hand demonstrations that gave me goosebumps. (It is noted from Jon's December 2004 cover issue of Genii that he can perform every sleight in the Giobbi books.) In particular I enjoyed seeing his Gin Pick (taught in his Genii issue) and his Second Deal. All the material was well thought out, with emphasis on the hows and whys of the magic offered us, and I regret that I was unable to enjoy Jon's offer to session with attendees after the lecture. Catch this lecture if it plays in a town near you. You will learn some great card tricks and will learn a lot about Jon Armstrong, both to your benefit.
November 2007
I hope that you and yours enjoyed a fine meal and family warmth this recent Thanksgiving. In honor of this turkeycentric U.S. holiday, Maleficent and I drove over the river and through the woods, literally, to West Baden Springs, Indiana, home of the West Baden Springs Hotel, which bills itself as the Eighth Wonder of the World. And no wonder, with its six-story domed atrium (the largest free-spanned dome prior to the Houston Astrodome), the perfect locale for this year's Michael Ammar Card-On-the-Ceiling Invitational. In the photo at the bottom right of this page, that is your editor standing beneath the Christmas tree, to give a sense of scale. Other things to be thankful for this month include a Jon Armstrong lecture in Indianapolis, a terrific dvd magazine, and a fine Juan Tamariz reprint, worth the investment just to see youthful photos of the master.
SIXTY MINUTES (TIMES TWO) -- Although I have long disparaged dvds in magic relative to books and magazines, I must admit that I am completely taken with the quality of a new dvd "magazine" called reel magic quarterly. The issue I viewed (October 2007) contains a John Lovick interview with Jason Alexander (covering much of the ground they visited at MAGIC Live), a Tim Trono interview with Kevin James on his American Idol appearances, and an Andrew Pinard interview with Bill Kalush on the Conjuring Arts Research Center. You want more? How about Josh Jay interviewing Joel Givens, technique from Jon Armstrong, opinion from Simon Lovell, and highly entertaining product reviews from David Regal? All this and still much more, for only $10! The Jason Alexander segment is easily worth the fee, and you'll get to see portions of Jason's Parlour show at the Castle. First-rate production, value priced, 120 minutes from your favorite dealer or www.reelmagicquarterly.com (or do as I did and buy one from Jon Armstrong at his lecture).
FOLLOWING DIRECTIONS -- In 1982, Juan Tamariz wrote, in a week, a small book on magical presentation that, thanks to initial endorsements by Spain's Arturo Lopez, Michael Ammar, Gaeton Bloom, and Argentina's Rudyard Magaldi, became an instant classic. A subsequent hardback edition in 1988 also sold out and firmed up The Five Points of Magic as part of the Tamariz trilogy on the art of magic. (Five Points deals with presentation, The Magic Way with construction and method, and The Magic Rainbow with effect.) Drawing on his experience as a magician and as a movie director, Tamariz provides details that read like a theatrical director's coaching on the use of The Eyes, The Voice, The Hands, The Feet, and The Body. Several magic tricks complement the lessons, including a devious object switch based on Tamariz's Crossing the Gaze technique, a book test that could serve you well as a portion of Docc Hilford's "Brother of All Book Tests," a (nearly) visible switch of a poker hand, and a baffling version of Larry Jennings' "Coin Cut." The brevity of this book (83 pages) and the novelty and accuracy of its information are refreshing, all handsomely packaged as one expects from Hermetic Press. From the publisher, $35 plus postage.