If you practice to deceive ...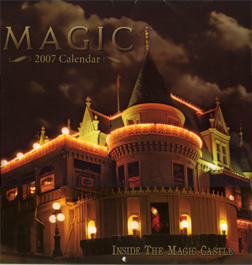 Magic by the month.
VIEWER DISCRETION ADVISED -- Amazing Johnathan's new special, Wrong On Every Level, has been appearing frequently on the Comedy Channel. The new special is a full hour featuring new material and old, with a great audience volunteer (a doctor!) and superb bits from Penny Wiggins as Psychic Tanya. AJ is very happy with this one and he should be. I loved the Blue Man Group gag, the shadows, and the buck-toothed snake goofiness, new to me. Check your listings or use Tivo to catch the next viewing.
THE BOYS OF 2007 -- Stan Allen's 2006 MAGIC calendar, with shots of Las Vegas magicians, was terrific, and his 2007 calendar is even better, with the theme Inside the Magic Castle. In addition to some great shots of the Castle itself, the boys of the month include John Carney, The Pendragons, Christopher Hart, Milt Larsen, Max Maven, Mike Caveny, Shoot Ogawa, Bob Sheets, Ed Alonzo, Dana Daniels, and Danny Cole. In addition to Charlotte, there is one pinup: Miss September is Tina Lenert. Richard Faverty was the photographer, and you will find his work a joy to behold, month after month. Available from MAGIC for $14.95 plus postage.
EARLY MORNING LAUNCH -- It's an odd time slot, but the best thing to happen to Saturday morning since Mark Wilson's Magic Land of Allakazam. Either set your alarm clock or your DVR to catch the premiere of Magic Castle After Dark on A&E, Saturday, December 16, at 11:00 AM Eastern. This half-hour special, produced by Milt Larsen, Dale Hindman, and Jude Priest, will feature intimate magic at the Castle by Nathan Gibson, Jon Armstrong, Andrew Goldenhersh, Chris Hart, Joel Ward, Shoot Ogawa and Gregory Wilson. Cross your fingers and get a few million of your friends to watch, and this pilot could become a series.
FAMILY MAN -- Although it's not really about magic, those who enjoy the spooky side of life may enjoy the recent biography Chas Addams/A Cartoonist's Life, by Linda Davis. Creator of the Addams family, cartoonist Charles Addams may have come the closest to living the life Vernon espoused (if you don't count a second wife from hell), supporting himself only on his wonderful cartoons and dating lots of women, from Garbo to Jackie Kennedy. There was one specifically magic note. In Addams's marriage to his third wife, Tee, there were several judges present, it being noted that "somehow a fourth judge who wanted to come to Charles Addams's wedding invited himself. This hanger-on did a card trick in the middle of the ceremony, making Tee angry. Addams omitted him from the two color drawings he did to commemorate the event." Hmm. I wonder which trick he did.
November 2006
I trust that most of you enjoyed a Happy Thanksgiving and didn't over-indulge. Mine was a joy, played out in Evanston, Illinois, including a trip to downtown Chicago to check out the Christmas window displays, with Marshall Fields's (now Macy's, to the displeasure of Chicago-ites) being a sequence of scenes from the Mary Poppins stage show. This month we discuss two must-have Christmas stocking stuffers, Eric Mead's Tangled Web and Stan Allen's MAGIC Calendar 2007. Readers are also advised to stay alert for Amazing Johnathan's and the Magic Castle's new tv specials, and to curl up by the fire with a copy of the new Charles Addams bio. Early season's greetings!
HEAVENLY -- Eric Mead's star, long obscured by the snows of Colorado (the only magician I know who skis is Kreskin!), has risen into clear view of late, and it shines brightly. Eric's secrets radiated through the underground via his limited-edition 2003 lecture notes, Collexion, Connexions, and Reflexions. His bar magic set anchored the innovative close-up tour at Stan Allen's MAGIC Live Two! in August 2004. His genius sizzled at Jamy Swiss's and Mike Close's Stack Clinic in October 2004. His sense of humor energized the 2005 movie The Aristocrats with a card trick. His audience control ignited raves on the Magic Castle forum after his recent appearance at the W.C. Fields bar. His intellect glows in his occasional book reviews in Genii.
And now, with his popularity and regard in firm ascendancy, Eric gives us Tangled Web, his ground-breaking new book from Hermetic Press. I could easily recommend the book for its magic tricks alone. Consider "Three-Piece Combo" (an ace-cutting sequence that had Bill Malone drooling), "Watch the Birdie" (a bottle production sans jacket), "An Auspicious Occasion" (a study in mentalism with five business cards), "Fifty-two on One to One" (a stage-sized fooler from an old gag), "Tie One On" (a prediction effect involving eight neckties), and the larcenous "Bunny Bill Swindle" (some folks deserve to be bilked!), along with other fine items using coins, minds, and kids.
Or I could rhapsodize over his refreshing essays on pride in what we do, on clarity, on treating special audiences as special, on transitions, on revealing who you are, and on introductory remarks. Despite the laughs and good feelings Eric generates, an Eric Mead performance is anything but trivial.
But there are three items in particular that make this book blaze across the sky for me.
The first is a card trick, "Puddle Jumper." My adrenaline surged as I began reading it. This was the trick I saw Eric perform at MAGIC Live Two!, the trick of the convention for me, the trick most worth stealing. (I didn't, being a swell fellow.) It's a lovely cards across routine with three packets, each isolated in a wine glass. It's the perfect card trick for one to one hundred, the kind of trick that could have been a highlight in, say, Ricky Jay and His 52 Assistants.
The other two items are extended treatises that convey the expert level at which Eric Mead performs seemingly "simple" bar magic. Here are upper echelon strategies and approaches to card magic, the likes of which I have seldom encountered before (the only recent parallel I can think of is Tamariz's Mnemonica). The first, "Disorderly Conduct/Implicate Order and the Illusion of Chaos with the Mnemonic Deck" (what a mouthful!) is the talk that Eric gave at the Swiss/Close Stack Clinic, a sensational set of techniques to "conceal and obfuscate the underlying structure" of a stacked deck. Note that some of these are at play in the previously mentioned card trick "Three-Piece Combo." The second, "Jazz Charts and Favorite Licks," contains Eric's studies on Vernon's "Trick That Cannot Be Explained." My hero in this genre is Eugene Burger, who never fails to make the final revelation seem so darn inevitable. Eric considerably expands the possibilities of the effect with multiple decks, interim climaxes, and sleight of hand, all the while sticking to the basic premise of jazzing to some incredible climax. These two essays are easily the items worth the price of the book, material that may change how you think about card magic, for they lay out novel and effective principles for a card trick way of life.
How nice that this book is coming out just in time for Christmas! Be sure to leave hints where they can't be missed.
Tangled Web is a 238-page hardback, illustrated by Earl Oakes, beautifully produced by Hermetic Press. $40 plus postage from the publisher (hermeticpress.com).