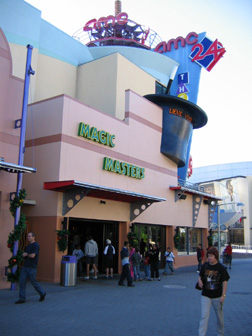 Magic Masters at Downtown Disney.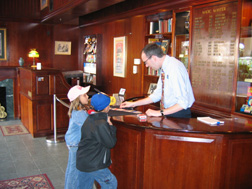 Charlie Martin converts two Muggles.
WHAT I DID ON MY SUMMER VACATION -- If you think this issue is late, that's nothing compared to my finally taking my "summer" vacation during Thanksgiving week. I hadn't vacationed at the beach in Florida for a couple of years (the hurricanes of 2004 destroyed my favorite beach in New Smyrna), hence it was a delight to finally return, with Thanksgiving with my kids and a niece's wedding as the excuses. The only reason for mentioning such family matters is that a number of magical events occurred:
1. Disney/MGM has its Christmas lights up, so many that it looks like Fremont Street in Las Vegas, complete with a blizzard of artificial snow, a la David Copperfield.
2. Daytona Magic's Harry Allen is always fun to visit. When I requested a copy of the color series parody Prisn, Harry produced something he said I'd enjoy more, Max Maven's lecture notes, Daytona Notes, from his performance (which Harry averred fooled all) at the recent Festival of Magic. I did indeed (and would have been fooled). Max's material is always interesting, and these notes contained stuff I'd love to do. Excellent. Harry has only one set of notes left as of this writing. $10. (1-800-34-MAGIC)
3. Downtown Disney features one of Ken Fletcher's four exquisite Magic Masters shops, with ace demonstrator Charlie Martin luring customers to the dark side on the day I was there. The other shops are in Atlanta, Chicago, and New Orleans. Ken's shops feature such compellingly commercial routines and such elegant ambience that they define the illusion of what magic shops should be and look like.
4. While walking through Daytona's Ocean Walk resort on a Sunday afternoon, I heard a closeup magic show transpiring over my shoulder. I turned and was delighted to see that it was Chad Long behind that deck of cards. Chad simply spreads joy when he performs his startling, visible magic, making him a favorite to staff and vacationers alike. Although I've seen him lecture and perform for magicians before, it was a treat to see him captivate real people.
THE BOOK NO ONE MAY TALK ABOUT -- If magicians could keep secrets, fewer than 500* readers would have a clue as to the contents of Max Maven's The Protocols of the Elders of Magic from Hermetic Press. Stephen Minch's gamble that he could sell 500 copies of a book without revealing its contents paid off with a sellout before the publication date, which no doubt earned a big whew from Stephen, the missus, and Max. As purchasers were advised to not discuss the contents, I won't add to the growing internet speculation and revelation, except to say that the book represents what must have been an enjoyable bit of scholarship. (*Stephen and Max each took two of the 500 copies, and a few mercenary types bought multiple copies for eBay speculation. Don't write me; mine ain't for sale.)
November 2005
November brings a late, last look at summer along with a few suggestions for Christmas shopping, plus notes on John Carney's Wonder Cabaret in North Hollywood, a book no one is talking about (we hope), Mac and Bill King's magic kit, and a self-illuminating wand. As I tend to be publishing these sheets more and more near the end of each month, let me jump ahead to December and wish each of you the very best of the holiday season.
ONLY 23 MORE SHOPPING DAYS UNTIL CHRISTMAS -- As of this writing, that is. Everything reviewed in this sheet is recommended, but a quick look back at 2005 yields the following suggested list of favorites to pass along to your loved ones as hints:
Harry Lorayne's The Classic Collection. Possibly the finest collection of commercial card tricks ever under one cover, containing Close-Up Card Magic, Personal Secrets, My Favorite Card Tricks, Deck-Sterity, and The Epitome Location, plus more. Easily my pick of the year.
Todd Karr's House of Mystery, The Magic Science of David P. Abbott. 892 pages of marvelous magic, scholarship, and essays by Abbott, Todd Karr, Walter Graham, and Teller.
Marvyn Roy's Mister Electric Unplugged. A fascinating look at a life in magic.
Steve Forte's Casino Game Protection. Get your PhD in casino scams.
Peter Duffie's The Dave Campbell Legacy. This one was a big surprise, with methods that solved lifelong problems for me. Don't overlook it.
The Artful Mentalism of Bob Cassidy from H&R books. Mr. Cassidy is the real deal, and this book contains strong, clever stuff.
2006 MAGIC Calendar: The Fabulous Magic of Las Vegas. Not reviewed here yet, but I saw one of these while visiting Daytona Magic, and they are lovely. Direct from MAGIC or your favorite dealer.
And if you don't yet have a copy, you can make the H&R guys happy by ordering a copy of The Little Egypt Book of Numbers. Some of my favorite magic tricks are in there, and I perform more from that book than from any other, even the Harry Lorayne book.
THE MYSTO MAGIC SET -- John Carney writes that he is again presenting Carney's Wonder Cabaret, each weekend through December, at the Actors Forum Theatre in North Hollywood. In his words: "Have a magic lesson with Faucett Ross! Chill as Dr. Klien makes a ghost appear and flex its muscles! Visit Johann Hofzinser's 19th Century Viennese Salon! Catch Mysto-mania with Mr. Mysto!" I've not seen the show, alas, but am a huge fan of Mr. Mysto and would love to meet his "pals." Call 818-506-0600 for reservations or check the Wonder Cabaret web site.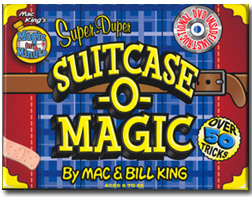 Barnes and Noble's magic in a suitcase.
THE KENTUCKY MAGIC SET -- Genii readers are already familiar with Mac King's Suitcase-O-Magic. This is a huge bargain available from Barnes and Noble for only $14.95. The set, which comes in a Mac King-style suitcase, features a bag full of props, a 64-page book, and an hour or so long dvd with Mac performing for, and teaching, a bunch of kids. My favorites in this set include the goofy gags "The Not-So-Happy Meal" and "Skiing Joke." It's designed for kids, but there is stuff in here you will use. Illustrated in really nifty cartoon style by Mac's cousin Bill King, who does Mac's comic strip.
WAND POWER -- Back in January, we mentioned the Harry Potter wand available from www.noblecollection.com. The same wand is now available in a model that lights up. Wave the wand and the light goes on, wave again and it goes off. The photo in the catalog shows it lighting just at the tip, which strikes me as cool. $39.50 from the same source.