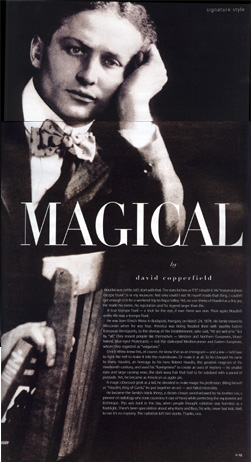 David Copperfield considers Houdini.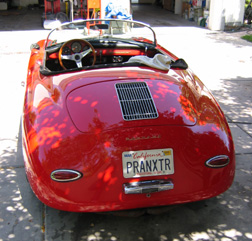 Amazing Johnathan's amazing wheels.
RAMBLINGS -- John LeBlanc is a frequent and welcome contributor to the Genii Forum (there are some names there whose posts I always read, and others one learns to ignore). I'm a little late to notice it, but John has a stunningly produced web site called Escamoteurettes, self described as his "occasional outbursts involving the weird little world of magic and mentalism." John's occasional essays are well worth your attention. Find them at www.escamotuerettes.com or in future just click on John's name under Magicians in our Favorite Links.
November 2004
If this issue is a tad late and a tad brief, blame it on a #%&*%! broken arm. (For the morbidly curious, it was at an ice rink. I was just sure I was going to nail that triple axle.) Such turns of events give one time to look beyond Rene Lavand's artistry and to truly appreciate his sleight-of-hand skills. But enough bah humbug. This month let's be thankful for a look at Houdini by David Copperfield, a fantastic issue of Genii featuring a look at Amazing Johnathan's house, a blog site by John LeBlanc, and wedding bells for Penn and Todd Karr.
I'M JUST WILD ABOUT HARRY -- In the unlikely journal FQ ("Canada's International Magazine of Style"), David Copperfield has an interesting article on Houdini called "Magical" in the Fall 2004 issue. The article runs only two pages, but they are very large pages, and the article fits the issue's overall tromp l'oeil theme. Among other interesting assertions is David's speculation that Houdini had no children as a result of submitting to too many of his brother Leo's x-ray experiments. It's interesting to note that Houdini still rates media attenion after all these years. (In 1977 Doug Henning broke into publishing with his book, Houdini His Legend and Magic, with Charles Reynolds.)
FUN HOUSE -- While attending MAGIC Live II in Las Vegas, I had the great pleasure of touring Amazing Johnathan's home in the lovely gated community called The Fountains. AJ has rigged a fabulous mansion for 24-hour fun. Do check out the six-page full report, with photos, in the December issue of Genii. That issue also features the bonus of an instructional dvd by Simon Lovell, a killer version of "McDonald's Aces" by Derek Dingle, a keen telephone stunt by Phil Goldstein, not to mention a full and inspiring article on Jon Armstrong by John Lovick. (I confess to also being partial to the kind words from David Regal re The Little Egypt Book of Numbers.)
GOING TO THE CHAPEL -- November seems to be wedding month in Las Vegas. First up was Penn Jillette, who married his bride, Emily, on November 23 and which was announced on E Tonight. Penn's was a small, casual service that you can watch yourself at www.vivalasvegasweddings.com. (It will be available for three months.) I liked seeing them skip off at the end. Next, as reported by Dustin Stinett on the Genii Forum, Todd Karr married his bride, Gina, on November 26. Ah, so that's why my Abbott book isn't in my mailbox yet. Best wishes to both couples for a long and happy journey.