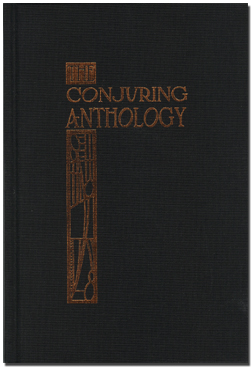 The World's Greatest Magic Book?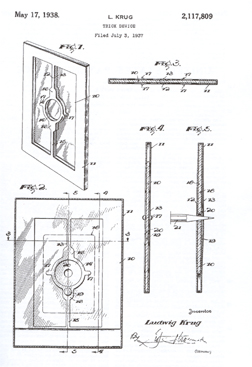 Penetration Frame from The Mechanics of Marvels.
LOVE IN BLOOM -- You probably shouldn't boast about your girlfriend when you have newly fallen in love. You are biased. I feel that way right now about Jim Steinmeyer's The Conjuring Anthology. Right now it's the best book of magic I've read in my 50-plus years of accumulating magic books. Although that bloom of appreciation may fade, diminishing it to the status of such former favorites as Greater Magic or Practical Mental Effects, no one will be able to deny that this book contains an awesome selection of first-rate professional magic for parlor or stage. Here is material from which anyone with talent could make a living as a club magician, a comic, a mentalist, a kid show performer, or an illusionist. These are mostly apparatus tricks with methods that will bring joy to your heart. Yes, I've watched these play out over the years in Jim's monthly column in MAGIC (it used to be a Saturday afternoon treat to read through old issues), but I argue that the sum is greater than the parts. (That is true in fact as well as in praise; Jim added four extra routines that weren't in the magazine plus revisited the old routines with new comments.) The book is also remarkable in that this material is mostly the creation of one individual. (There are some notable exceptions, with routines from Marvyn Roy, Orson Welles, and amazing Svengali contributions from Bill Taylor and Max Maven.) Here are contemporary miracles with such common objects or apparatus as Linking Rings, Mene Tekel decks, Svengali decks, Change Bags, Clippo, Diminishing Cards, Rice Bowls, Dictionaries, the Princess Card Trick, and the Hathaway Rising Cards. Here are amazing new presentations: Pete Biro's Rising Cards becomes a money counterfeiting machine; Grant's Million Dollar Bill Mystery plays as letters from St. Peter and Lucifer. Here are impromptu effects: you might expect it of Ten Cards Up the Sleeve, but a Torn and Restored Newspaper? All in all just wonderful stuff, accompanied by great presentations. 526 pages, with exciting illustrations by the author, in a 6 by 9-inch black book that looks like a magic book. $65 pp from Hahne, online at www.jimsteinmeyer.com or from your favorite dealer.
Late-breaking news: Jim Steinmeyer's equally extraordinary The Magic of Alan Wakeling along with Art and Artifice are about to be released in paperback, at extremely reasonable prices, on Amazon.
PATENT PERFECT -- My favorite tv series in the last decade or so, and the one I still often watch on dvd, is Buffy, the Vampire Slayer. I love it when Giles or Willow or the rest of the Scooby gang cracks open one of those giant books of magic to check out what sort of demon they are facing this week or to look up some magic spell that will aid them. It's the sort of feeling I have about Chuck Romano's new book, The Mechanics of Marvels. Romano extends the original 1928 patent list of Smiling Jim Wobensmith to 500 patents (you may look these up online at the U.S. Patent Office), and the book includes complete drawings and text descriptions of 100 patents. It is those heavily annotated black-and-white line drawings and the wonderful descriptions in legalese that so remind me of the arcane magic you might find in one of Buffy's heavy volumes. At to the list, my pulse quickened to see Steinmeyer's Origami among the Sawing-in-Halves and Levitations. Alas, looking it up online, I discovered it to be only a Design patent; Jim was patenting the look of the illusion, not its secret mechanism. Hence I still haven't a clue as to what that mirror is for. As to the patents included in the book, you are in for some wonderful reading. Here are illusions such as Horace Goldin's Lady Shot from Cannon, The Great Lafayette's Feeding a Human to a Lion, Howard Thurston's Spirit Cabinet and Vanish of Multiple Persons, Fergus Greenwood's (?) Million Dollar Mystery, Edward Barnett's Live Girl in Fishbowl, and Gale Molovinsky's Portable Levitation of a Girl. Among small apparatus, you will find the Break Away Fan and Rising Cards, C.F. Brehmer's Magic Card Box, a W.H. Tucker Trick Deck that does far more than the Electric Deck, various Money Printers, Joe Karson's Zombie, and William Gewirtz's (?) Coin Through Dental Dam. I have not read this book in total, and don't intend to. Rather, it's one of those books I shall look forward to dipping into, to marvel at the inventiveness of fellow magicians and to ponder who was trying to protect what from whom, back when claims of magical invention mattered to the public as much as they always have to magicians. This too is a whopper, oversized book of 480 pages, with Foreword by Jim Steinmeyer and Preface by Chuck Romano, reasonably priced at $115 pp, with only 250 copies in print! Those of you who missed out on Chuck's The Art of Deception may be equally disappointed if you miss out on this. For ordering details check www.chuckromanomagic.com.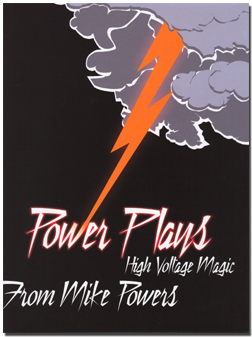 Charge up your magic.
MR. ELECTRIC -- No, not Marvyn Roy. I'm speaking of Mike Powers, whose new tome Power Plays/High Voltage Magic is bristling with new card magic along with a fine sampling of magic with coins and other small objects. Mike mentioned a few of these items when I saw him at Magi-Fest in February, so it was a treat to see them in their full hardbound glory. If a book contains two or three items that make it into my repertoire, I consider it a major find. At last count, over ten of Mike's items were Little Egypt rep-worthy, so this book is through the roof. (All the items are fine; I am singling out those that are particularly in tune with the sort of magic I do.) I was impressed at the amazing range of the card magic. There are topological tricks, such as Sawing a Lady, in which one card cleanly bisects another that has been placed in the card box, and Impromptu Terror, in which holes punched into a card that has been signed on both sides slide off the card and onto another. (The method has nothing to do with Mike Close's Pothole Trick.) There are tricks (but not too many) that will test your sleight-of-hand skills: Expert Cards to Pocket is extremely funny. Most are easy and clever. Natural Power Poker reminds me of the David Solomon poker deal from John Bannon's last book: the spec makes all the choices, the magician gets the royal flush. Best of All Worlds uses the Lorayne spec-shuffling bit from Out of This Universe in a fine Out of This World routine. Punch for Two adds the punched deck ruse to a familiar Tamariz card trick to create an impossible two-card location. Tri-Easy-Thon is a three-card location that exploits an X-ray card case. Invisible Triumph is a strong two-deck routine with an Invisible Deck. Finally, there are mathematical tricks. The Money Game raises the stakes on a familiar and killer card trick. And we come to my favorite in the book, Code 5. In this effect, the medium leaves the room (Mike is married to a really cute one) and a spec removes any five cards from the deck and arranges them as a stud poker hand, one card down and four up. The medium returns (magician may be out of sight at this point), looks over the situation, and reveals whether the hole card will help or not: she names it exactly. The methods used throughout are very clever and make you wish you had thought of them. Superb magic, large format, 232 pages, illustrated by Tony Dunn, nicely hardbound with dust cover, $40 pp available directly from Mike Powers (he'd like that!) at www.mallofmagic.com or from your favorite dealer.
May 2006
Although May is finally threatening to welcome in summer, I am tempted to drag out the Christmas clip art and fonts, as opening this month's collection of reading material felt like Christmas morning. (It's a good thing the promised Roy Benson by Starlight and The Vernon Touch held off a tad.) Indeed, a few minor errors* aside, this is by far the finest collection of books I have reviewed in a while, including two Jim Steinmeyer offerings, one Mike Powers, one John Lovick, one Chuck Romano, and one Bryan Berg, champion card stacker. As to other news, you all know by now that Billy McComb has left us. Just incredibly sad news. The photo we are running here was shot at the same time as a photo we once ran of Mike Rogers, and it is hard to believe that Mike has now been gone almost five years to the month. As Milt Larsen recently said to me, "Geeeez." A final personal note. Last month, a few days after posting the April site, I added a link to my daughter's wedding photos (she was married on April Fool's Day, which I think should be the only day anyone should be allowed to marry). I am repeating the link near the bottom of this page. Okay, bring on summer ...
BILLY MCCOMB -- As it was with Jay Marshall, virtually everyone in magic knew Billy McComb and felt he was his friend. Both were also magic's most respected repositories of magical knowledge and two of its all-time greatest jokesters. They thought funny. Hundreds of magicians make parts of their livings with Billy's material such as the McCombical Deck, while top pros such as Mac King owe him even more, both personally and professionally. While no one wants to go out at all, it was nice that Billy was able to go out at the top of his game, opening in recent years for Amazing Johnathan to hip young Las Vegas audiences. (In earlier times, Billy also opened for Julie Andrews, Olivia Newton-John, and Shirley Bassey.) Although I've run into Billy casually over the years, I was pleased to have had two encounters with him that turned into print. When Richard Kaufman asked me to contribute something to the millennium issue of Genii, I had no idea that it would lead to a tribute to Billy in rhyme, but it did, and I'm glad that Billy enjoyed it. You can check it out at A Millennium Night's Dream. Also for Genii, I had the pleasure of interviewing Billy for the Amazing Johnathan issue, which ran in September, 2000, and I recommend you scrounge up a back issue for many reasons. Billy became a fixture at the Magic Castle (and later served many years on its board), having landed in LA even before it opened, to appear on the 1960 edition of It's Magic!. He enjoyed the Castle, as he put it to me, because "they talked my talk. They knew what a Top Change was. They knew what Asrah meant. They knew the difference between Aga and Asrah. If you said the Cut and Restored Rope, they knew it already came from Tarbell." Although Billy also trained as a physician, I suspect that doctors just didn't speak Billy's language, and so he became part of our family. We are so much richer for his presence. I shot the photo above at the 1989 Desert Magic Seminar, simply as a fan about to watch a bird cage fade into the ether. Above all, Billy did beautiful, beautiful magic.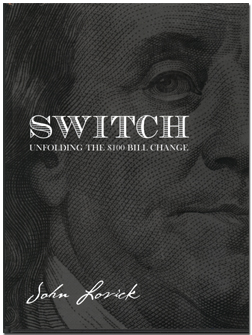 Everything you wanted to know about the $100 Bill Switch but were afraid to ask.
C-NOTE -- Most of the books mentioned elsewhere on this sheet contain dozens of plots and routines of the widest possible variety, for which they earn high praise, whereas the subject of John Lovick's magnum opus, Switch, contains dozens of takes on one plot -- the changing of one bill into another, for which it also earns high praise. Of course, this 346-page encyclopedic look at the $100 Bill Switch leads to many, many variants and routines. In the course of its pages you will learn who Vladimir Vladimirov is, encounter myriad details on how to switch bills with and without a thumbtip, and enjoy highly entertaining routines of which I will note a few favorites. Gregory Wilson's Curious George turns the bill switch into a great card trick. Gary Kurtz's Counterfeit is a monster routine in which a borrowed bill turns into a demonstrably counterfeit bill but with the same serial number as the borrowed bill. David Acer's Picturesque involves photos of the magician holding bills before and after the switch. Chapek/Weber/Powers' Reversal of Fortune allows you to flip George Washington but not the bill itself. And Bill Malone's Opening Act Bill in Lemon is of course first-rate comedy/parlor magic. Missing from the book is one of my favorites, Paul Harris's Night Shades, perhaps because Paul no longer manufactures the device. Included in the book is my favorite ruse for convincing a spec that you really turned his $1 into a $100: check it out on page 182. All in all, if you do any magic with bills, this is an essential reference book as well as a source book for new routines for your act. Hardbound with gorgeous dust cover, large format, 346 pages, wonderfully written and researched by John Lovick, illustrated by Tony Dunn and John Lovick, $50, available from your favorite dealer.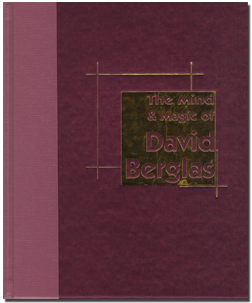 Super Magic.
BEFORE COPPERFIELD, BEFORE BLAINE, BEFORE ANGEL -- Long before David Copperfield vanished the Statue of Liberty or walked through the Great Wall of China, before David Blaine levitated off a sidewalk or spent several days in a block of ice, before Criss Angel walked up a wall or suspended himself from a helicopter with meat hooks, British super-magician David Berglas was astounding audiences around the world with similar get-them-talking megastunts, often crossing the line, as Jim Steinmeyer says, into "that 'gray area' between the real and the psychic." Some defied death, such as daring a blindfold bobsled run on a 90 mph sheer drop at St. Moritz, being "eaten by a lion," and hypnotizing a killer whale. Berglas caused a grand piano to simply vanish with no cover, he caused a cruise ship to lurch to port on his command, and he caused an entire ballroom of diners to morph into London's avenue leading to Buckingham Palace. Berglas's entire career, which ran from the 50s through the 90s, is a string of such "one-off" super illusions. Some veer into the scams once perpetrated on the tv series Mission Impossible. All are thrillingly described and most are revealed in The Mind & Magic of David Berglas, by David Britland, of which 1000 were printed in 2002 and only a few remain. Not revealed, to my dismay, were the mechanics of Berglas's Floating Table, which David Copperfield performed on his "Supernatural" tv special, right down to Berglas's great patter lines. Author David Britland attempts to explain the details of the Berglas Effect, the incredible Card At Any Number effect that has baffled magicians for decades. (It's a tough explanation, like attempting to explain Vernon's Trick That Cannot Be Explained.) Berglas's credo is "Think big," he gets a lot of mileage out of not stating what he is going to do, and he has devised amazing uses for twins. Of the material I might conceivably do, I enjoyed Berglas's Magician's Choice (super version of Equivoque), Magic Fingers (black art method of pulling off your fingers), Newspaper Prediction (predicting words chosen from a torn up paper), Mathemagic (awesome addition trick), his personalization of the Magic Square, and, especially, the first item I turned to, the Spirit Cabinet. This went well beyond any Spirit Cabinet routine I had read before, but then, so did all of the effects in this book. Berglas turns any item, from the smallest to the largest, into an event. As a magic book or as a biography (the tale of working on Casino Royale was engrossing), this is a wonderful read. It's pricey at $200, but it's a whopping large-format 566 pages of the quality you'd expect associated with Jim Steinmeyer. Published by Hahne, very limited availability online at www.jimsteinmeyer.com.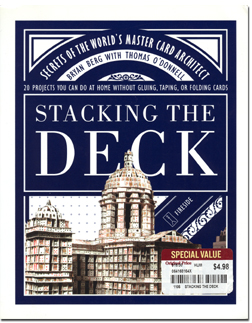 Card stacking for obsessives
STACKED DECK -- So you say you spend a lot of time with cards, but are getting bored practicing your bottom deal and your turn around pass? You need something else to do with your time and your deck? You can find it in Stacking the Deck, a paperback by Bryan Berg with Thomas O'Donnell, recently remaindered at Barnes and Noble for only $4.98. Berg is a world champion card stacker, and in this amazing book will teach you how to stack cards into card castles (or a Super Bowl stadium or the Iowa Capitol building) up to 14 feet tall or taller. Amazing. Sort of makes your Four Ace trick look lame.