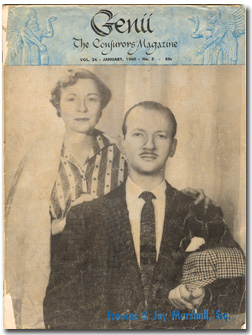 Jay and Frances, 1960.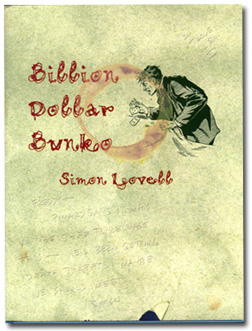 Cheating for fun and profit.
LEFTY HAS LEFT THE BUILDING -- Jay Marshall, who left us this month at 85, was one of the first names I encountered, as a boy, upon my magic-by-mail entree into the world of professional and serious amateur magic. I couldn't have found a better role model. He and Frances graced the first issue of Genii that I received as a subscriber in January, 1960 (a year's subscription was $5; in addition to a great piece by Frances on life at the Marshalls, this issue ran a nice photo from London of Irene and John Daniel). Later I would record my first publishing credit in the 1960 Ireland Yearbook. My submissions were forgettable, but it was cool to be published in a book illustrated by Steranko. Like most of you, I encountered Jay many times over the decades, either in his shop(s) or at some convention, on Ed Sullivan or in his writings. I think my favorite was watching him at a tiny convention near Kentucky Lake at an amusement park called Kaintuck Territory. When not performing his convention duties, he was like a kid taking in every ride or performance this little park offered. As it was with my friend discussed elsewhere in this sheet, Jay had (and created) a good time wherever he was. Readers are advised to snap up a copy of the terrific bio that Max Maven wrote on Jay, in the July 1996 issue of Genii, while Richard still has them available.
MESSAGES FROM BEYOND -- I've long been a huge fan of Peter Duffie, both his card books and his occasional marketed item. I recently procured his "Dead Reckoning," and it's excellent. Basically you display four laminated cards with which to conduct a T-E-S-T, using the help of a friend who is (flip the cards over) D-E-A-D. Although both sides of all cards have been shown, spirit writing appears that divine two selected cards. As with most of Peter's creations, this one is D-E-A-D easy. $15. I got mine from Hank Lee, who carries a lot of Peter's material.
May 2005
Alas, this is an issue I never wanted to post. May should be a month of new starts and fresh magic, not a month that contains obituaries for two of the greatest guys on the planet. One was critical to the magic world at large and one to my personal world. Also up for consideration this month are a phone book size book of cons by Simon Lovell, a deadly card trick by Peter Duffie, and some really funny ways to entertain kids by Bill Abbott.
HUSTLES -- Once, in my idiotic youth, I lost a bunch of money at the Pulaski County Fair, trying to drive nails into a board with a single blow. The game kept escalating like magic. I might have saved myself a week's spending money if I had read Billion Dollar Bunko, the monster new book by Simon Lovell from L&L Publishing. Unlike the new Forte book, which concentrates on casino gambling, Simon's book takes in a broad range of scams and cheating methods to take you from just about anywhere, including that friendly poker game, the neighborhood bar, your mail box, the street, the summer carnival, and the internet. This book seems to be intended for a lay audience as opposed to magicians only, but is no less valuable for that. Magicians may want to try some of the new (to me) bar bets, and flat out criminals may want to try just about everything, as these cons are the real deal.
In my past praise of Simon's books on card tricks, I may have failed to mention what a fine writer he is. Both the technical descriptions and the numerous anecdotes are highly enjoyable reading, and I loved the layout and artwork, especially the comic-strip pages by Alan Wassilak that introduce each section. Join Simon and his alter ego Freddy the Fox on a fascinating tour of the underside of gambling in America. This is an oversized 422-page book, $60 from L&L
KID STUFF -- Back in February I had a lot of nice words to say regarding the dvd Bill Abbott Performs Close-Up for Kids. Go back and take a look, because most of that also applies to Abbott's new dvd, Bill Abbott Performs Stand-up Magic for Kids. Although the new item at $35 is a tad pricey for only three routines, these are extremely solid and hilarious routines that are sure to find a way into your act if you do kid shows. They sound so simple: a sponge ball from mouth routine, a zombie routine in which you float nothing (this is pretty cerebral when you think about it), and Chico the Mind Reader, a monkey puppet routine. As with the material in the first dvd, Abbott makes it all fresh and wonderful. If you do kid stuff, you don't want to overlook this. The laughs Bill Abbott gets will convince you.
KAHUNA -- Longtime readers are aware that Little Egypt refers to the southern part of Illinois, where the towns bear such names as Cairo, Thebes, and Karnak. What I specifically refer to as Little Egypt Magic more precisely means the magic that I have performed for the past two decades and change in a saloon in Cairo, Illinois, called Smith and Groves. This bar was owned by my grade school, junior high, and high school friend Herbert (aka Duke, Fat Cat, and Kahuna) Washam, who passed away this week, far too soon. Duke allowed me to perform so much magic in his establishment that I became its Matt Schulien, and my magic matured there in a way it probably never would have otherwise. (I was very happy to finally, after 40 years, learn to do Vernon's Slow-Motion Four Aces, and to have shown it to Duke just two weeks before he died.) I am so grateful to have known him and to have been one of his legions of friends. In a eulogy for him I wrote:
"His was the most positive outlook I've ever encountered. Once, after he returned from a vacation, I asked him if he had a good time. 'Did I have a good time?' he said. 'I have a good time wherever I am.' And so he did."
Aloha, Kahuna. I hope the good times are just beginning.