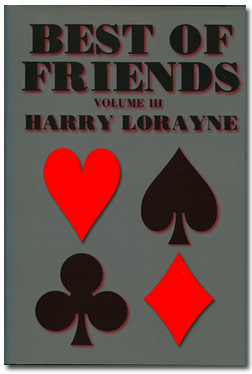 Harry's last book ever. Really!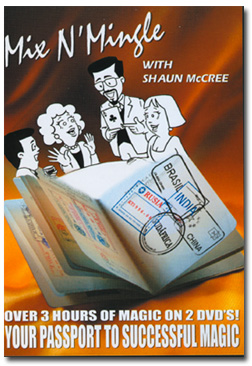 Professional card magic you can do.
FRIENDSHIP -- Harry Lorayne's Best of Friends Volume III is not the sort of book I like to read cover to cover. Rather, BOF 3 is a fat wad of card tricks whose gold I prefer to discover one nugget at a time in random readings. Altogether, there are some 130 routines from 41 contributors spread over 522 pages, enough for many pleasant evenings, all written up in the familiar Harry Lorayne style. If you have Volumes 1 and 2, you know what to expect. Kind of like Simon Lovell, Peter Duffie, Howie Schwarzman, Max Maven, and so on passing the deck around the table. Of the nuggets I've unearthed so far, I enjoyed Simon Lovell's Semi-Switched (Out to Lunch applied to a signed two-card switch), Max Maven's Spelleroyale (you easily spell to a royal flush), Peter Kougasian's Headline Prediction (the title says it all) and A Backward Card Trick (any named card from a blank deck prints itself), J.K. Hartman's Outjog Force, Kostya Kimlat's Impossibilty Card Trick (fantastic leverage with a key card), Robin Robertson's Double-Duty Balducci (force two cards), Jeff Altman's Mexican Stopover (a stop trick), Andi Gladwin's display ruse in The Collecting Jacks, and Gregory Wilson's Face-to-Face Poker (a 10-card deal; you get the royal flush) and The Trick That Sucks (awesome effect, great patter, thrilling method; so far, my favorite in the book). $84.90 pp. Order directly from Harry Lorayne, 62 Jane Street, New York NY 10014. Checks or money orders preferred over credit cards. Be sure to include your e-mail address, and Harry will send you a free e-book of Close-up Card Tricks!
T AND A -- Not my title, but theirs: Tyler Wilson of Canada and Andi Gladwin of England are currently lecturing their way through the Midwest with their tag team T&A Lecture Tour. My favorite material included Tyler's ghostly Card Warp and his Triumph effects from Dominatricks (now available in a nifty new hardback) along with Andi's five-second discovery of three selected cards and his Monte Python trick. As fine as the "serious" magic was, I liked the gag items even better, including Tyler's "gaffed deck" opener and Andi's sequel to Sam the Bellhop. Both performers seemed to be having a great time, as did the audience. As of this posting there are a few dates left in the tour (March 29-Columbus OH, March 30-Cincinnati, April 1-Chicago), and you are guaranteed a fun evening if you can make one of them.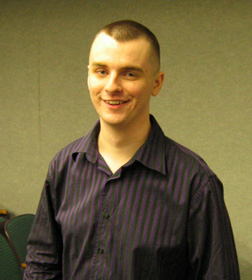 Caleb Wiles can make your wishes come true.
WORLD PREMIERE -- For the March 26 stop of the T&A tour in Indianapolis, Tyler Wilson invited hometown college student Caleb Wiles to open the lecture. This was Caleb's first lecture appearance ever, and what a debut. He was totally at ease, had great chops, handed out free lecture notes of the highest caliber, and most importantly taught some great original magic. One of the items has appeared in MAGIC magazine, and the other, Make a Wish, is a birthday trick of extraordinary potential, almost as strong as Anniversary Waltz. Caleb's immediate goal in magic is to tour with a more extensive lecture, and I unreservedly urge any group out there to book him. You will be very happy.
March 2007
Spring is a week or two early this year, and the local dogwood are in bloom. This March sheet takes a look at the new whopper of a book from Harry Lorayne, a dvd from Shaun McCree, lectures by Andi Gladwin, Tyler Wilson, and newcomer Caleb Wiles, Mac King on parade, a scary-ass new take on Macbeth, rumblings from the Magic Castle, and a look at upcoming Midwest conventions and a new book from Seattle. Now, why are you sitting inside reading this when you should be outside mowing your lawn?
MAGIC ON PARADE -- Previous honorees include Dwayne Hickman, Fess Parker, John Wayne, Col. Sanders, Rosemary Clooney, Rick Pitino, Loretta Lynn, Chubby Checker, and Muhammad Ali, among others. This year's honorees at the Pegasus Parade, a longstanding tradition of the Kentucky Derby weekend in Louisville, are Mickey Mouse (in his Sorcerer's Apprentice garb) as Grand Marshal and Louisville native Mac King (in his grandfather's suit) as Grand Magician. The official theme of the parade is "Wonders, Wizards, and Wands," and, with Mickey and Mac heading things up, Kentucy Derby Festival president Mike Berry promises "magic in the air." The parade takes place on Thursday, May 3.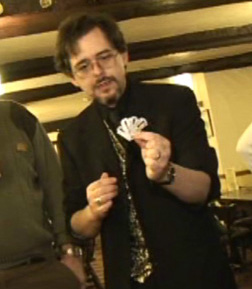 Shaun says, "Select a razor blade. Any one at all."
HOW TO BE THE LIFE OF THE PARTY -- This review is going to sound like a back-handed compliment, but it deserves better. Fact is, over the past year or two I have grown to despise most instructional dvds. It isn't just that I prefer books over dvds (I do!), but that dvds coming from places other than established masters such as L&L are so poorly done. When it comes to the explanation part, the performers start feeling self-important and blather on and on without getting to the point. With a book, your eyes can scan past all the crap and get to what you need to know; with a dvd you are trapped, and your only reprieve is to hit the eject button. It thus takes almost superhuman will for me to insert a dvd if I have never heard of the performer. Fortunately, I mustered the will recently and took a brief peek at Mix N' Mingle with Shaun McCree. Wow! My brief peek turned into a detailed study of all three and a half hours of available footage, as Shaun is both a great performer and a great teacher. (He's British, which may partially explain why I didn't know of him, even though he's been a professional for 20 years.) The two-dvd set contains 15 items, and you'll marvel at the intelligence with which Shaun constructs his routines. Razor Sharp, the effect in which you shake a razor blade up in a card box, relies on some of the best prop management I've ever seen in a magic trick. (This trick resets itself, by the way; all of Shaun's material is professional, real-world stuff, not "magician only" specialty stuff.) My favorite of the set, the one I'll learn and use, is Hypnosis, a sort of Sandwich Trick meets The Visitor. Again, very clever construction. As with the few special dvds I've enjoyed in the past, these are worthwhile whether or not you wish to learn the material; it's just fun to watch Shaun's show. $69.95 for the set, which is most professionaly produced, from your favorite dealer.
FOR SALE -- It has been announced on the Genii Forum and on the Magic Castle Forum that the Glover family is considering a sale of the entire hill on which the Magic Castle perches, leading to all sorts of speculation and cries of "Let's put on a show" to raise the money to save the joint. We see little reason to panic, as a worst-case move scenario was considered not all that long ago, and there were some very attractive options. But it shouldn't come to that. As Milt says, "We are all working together (F&B, MCInc. AMA) to assure the Castle [remains] at the present location for all the members, their kids and grandkids. This is ... a positive step into the future. We will no longer be dealing with absentee ownership. Please have faith in us." This works for me!
SOMETHING WICKED THIS WAY COMES -- Teller, thespian at heart, announced on the Penn and Teller web site in December that he is working on a new translation of Macbeth, treating the tale as "a modern supernatural horror movie" and incorporating sufficient magical and other special effects to "scare the living hell out of the audience." Key to the new look at this old tale of murder is "a shocking new idea for Lady Macbeth. Shocking." This all sounds delicious. The team hopes to open in January 2008 at the Two Rivers Theater in Red Bank NJ, with Aaron Posner, a veteran Shakespeare director, directing.
PREVIEW OF COMING ATTRACTIONS -- April, which is breathing down my neck as I try to rush this issue into existence, promises a one-day 30th Central Illinois Magic Get-Together, on April 21 in Champaign IL (home of my alma mater). Catch lectures by Jessica and Shayna Reed, Jeff Bibik, T. Daniel, and Andy Anderson, plus shows by this lot and Andy Dallas, outgoing SAM prez. May promises the 38th Magic Collectors' Weekend in Shaumburg IL, honoring Jim Steinmeyer with performances and lectures by Max Maven, Richard Kaufman, David Avadon, David Parr, Michael Claxton, William Pack, John Carney, David Charvet, and Lee Levin, plus an auction of some of the Jay Marshall collection. All this May 2-5. Also in May a new book, Maurice Fogel/In Search of the Sensational, from Hermetic Press. What a nice spring.