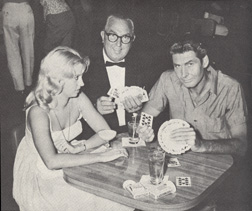 Aloha, Channing Pollock.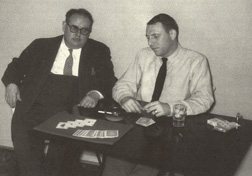 Charlie, Charlie, Charlie and Harry.
I'M JUST WILD ABOUT HARRY -- Harry Riser's Secrets of an Escamoteur has arrived from Hermetic Press, and it's a delight. Although Harry's prior book, The Feints and Temps of Harry Riser, was likewise loaded with excellent material, this one is more enjoyable to read because it is in Harry's voice. Each magic trick is prefaced by anecdotal musings, often but not always related to the trick they precede, and most will make you smile. (I especially liked Harry's claim to the title of escamoteur.) The magic is divided into four chapters: "Travels With Charlie" (Charlie Miller material), "Dreams of Flatland" (recent Harry Riser card tricks, my favorite chapter), "In the Land of the Faro" (faro shuffle innovations), and "The Riser Rings" (Harry's legendary three-ring Chinese linking rings).
Although some of this material had to be left out of the previous book -- Richard Kaufman once told me that the linking ring routine alone was the size of a book, and indeed it weighs in here at over 50 extensively illustrated pages -- much of it is new (at least newly published) if one can judge by the dates at which the items appeared in MUM. Harry has been busy.
Lest you feel daunted at trying to learn material from a legendary sleight-of-hand artist, I hasten to mention that much of the material works by sheer cleverness, often employing such simple ruses as a stacked deck, a corner short card, a one-way deck, and the old handkerchief force. All are employed in ways that will fool magicians as well as laymen. This is stuff you will do. (Even the faro chapter may intrigue you, whether you faro or not, as Harry comes up with such novel ideas as combining a faro shuffle with a Himber wallet.)
Among my favorites are a Charlie Miller takeoff on his "Dunbury Delusion" plot, along with Harry's "Descending Cards," his "Behind the Back, One Way" and "One Way to Spell," his "Dictionary Definition" (an easy card at any number), and his "Thinner Handkerchief Force." The most intriguing trick in the book is his "Almost Legitimate Cutting the Aces." With an ordinary deck, you lose the aces in the deck, then proceed to find them a la Dai Vernon's "Cutting the Aces." The aces are really in the center of the deck, they emerge from the center of the deck, there are no breaks, you name each ace as you cut to it, and you do it all with one hand. And sometimes it's even better than I've told you. This represents some incredible thinking and is not too difficult to do. Harry Riser looks like a laid-back oldtimer, but he's really the hippest kid on the block.
225 pages, written by Harry Riser, illustrated by Earl Oakes, $47 plus postage from Hermetic Press.
LEAVING LAS VEGAS -- As mentioned last month, my trip to the World Magic Seminar in Las Vegas was cruelly abbreviated. I particularly hated missing Tuesday's offerings, with its movie contest and its close-up show. Kudos to Rich and the gang for hiring Jon Armstrong, Andrew Goldenhersh, John Lovick, and David Regal. These guys are my dream team for close-up, and I'm sorry I missed their show. Of the magic I did see, the best was informal: Lee Asher demonstrating some astonishing new card material for Dick Koornwinder and some friends of mine, and Eugene Burger holding forth in Jeff McBride's Mystery School "salon" with his takes on Vernon's "Trick That Cannot Be Explained," "The Moving Pencil," and "Cool Spell." Coincidentally, Harry Riser mentions in his book that he and Charlie Miller used to spend hours working on Vernon's trick. Thanks to Lee and Eugene for making a short trip memorable.
March 2006
March Madness ended abruptly for me yesterday as my beloved Illini bowed out of the NCAA basketball tournament at least one game before they should have. Oh, for memories of last year. This frees me up to get back to magic, with some catching up on last month's conventions, a look at two must-own books, and goodbye to a legend. And for all who sent me notes last month, I thank you. Your words and kindness were a big help.
HAIL, COLUMBUS -- Before getting on to a description of a wonderful three days, I must get one negative comment off my chest. Both the lowlights and the highlights of any Magi-Fest in Ohio can be found in its contests. Because Magi-Fest doesn't screen its contestants, you can encounter individuals who should not only not be in the contest, but in magic itself, or even anywhere in public; no one should be walking around loose in that much denial. On the flip side, the contests carry sufficient importance that they attract some excellent performers and strong new talent, and I congratulate the winners of the close-up contest, which I attended: Junior winner Zach Roybal and Senior winner, John Born. (Second place winner in the juniors, Graham Fishman, was also super; these kids are so good it makes me crazy.) Now, as to the stuff I loved at this, the 75th Annual (!) Magi-fest: Glen Singer pretending to ride a zebra; a close-up show featuring Tim Conover doing Albert Goshman's salt shaker routine, Paul Gertner doing Unshuffled, John Carney doing impossible color changes, David Williamson abusing children (hard to word it any other way, but this was really funny), and Rich Bloch with a really goofy take on Sam the Bellhop; a professional forum in which top pros told the real truth about life at the top; Joshua Jay patiently teaching me a great handling of Yigal Mesika's loops; a very nice scholarship donated in the name of Josh's dad; Mike Powers' exquisite false shuffles; Tom Gagnon's superb teaching; a stunning stage show directed by Dale Hindman that included hilarious emcee bits by Rich Bloch, Greg Frewin's awesome dove act with a girl from cage and his Walking Through a Floating Lady illusion, and Junge-Junge's incredible new video illusion; Bob Little's Tomato that Goes Splat dealer item; Rosie and Tony's hospitality; Paul Gertner's lecture and especially his discussion of meeting Johnny Carson; John Carney's lecture with his great new moves for Vernon's Cups and Balls; Pittsburgh native Paul Gertner's really funny bit with a Steelers chant; John Carney's impersonation of Faucett Ross; Junge-Junge's hilarious Chapeaugraphy routine; Jason Dean's work on Inversion; and the excellent cuisine and beyond-the-call friendliness of the Mariott staff. What a pleasant place to stay and spend three days.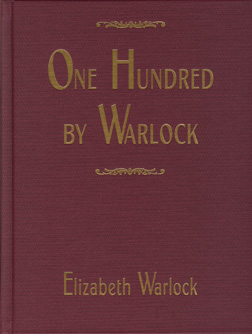 A steal!
100 REASONS TO SUBSCRIBE TO GENII -- The more important of the two news items here is that Richard Kaufman has published a new book, One Hundred by Warlock, by Warlock's daughter, Elizabeth. This 205-page book, of typical Kaufman quality, lives up to its title of 100 items created by Peter Warlock. Here are all manner of small apparatus items with slates, cards, mirrors, candles, rope, keys, ribbons, rings, magic squares, a toy bird, and a glass of poison. Warlock was foremost an inventor, aptly compared in a John Fisher foreword to Jerry Andrus, Stewart James, Martin Gardner, and Robert Harbin. The card items, rather than the usual run of finger-flinging material, tend to be ingenious mechanical inventions. This is the cream of the crop of the Warlock legacy, from his own magazines Pentagram and New Pentagram as well as the many others he contributed to, cleverly laid out in alphabetical order.
The second news item is the method by which Richard is marketing the book. Here's the deal. Either start a new or extend your current Genii subscription to three years (thereby locking in a low rate), and you can purchase this $60-value book for only $15. This is an astonishing deal, and possibly the best win-win situation in magic.
WHEN DOVES CRY -- Word reached me today via the Genii Forum that Channing Pollock had passed away. This is enormously sad news for magic. When I was growing up, three magicians defined for me the range of what I considered a professional magician to be: Channing, Marvyn Roy, and Ballantine. The photo I am running here is from the 1960 Ireland Yearbook, showing Channing with his wife of that era, Jose, along with Johnny Paul. I was a young teenager at the time and thought Channing's wife was about the hottest babe I had ever seen. Long before Copperfield dated Claudia, Channing showed me that magicians could get the girls. Of course, if you looked like Channing, you had a huge head start over most of us. No magician since has looked that cool on stage.