PUTTING ON THE RITZ —Max Malini, as most of you know, was a turn-of-the-20th-century magician, small in stature at 5 foot 2, with small hands, yet larger than life in presence and personality. He also became Steve Cohen's muse and role model: "A young eastern European Jew from New York could travel the world, perform close-up magic, and befriend elite members of society while living in luxury hotels? Count me in." Likewise a young eastern European Jew fascinated by close-up magic, Steve became exposed to wealth attending school in Chappaqua and would soon perform for the Rockefeller family in Pocantico Hills. I am reminded of Fitzgerald's fictional student John T. Unger, who visited the fabulous home of a classmate whose father owned "a diamond bigger than the Ritz-Carlton Hotel."
Having earned his own enviable reputation as the Millionaires' Magician, Steve Cohen owes much to Malini for inspiration and education. This new volume Max Malini: King of Magicians Magician of Kings is Steve's extraordinary "thank you" to Malini and a gift to the rest of us.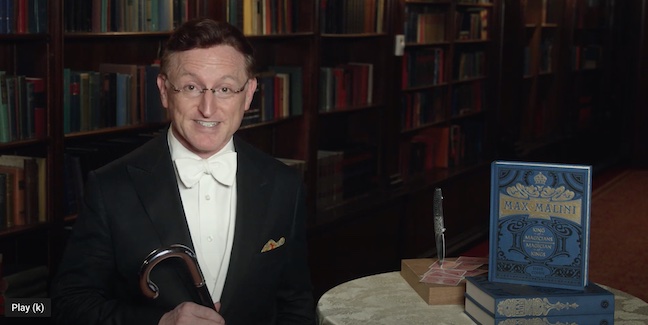 At over 500 pages, this is a large book but moves along at a steady clip. After an informative preface and introduction, the first chunk of the book (98 pp) is devoted to Malini's Life. Its chapters deal with Malini's speech (Yiddish flavored English), New York society as defined by Mrs. Astor's 400, managers, tales of Malini's chutzpah (including the banquet at which he vanished a pig's head served to him), early media conquests, mythic anecdotes, and his family. There are too many stories to try to summarize them all, but one I found fascinating was that Malini was with Houdini shortly before Houdini's death, after Houdini had been punched. Verbatim contributions to Malini's life story include those from Eddie Joseph, Theodore Bamberg, and Charlie Miller.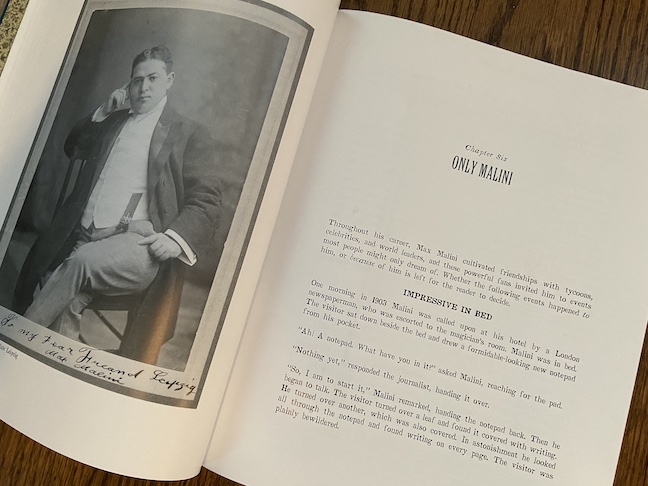 As to family, Malini was born in 1875 (probably) as Max Breit and later became a more appealing Max Katz. He married zLizzie Isaacs in 1911 (they stayed married for nine years until her death), had a son, Oziar, in 1913, and later a daughter, Beatrice Lois Katz, who was raised in foster care. Ozzie spent part of his childhood with Malini, part in military schools. Malini married widow Minnie Kaye in early 1922, but they would divorce within a year. Malini died October 3, 1942. He and Ozzie had been living in Hawaii at the time.
* * *
Despite the riveting opening biography, the second chunk of the book, Malini's Magic (330 pp), impressed me even more. Given that Malini's magic flourished over 100 years ago, I feared it might seem dated. I shouldn't have worried: it was fresh. original, and amazing. Here lay Malini's impromptu magic, card magic, and parlor magic, over 120 titled items with coins, cards, cigars, newspaper, cigarettes, wands, sugar cubes, cups and balls, bricks, ice, buttons, watches, tobacco, straw wrappers, string, handkerchiefs, canes, mirrors, mentalism, matches, table knives, lamp chimneys, blindfolds, egg bags, rope, lemons and eggs, water bowls, and Chinese linking rings.
A few favorites:
When I first discovered magic, sugar cubes were still common on dining tables. (Teacups and Sugar Cubes, from Robert Parrish's New Ways to Mystify, is the first trick with which I fooled my father.) Malini's Sugar Cube Assembly, his take on Chink-a-Chink, contains a new-to-me bit just before the final passage, a "bank shot," that delighted me more than anything else in the book.
The book devotes nine pages to the Cups and Balls, including Malini's ability to perform it virtually impromptu, some truly novel suggestions for final loads, and a perfect opening sequence.
Malini's Ring on Stick features a most convincing audible touch. You will be tempted to perform this.
Steve Cohen has performed Malini's Brick from Hat some 10,000 times, and it shows in the details of the instructions. It is more difficult to produce a Block of Ice, which Steve has done only about 20 times, but the real secrets are here too if you wish to revive this Malini classic.
The Magnetic Cane comes closer to real magic than any other trick I know. It is just you and a cane. My favorite performer in the modern era is Michael Perovich, who learned it from Leipzig's "A Few Grips with a Cane." Malini performed it as well as Leipzig, and Steve Cohen has also acquired the ability, as shown in the photos and promo video. Steve's writeup explains the physics better than anything I had read previously.
When I was young, had kids, and accordingly did kid shows, I used to open with the Lamp Chimney Silk Vanish. My shows would have been much, much better if I had known Malini's secret to getting into the effect. Brilliant.
In those same kid shows I used to perform the Malini Egg Bag. I purchased my egg bag from Magic, Inc. back when they were readily available for ten dollars, and it is still the perfect bag to work with. All the details are in the book.
In Bills in Lemon and Egg, two bills are borrowed, vanished beneath handkerchiefs, , and then discovered inside a lemon and an egg. This fooled Vernon, who thought Malini used a gimmicked wand. All impromptu.
I've long thought that magic's best card trick was Malini's Blindfolded Card Stab, especially as performed by Bob Sheets. I've had the privilege of seeing sSheets do it several times at the Brook Farm Inn of Magic. Steve Cohen devotes twenty pages to the trick, including all the performance details, alternate methods such as a Charlie Miller version with a Mene Tekel deck, and relevant history. My favorite story relates what happened when Ricky Jay and Michael Skinner flew across the country from Los Angeles to see the Bob Sheets version. Priceless!
And so much more.
* * *
Later chapters expand on Five Malini Methods:
1. Travel light, but always be ready
2. Focus on showmanship
3. Aim high
4. Be bold
5. Be patient
and on how he marketed himself:
1. He was the greatest living card magician
2. He had no rival in his profession
3. He only appeared at small, private gatherings of the rich
4. He regularly rubbed elbows with royalty, celebrities, and tycoons
5. He traveled to every habitable portion of the civilized glove
6. His hands were small. but he could palm "anything from a microscopic atom to a piano"
The book closes with three appendices. Appendix I is an Oziar Malini speech transcript for the Mulholland Library in 1989 (22 pp), Appendix II is Selected newspaper Articles 1902-1942 (50 pp), and Appendix III is an intensive table, a Malini Timeline (19 pp). Note that the news pieces in Appendix II and those in the earlier e biographical chapters often contain complete trick by trick descripti
ons of Malini's act, with patter.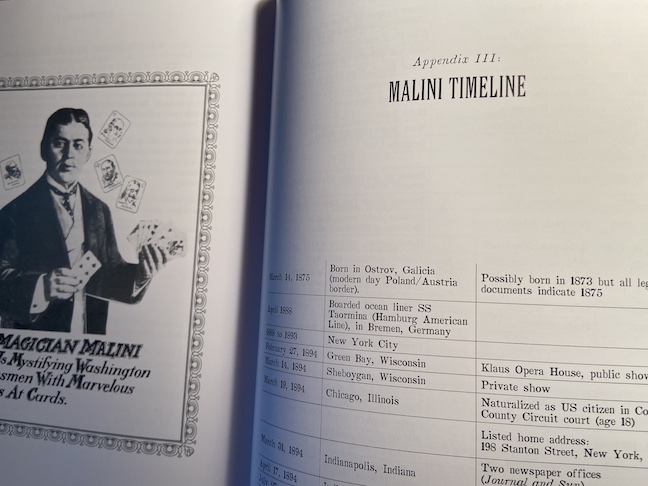 This is a swell book, hardback, cloth bound, 8 by 10 inches, 548 pages, exhaustively researched, entertainingly written, smartly organized, meticulously proofread, generously illustrated (Steve wanted to put "a face to the name"; there are also over200 instructional photos), and lavishly published on heavy paper to some five pounds by Squash Publishing. Available from most dealers for $125 plus postage. I bought mine from Squash Publishing.
Warning: One of Malini's most famous quotes, when asked how long you should wait until an audience looks up from your hands, was "You vait a veek!" Gabe Fajuri warns that the book may soon be out of print. Beware of waiting a week.