LETHAL WEAPONS — Want to be an Assassin? To kill audiences with your own comedy magic and make living doing so? Have I got a book for you! Assassin, in Steve Spill's own words, "is the written version of the discussion we might have if we sat down and you said, 'Steve, tell me how you create, develop, rehearse and audience-test an original routine—how you assemble multiple routines into a presentable act or show—how you find an audience for that act or show, and how you make a living doing that act or show. Also give me twelve examples of unique performance material that I might add to my own act or show.'"
Lots of books make similar promises. And I am such a fan of Steve Spill that I would read this for the tricks alone. So I am reading happily along, in the section on evolving a routine from ideas in a notebook to audience tested killer routines, when it suddenly hits me: "OMG! This is the real deal." I am around pages 46-48, and Steve is describing in precise detail what it is like to test a new comedy routine on an open mic night. I feel the hairs rise on the back of my neck, I sense the terror. How can I possibly attend to so many considerations? This level of detail permeates the book.
Multiple examples abound for each issue, such as how methods are developed (adapt, combine, modify, or substitute) or types of endings to an act: triumphant (straitjacket escape), cerebral (Knight's Tour, Q&A), poetic (Gypsy Thread), spectacle (Double Sawing), or novelty (ventriloquism, juggling). Steve is naturally funny and writes that way, all examples coming to life. Nevertheless, as in a prior book, the drop-dead funniest line goes to his wife, Bozena. Sorry, not repeatable.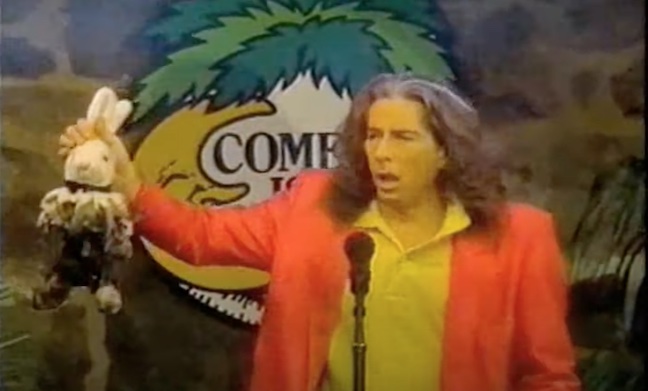 The section TCB addresses the hard task of obtaining money and making a living. You want your own theater in Santa Monica? Spend two years and over a thousand cold calls requesting money from a list of potential donors. Here too, Steve supplies precise detail. He doesn't just advise you to schmooze, but tells you where to go, where to stand when you arrive, and what to say to strangers. In TCB you will learn about contracts, riders, what to charge, what to request in advance, promotion, what to (stage) name yourself, and much more. All this from a guy whose history includes rock and roll openings, the Jolly Jester and the Brook Farm In of Magic with Bob Sheets, the Magic Castle, comedy clubs, Carter's Magic Cellar, travels galore, and twenty years at his own Magicopolis.
Following the sections on killer routines, killer shows, and killer careers are a dozen Steve Spill magic tricks. Although swell, if I wanted to channel Steve Spill and perform some of his routines, I would prefer selections form his Weed book, including Mindreading Goose and Grab N Stab. Of the current crop, I especially enjoyed Love Letter, a fine cake on Confabulation, and Enzymes, a low tech, no skill vanish of a borrowed credit card that winds up in a box of Cracker Jacks. And perhaps the best routine in the book is Steve's take on Tossed Out Deck, used to close the first half of the Santa Monica shows and tucked away in the first half of the book. Check it out.
The Final Chapter, a self-fulfilling title, is a brief look at some of the characters Steve had brushes with, such encounters being a true joy of a life spent in magic. More, please.
Hardback, 230 pp, same format as How to Make Love the Steve Spill Way and Magic Is My Weed, $125 plus postage, priceless if you desire a career in magic, from steve spill.com.
Steve Spill books previously reviewed: Magic Is My Weed (October 2019), I Lie for Money (April 2015), How to Make Love the Steve Spill Way (August 2018)

ILLUMINATING -- For his first two major productions from Vanishing, Inc., Harapan Ong borrowed titles from two Isaac Newton works, Principia and Opticks. Harapan teaches physics in Singapore, and I wish my physics teachers in college had been as clear and engaging as he.
Principia, reviewed here in January 2019, was an unusually handsome hardback book encompassing a wide range of card magic (spread over 74 titled items, tricks and essays). Opticks is primarily a download of 26 strong card tricks, accompanied by an elaborately packaged deck of cards featuring Newton-inspired art. Both Principia and Opticks also come with a packet of necessary gaffed cards. The Newton deck, which includes a few of its own gaffed cards, comes packaged inside a triangular box inside a triangular sheath inside a rectangular box in a slipcase. Strange!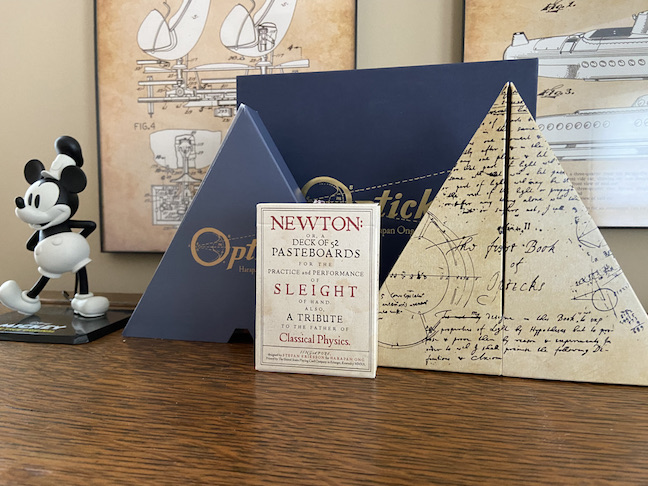 Typical routines …
Kaleidoscope Production. Beginning with a single deck, the cards are cut and "folded" (flipped over) into two piles, the two into four, the four into six,, the six back to four, the four back to two, and finally back to four, with an ace top each. This plays as a quick flourishy production of four aces.
Fatty Mayo. This too is a production of four aces, but it plays more as as multi-phase card trick. Three times in a row, an ace is produced from between two jokers. For the final phase, the entire deck is produced from between the jokers except the ace of spades.
Famous Eight Card Mystery. A self-working routine employing the Under and Down deal to locate a selection, surprisingly discovering the four eights along the way.
Prospectus. Any named queen is located thanks to multiple outs and a gaffed card.
Forgetful Collectors. Four collector kings find a spectator's card. But the magi forgot that the second spectator hadn't put her card back into the deck. So the kings "collect" three more face down cards which prove to be the mates of the second selection.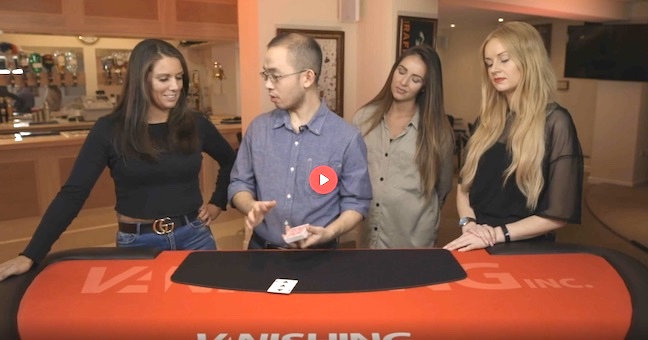 In some tricks Harapan both performs and explains each trick alone, and in others he performs for one to three attractive young ladies then explains alone. Harapan is fond of imbalanced transpositions, double-faced cards, and the pinky count. (You can usually substitute a get ready if that last item is a bother.)
As mentioned, there are 74 items in Principia, 26 in Opticks. Eight of the items overlap the two products. (Note that the Principia item, a book, also comes with video of most of the performances.) Of the two, obviously Principia contains the larger quantity of items, but also the larger range of effects. Buy it first. But if you buy either, you will probably also desire the other. I did. Both from Vanishing, Inc. $60 for the book, $50 for the download and the deck in all the boxes.

TURNING BACK THE CLOCK— Last month, in the discussion of the Ship of Theseus problem, I referred to a science fiction story I had enjoyed as a child but long lost contact with. Bill Mullins kindly put me on the right path and located the story in Galaxy Science Fiction, July 1958. The story is "Man in a Quandary" by L.J. Stecher, Jr. It is just as entertaining as I recall and the perfect Theseus example of a "replaced" object.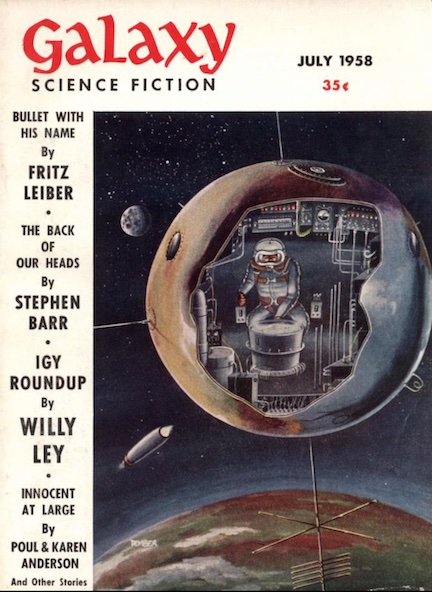 You can find it online in several places, such as here.  Enjoy.
HUP, TWO, THREE, FOUR-- Most of you, I assume, are longtime Genii subscribers. Or should be! One of my favorite columns is "Dealing With It," by John Bannon. I hasten to mention that John's May 2022 trick, Fours Majeure, is a doozy. This is a self-working Follow the Leader routine in which the spectator seemingly makes all the choices. Give it a try! You may fool yourself.
FREE SPIRITS — The seances at the Magic Castle have never been better, but they have been less expensive. Consider these words from Bill Larsen, circa 1970: "FORGOT TO TELL YOU! In the party kit for the seance we also send you invitations and at the end of each seance each lady in the party is gifted with a Houdini Seance ashtray created especially for us. Also I don't believe I made clear that the wines served with each course and the brandy after dinner are all included in the modest price of $15.00 per person."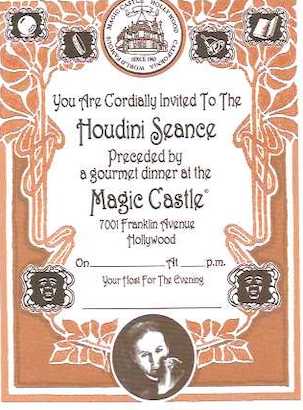 Nice pricing!