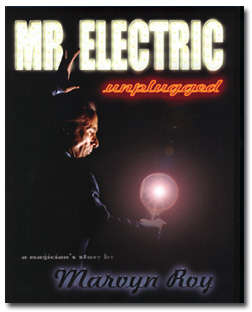 The light fantastic.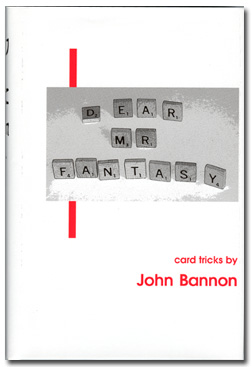 Mr. Fantasy answers all your questions.
DEAR JOHN -- John Bannon's new gem of a book, Dear Mr. Fantasy, should fill any card man's heart with absolute glee. Here are not only great card tricks (the gamut: some require a faro, some are sleight free) but the fascinating thinking behind the tricks. John tinkers with card tricks and ideas, and his results are exciting. Readers should consider every item, as John includes things within the tricks that have wider applications. For example, there are two beautiful sleightless culls (only one is a titled item, "Cull De Stack") and a fine, easy Marlo control that could become your favorite. As to my particular favorites: There are several fast and easy ace assemblies in the chapter "Bullet Train," all instances of John's thoughts re the internal timing of card tricks. "Final Verdict" is possibly the best method ever in the "Spectator Cuts to the Aces" genre (readers of The Little Egypt Book of Numbers know I used John's "Directed Verdict II" in a scary card trick; they may want to update the method to use John's latest thinking). There is a great new presentation for Dr. Daley's "Last Trick" and a great new finish for the "Henry Christ Fabulous Four Ace Trick" (using Lin Searles' "Moracle"). In "Out of Touch," the spec thinks of one of five cards spread through the deck, then touches one card, can even change his mind, and the touched card coincides with the mentally selected card. "Dawn Patrol," for you who can do a faro, is an impossible sandwich trick. Much of the material here can be called impossible because John likes to concatenate principles, with results that fool both magicians and laymen. Two such items are nicely sleight-free. "Dead Reckoning" is not only an impossible location, but you really seem to be reading the spectator's mind, in real time. The second, "Power of Poker," is a killer ten-card poker deal that most of you have seen Alain Nu do on television. This will become as popular as Steinmeyer's "Nine Card Deal." (The latter is credited to Dave Solomon, and the more I do it the more I am impressed with its thinking.)
John Bannon discusses "Dead Reckoning": "You liked that one, eh? It's a favorite of mine. It's very deep, very sophisticated. Principle upon principle upon principle. Yet, it's very direct. Eminently suitable for our civilian friends as well as our magician comrades."
The layout of the book is unique. In two places, the book switches to a sans serif font (I wish it hadn't, as I found those sections very hard to read). That font switch emphasizes a simultaneous switch in point of view, to that of an unnamed magician friend of John (perhaps Mr. Fantasy?) who describes tricks he has seen John perform and discusses the methods with him. I greatly enjoyed this point of view variant and would have liked more.
John is a fine writer (the technical descriptions are superb) who comes up with great lines and patter themes (another reason to read all the tricks, even those that may not suit you). Check the "Unlisted Ace Production" for a great line for any poker deal and "On Twisting the Aces" for a great Crocodile Dundee line.
This is a small book full of treasure, with much to admire on many levels. I even fell in love with the trick titles (as well as the book's title). Two more examples? "Wait Until Dark" is another sleightless miracle, an extrapolation of routines by Simon Aronson and Aldo Colombini, and "Last Man Standing" is a standup version of "Triumph" similar to (but I think better than) one recently published in Genii. 200 pages, $35 pp from the author at www.johnbannonmagic.com or your favorite dealer.
June 2005
This issue is finally getting posted because it's too damn hot to mow the lawn, which is what I should be doing. The summer reading begins with two fantastic books (Mr. Electric Unplugged and Dear Mr. Fantasy). Take a look also at Daniel Garcia's "Torn," Pabular twice redux, a Larry Jennings tribute site, and exciting television from Paul Wilson and Criss Angel. Stay cool!
BRILLIANT -- As I grew up in the 50s and 60s, there was one magic act that literally defined what it meant to be a professional magician, and that was Mr. Electric -- Artistry in Light. Marvyn Roy and Carol toured the world's finest show rooms, opened for the world's finest entertainers, and performed what is arguably the finest magic act ever conceived. Here were 8 to 20 minutes (depending on requirements) of first-rate entertainment with electric lightbulbs performed by a handsome high-energy team, magic that drew applause and raves from smart set audiences and critics alike. In Marvyn's new bio, Mr. Electric Unplugged from Mike Caveney's Magic Words, the entire Mr. Electric story is told for the ages. (Marvyn must have either a crackerjack memory or a stack of diaries and scrapbooks.) You witness the long development of the act, you appreciate that it was far more technically demanding than I had realized, and you learn how hard you have to work to do "eight minutes a day." There are many stories I didn't know (Marvyn was on the beach just after D-Day, for example, where he was wounded) and some you do (Mr. E's performance in the Magic Castle's parking garage is one that Milt loves to tell). There are hilarious celebrity anecdotes (my favorite involves Liberace being warned to not do the light bulb trick while standing in a puddle of water) and hundreds of photos (my favorites are the one with Marvyn holding forth for a bunch of kids such as Caveney and Stan Allen plus the one with the early giants at the Magic Castle). Above all, the book is a love story, of Marvyn's love for magic and his love for Carol. It's a lovely story, told in a distinctive voice:
It was my time. Time to live and be noticed. Then there was Carol. Beautiful, wonderful Carol. Without her there would be no journey. It was Paris, the Lido, opening at the Stardust Hotel in Las Vegas, Radio City Music Hall, Ed Sullivan, the wondrous Magic Castle and "my boys," always "my boys." So many magical sons.
From the early days hanging around Thayer's as a youngster to the most recent rounds of accolades, it's all here, gorgeously produced. Read it and be inspired. $50 from Mike Caveney or your favorite dealer.
MEXICAN STANDOFF -- I hesitate to raise this issue, as I am not privy to private contractual details. Nevertheless, the magazine Pabular was a superb magazine started by Nick Bolton in 1974 that ran through, as best as I can guess, around 1986, for eight full volumes that add up to just over 1311 pages. These pages, which I only recently have had the opportunity to view, contain some remarkable magic tricks, essays (especially by Patrick Page), and artwork from the period. The catch is that the work now exists in two formats, one a set of four beautiful hardbound books published by Magico (which I understand is owned by Rabbi Sam Gringas), the other a .pdf file published by Martin Breese, who according to opinion that I trust on the Genii forum owns the copyright. Unfortunately, I absolutely loathe the .pdf format and consider it no way to treat a magic book. It's a shame that Mr. Gringas, who apparently had the finances to print handsome editions, couldn't have gotten together with Mr. Breese, who apparently has the legal rights to the work, to produce a mutually beneficial product that would grace a bookshelf. These issues aside, the content is first rate, and my very late congratulations to Mr. Bolton and his excellent contributors. (Martin Breese's site is listed in our Favorite Links; I have no idea how to contact Mr. Gringas.)
TOGETHER AGAIN, NATURALLY -- Ever since Guy Hollingworth earned an international reputation with his torn-and-restored card trick, "The Reformation," magicians have been trying to concoct alternate methods of achieving the same impact, usually with less effort required. Some of these suck, some are pretty good. One of the best in recent memory is on the dvd Paul Harris Presents Daniel Garcia "Torn." Although the video is annoyingly "cool," the effect is clear and well taught, and this just may be the method you've been hoping for. (Actually, there are two methods on the dvd; I am praising only the simple method.) $35 from your favorite dealer.
GRIPPING -- As of this writing, two episodes of The Takedown have aired on Court TV, a channel I didn't even know I had. Hosted by Paul Wilson, and with a team including the likes of Jason England and John Lovick, this is a reality show in which the boys will attempt each week to scam someone at craps, pool, blackjack, etc. Despite a certain required suspension of disbelief -- somehow all this must be filmed with the marks not noticing, and they do things with magnetism that were not covered in my physics classes -- the show rises to the level of gripping drama. I squirm each week hoping they won't get caught. It's not magic exactly, but certainly one of the most entertaining shows featuring magicians that I've seen in a long time.
COMING -- As you know from the ads, Criss Angel's Mindfreak is scheduled to air on A&E July 20, another new weekly series. I've greatly enjoyed Angel's past specials and hope his new series justifies my going out to purchase that dvd recorder.
LARRY JENNINGS ONLINE -- Magic is full of random acts of kindness. A recent one that has elicited a warm welcome is a Larry Jennings web site launched by Lee Asher and Bill Goodwin. It's a tribute site with biographical details, photos, at least one video clip, and a link to a new edition of Up in Smoke. I enjoyed the personal photos, most of which I hadn't seen before. Check into this one from time to time, as I hope it will continue to evolve. Click for access from our Favorite Links or enter www.larryjennings.com.