NOTHING IS ORIGINAL -- Most of us, during our first brush with magic, copy. More accurately, we steal from our heroes. When I was first getting into magic, everyone wanted to be Don Alan. Fortunately, some became Albert Goshman, Ron Wilson, and Eugene Burger. How does this happen?
In Steal Like an Artist, a dandy little book on creativity, Austin Kleon codifies and celebrates this natural tendency. Subtitled "10 Things Nobody Told You About Being Creative," the book's "chapters" play out as a sequence of aphorisms:
1. STEAL LIKE AN ARTIST.
2. DON'T WAIT UNTIL YOU KNOW WHO YOU ARE TO GET STARTED.
3. WRITE THE BOOK YOU WANT TO READ.
4. USE YOUR HANDS.
5. SIDE PROJECTS AND HOBBIES ARE IMPORTANT.
6. THE SECRET: DO GOOD WORK AND SHARE IT WITH PEOPLE.
7. GEOGRAPHY IS NO LONGER OUR MASTER.
8. BE NICE. (THE WORLD IS A SMALL TOWN.)
9. BE BORING. (IT'S THE ONLY WAY TO GET WORK DONE.)
10. CREATIVITY IS SUBTRACTION.
These key maxims are expanded upon in subordinate aphorisms, brief quotations from famous creators, drawings, tables, short paragraphs of routine prose, bold headlines, bold white text hand drawn across a black background, like chalk on a blackboard, and individual highlighted words that communicate like a ransom note
.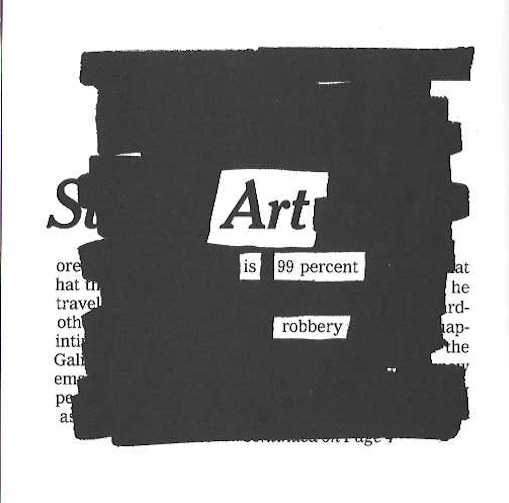 The author encourages you not only to copy, but teaches who and what to copy. He has been at it a while. He saw Jurassic Park the day he turned ten. loved the movie, and next day typed out a sequel. As he explains when older, don't just Write What You Know, but Write What You Like.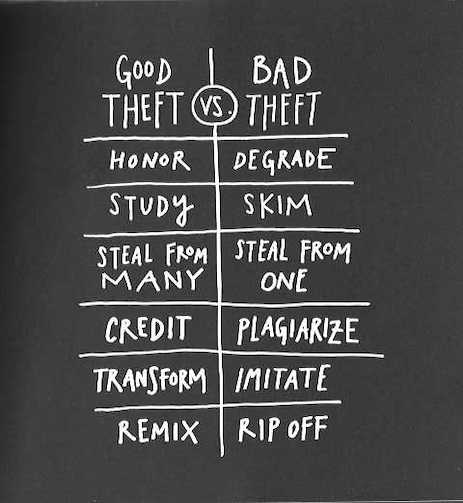 The brazen philosophy of stealing is predicated on the observation that Nothing Is Original. It says so in the Bible: Ecclesiastes 1:9 "There is nothing new under the sun."You will eventually sound like something different: "Johnny Carson tried to be Jack Benny but ended up Johnny Carson. David Letterman tried to copy Johnny Carson but ended up David Letterman."
The "BE BORING" chapter lists the essential considerations that support a creative life (but are seldom mentioned in similar manuals), including mind your health, avoid debt, keep the day job, and marry well. (To that last one I am tempted to add a little advice from my grandma: "Don't marry for love, marry for money. But if you do marry for love, marry for money the next time." Thank you, Irma Mamaw.)
It is so easy to apply the lessons in this book to the pursuit of magic that I am surprised that it wasn't marketed especially to magicians. I think all of you will profit from reading it. The profusion of ideas from disparate sources and styles reminds me of Jon Racherbaumer's The Artful Dodges of Eddie Fields. Every time I open the book, I encounter something new.
My copy is the tenth anniversary edition and includes a 14-page afterword from the author. Hardbound, 180 pp, $24.95, at nice bookstores everywhere. Mine was a Father's Day gift, bought at Morgenstern's in Bloomington, Indiana.

THE NUMBERS GAME — Given a surfeit of time alone, such as waiting out a year for the pandemic, I enjoy fiddling with a deck of cards. One such exercise is to rehearse tricks involving a specific quantity of cards. That is, a four-card trick, or an eight-card trick, or a ten-card trick. The advantage is that you will have a set of tricks in tune, to select from in case another human shows up and wants to "see something," and you may or may not have a full deck handy.
What follows is a list of my favorite tricks that fit the category. You will note that most are essentially self-working, which adds to their convenience. Which might you do "by the numbers"? Or what other category might you enjoy?
FOUR CARDS
Duplex, from Bill Goodwin's ebook Evolution, is amazing. Using only four cards, such as ace through four of clubs in a face-down row, you cause any card pointed to to penetrate another card, elevator style. There is a follow-up by Gordon Bean that rings in the rest of the deck, but the deck in that case is used only as a solid block to be penetrated.
FIVE CARDS
With a trick I had read from his ebook Mysteriouser and Mysteriouser, Raj Madhok fooled me badly. Spread the Mystery seems like a full-deck effect, but its devious secret is that only five cards are of any importance. An impossible location!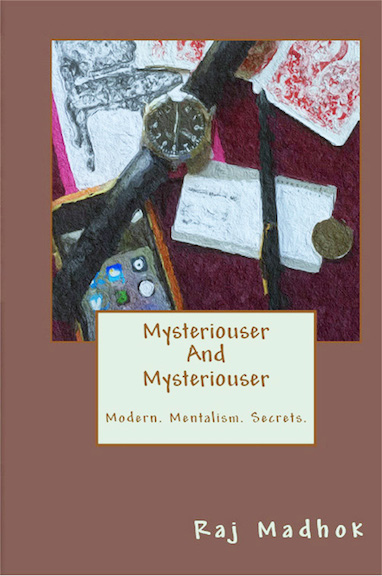 SIX CARDS
Mint Sauce, from Seventh Heaven, is Lewis Jones' incredibly entertaining take on a Paul Curry object prediction. The cards ace through six enumerate six objects in a row.
OK, OK, this one isn't truly a card trick. (Secretly, the cards provide the method, but the presentation has nothing to do with cards.) My second choice in this category is R. Paul Wilson's take on Corinda's Red Card Prediction. He calls it GTFM and teaches it in a lecture to the Magic Castle, available on line to members for the past few months. No spelling!
SEVEN CARDS
The trick Seven from Roberto Giobbi's book Confidences has more to do with the predicted location of the selection than with the quantity of cards involved. In Roberto's words, "A chosen card is shuffled back into the deck. The spectator takes ten cards, among them which is his. He keeps shuffling these cards as long as he wishes. Th performer has predicted that whenever the spectator stops shuffling the cards, the selection will be exactly seventh from the top. " This turns out to be true!
EIGHT CARDS
Triple Humdinger is one of my favorite bar tricks. I write three predictions on the back of napkins. From a stack of eight cards, some face up and some face down, I flip over varying quantities of cards, or let the spectator do so. When the spectator elects to stop, the first prediction correctly identifies the distribution of face down and face up cards to be 5/3. A seemingly random shuffling procedure follows, ending up with the up/down distribution to be (as predicted) 7/1. The single down card is then shown to be the ten of diamonds. As predicted! From the mss By All Means, by Peter Duffie.
NINE CARDS
Jim Steinmeyer's The Nine Card Problem, first in print in Impuzzibilities, is the most iconic of his many creations. I first saw it in the hands of Charlie Randall, a lie-truth version. It's the most impressive thing you can do with nine cards.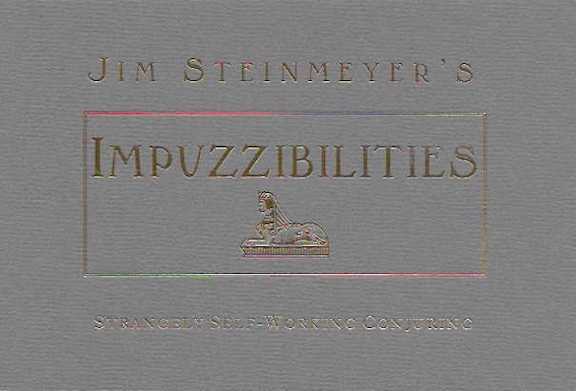 TEN CARDS
What better to do with ten cards than a ten-card poker deal? You can find a slew of them in Robert Farmer's The Bammo Ten Card Deal Dossier. My favorite is Revised Mexican Poker (with the Blomberg Variation) from The Wisdom of Solomon (David Solomon and Jeff Siegfried).
ELEVEN CARDS
Jim Steinmeyer's Traveling Companions is a charming eleven-card imaginary trip to Europe. Find it in Bewildering Impuzzibilities.
FOURTEEN CARDS
Jim Steinmeyer's Deepest Sympathy, from Devilish impuzzibilities, jumped off the page and into professional acts. Two runs of ace through seven are shuffled, one by the performer, one by the spectator. The resulting sets are identical! This is a thrill to perform.
SIXTEEN CARDS
From Beyond the Veil has been my go-to trick for many years, ever since Peter Duffie contributed it to The Little Egypt Gazette. Each of two spectators begins with a shuffled packet of eight cards. Each deals a random quantity, remembers a card, and the packets are recombined. After communing with a friend in the spirit world, you ask, "Who is thinking of the four of diamonds?" (For example.) Neither confirms. You then deal two piles, F-O-U-R and D-I-A-M-O-N-D-S.The top cards of the piles are the selections.
Again, this is not a set act, but rather a selection of individual tricks from which to pick one or two at a moment's notice. Obviously other groupings are possible, but these have served me well.