DEAR READER — Over the course of the first pandemic year, Mike Caveney proved to be magic's most ubiquitous, well-informed, and entertaining historian. In addition to participating in Magic Castle perks, answering Magic Collectors Corner questions, and to redecorating the halls of the Magic Castle, among other adventures, he produced two outstanding books, 100 Years of Sawing (reviewed here in September 2021), and Classic Correspondence from Egyptian Hall Museum IV, which I have just enjoyed reading. As most readers know, the Classic Correspondence series evolved from Mike's long-running columns in MAGIC and Genii, and Volume IV extends the run from letter 73 to 96.
The latest correspondent roster includes the likes of Del Adelphia, Alexander Hermann, Stan Laurel, T. Nelson Downs, S. Leo Horowitz, the Zancigs, Frederick Eugene Powell, Hodini, EllisStanyon, Virgil, Jon Daniel, The Great Leon, Charles Carter, Maurice Raymond, Will Rock, Dante, Les Levante, John Mulholland, Fasola, Ho ward Thurston, David Price, George, Marquis, Alexander, P.T. Selbit, Fred Culpitt, Stanley Colllins, Marvello, Faucett Ross, and John Carney, along with lesser-known but equally fascinating folks.
The book is a swell compendium of facts, photos, and footnotes. Beware the footnotes. Should you read them, you might encounter such hair-raising scenes as Adelaide AHerrmann, when she was performing at the Folies-Bergere, finding three of her rabbits with their heads chewed off by "hungry Parisian rats." Yikes.
I learned something in virtually every chapter. For example, I had always assumed the Zancigs to be a married couple. They were, but twice: Julius first married and performed with Agnes, and after her death eventually married Ada, who also learned the code. Between Agnes and Ada, two gents participated in the act, Paul (Vicci) Rosini and David Bamberg!
Although some of the correspondence was as "modern" as Faucett Ross to John Carney, I loved it when subjects were familiar from my own life. I certainly remember the television show "Greatest Magicians in the World," from 1967, described by Virgil to in a letter to John Daniel. The show featured Milbourne Christopher, Sorcar, Virgil & Julie, Marvyn Roy & Carol, and Roy Benson. Great magic! The producer, Joseph Cates, would eventually produce eight David Copperfield specials.
I greatly enjoyed the Alexander chapter and the trail of thievery that led to The Life and Mysteries of the Celebrated Dr. Q. It sent me back to my own copy. Perhaps Alexander should have billed himself as The Man Who Knows Better.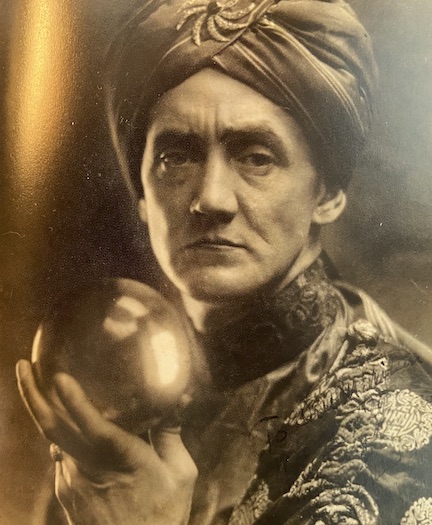 Mike's writing is always spot on, and the reader encounters gold in the unlikeliest places. To wit, from the chapter on Larry Carter to to Charles Cabot: "It would be a good ten years after Lawrence Carter died that young Doug Henning hoisted the art of magic onto his slender shoulders and carried it out of the darkness and onto a Broadway stage."
Volume IV is as beautiful as the first three. adorned with a wealth of original letters, posters, and photographs, mostly in color, in 394 pp fully indexed. These books are simply a joy to spend time with. $75 from Mike Caveney's Magic Words.

STAGING YOUR MAGIC SHOW — John Graham's Stage by Stage showed up as a surprise in my life, from Vanishing Inc. First, I didn't know who John was. (I don't get out much! He does over 250 shows a year, is easily findable on YouTube, and regardless quickly establishes his authority in print with sage advice.) Second, his book has a surprising and promising premise: teaching how to move your closeup act to the stage.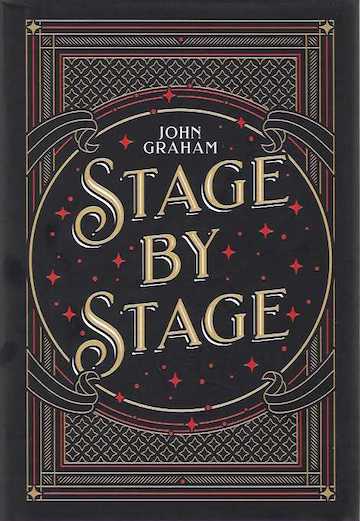 Excellent magic is taught for both performing arenas, and it doesn't matter if you want to make that transition or not: the advice applies to creating a solid act for either situation. It helps that John's inspirations are similar to my own: Paul Harris, Gene Anderson, Chris Kenner, Harry Anderson, Harry Lorayne, The Jinx, and so on. And although the tricks may seem familiar, they would likely fool you, because John has changed the methods. Such as, Deep Astonishment or the Lasso Card without magnets. (Quick interjection. John includes a mnemonic for use in Deep Astonishment. I created a different one that you may like in The Little Egypt Book of Ghosts. Check out Deep Fantod.) These aren't minor variations, but, rather, strong material you will be tempted to use. Although the book concentrates on developing its goals, you could view the book merely as a source of powerful magic tricks, for sitting or standing.
My favorite chapter is Beyond the Tricks (Jokes, Lines, and Bits!, Incorporations and Timing, Showtime, Music, Tracks and Cues, Tables & Cases, and Prop Management, and others). I will definitely use things from Jokes, Lines, and Bits!
Chapter 6: Putting Everything Together presents three complete shows, and I suspect many will adopt the structure, callbacks, and tricks from the first of these three. Show biz gold!
From Vanishing Inc., 352 pp, illustrated by Jeremy Dutcher, panel art and foreword by Asi Wind, layout by Andi Gladwin, and edited by John Lovick. $60 Most enjoyable.

WHAT'S UP, DOC? -- I had the pleasure back in July of mentioning Tori Noquez, a math professor here at Indiana University. Tori can prove either mathematically orwith a deck of cards in her hands that eight perfect out-faros will return a 52-card deck to its original order. Impressive. She also impresses as a regular performer at the Magic Castle (both in-person and virtually) and at the Chicago Magic Lounge, and she just this month added to her resume an appearance on "Penn&Teller Fool Us." Although she didn't fool them (or so she conceded), her entry was a strong standup card routine with a smash finish, ideal for television. It's exciting to have a local magician on the show. Congratulations!