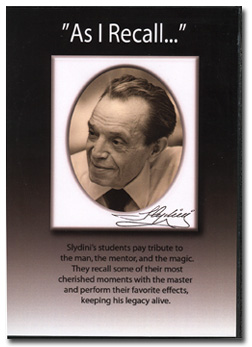 The master at the card table.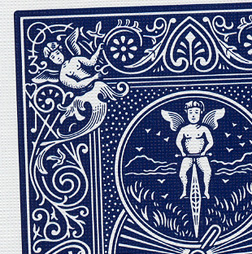 Cheating never looked so good.
FOR ENTERTAINMENT PURPOSES ONLY -- The Ultimate marked card deck from Magic Dream in Paris is just that, the finest marked cards you could hope to own, at least for magic purposes. (For a real game you might want a deck less susceptible to close scrutiny as you are hightailing out of town.) Take a look at the three of hearts above. See the marks? The only problem I see with these decks is that they are soooo good, I can't imagine them staying out of the hands of the general public for long. If the manufacturers get greedy, these could be as hot a seller as D'Lites. I hope that never happens. Meanwhile, these extraordinary cards are yours today for $30 a pack.
January 2006
A very short issue for January, as I am slotting all my magic time for next month's two conventions, both of which are full of promise. So enjoy your brief stay, with a look at the conventions, a wonderful Slydini dvd set, and the best marked cards ever offered to the magic community. And to all, a happy 2006.
NIGHTS AT THE CASTLE -- When I first started visiting the Magic Castle, the Close-up Gallery was where the legends performed, and the Big Three were Vernon, Slydini, and Goshman. Although I've long had video on hand of Vernon and Goshman, it's been a while since I've seen Slydini at work, hence I was more than usually thrilled to get a look at As I Recall ..., a new two-volume set of dvds put together by some of Slydini's students as a tribute to the master. My only regret is that some of you will see Slydini only as captured on video and will therefore not quite fall under the spell of his extraordinary misdirection. Nevertheless, here is wonderful footage of Slydini performing his Coins Through the Table (including the famous one-coin routine), Cigarette Miracle, Two Cigarettes from One, Paper Balls Over the Head, Production of Silks, Knotted Silks (no voice with this one, but interesting in that it's the same spectator photographed for the Ganson book), and Paper Balls in Box. Most of the routines are explained in detail by the amazing Jim Cellini, and additional routines are performed by enthusiastic students Bill Brunelle, Charlie Cambra, and Bob Yorburg. If you wish to learn Slydini's material, this is a fine and perhaps essential addition to his legacy and your education. $70 from your favorite dealer.
CONJURING IN COLUMBUS -- Loathe as I am to visit the site of the only college basketball team to beat my beloved 2004-2005 Illini in regular season play last year, the 75th annual Columbus Magi-Fest, in Columbus, Ohio, just may be hosting the best lineup of talent for any magic convention this year. Be there, or be sorry you weren't. Listen to this partial cast of my favorites: Rich Bloch, John Carney, Tim Conover, Paul Gertner, David Williamson, Greg Frewin, and Junge-Junge! And more big names to go along with them, all in the confines of a small, friendly convention that always includes hot junior and senior close-up and stage contests. All for only $110. The convention bargain of the year! This is a place even Dee Brown could love. (Sorry, that's a basketball reference.)
DECEPTIONS IN THE DESERT -- Columbus may have the best convention lineup, but the World Magic Seminar has Las Vegas. This is the convention where the attendees define the best in the magic world. Only at the Orleans this year can you hone your coin skills with David Roth, Mike Rubinstein, Geoff Latta, and Mike Gallo, or bowl in the middle of the night with Amazing Johnathan. And then head out into the afternoon or evening to catch Mac King, Lance Burton, Amazing Johnathan, Penn and Teller, Fielding West, Jason Byrne, Jeff Hobson, Kevin James, Kozak, Dirk Arthur, and many more.