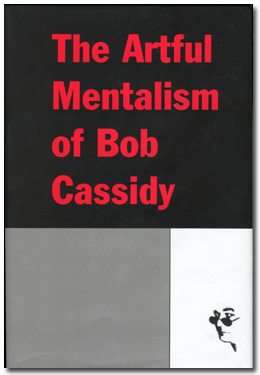 How to read minds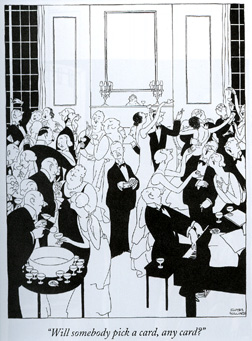 Walkaround, circa 1931
BACK TO MENTAL -- Although mentalism was my first love of the magical arts, I tend to shy away from most publications in the field, finding them both pretentious and overpriced rehashes of methods that were old when Annemann was mailing out issues of Jinx. Such is hardly the case with the latest from H&R Magic Books, The Artful Mentalism of Bob Cassidy. This hardback compilation of eight previous manuscripts by the author is a delight and a bargain. You won't find any pretension in a performer who does mentalism in biker bars, where one must be good or else. Although there is theory aplenty (and dead on theory again, not rehashes of tired bromides), most of it is conveyed in the context of strong, entertaining mental effects. Among these I felt the billet test, book test, and triple envelope test (yes, one-ahead, but no forces) from Bob Cassidy's act worth the cover price. Other items that especially appealed: Use of the Daley Switch to create an impossible ESP coincidence effect. "You Do As I Do" with rubber-banded decks. A book test based on the Hoy tossed-out deck principle, with a killer finish that goes beyond Hoy. The best method for doing the Hoy deck itself (credited in this book to Ed "Weird" Rapoza; I must note that the exact method appeared earlier, in 1993, by Harry Anderson as "All for One" in his book Wise Guy). "Jazz Mentalism" -- a brilliant Q & A routine that employs multiple methods that cancel each other out. An easy and convincing version of the Koran Newspaper Tear (you predict the contents of a randomly chosen bit of torn newsprint). "The Enigma of Number 23" (you reveal and produce extraordinary coincidences re the number 23). "Dr. Bob's Opening Routine" (a shattering experience; okay, this would play in a biker bar), a perfect example of what Mr. Cassidy preaches in his essay, "The Thirty Second Rule." This book is the real deal, full of meat, full of things to think about, and working performers may find the lines alone worth the modest asking price. 290 pages, $45 plus shipping from H&R Magic Books.
January 2005
Welcome to the new year, which we ring in in this issue with a look at the new Bob Cassidy and Bill Goldman books, Derren Brown in Genii, a ton of great cartoons, and a wand that appears to have been designed for real magic. Cheers, and I hope to see many of you in Las Vegas at WMS. Plus, late word of a huge loss to magic.
BROWN RENOWNED -- Readers of this sheet are aware that I loved Derren Brown's recent books (Pure Effect and Absolute Magic), along with his astonishing video of card tricks, The Devil's Picturebook. Each of these items re-invigorates my love of magic. Mr. Brown's advice and his magic are so very witty and wise that I rather wish he would remain a big secret, but that just isn't going to happen. Derren Brown is the cover boy for this month's (February; the months come early in Kaufman-land) issue of Genii, with a 28-page article on him by Jamy Ian Swiss. If you haven't already plunged into Derren's strange world, pick up a copy of Genii and see what the fuss is all about.
CORPORATE SECRETS -- No, this isn't a book about corporate espionage. Rather, Bill Goldman's Little Book of Big Secrets is an approximately 50-page essay on how to win "the hearts, minds, and imaginations of the paying crowds." I enjoy just about everything Bill Goldman writes, and this one concentrates on an aspect of performer-audience interaction that I've not seen put into words before. Apply Bill's approach to your present act and you too may start hearing such accolades as "enchanting, charming, delightful, fascinating, amazing, awesome, fantastic ..." No tricks (well, one), just sound advice. $19.95. I purchased my copy from Hank Lee.
BACK TO OLLIVANDERS -- One of the favorite settings in Harry Potter and the Sorcerer's Stone was Ollivanders: Makers of Fine Wands Since 382 B.C. Harry Potter fans, or for that matter anyone seeking a fine wand, can purchase such items from www.noblecollection.com. In addition to wands (they offer a Harry Potter wand, a Hermione Granger wand, and a Ron Weasley wand), you can buy such items as a Time Turner, a Levitating Wand Pen, coins from Gringotts, and a stunning Fawkes the Phoenix sculpture. The Harry Potter wand shown on this page, 14 inches long, complete with a replica of the original Ollivanders wand box, sells for $29.50. From now through March 31, 2005, you can get $10 off your purchase by entering WAXC4 as your Source Code in your online shopping cart.
TOONS -- I am an addict for cartoons, or at least for New Yorker cartoons, virtually all of which are now available, all 68,647 in pdf format (which I still loathe as a medium), and 2004 of the best in actual print in the whopper 656-page The Complete Cartoons of the New Yorker, edited by Robert Mankoff. I believe this is the heaviest book I own. Although surprisingly few of the cartoons have anything to do with magic, the Gluyas Williams cartoon from 1931, shown here, is quite knowing. $60 at bookstores everywhere.
ALOHA, JOHNNY -- Just as I was posting this issue, word came in that Johnny Carson had passed away. Johnny was not only a great friend to magic, but a great magician himself. His performance of card fans and the linking rings on his show was one of the highlights of my college days, and it was where I discovered how Dai Vernon's "Symphony of the Rings" was supposed to appear. Oh, how he will be missed.