COMIC CONS — Magician, scientist, and author Richard Wiseman has completed his five-part look into Magic, Mystery, and the Mind. It's called Hocus Pocus, from Vanishing Inc., and it's wonderful.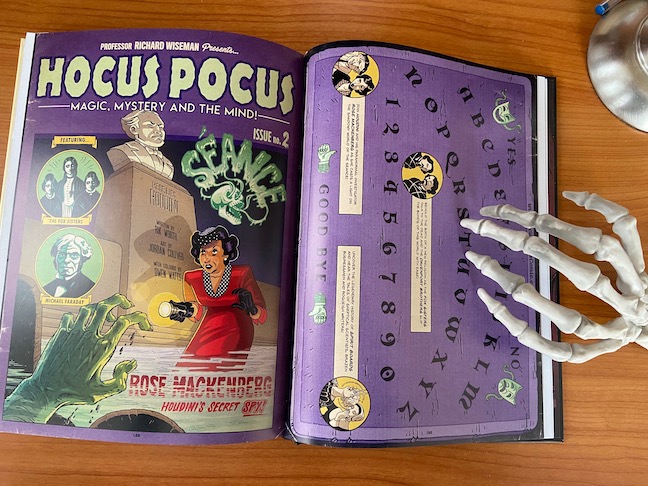 Had I first encountered this book in, say, middle school, I might have found it as educational, inspirational, and indispensable as my hardback collections of Charles Addams cartoons, my Nelson Enterprises catalog, my Batman comics, my Famous Monsters of Filmland issues, and my stack of science-fiction novels. Indeed I still do. This introduction to the dark side of magic is arguably the most important book in my house. And what a thrill to have encountered all that new knowledge in the format of panel-busting, Tales from the Crypt-level horror-comic art. Spooky!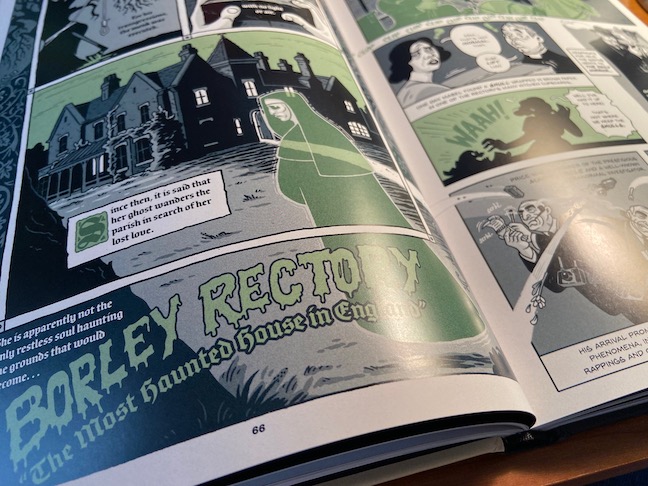 Not to say that any of this is kid stuff! Professor Richrd Wiseman's compendium on Mind Reading, Seances, Ghosts,Prophecy, and Levitation is the real deal, admirably researched. I learned something at every turn. Prepare for a deep dive into the world of Washington Irving Bishop, Karl Zener, J.B. Rhine, Alexander, the Mn Who Knows, the Fox sisters, the Davenports, Houdini, spirit spy Rose Mackenberg, Michael Faraday and the ideometer effect, Elijah Bond and William Fuld and the Ouija board, Vic Tandy and infrasound, Arthur Conan Doyle and Patience Worth, Borley Rectory, occult detective Harry Price, a talking mongoose, the ectoplasmic Helen Duncan Marianne Foyste, Pepper's Ghost, the Dircksian Phantasmagoria, Mother Shipton, Nostradamus, Adelaide Hermann, Robert-Houdin, Howard Thurston, Harry Kellar, David Copperfield, the Indian Rope Trick ((7 pages), Eusapia Palladino, and more.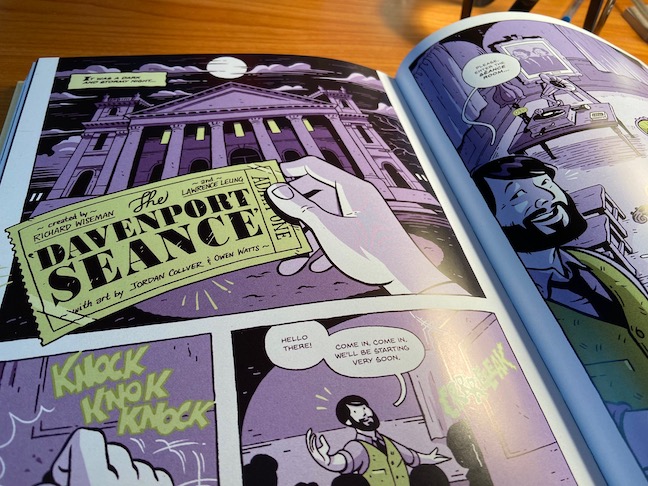 Wiseman conceived "a new style of comic,"akin to Mark Setteducati's and Anne Benkovitz's Tne Magic Show, interactive, with magic you can try on the page, and magic you can try at home. Want to see a spirit seance exposed? Shine a bright light through the page. Want to see a ghost in Borley Rectoy? Stare at its image for 30 seconds then glance over to the rectory scene. Want to see how Pepper's Ghost might look to an audience? Fold the page up to the middle and observe.
To achieve this, Wiseman collaborated with writer Rik Worth and illustrators Jordon Collver and Owen Watt. The Vanishing Inc. hardcover is physically beautiful and includes all the content of the first five comics, the covers for the first five comics, and a comic book rendition of Hocus Pocus Live, a Davenpport seance put on by Richard Wiseman and Lawrence Leung. Hardbound, 180 pp, $49.95 from Vanishing Inc.
Simply put, this is my new favorite book. Get it.

MAGIC FOR HOOSIERS -- Question: What do the following have in common: Justin Willman, David Copperfield, Penn & Teller, Mac King, Michael Carbonero, Caleb Wiles, Simon Coronel, Nick Paul, Robert Ramirez, Max Major, Chris Kenner, Dan Dygert, Rich Moratta, Michael Finney, Tori Noquez, the Amazing Kreskin, Persi Diaconis, and Doc Eason?
Answer: They are all magicians who have visited and/or performed in Bloomington, Indiana.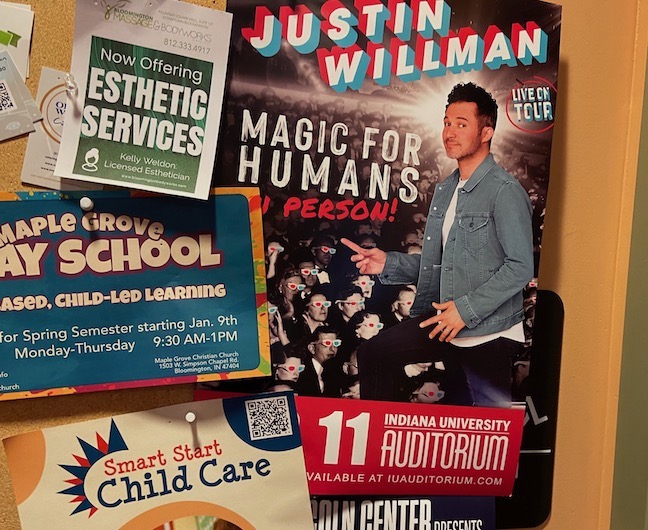 The most recent, one of the biggest draws, and one of the most entertaining and amazing is Justin Willman. Justin has performed in Bloomington before, sometimes selling out the Comedy Attic three nights running, but this February 11th appearance with his Magic for Humans tour would be in the big house, at the Indiana University Auditorium. (Earlier in the week, John Mellencamp performed two concerts there) The numbers were good. Justin sold 1723 tickets and filled 1581 seats. He packed the orchestra section and far into the balcony. Even he occasionally marveled at the crowd.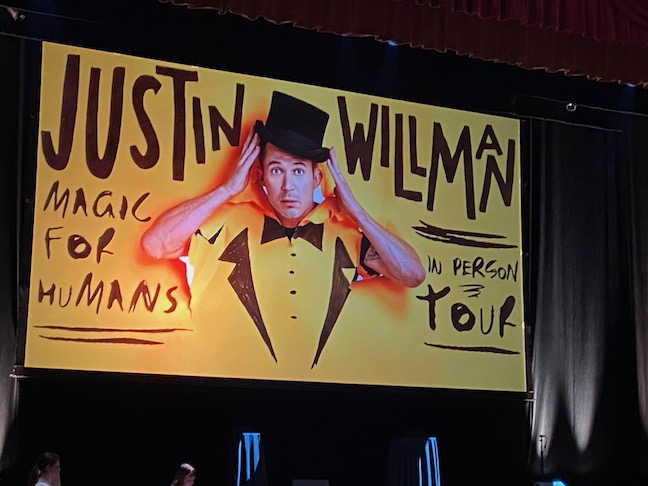 I wondered how his show, as portable for comedy club audiences as is Mc King's, would translate to the larger arena. I shown't have worried. Justin's A/V equipment was the best I have ever seen. Even with my shaky vision, I could see every detail of the show with no difficulty, down to the smallest tile on a Rubik's Cube.
I hesitate to tip any surprises. Justin was on for a solid hour and 45 minutes (without a single card trick!), with the occasional aid of only a single male assistant. There were favorites including his Vanishing Bluetooth Printer, Bank Night with a cell phone, his Zip Code Act in which he associates a city with any zip code shouted out, and his dead-on Live in the Moment prediction. New to me was a Full Light Seance, a sequence of occult moments with no covering. He contacted Bill Cosby?
Justin's comedic interactions with spectators were masterful, as good as it gets. He closed with an elaborate fifteen-minute stunt in which one audience member was pranked, made to believe he had become invisible. The poor guy probably still believes it, thanks to photographic proof on his girlfriend's phone.
See this show if it comes your way. This is one of the best live magic shows I have seen in years.

E EGG BAG AND I
This next trick was inspired by my mother-in-law—the old bag!
—Robert Orben
Hocus: I wish I had my wife back.
Pocus: Where is she?
Hocus: I swapped her for a set of linking rings.
Pocus: And now you realized how much you love her?
Hocus: No. Now I need a die box.
—Robert Orben
In middle school, I was convinced this snappy repartee would keep me in the big time one day. All you needed was a book of jokes by Robert Orben at a dollar apiece. I assumed magicians had an inside track to Orben material, hence show business lay only a few dollars away.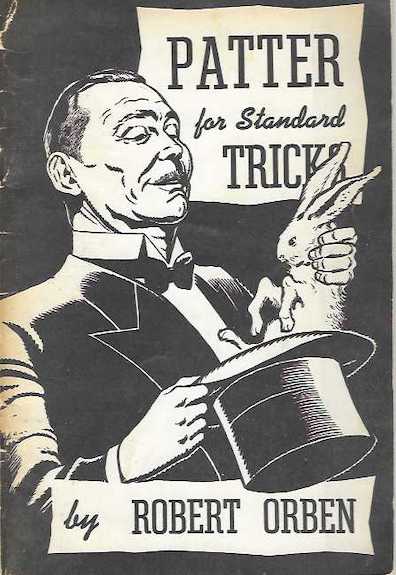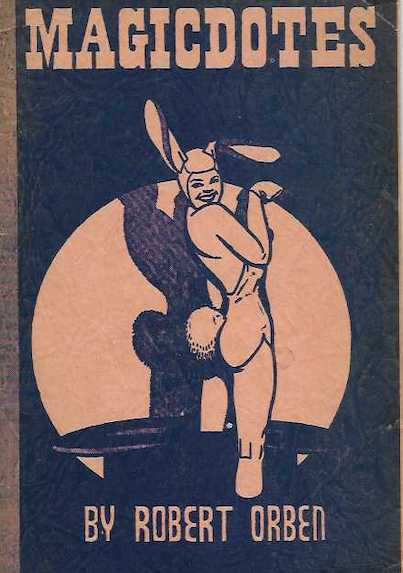 Alas, Robert Orben went on to write for a President, and I was never elected to anything. It is nevertheless amusing to dig these books out after all this time and notice that I had check marked some of the funniest lines.
Robert Orben died February 2, in a nursing home, at age 95. Aloha, Mr. Orben.