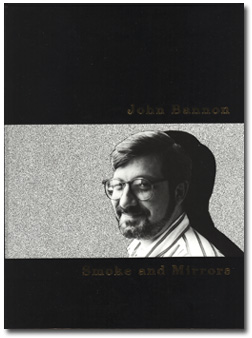 Mr. Fantasy circa 1991.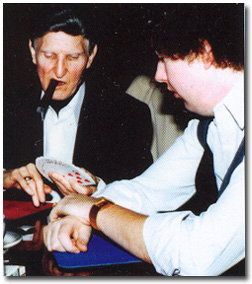 Take a card, kid.
SURPRISE -- Okay, I'm an idiot. I've no idea what I was doing back in 1991, for I somehow missed out on the first publication of John Bannon's Smoke and Mirrors from Richard Kaufman. If any of you are idiots along with me, or simply fortunate to be much younger, you are in luck, for Richard has just re-released this fine compilation. John's theme in this collection is surprise, a goal he shoots for in each effect, not the unrelated kicker kind of surprise, but one that has been well set up as part of the effect to knock a spectator's socks off. A major bonus to these tricks is that each is accompanied by strong, literate, professional patter. If you are happy with your current repertoire and don't wish to change it, this book is going to disturb you. Just a few choice items:
Heart of the City -- Similar to Bro. Hamman's Signed Card but with a surprise finish vs. Hamman's challenge and stronger, Marlo-esque moves.
Clock O' Doom -- Possibly the best Clock trick ever, one of the coolest things you can do with a spec-shuffled deck.
Vicious Rumors -- Spec holds four queens between two of her fingers, really. The queen whose suit matches a selected card becomes the selected card, in her fingers. Really! And easy to do.
Do the Twixt -- Similar to Between Your Palms but stronger and with no duplicates.
Underhanded -- Card under the glass with a challenge repeat.
Return of the Magnificent Seven -- John's classic Wild Card routine with ordinary cards, once a hot dealer item.
Oz Deposit -- Spec signs card, discovers IOU $100 on the back. Card becomes $100 in a flash, magi puts the C-note away, and finds the spec's signed card in his wallet, with the IOU gone.
Directed Verdict -- More of John's thinking on Spec Cuts to the Aces. His are the methods I use.
Detour de Force -- A funny prediction of two cards with a labeled deck. Inspired by David Acer.
Outer Limits/Beyond the Pale -- Combines double-no elimination with Premonition and a gaff for a strong prediction effect.
Friendly Departure -- Similar to a Clock trick, but three selected cards vanish to later appear reversed in the deck, thanks to a really funny Simon Aronson line.
John Bannon is a great writer, and his discussions on what he was attempting in each trick are as fascinating as the tricks themselves. All the usual first-rate production values, 164 pages. $45 from Richard Kaufman. 301-652-5800.
PICTURES PERFECT -- Vegas Retro is the web home of Robert Scott Hooper, Las Vegas photographer to the stars, in particular to magic stars Lance Burton, Siegfried and Roy, Barclay Shaw, and Melinda. Most of Melinda's early cover photos were shot by Mr. Hooper. His photos of magicians and other Las Vegas entertainers are for sale. A typical 8 by 10 costs $50, or $150 matted. Check it out at Vegas Retro magicians for available images.
STOCKING STUFFER -- Same sentiment as last year: While this may sound like crass commercialism, I assure you I get nothing out of it. Nevertheless, do yourselves and the boys in Texas a favor by sending H & R Magic Books an order for The Little Egypt Book of Numbers. Real miracles, sensibly priced. You already have one? Hey, buy one for your girlfriend. Buy one for your mom. It's Christmas!
December 2005
Of the new card tricks that brightened my evenings in 2005, the one I performed most often was "The Power of Poker," a David Solomon trick written up by John Bannon for Dear Mr. Fantasy. It is fitting that both Solomon and Bannon are heavily represented in this month's look at year-end merchandise, with Solomon's wonderful dvd set on Marlo and the reprint of Bannon's classic Smoke and Mirrors. Also on hand are a wacky series on mentalism and a guy who was photographing magicians before Anne White. To all of you, my best wishes for the holidays and for a happy and magical 2006. See you at the conventions.
MY KIND OF TOWN -- Chicago, city of big shoulders. As I was growing up, the town's magical shoulders belonged, among many others, to Johnny Platt, Frank Everhart, Tom Palmer, Senator Crandall, Don Alan, Matt Schulien and his boys, Jay and Frances Marshall, and some card guy named Ed Marlo who put out "private manuscripts" so expensive I couldn't even dream of owning them. There's never been a city like it. Marlo's reputation and output continued to escalate, and soon the "kids" gathered around him included the likes of Jon Racherbaumer, Bill Malone, Steve Draun, Simon Aronson, and David Solomon, to mention only a few. Thanks to David Solomon, these kids (plus Allan Ackerman, Don England, Joe Hartel, Kevin Kelly, Millard Lichter, Jimmy Molinari, Jimmy Nuzzo, and Randy Wakeman) along with Marlo himself are wonderfully represented on the two-dvd set It's All in the Cards.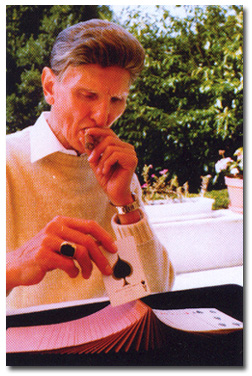 Charlie Miller, eat your heart out.
The highlight of the set is a lengthy performance by Marlo, shot in 1970, featuring excellent magic tricks and extraordinary demonstrations of second, center, and bottom dealing, plus eight perfect tabled riffle faros in a row. Even if you have seen this footage before, you'll find it greatly enhanced by David Solomon's narration. Also included here are wonderful anecdotes by Marlo's friends, some 1983 footage of Marlo visiting Vernon and Miller at the Magic Castle, and contemporary performances inspired by Marlo. My favorites here included a poker deal by Steve Draun (starting with a spectator-shuffled deck), an eye-popping effect by Don England in which cards change back and forth from regular to mini to jumbo, an Oil and Water by David Solomon that will make you laugh when you realize how badly you were fooled, and, talking of being badly fooled, Jon Racherbaumer's sterling McDonald's Aces routine. You couldn't ask for a better Christmas present, with historical footage to awe you and strong new material for your repertoire. Just an excellent buy. $50 from David Solomon, 848 Green Bay Road, Highland Park, IL 60035, or check his web site on our Favorite Links.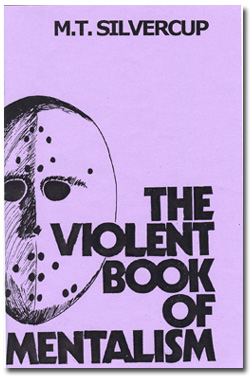 The Mad Max school of mentalism.
SON OF PRISM -- Earlier this year we had the pleasure of reviewing Prism, the hardback compilation of Max Maven's early and coveted color series of mentalism. And now comes Prisn, The Off Color Books of Mentalism, a spoof of Max's series, somewhat in the tradition of Wenii and Majoke, encompassing the individual titles The Violent, Blueball, Redneck, Greencard, and Blonde Books of Mentalism. I say somewhat in that its humor lies within the material itself and does not take shots at Max or his book, even though they look just like Max's earlier pamphlets and are authored by one M.T. Silvercup, a play on Phil Goldstein. The material rivals Eric Mead's card trick in The Aristocrats for politcal incorrectness, crude humor, and genuine laughs. Although much of it is too silly to consider performing, much of it is practical, and I confess that, with some modifications, I might find myself performing more from these books (especially the Violent installment) than from Prism itself. I loved "Dropping Acid," the ultimate heckler stopper. The force behind all this is Francis Menotti, who started the series in 1999 as a Penn State student with his magic buddies, and only by reading the books can you determine if he has succeeded in being as "ruthlessly offensive to as many different people as possible." Just be prepared, as Denny Haney warned me, to laugh. $35 for the set. The exclusive dealer is Denny & Lee Magic Company (dennymagic.com) from whom I ordered, or you can order directly from Francis Menotti (francismenotti.com).