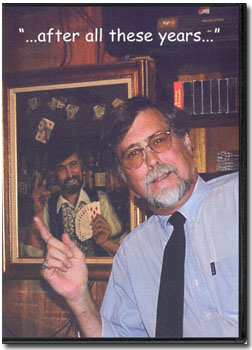 26 years! That's half a deck!
THE DOCTOR IS (STILL) IN -- Doc Eason's "final" DVD from the Tower Bar (each year figures to be the last year the bar will be open, now into its 27th season with Doc behind the bar) is a treat for Doc's many fans. This DVD is filled with brand new "why didn't I think of that?" material, more of the strong, direct, entertaining bar magic one expects from this seasoned master. (Why didn't I think of that? Because he's the doctor, that's why.) Doc opens the set with a "Color-Changing Knife" routine in which the color-changing aspect is the method but not the effect; the effect is something new. There is a takeoff on Jim Ryan's "Vice Versa" that showcases the trick beautifully and climaxes with a great repeat. There is a block puzzle trick that plays great for this sophisticated bar crowd. There is a fantastic updating of the Kaplan "Torn and Restored Card" trick (the signed card bit is worth the price of the video*). There is a lengthy bar bet sequence that ends with a jaw-dropping (mine did!) variation on the old newspaper-wrapped "Glass through Table." (It's a treat to be fooled that badly by something you've known for over 50 years.) [Continued next column]
December 2003
Ho ho ho, part two. It was waaay back in the December 1996 issue of The Little Egypt Gazette that we first presented "A Visit with Doc Eason," one of my favorite special issues. I've always been a book person, but by 1996 Doc had released one of the first videos I actually liked, and liked a lot, his performance-only Rocky Mountain Magic video. It's still one of the most enjoyable videos you can pop into your VCR, and it was the first video to prove that you didn't have to charge $90 or more to make a profit in this upstart medium. In 1998, Doc released Doc Eason's Bar Magic, a performing/teaching trilogy of videos from L&L Publishing, one of the best Louis has ever produced. Some of the strongest magic you or I perform is on these videos. Doc's long run at the Tower Bar in Snowmass has given it permanent and distinguished residence on the map of magical drinking holes, along with Schuliens, the Pickle Barrel, the Ivanhoe, the Brook Farm Inn of Magic, Malone's Magic Bar, and so on. This month I am pleased to offer praise for Doc's latest release, on DVD, "after all these years ...". Check it out. I can think of no more perfect stocking stuffer. For those who might be curious, I am posting a photo at the bottom of this page of the office space from which this sheet issues (on an amazingly clean day). Meanwhile, the Merriest of Christmases to all of you, and I hope to see you next month at the World Magic Seminar.
---
The Doctor Is Still In, cont.
And finally, Doc closes with his patented "Card on Ceiling." All the routines are delightfully wrapped in Doc's skewed bar humor and bits. As with Doc's first great video, this is a live performance (two, actually: performances 14,561 and 14,562 according to Doc) professionally shot at the bar for that moneyed crowd that frequents Snowmass. And for all you guys who have been smitten by Cassandra on the L&L videos, you are going to absolutely fall in love with Alicia, Doc's primary helper in the show. No wonder Doc keeps doing this year after year! (*Note that this is a performance video, not a teaching video.) As mentioned above, this is an ideal stocking stuffer for only $25 plus postage. Click on Doc Eason on our Favorite Links page.