---


"Welcome to an evening you may not remember but won't forget."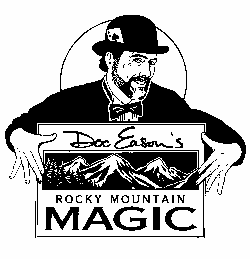 If you are a skier, famished after a day on the Colorado slopes and a relaxing dip in your hot tub, and you've just been told that the wait for dinner is two hours, these are the words that are not only going to make you feel better, but are going to ease you into an evening of magic and mayhem that will make this particular ski vacation your most memorable yet. You may even have such a good time that you'll wish you could duplicate the experience back home. This wish too can be granted, because not only is the doctor in tonight, but he makes house calls.
If you haven't guessed by now, the doctor of this piece is Doc Eason, bar magician extraordinaire, and the establishment is John Denver's world famous Tower Magic Bar, in Snowmass, Colorado. If you are already well-versed on who Doc Eason is, please skip ahead to the next three sections of this report for a recent update. If, on the other hand, you've been honing your faro shuffles in your bedroom the past 20 years or so, allow me to introduce Doc via a few selected chronological highlights. As you'll note, the life of The Tower Magic Bar and Doc Eason's life in magic are virtually synonymous, a happy situation that has benefitted both.
1975 -- John Denver and friends purchase the Tower Fondue in Snowmass. It is renamed John Denver's Tower Restaurant.
1976 (approx) -- Bob Sheets sells the owners on the idea of running the Tower's bar as a Magic Bar. Bob and Kevin Dawson become the first magicians at The Tower. With Sheets in charge, a reputation for a zany good time is established.
1977 (summer) -- Californian Bill Eason and a friend stop in for a beer. Bill decides to become Doc Eason, magician, and begins to take lessons from Sheets and his friends. He never returns to California.
1977 (later that year) -- Sheets and Kevin Dawson leave The Tower to open The Jolly Jester in Aspen. (Sheets later opens, with friends Steve Spill and Eddie Goldstein, the Brook Farm Inn of Magic in Chevy Chase, one of my all-time favorite magic establishments.) Doc takes over behind the bar of The Tower. From 1978-1985, he works alone.
1979 -- Doc marries Alison. Along the way they start having kids. Now Doc has to work. He gets better and better, and the word starts getting around. In addition to the celebrities that frequent The Tower, magicians start to find it. Somewhere along here Doc shapes a J.C. Wagner trick into his most famous feat of mystery -- the $100 Card on Ceiling Through Ceiling Fan.
1986 (approx) -- Doc begins lecturing to magic groups. His fame begins to grow outside the Rockies. He also performs at out of town gigs during the off season. (The ski season at The Tower is December 1 through April 1.)
1989 (approx) -- Eric Mead joins Doc behind the bar at The Tower, for one season. He is still there.
1990 -- Michael Ammar is left in a most embarrassing situation when his partner in the Magical Arts Journal more or less vanishes. Rather than declare journalistic bankruptcy, Michael does an extraordinarily generous and classy thing: he publishes three combination issues of surpassing and lasting value. These aren't mere magazines; each is a valuable book in itself. One is called Aspen Bar Magic, and for many of us it's our first introduction to Doc Eason and a genre that has come to be known as Rocky Mountain Magic. Some of Doc's most cherished secrets are revealed, including his card on ceiling and his multiple selection of playing cards.
1990 -- Doc releases Doc Eason's Rocky Mountain Magic! -- a performance video. In an era when many videos are still selling for $90, it is released at the astonishingly low price of $25.
1991 -- Doc Eason graces the November cover of Genii magazine. It's a complete Doc Eason issue, with the story of The Tower Magic Bar, including articles and tricks by Doc and his friends. 1996 -- The Tower turns twenty. The April issue of MAGIC magazine notes the 20th anniversary of The Tower with an article called "Here's To The Tower -- Twenty Magical Years," by Eric Mead. Doc has been a part of this story for 19 years now, with no end in sight.


It was a dark and stormy night . . .

Despite conditions that might have counseled most souls to stay home and watch Seinfeld, many of us convened in Indianapolis on Thursday, October 17, for the rare opportunity to catch a lecture by Doc Eason. Indy's finest made it easy for him. Harry Riser did the honors of introducing Doc ("Didn't I see some of you when Houdini was here?"). Doc had spent the previous evening with Mike Close, and Mike gave Doc a great opening story, regarding how a lecture by a world-class magician is like a lecture by a world-class violinist. (Sorry -- ya gotta ask Doc or Mike to repeat it.) It's no coincidence that Doc and Mike are friends. Doc only performs, and teaches, "Workers."

For the record, Doc is taller than you might have guessed from his photos or the video, maybe 6 foot 3 or so. There's a smidge of gray in his neatly trimmed beard, but the eyes and smile are youthful. He works in suspenders, red bow tie and cummerbund, and a black derby hat. His look is therefore as distinctive as, say, Harry Anderson's. One of his opening effects, as a matter of fact, is the tying of his bow tie. No magic per se, but it's rather a magical thing to see someone tie a bow tie, and the method is thoroughly laid out in the lecture notes.

After this display of sartorial dexterity Doc took complete charge of the crowd. We laughed, we blinked in disbelief, and we bought stuff like crazy during the breaks. Money was still attempting to change hands when the lights were finally shut off on us. Some of the stuff is by Doc himself, and some by such friends as Scotty York, Chad Long, and Bill Goldman, and virtually all of it was for sale as individual items.

In his various writings and teachings, Doc talks about bringing the bar crowd together as a single unit. His famous "The Crystal Ball Mystery" ($23 pp) was a case in point, in which a card merely thought of by one audience member is seen in a crystal ball by another across the room. Doc also discusses the sexual politics of being a bar magician, and the need to deflect the audience's romantic interests toward each other and away from the performer. In "Anniversary Waltz" ($18 pp), a signed card by a boy turns face up, then a signed card by a girl turns face up, and then both cards are placed into the girl's hand. When the boy rests his hand on hers, the two cards fuse into a single card, signed on both sides. The girl's reaction this night was exceptional, and there was no question that the boy would later benefit from this simple card trick.

I was laughing too hard to note every item performed, but some that stood out included "The Old Three Coin Manuscript" ($11 pp, or $63 pp including the "Copper, Silver, Brass" set), "All Screwed Up" (a great nuts and bolts effect, $7 pp), "Stan, Kate, and Edith" (a slightly naughty rhyming routine with jumbo cards, extremely commercial, at $27 pp), Scotty York's "Revolutionary Routines with Aces" ($23 pp), and Chad Long's "Don't Look Now" ($11 pp). (I bought, and was quite pleased with, Chad's The Lost Cheesy Notebooks, Volumes 1 and 2, at $11 pp each.) I want to point out that I am intentionally leaving out, for later mention, two of Doc's offerings which I consider an essential part of every magician's education and enjoyment.

Doc of course interspersed the performing/teaching segments with anecdotes, or, as he calls them, "war stories," about The Tower. The list of visiting celebrities is alone staggering, including Stevie Nix, Chevy Chase, Barbra Streisand, Charles Bronson, and Sally Field, to drop but a few.

Doc closed the demo with his "Multiple Selection of Playing Cards," in which he must have found cards thought of by up to 20 or more individuals. It was a wonderful climax to the lecture, but only a climax and not the end, as it merely preceded another buying frenzy. If you attend a Doc Eason lecture near you, bring money. You'll be glad you did.


It's October, and Doc Eason has been lecturing and performing in the Midwest. Specifically it's Sunday Brunch at Michael's Uptown Cafe, in Bloomington, Indiana. The outside of the restaurant faces a quintessential town square, complete with domed courthouse, while the inside delivers a funky, metropolitan ambience that is more Greenwich Village than Bobby Knight Indiana. Over a minor orgy of grilled andouille sausage, cottage cheese pancakes, sour cream coffee cake, and tchoupiloulas hash, Doc brings me up to date on the goings on in Snowmass Village.


On Longevity

A few magicians have established their reputations by putting in long stints at a single location, including Frank Everhart at The Ivanhoe, Matt Schulien and sons at Schulien's, Daniel Cros at the Desert Inn, Michael Skinner at the Lily Langtree Restaurant of the Golden Nugget, and Heba Haba Al at The Pickle Barrel. It's kind of like going past 20,000 points in the NBA. Doc Eason easily qualifies as a member of this elite club, with 19 years on the boards at The Tower. I ask what it is that accounts for this enviable run.

Multiple factors comprise the answer.
Business first: The first factor Doc mentions is that he didn't go into the profession eaten up with magic. He entered the profession at age 30, went into it as a business, and recognized that his job was to keep the cash register ringing.
Consistency: If a customer comes into The Tower and has a great time, he expects to have a great time the next visit, and may even have brought new friends along. Doc works hard to see that the second visit, and all subsequent visits, are as much fun as the first.
Health: When Doc first arrived at The Tower, he arrived on a motorcycle. He gave up the bike, and he gave up skiing when his first son was born. "If I break my leg, the kids don't eat."
Nights off: Even Johnny Carson didn't last as long as he did by working every night. Doc is spelled by Eric Mead (see below) which gives him some time with the family.
John Denver support: When I posed the question, I was basically asking Doc how he accounts for his stamina. I overlooked the obvious fact that a long run at a single location means that the location itself has to remain in place. When John Denver purchased The Tower in 1975, he did so as a business venture, and he has had numerous opportunities to sell it for a profit. Fortunately for Doc (and Aspen magic), John always responds with, "But that's where Doc works, and Eric . . ." and he keeps it going.
On Family

We knew from the Genii article that Doc married Alison in 1979, and that his sons, Mack and Ryan, must now be 13 and 10, respectively. I ask if there have been any more additions.

Oh, yes. Katie Rose is now a part of the family, and she is four and a half (circa October 1996).

On Eric Mead

Eric Mead has been establishing his own name in magic for the past few years, for his work at The Tower, for his trick contibutions to the media, for (yes) the infamous water balloon incident, and recently for several intriguing feature articles in Stan Allen's MAGIC. I ask how he and Doc divide their responsibilities at The Tower.

Eric joined the performing staff at The Tower in 1989, agreeing to work only one season. He has now been there seven. As the younger of the two, Eric appeals more to the MTV crowd, while Doc assumes what he refers to as the more "fatherly" role. (Watch the video and see if you think your father could put on such a show!) Doc works Monday, Tuesday, and Thursday, while Eric takes Wednesday, Saturday, and Sunday. The two work in tandem on Friday night.

On Mentors

To step into the role of an entertainer who works both under and for celebrities and high rollers, at age 30 with no prior magic or performing background, is quite a leap, and would probably not have been possible without expert help. Although Doc's nods to his friends in magic have been acknowledged in prior articles, I ask him to mention his mentors.

He particularly notes Bob Sheets, Steve Spill, J.C. Wagner, Johnny Fox, and Kevin Dawson. Because they were all friends, Doc thought he was learning magic simply from "Bob" and "Steve" and "J.C." He didn't realize at the time that he was learning from some of the very best in the business.

On Celebrities

In his lecture, Doc taught that the way to involve a celebrity guest in the show is to perform for their friends, not to make the celebrity himself or herself the object of the trick's interest. Above, we mentioned such Snowmass visitors as Stevie Nix, Chevy Chase, Barbra Streisand, Charles Bronson, and Sally Field. I ask who else has visited The Tower.

Doc adds Jackson Brown, Barry Switzer, and Chic Young, Jr. (who draws Blondie). The video packaging also lists Charles Haid of Hill Street Blues, Sidney Poitier, and of course John Denver. On any given night, anyone might drop in.

On the Real Secret to the $100 Card on Ceiling Through Ceiling Fan

This is a Little Egypt Gazette scoop. The mechanics of tacking a card to the ceiling with a bill wrapped around it are laid out in J. C. Wagner's wonderful book, The Commercial Magic of J.C. Wagner. How to parlay this card trick into a $100 tip (each time you do it), and how to successfully toss the deck through a whirling ceiling fan without killing or maiming someone, are laid out in Doc's article in the Aspen Bar Magic issue of MAJ. (Note: do not attempt this feat without reading the article first.) But in all the photos I've seen of Doc performing this effect, as well as his performance on the video, all those cards and bills are still tacked to the ceiling. At $100 a toss, that's a fairly well-to-do ceiling. I ask Doc how he accomplishes this without having to occasionally cash them in.

Ah, and here is the real secret: all those large denomination bills on the ceiling have been replaced with xeroxed copies!

On the War Stories

One of the stories Doc tells, or I should say emphasizes, is about the first time the Card On Ceiling trick knocked a fan blade off which felled a patron, while a screw from the fan hit another spectator just below the eye in the same incident. It's a dangerous trick that requires serious advance precaution. But the incident leads me to inquire of other (hopefully less life threatening) anecdotes that have occurred over the past 19 years.

Heba Haba Al's Sugar Cube trick is a well-known comic gem with a climax involving the appearance of an initial high up on a girl's hip or thigh, requiring her to retire to the washroom to verify this. This being a bar with a certain amount of drinking going on, not every young lady has been so demure as to bother leaving the room to check. This phenomenon led to the recollection of a more personal display regarding body piercing, a currently popular fashion trend among young ladies, with earrings and nose rings giving way to nipple and navel rings. One night an immodest patron climbed up on the bar and proudly displayed her lower and vastly more personal adornment. Doc hastens to add that the young woman was a member of Eric's constituency, not his own.

Of his own incidents, Doc recalls the night a woman, accompanied by a fellow the size of a Denver Bronco, kept interrupting the show with a whining, "Doc, will you come to my house? Will you do the bunny rabbit trick?" Even before Doc started working at The Tower, Bob Sheets had established the old whipped cream pie in the face as a running gag at the bar. After the third or fourth interruption, Doc nodded to the other bartender to prepare a pie, all the time thinking, "Don't make me do it." Push came to shove, and the lady got the pie in the puss before the night was over. Later the husband came up to Doc, laid a beefy hand on his shoulder, and said, "Thanks. I've always wanted to do that!"

On the Off Season

With a growing family, Doc can't afford to sit on his laurels during the April through December off season. As he established in his own piece, "Have Card Trick . . . Will Travel" in the November 1991 Genii, Doc travels, lectures to magic groups, does a few corporate shows, and performs for folks who have seen him at Snowmass. Doc has long kept a computer database of prospects, and he doesn't hesitate to call them when he is in the area. There is no question/answer here -- it's all covered in the Genii article -- but I'm happy to have had the opportunity to have seen the Doc Eason road show in person. As mentioned above, the Indianapolis lecture was a big hit on Thursday. Doc lectured elsewhere in Indiana on Friday, then performed for, and spent Saturday night in the home of, a prominent Indianapolis car dealer who frequents Aspen. We are conducting this interview Sunday morning, and then Doc has to be down in Evansville by six for another lecture. It's a tight, busy schedule, I hope a lucrative one (and it is if Indianapolis was any indication), but the kick for Doc must also be that he is a welcome guest, of magicians and laymen alike, wherever he travels about the country.

On Branching Out

There is more to life than magic, and I'm always interested in what else magicians do with their time. Part of this is covered below in the "Dewer's Profile" segment, but I ask it here as well.

Public speaking is a recent interest. Doc was honored to have been asked to speak at a recent school commencement ceremony. After hard consideration on whether to do any magic, and what to talk about, Doc decided to simply speak, and he concentrated on three topics: people, laughter, and unconventional occupations. It's hard to imagine a more qualified authority on those issues.

Who is your favorite folk singer?
Mary Black. [There goes the John Denver gig.]
What is your favorite card trick (yours)?
The $100 Card on Ceiling Through Ceiling Fan
What is your favorite card trick (others)?
The Malini Card Stab, as performed by Bob Sheets. [Readers of Little Egypt Card Tricks will note this is also my favorite card trick, p. 51.]
What is your favorite magic book?
Harry Lorayne's The Magic Book.
What is your favorite non-magic book?
A is for Alibi, by Sue Grafton. (And the others in this abecedarian series of mysteries.)
What is your favorite movie?
The Lion King [There is a four and a half year old in the house, but Doc makes no apologies. "There are some funny parts in this movie."]
What are your hobbies?
Fishing and camping.
Who were your mentors?
Bob Sheets, Steve Spill, J.C. Wagner, etc. [See above.]
Who is your favorite female in magic?
Lisa Menna.
What is your magical pet peeve (outside of being stuck in the middle of Indiana doing a Dewar's Profile)?
Pettiness. Magicians arguing over minuscule issues.


As I mentioned above, Doc Eason sells some fine items in his lecture, and all these are available in his catalog. While you will be happy with any of them, I've long treasured two of Doc's products and feel that they are indispensable to any working magician or enthusiast.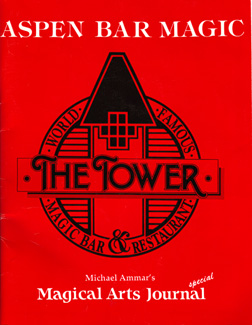 Aspen Bar Magic, a special issue of Michael Ammar's Magical Arts Journal, $23 pp. This 80-page issue, which introduced the magic world to Doc Eason and Rocky Mountain Magic, contains exceedingly commercial performance material and essays on the performance of bar magic.
Doc Eason: Anatomy of a Magic Bar, Elements of Bar Magic, Crystal Ball, The $100 Card on Ceiling Through Ceiling Fan, Multiple Location

Michael Ammar and Doc: Relationship Strategies, Bar Diplomacy, The Magic Bartender Blues, Bar Bits
Steve Spill: Bogus Control, Coin on Forehead
Bob Sheets: This Tip's for You
Michael Ammar: The Pocket O' Mystery, Bottle Production, Bottle Vanish, The Floating Bill, The Inverted Bell Curve, The Process to Effect Ratio
and articles and effects by Tom Mullica, Roland Gugganig, Jessie DiCamillo, J.C. Wagner, Eric Mead, Lou Wymisner, plus Bob Sheets' full description of Heba Haba Al's Sugar Trick.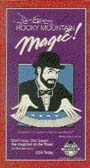 Doc Eason's Rocky Mountain Magic! Video, $28 pp -- This is a performance video, not a teaching video, but you will learn an incredible amount if you pay attention. This 62-minute show, shot extremely well on location at The Tower, is the most entertaining magic video I own or have ever seen. Even my magic-hating kids love it. It's one you will gladly pop in to watch yourself, repeatedly, or gladly show to friends, whether magicians or laymen. If you can't make it to Aspen yourself, this in an incredibly economical way to enjoy the best part of an otherwise spendy ski vacation.


All Doc's products mentioned here and above are available from Doc at Rocky Mountain Magic, Inc., 524 Park Circle, Basalt, CO 81621. Phone credit card orders to (970) 927-3197 or fax to (970) 927-3749. Doc takes Visa or MasterCard. Add 15 % postage for airmail outside the U.S.

Contact Doc directly at doceason@rof.net.

Bibliography -- The facts/timeline used in "The Doc Eason Story" above were gleaned from Aspen Bar Magic, Genii (November 1991), and MAGIC (April 1996).

Return to The Little Egypt Gazette.

A JSB Creations product
Copyright© 1996 by Steve Bryant