But you have to let me in. I know John Moehring personally!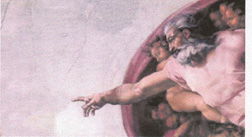 Frank Zak thinks big.
LUNCH TIME -- "Out to Lunch" is one of my favorite principles. It's a very deceptive way to cause writing to appear on a blank, signed card. Frank Zak has released everything you need to utilize the principle in a card trick called "The Creator and the Thinker Go Out to Lunch." In this version, the stack of business-size cards shows either Rodin's Thinker or Michelangelo's painting of God from The Creation of Adam. It turns out that the Thinker is thinking of or God is reaching for the very card the spectator selected moments earlier. Frank gives you the templates to make as many as you need of the gaffed and ungaffed cards, plus instructions, for a bargain ten bucks. Send the dough to 6213 Grizzly Gorge St., Las Vegas, NV, 89130 or check things out with Frank at imagic@cox.net.
ALOHA -- During a 1999 visit to Key West, I had the great pleasure of meeting Frank Everhart, Jr., while working on a Genii article on Tim Glancey's seance. Frank would occasionally let me speak to his dad on the phone, a huge thrill as Frank Sr. was one of the first magicians I had heard of by name from laymen. Anyone who went to Chicago while I was a boy knew who Frank Everhart was. Mr. Everhart passed away last month, as did another fine magician, John Novak. I met John Novak through Joe Stevens, and I loved both his opinions and his thoughts on "two meter magic." Both are a great loss to magic.
August 2004
August at last. Following a gambling excursion to Tunica with family, I ventured once again to Las Vegas to attend Stan Allen's MAGIC Live Two. Family accompanied me there too for the first time in many moons (Malificent, Vixen, and her boyfriend Spike), and I took the whole bunch to O (charitable donations are accepted). Shark Reef and the Border Grill at Mandalay Bay and the Monet exhibit at Bellagio also stand out among personal excursions. The magic convention itself was an opportunity to chat with old friends, to meet new ones, and to put faces on longstanding internet friends. Kudos to Stan Allen and a very hardworking crew for a great time. Also discussed in this issue are a nifty card trick and two major losses.
MAGIC LIVE TWO -- The Orleans in Las Vegas (a favorite of mine because of its 18-screen movie theater) was once again host to Stan Allen's second and sold out MAGIC Live! convention. It was another fabulous few days that passed all too quickly. The most successful element was the close-up show, with Eric Mead, Mike Close, Tim Conover, and the team of Shoot Ogawa and Armando Lucero performing, respectively, in a mock bar, a mock restaurant, a mock trade show, and a mock theater reminiscent of the Magic Castle's Close-up Gallery. Fantastic magic in fantastic settings. Other moments that stood out (both scheduled and unscheduled): J.C. Doty's jokes * Max Maven's opening * Levent's talk and demo on Roy Benson * Kevin James's "Sawing" * Greg Frewin's dove act * Mac King's goldfish story * Rick Thomas's ascension * Norm Nielsen's act with floating baby grand piano as an opener * Chris Kenner's comedy act * Mike Caveney's interview with Marvyn Roy * Jeff McBride teaching easy (sort of) manipulation * Losander's floating table * Brett Sherwood's engraved cups * Mickey Silver's retention vanish * Marc McGuire's work on "Las Vegas Leaper" * Krysten Lambert doing the linking rings * The Passing Zone juggling three humans in space suits (one of whom was Richard Kaufman) * Ron Lucas and his human dummy * a memorial slide show of magicians lost since Stan's last convention * a slide show of convention attendees as young magicians * videos of Roy Benson, Don Alan, Randi as The Magic Clown, and Mr. Electric * Mark Kalin's "Selbit Sawing" * Jinger (sigh).