OHIO STATEMENT -- When I was a student at the University of Illinois, we quipped that we were good students because winter socked us in and there was nothing to do but study. Perhaps it is the same over in Ohio; for some, there was nothing to do but invent card tricks. As of this month, Ohio State alumnus Nick Trost's incredible legacy continues with Nick Trost's Subtle Card Creations Volume 3, from H&R Magic Books. To borrow a few words from my previous Trost review, H&R Magic Books began publishing a new series of Nick Trost magic in 2008, titled Nick Trost's Subtle Card Creations, drawing on 21 notebooks of Trost innovations. Volume 1 contained 11 chapters along with a 51-page appendix on all the important moves, shuffles, counts, and cuts you might need to tackle most modern and ancient card problems. The series is handsomely laid out, with vintage decorative illustrations at the start of each chapter and the tricks themselves copiously and competently illustrated by Tony Dunn.
Volume 2 appeared in 2009 with chapters 12-22, and Volume 3 is now at hand extending the work to chapters 23-34. The new contents cover Further Coincidences, You Do As I Do, The Royal Marriages, Further Gambling Tricks, More Poker Deals, Revealments, Reversed Card Effects, Further Transpositions, Special Decks - Part 2, Packet Tricks Part 3, ESP Cards Part 3, and Computer Cards. The foreword is quite special having been written by Martin Gardner.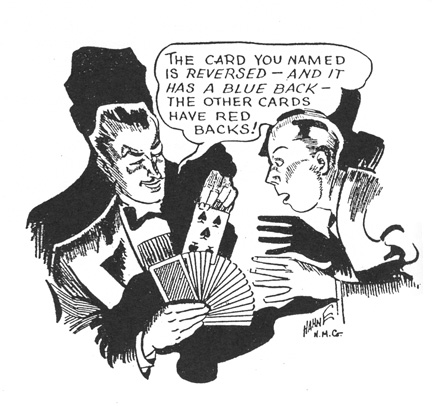 Illustration for chapter 29, Reversed Card Effects.
A quick skim of the material easily isolated a number of must-perform items (basic text is straight out of the book; parenthetical additions are my own thoughts):
1. Zens Poker Deal, Redealt: A spectator names any kind of poker deal from a pair to a royal flush. Assume he wants a full house. The performer shuffles the deck and deals five hands. He now asks the spectator which hand should receive the full house, hand No. 1, 2, 3, 4, or 5. Say the spectator selects hand No. 3; the performer marks this position with a poker chip. The five hands are gathered, the deck is cut and five more hands are dealt. The performer shows that hand No. 3 is a full house (the called-for hand), which ended up at the position named. (This is so easy. If you can cut the cards, you can do this routine.)
2. High-card Poker Deal, Revised: The deck is shuffled, and then the high cards are removed for a poker deal. These cards are cut in half, the halves ribbon spread on the table, and then the spreads are pushed together, interlacing the cards. (The shuffle is very convincing.) A spectator deals five poker hands, but they are just average. The cards are gathered and cut, and the performer deals five more hands, the fifth to himself. Each of the first four hands is a 10, J, Q, K, and A -- a straight. The performer's hand is the winning one -- four nines. (Note that initial shuffle, and also that the end result would get a lot of money onto the table. This is a really fine self-working routine. It's followed by a Steve Forte version.)
3. Shuffle Tracking: The performer patters about a system of "shuffle tracking" used by gamblers to keep track of cards in a game of poker. He uses half of a deck, shuffles it and then deals five hands of poker, shuffle tracking a full house for himself.
The cards are gathered and cut by a spectator any number of times, and then the performer explains he will mix them in a special way by dealing them into two, three, four, six, seven or eight piles, whatever number is selected by the spectator. This mixing process is carried out any number of times. Finally, the performer deals five poker hands, the fifth to himself. The other players get Aces and eights (Dead Man's Hand), a nine-to-five straight (Office Hours), four deuces (quadruplets), and fives and tens (a Woolworth), while the performer wins with a royal flush. (I just love the patter on this one. Self working; picking up the piles is especially fun if seven are dealt.)
4. Significator Cards: A spectator selects a card under absolutely fair conditions and loses it in the deck. All this is done while the performer's back is turned. The deck is spread on the table, and the spectator pushes out four face-down cards. Using these four cards as "significators," the performer reveals the selected card. (This is one of two tricks cited by Martin Gardner as special, and it is the trick Charlie Randall used to fool Marshall Petersen. I love it because it has a Trick That Cannot Be Explained aspect, fun to do.)
5. Al Thatcher's "Affinity Cards": Spectator A thinks of any number from 1 to 10 and notes the card at his number in the deck. Spectator B thinks of a number from 11 to 20 and notes the card at his number. The performer takes the deck behind his back, makes an adjustment and then brings it forward. The two cards now at the spectators' numbers are laid aside. They are not the selected ones.
The two cards laid aside -- "affinity cards"-- are placed face up in the deck at spots designated by the two spectators. The deck is spread, and the cards directly next to the affinity cards are found to be the selected ones. (This is the second trick cited by Martin Gardner as special. I love it because of Trost's patter line: "These are not your cards, but they have an affinity with your cards--they occupy the same positions in the deck as your cards did originally." Rock solid Ohio logic.)
6. Oscar: A spectator thinks of any card in the deck. The performer says he will name the card, so he names it "Oscar." The spectator thinks it's a gag until the performer shows different names--such as Al, Henry, Bert, and so on--printed on the back of each card. The spectator's thought-of card is turned over, and it does say Oscar on it. (This was Trost's bestselling marketed version of the Fred trick, featuring the use of only one deck and no rough-smooth. It's easy to make up and ideal for using Eugene Burger's idea of having the card bear the spectator's name.)
As usual, an excellent book of original, subtle card mysteries, 292 pages, hardback, $45 from H&R Magic Books.
BANG, YOU'RE DEAD -- I prize all John Bannon books, and Bullet Party is no exception. John is bored of such ruses as Braue additions and ATFUS, and so seeks more direct, efficient, and novel modus operandi. He succeeds, time and again, with methods that are especially sneaky, satisfying, and well within my range. Bullet Party's arsenal of 13 titled items includes a clip full of new ace assemblies along with outstanding revelations, moves, and more. Drop Target Aces allows you to bury aces repeatedly, dribbling cards atop them each time, until only four cards remain--the aces. Flipside Aces allows you to prove the aces are buried amongst the indifferent cards, until you reveal that they were separate all along. Box Jumper updates a recently popular Simon Aronson trick, allowing a chosen card to transpose with a memorable boxed card; key to the method is a dead-easy new Convincing Control. Fat City Revisited is a two-phase sandwich effect; both its "normal" opening phase and its most offbeat second phase feature new techniques and the freedom to tell the audience what you are going to do just before you do it. But my favorite is Question Zero: from a shuffled deck, a spectator merely thinks of one of five truly random cards, all five are lost in the deck (even the spec has no idea in which order the five were returned), and yet the magician locates the selection. Bullet Party is tremendous fun to work through, and I look forward to aiming its contents at my friends.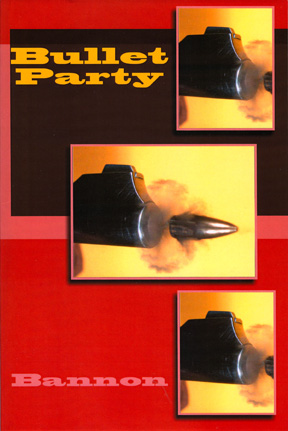 Ka-pow!.
TIME CAPSULE -- I've no idea how I missed out, way back in 1983, when Steve Beam began his one-man labor of love pasting up issues of The Trapdoor, the old fashioned way, with scissors and glue. Any magazine full of easy-to-do miracles afloat in a sea of good humor should have been my cup of tea. (Block that metaphor!) Fortunately, I am in the midst of catching up, thanks to Steve's having published a bound edition of the first 25 issues (1984-1988). Two more bound volumes will follow. Having skimmed this handsome tome over the past 48 hours, here are a few observations. The material, with the usual high incidence of card tricks (but with such unusual tricks as the appearance of a tee shirt over your previously nude torso, an effect I'd rather see Melinda do than Steve Beam, just sayin'), is first rate. Prominent contributors over these first 25 issues included Steve Beam, Wayne Kyzer, Dexter Cleveland, and John Riggs. John in particular stands out: I previously knew his work through his contributions to mentalism, but here is a wide variety of input, not the least of which is in the area of humor. John quickly ascended to the post of Staff Cartoonist, and his many bits with Mr. Jimmy evolved into the best known routine to emerge from these pages.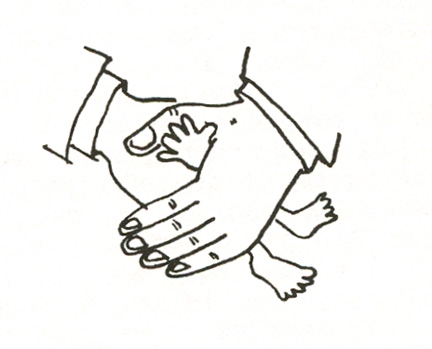 Mr. Jimmy comes to life.
A few items are dated--there are effects involving the old computer language BASIC, and Time Bomb, frightening in its day, would be terrifying post-911--but most are timeless. Steve Beam performed Upside Down, from the first issue, at the launch party for The James File to a standing ovation. But whether you read it because you are still searching for that one card trick that will make you famous or because you just love reading magic magazines, you are going to have a good time because of Steve's ever present sense of humor. True, there are special issues of technical merit such as the John Riggs and Tom Gagnon one-man issues, but there are also the Dead Raccoon issue and the Bald issue. Some routines contain gags you can perform, some are pure gags that you can't, and some are in between (e.g. Bird Brain -- The Use of Doves in Mentalism). In his Subscriptions column, Steve took hilarious potshots at the competing magazines of the day, and I trust his fellow editors laughed as much as he did. A sample:
And The New Tops? What are you paying for other than the articles and a wonderful production job? That's right. Ed Marlo's fifteenth version of something. Who is this guy? If he didn't like the first fourteen versions, why did he publish them? I think he was the guy who asked David Devant how many tricks he knew. Devant replied, " I should say, I only know eight." Ed spit on his shoes. "Eight tricks and you call yourself a magician?"
The Trapdoor is 510 oversized page, multiply indexed (issue by issue, contributor by contributor, trick by trick) with full retrospective commentary by Steve Beam on each issue. Fun, fun, fun, $90 from Steve Beam.