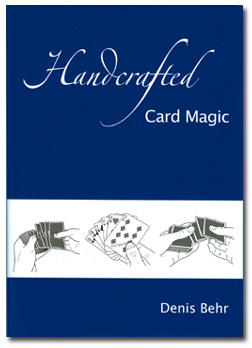 Surprise summer reading.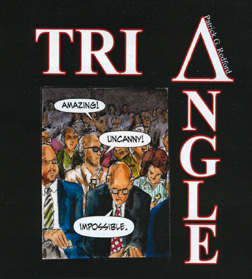 A comic more mysterious than Batman.
GOOD THINGS IN A SMALL PACKAGE -- Denis Behr's Handcrafted Card Magic is a small tome packed with novel ideas, a few interestingly esoteric (check "Finding the Way Home," ways to get order out of chaos, new extensions of explorations begun in Tamariz's Mnemonica) and a few deviously straightforward and practical. Of the items that resonated with my plot tastes and skill level, I especially liked "Gray Matters" (a divination effect using the Gray code), "Brute Force Opening" (it contains important handling touches of general use, that would nicely enhance Simon Lovell's "Fingered Number Three," for example), "Oil and Water" (new and astonishing sequences for three values of each color), and "Oil and Water Finale" (the cards are fastened together with a brass fastener and the colors shown to alternate; a wave of your hand and the colors separate). Nine routines and explorations in 94 pages, $38. I received mine from H&R Magic Books.
COMIC ART -- Patrick G. Redford's Triangle contains three mental effects with an extraordinary requirement: first you read the spectator's mind, then he or she reads yours, in the context of the same test. One involves your discerning the letter inside the seal on a folded dollar bill, one involves your memorizing a shuffled deck of cards, and one involves your guessing the number of coins in a specator's hand by hearing her shake the coins. Although I preferred the mentalist's half of each effect to the spectator's, all six methods used here are quite clever. When I phoned H&R Magic Books to order a copy, I was told that one effect was worth the price of the book. I wasn't told which, and I still don't know; any of the three basic routines could qualify. (My favorite is the one with the dollar bill, but the other two items are similarly remarkable.) Equally novel is the format: this "book" comes packaged as a comic book, with modern comic illustration, allowing you to "see" how each routine plays. Very hip. Triangle may seem pricey at $40, but I think it's worth it.
GATOR COUNTRY -- It's always a pleasure to drop in on Harry Allen at Daytona Beach Magic, possibly the finest brick-and-mortar location in the country. This visit, Harry was enthusiastic, as well he should be, over his Daytona Festival of Magic scheduled for November 1-4, 2007. Stars already lined up for this small (it maxes out at 500) get-together: Lennart Green, Kevin James, Johnny Thompson, Alain Choquette, Dan Fleshman, John Mendoza, Dan Stapleton, Tom Burgoon, and more. All this plus a great beach, great restaurants, and plenty of sunshine. Give Harry a call at 800-346-2442 to register (only $125) or e-mail him at magi@daytonamagic.com. Wish I could be there, but we have a new family member due about that time, and I shall be tethered to the midwest.
SNOW WHITE -- Some recent internet chat about Dean Dill's "Blizzard" prompted me to take a look at Aldo Colombini's "Draw a Blank," for me a stronger method. A spectator names any card, no forcing. Suppose it's the eight of spades. From an all blank deck you remove four blank "eights," showing both the eights and the rest of the deck to be blank. The spectator selects one of the four, and it turns out to be the real eight of spades, printed on one side. Again, all the rest of the cards are blank, and no deck switching, forcing, or rough and smooth is involved. The truly amazing part is that this routine not only costs a mere $10, but as of this writing all the items on Aldo's site are only $10. Have fun shopping at www.wildcolombini.com.
GET CAUGHT IN THE WEB -- I've been remiss the past few months in not mentioning a couple of really nice web resources. One is Denis Behr's Book Index, an item-by-item breakdown of the contents of numerous magic books. The link is on our Odds and Ends page. (Curiously, Denis does not yet break down his own book, reviewed above.) The second item is Alan Watson's e-mail zine from New Zealand, containing the latest news on just about everything going on in the magic world. Alan shoots these out frequently and is up to issue number 516 as I write. To subscribe (it's free!), visit his web site at www.watson.co.nz/fezine.html.
July 2007
Ah, July's dose of summer has so far been just the ticket, and MAGIC Live promises to extend summer through at least August 22. As planned, I had a great time on the beach working through some Schmidt poker deals, some Harry Lorayne stuff, and some Vernon stuff, along with two surprise books, Handcrafted Card Magic and Triangle, reviewed below. Also of note in this issue: Brett Daniels' Wohscigam, Harry Allen's Daytona Festival of Magic, Mac King's and Peter Studebaker's "The Scorpion Moth," Aldo Colombini's "Draw a Blank," Alan Watson's e-mail zine, Denis Behr's book index, the latest Harry Potter book and film, and a chance encounter with NBA superstar Nick Anderson. Enjoy, and I hope to see you all in Las Vegas.
WIZARDS AND WITCHES AND HORCRUXES, OH MY -- The Harry Potter saga, all of it, is finally in print, and the 759-page final installment is a glorious, action-packed, fan-pleasing romp. I had hoped for a bit more romance, though that would have been a bit hard to fit in given that Harry, Hermione, and Ron were on the run, there was open warfare, and the bad guys had taken over the Ministry of Magic (are there allusions to the Magic Castle? the IBM?). For the reading impaired who are catching up on H.P. via the movies, the fifth movie is also in the theaters, Harry Potter and the Order of the Phoenix, and it's deliciously dark, with a great set for Sirius Black's creepy family home and with Helena Bonham Carter setting a new standard for evil as Bellatrix Lestrange. What a nice summer for J.K. Rowling fans.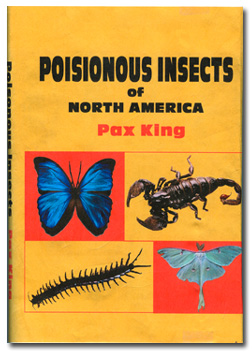 A fifties horror flick comes to life.
ATTACK OF THE KILLER BEES -- No, it isn't killer bees, but Scorpion Moths that are flying in from the state next to yours. Although their venom might not result in the death of a healthy adult, small children and the elderly had best stay indoors. Lest your neighbors not believe you, you produce a fat text titled Poisonous Insects of North America (well, the book is from Kentucky and they don't quite spell it that way) and begin to show off your expertise. Indeed, you offer to show them a photo within the book, and it's as you riffle through the pages that one of the creatures suddenly flutters out of the book, winging madly about in midair. This is the scariest bit since Jim Pace's "The Web." Amazing Johnathan probably wishes he thought of this. At $10 this is a fantastic bargain from Mac King and Peter Studebaker. From your favorite dealer.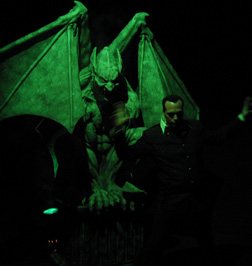 Brett Daniels and friend.
MYSTERY MAN -- In April I had the enormous pleasure of attending the tryouts of Brett Daniel's new magical mystery show, Wohscigam, in Waukesha, Wisconsin. It's a delightful mix of magic and murder, and I won't elaborate here as my complete take on the show is currently running in the August issue of Genii. Pick up a copy of Genii and not only read about Brett's show but also about cover boy Pete Biro. A great issue.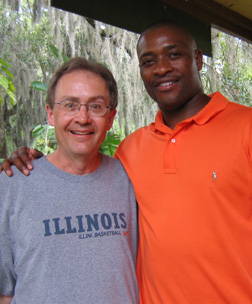 Two magic guys from Illinois.
MAGIC MAN -- On my recent trip to Florida, I was standing in line for tickets to a small zoo near Orlando, part of an afternoon outing with my grandson. I was wearing a tee shirt honoring Illinois basketball, and was therefore not too surprised when a young man (a tall young man) behind me asked if I had attended school there. When I replied in the affirmative, he informed me that he used to play for them. Not only did he play for them, but it turned out that he was Nick Anderson, who executed my favorite all-time play in college basketball. With Illinois down and only two seconds to go against a hometown Indiana crowd, the inbounds man fired a bullet pass to just over the midcourt line, where Nick caught it, took one dribble, and fired from near midcourt. Swish for a game-winning three, and take that, Bobby Knight! It was a thing of rare beauty, and you can find a video of the play easily on youtube. The relevance here? Nick went on to be part of the inaugural class of the Orlando Magic, playing for them for 10 years and setting their scoring record, before retiring after 13 years in the NBA. He is currently living back in the Orlando area and doing PR work for the Magic. Now, including Joe Stevens, I know two all-Americans.