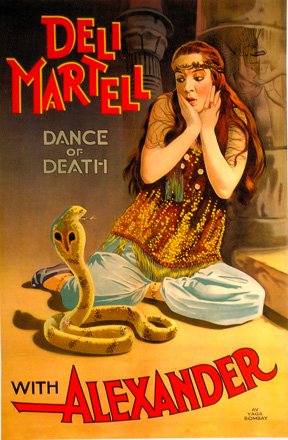 Rare Alexander litho from the Jay Marshall estate.
ANNIVERSARY PARTY -- The Magic Collectors' Association weekends routinely supply the best swag of any conventions I attend, this year's loot including a glossy 28-page program, a 34-page 1941 interview with Al Baker, and the whopping 98-page The Magic Collection of Jay Marshall Part III auction catalogue. Although I might have wished for a few more attendees, a few more dealers, and a few more talks, I thoroughly enjoyed this 40th-anniversary bash held in Schaumburg April 23-25, once again under the steady, accomplished hand of Gabe Fajuri. Every talk was excellent, but I'll mention a few that particularly grabbed me: Eugene Burger and Jack Gould discussed growing up in Chicago, though the best information on that topic came from honoree Johnny Thompson, in the audience. Gabe introduced a fascinating recording of a lecture by Dunninger. Young non-magician Kirsten Voris shared her research on her grandmother's favorite psychic, the beautiful Gene Dennis. David Ben produced nearly an hour of 16-mm footage that Sid Lorraine shot in the 30s and in 52: boy, did those guys smoke a lot! Amazing to see a young Mel Stover, a young Gerrie Larsen. And David interviewed this year's guest, Johnny Thompson. My favorite part was Johnny's explaining that Criss Angel did not use trick photography or stooges for his surrounded levitation of a girl on Fremont Street. What you saw is what the spectators in the street saw, all the way around. Hint: you could possibly do this only on Fremont Street.
The MCA weekends are mostly for enabling old guys or rich young collectors to stock up on old books, props, and posters. You rarely see any informal magic, and therefore I was delighted that David Ben showed me the details of Vernon's Slow Motion Four Aces, that David Solomon showed me the Jamesway Poker Deal, that Ken Trombly showed me a surprisingly good trick from Linking Ring, and that Claude Crowe showed me a bloody Jack the Ripper card trick. Thanks, guys. You do see magic at the Saturday night banquet. Emcee David Kovak and manic magician Ken Mate were excellent, but the best magic came at the hands of Johnny Thompson (I loved his Balls and Net and his Egg Bag routines), the best comedy from Mark Faje, whom I delighted in quoting around the water cooler the following week. Google "Mark the Knife" and behold his insane blazing spiked bowling ball and scorpion routine, which he performed live for us. Yikes. For many, all this was a prelude to the third auction of the Jay Marshall estate, held the Sunday morning after. Me -- it was time to catch up on some quality time with my granddaughter over in Evanston, so I've no idea how the buying went. I'd love to have bid on those Korda Ra Mayne window cards, but probably not enough to have procured them. Ah, well. I hope everything (and there was plenty of everything) found a nice home.