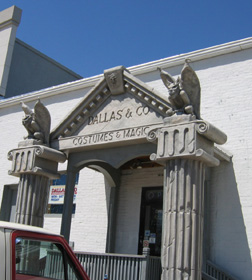 Dallas and Co., home of SAM prez Andy Dallas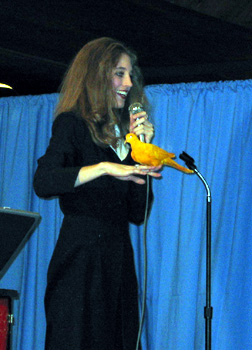 Jessica Reed teaches how to put the yellow in.
TURNING BACK THE CLOCK -- Part of the fun of growing up in magic, in my generation, was the cool props and secrets you could purchase from U.F. Grant. His Temple Screen was the most efficient and economical production device ever. His Victory Carton Illusions turned boys into Blackstones, his Grant's Bra Trick made us think we were night club stars, and his French Arm Chopper was the real deal, a professional full-scale illusion that would even fool -- and perhaps startle -- our moms. One of Grant's masterpieces that eluded my clutches through puberty and beyond was his Presto Clock Vanish. In this effect, you place a flat mat with Chinese writing on it over a gentleman's hat. You then raise the mat to allow you to insert a "highly chromed regular size modern clock" into the hat. The clock vanishes from the hat as you turn the now suspect mat over to reveal the words How time flies. The clock is gone! This was a favorite of Richard Himber who performed it on Don Alan's Magic Ranch and who eventually marketed his own version called Clock in the Box. (Look up Himber's routine for a great "new" effect.) I picked up the original, for old time's sake, from Hank Lee and am delighted with the mechanism and effect, a steal for $20.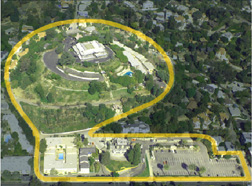 We could turn the Castle into a theme park!
DREAM HOME -- Those mentioned last month as considering the sale of the Magic Castle and the 10.25-acre hill it is perched on have upped the ante: the "Hollywood Hills Collection" is now officially listed, with no specific asking price and with the seller open "to consider reasonable offers." Although one assumes it will be purchased by a major developer, the sales jargon suggests that "it is anticipated that a future owner would maintain the structure and location of the Magic Castle." So, if you've ever wanted a house with a built-in ghost or just really, really like card tricks, this is your big opportunity.
April 2007
Back when an April installment of this sheet came early enough in the month to justify April Fool jokes, we could have inserted some blurb about the Magic Castle being for sale on eBay with an opening bid of $1.00. Of course truth is always stranger than fiction, and the Castle is in fact for sale with no minimum opening bid, just an expectation of reasonable offers. Other items in this abbreviated month include a visit to my alma mater, a new look at an old clock trick, and John Lovick's new Handsome Jack web site.
HAIL TO THE CHIEF -- The University of Illinois at Urbana-Champaign is home to Chief Illiniwek, the school's beloved mythical symbol of courage and pride, and now its outlawed symbol thanks to the misguided thugs who run the NCAA. Nonetheless, the Chief's magic persists and always will, and I assume he was watching over us as Champaign's Ring 236 hosted the 30th Central Illinois Magic Get-Together on April 21. Champaign is also home to current SAM prez Andy Dallas, who runs a fine magic/Halloween shop there, and who performed admirably on the evening stage show (some "politicians" do have chops). This get-together is a small one-day affair that rotates yearly between Champaign, Springfield, and Peoria. The big highlight of the convention for me was Chicago's Jeff Bibik, who did his hilarious standup act during his morning lecture and his hilarious closeup act early in the afternoon, all before departing to Iowa to do a hypnotic show at a post prom. Busy fellow! The other big draw for the convention was all three Reed sisters from Ohio. Jessica, the oldest and a Miami of Ohio student, presented a morning lecture on stagecraft (plenty of stuff I didn't know about, such as makeup and how to color live doves safely), and all three performed on the evening show, which opened with Mandy, who just turned 13. Jessica followed with colorful doves, a parrot with a really loud voice, and a midair production of a bunny. Shayna, in her last year of high school, closed the show with her World Magic Seminar first-place Elvis act, and, despite its whizbang ending, the bit I love most is a moment in her interlocked card production in which she shows her hands cleanly empty, and then continues. This nailed me in Las Vegas and nailed me again in Champaign when I was watching for it. Oh yeah, Shayna also performed on the closeup show. I am more than familiar with two of the four card tricks she presented, and I know there are ways she could get more out of them, but just as I was thinking "I could be generous and teach this kid something," she asked if we would like to see one more. We did, a card was selected and replaced, and with no effort whatsoever Shayna executed a flawless one-hand riffle shuffle and a flourishy one-hand cut from which she popped out the correct card. How emasculating! Where were girls like that when I was in high school? The Reed family is very nice, and the girls are all charmers and lookers, and while they may all some day discover Muggle boys and forget about magic, it's been fun watching them make a major early mark on the field. My friend Melinda would be extremely proud of them. All in all, a fun day. Other mentions of note: Ron London did a fine job filling in as emcee, and it is always great to see my friend Maria Schwieter (who usually lurks in the vicinity of Mike Powers).
LOOKING GOOD -- Although I have known and admired the work of John Lovick for several years, I've never witnessed the work of his performing alter ego, Handsome Jack. Fortunately, you can now join me and enjoy video highlights of this "magical male model" along with great celebrity photos (love Teri Hatcher!) and testimonials. The video moments constitute a superb example of how to let character drive the magic, and they are simply great fun to watch. Check it all out at handsomejack.com, the new site handsomely designed for John by half of the Buck twins.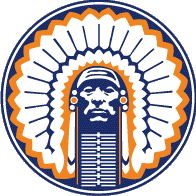 Chief Illiniwek