MILT -- And then there is Milt. I always knew there was a Milt Larsen. He was, after all, the son of, the brother to, and the uncle of a succession of Genii editors. Perhaps some day he will adopt Richard Kaufman and extend the relationship.
Milt's achievements are no secret to anyone reading this. He has pretty much been to magic what Ross was to journalism, what Steve was to computers, what Walt was to our animated dreams, and what Hef was to sex. The second child of a magical family, growing up in a one-time Thayer magic shop, Milt headed straight from high school to a gag-writing partnership in Hollywood. He and Red Baker founded the Comic Information Service in an office funded by their nights working in Dr. Zomb's midnight spook show. (You can't make this stuff up.) This they parlayed into a writing gig with Ralph Edwards' "Truth or Consequences," with Bob Barker as host. It helped to have your dad's friend, comedy writer Snag Werris, as mentor. Some 3000 episodes and many other TV shows would follow.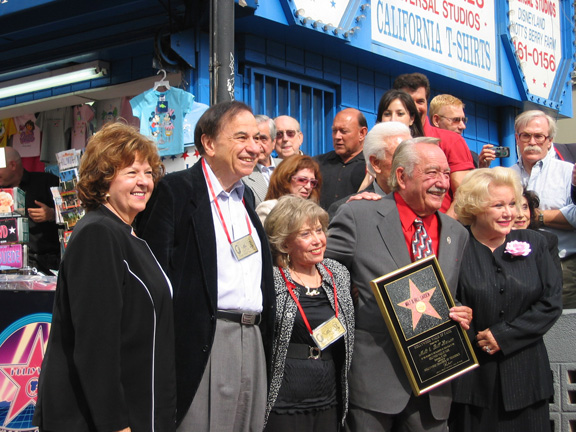 Milt (and Bill) get a star.
I thought I was doing something "new" when I began a series of Christmas greetings using magicians' names in rhyme. (See Poetry 101.) Milt was way ahead of me, having done his first such poem for a 1969 Castle lunch menu. He eventually wrote the lyrics to over 200 songs with his pal Dick Sherman (that's him in the photo above), some for comedy record albums such as Smash Flops, others for nostalgia-driven musicals such as Victory Canteen.
A fan of magic shows done right, in a beautiful theater with a full orchestra, Milt helped produced Hocus Pocus '56 for the S.A.M.'s annual show. By the third year Milt and his partner, Oliver Berliner, branched out on their own and re-named the show It's Magic! The show became an institution that has lasted well over 50 years. (For a complete look at the first 50, including Milt's star-studded anniversary show at the Kodak Theatre, check out our most recent edition of The Little Egypt Gazette.)
Fortunately for the rest of us, Milt's ninth-floor office at Ralph Edwards Productions looked out on a lovely old Victorian mansion. Milt dreamed of turning it into a magic-themed bar and restaurant, but was told it wasn't zoned for a restaurant. It was, however, zoned for a private club. Bingo. This led to that, Milt shook hands with Tom Glover, and the Magic Castle and the Academy of Magical Arts were launched on January 2, 1963. With an invisible piano player and a sliding bookcase as inaugural gags and with Jay Ose as an inaugural Resident Magician, the establishment was a hit from the get go. Dai Vernon would soon arrive to attract a migration of disciples, and fifty years of magic history would make the case that this lovely old domicile, magically larger on the inside than it is on the outside, is the most magical place on Earth, arguments from Disneyland notwithstanding.
Although the Magic Castle has benefitted from fifty years of Milt's being a gag writer with a hammer and saw, he didn't limit his creativity to that establishment and It's Magic! alone. Over the same decades he lent his hand to the Mayfair Music Hall, the Variety Arts Center, and Caesar's Magical Empire; he wrote for and appeared in movies and on TV shows; he wrote books and articles; he produced record albums and spun records as a radio DJ; he furthered the careers of dozens of magicians; he performed his Carpenter Act on special occasions and opened for Amazing Johnathan; he wrote lyrics for and produced musicals with his pal Dick Sherman; and he has been one of the foremost collectors, promoters, and preservers of the variety arts. And in addition to still being active in most of these endeavors, he has remained a really nice guy who, if the situation calls for it, can yank a tablecloth from beneath a full set of dinnerware. Milt's friends are as legion as his accomplishments.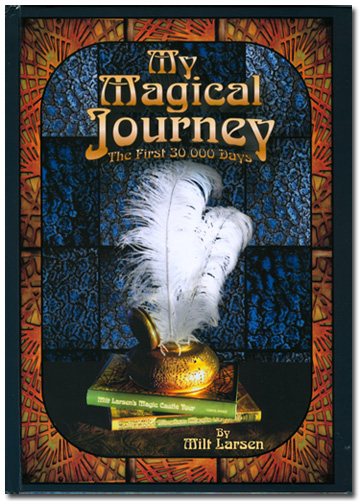 Milt Larsen tells all.
Lately Milt has been busy with his typewriter. His new autobiography is a fascinating 297-page hardback (or soft cover if you wish) chock full of great color photos and illustrations. Titled My Magical Journey, its paradigm is that of a train ride through the decades, with occasional sidetracks. Even if you think you know all there is to know about Milt Larsen, you may surprise yourself by how much you didn't. Milt shares fascinating detail, including a sampling of the gags he concocted for "Truth of Consequences," and he shares his failures as well as his successes. (Once, he opted to write for a summer TV series starring Ricky Nelson rather than a single one-hour variety special; the Ricky Nelson series folded after seven episodes, while the "single" special became "Rowan and Martin's Laugh-In" and ran for 140 episodes.) I also found the photos fascinating, especially one of young Bill, Jr., gracing the label of a jar of baby food (Milt's grandfather was a pea packer from Wisconsin whose employees formed a little football team that became the Green Bay Packers) and one of Bill, Sr., looking exceedingly glamorous in his pre-mustache performing days. if you are into magic at all, this is a must-have volume. Edited by Carol Marie, 297 pages, $60 hard cover, $40 paperback, directly from the Magic Castle gift shop.