Welcome to this special Valentine's Day issue of The Little Egypt Gazette. As you may have already noted, one of the things that makes this issue special is that it is also a Paul Harris issue, with a complete review of and sample material from Paul's new books, The Art of Astonishment. But first, the news . . .

LANCE BURTON, MASTER MAGICIAN: THE ENCOUNTER -- The hottest news right now is that Lance Burton's second special will air on NBC on February 24 at 8 P.M. In what sounds like an episode of The X-Files, Lance will feature a UFO illusion in Nevada's famed Area 51. Additional material from the Monte Carlo show will of course appear. Last year's special brought Lance sufficient exposure that most of my lay friends now know who he is. This year should further cement that household name relationship.

THE CRIMP UNFOLDS? -- For the past 42 issues, Jerry Sadowitz has been painstakingly hand-lettering and drawing a ribald magic newsletter called The Crimp. In addition to a large body of performance material, the journal has featured humor that is racist, sexist, nationalistic, and offensive in most other categories you can think of, but at the same time, I confess, screamingly funny. Its terminology has been infectious. I began to think of certain individuals as "wankers," of all spectators as "speky bastards," and of one or two individuals as "ye daft [insert gross female anatomical term]." Numerous magical celebrities are direct targets of Sadowitz's humor, many of them British. (The magazine is now produced in London.) U.S. personalities have not been spared. When Richard Kaufman defended Gene Maze, following Sadowitz's insanely paranoiac assertion that Maze had stolen and published material, Richard became a favorite target and remains so to this day. In the current issue, for example, a four-panel comic strip featuring Toss Cedrik ("fat bastard magic dealer") mentions that the "latest Kaufman book" sold 200 copies sight unseen to the club down the road ("the Govanhill Syphilis Society for the Advanced Blind and Insane"). [Perhaps this explains why I so enjoyed the new Harry Riser book last month.] If it's any consolation to Richard, L & L Publishing is also routinely panned. Whatever, it appears that the magazine has all but run its course. Citing low subscriptions because most of the magic world consists of "morons and social misfits (wankers)" or "egotistical and unethical bastards [insert that anatomical term again]" Sadowitz has once again jacked up the subscription rate, to $60 for the U.S. for six issues. You must sign the following : "I understand that your magazine will be published on an erratic basis, and it may be many months, possibly years, before I receive any or all of them. Not only do I understand this, I am happy about it an all. Further, I understand that if I so much as ask you "whens the next issue coming out?" . . . then my subscription will be immediately terminated, and no money will be refunded to me. Finally, and just for the record, I think you're a [gross female anatomical term]." Ah, if Busby had only used such wording in his Braue Notebooks subscription form, we wouldn't have all this dissension.

THE HOUDINI CHAMBER -- Milt Larsen's monthly newsletter describes recent renovations to the Houdini Seance Room at the Magic Castle. Castle member Glenn Evans is restoring a museum piece Lalique chandelier and is also creating a new 13-faceted Tiffany style dome that will raise the center of the ceiling that supports the chandelier. Although the Houdini seance has been scaring the bejabbers out of 12 guests for as long as I can remember, the number will drop to 10 to better accommodate the carved Victorian wooden chairs that are wider than the original chairs. This enhanced ghostly theater will now be called the Houdini Chamber, and the changes go into effect this month. If you are a Castle member and have not yet enjoyed this entertainment experience, I urge you to do so. It's unforgettable.

BRAD'S LATEST -- It's always delightful to receive the latest "Shopper" from Brad Burt's Magic Shop, a fun place to visit if you're in the San Diego area. If you've been looking for a source for Dean Dill's "Blizzard" deck that Mike Close recently reviewed, Brad has them at $25. If you aren't on Brad's mailing list, you can contact him at bburt@magicshop.com.

LANCE ON LENO -- Lance Burton appeared on The Tonight Show with Jay Leno on February 6. Lance opened the show as he and two alien space babes produced Jay. Following entertaining spots by guests Dennis Rodman and Tracey Ullman, Lance returned for a lengthy spot featuring part of his candle/dove manipulation act and the sword fight segment. In a brief commercial intro, Lance's juggler Michael Goudeau could be seen juggling bean bag chairs out front.

Post-publication item 2/20/97 THE LINEUP -- Richard Kaufman has released his list of 1997 titles. Look for The Annotated Artful Dodges of Eddie Fields by Jon Racherbaumer, Swami/mantra by Sam Dalal, The Stone Age by Stephen Hobbs, The Professional Now You See It, Now You Don't! by Bill Tarr, Jennings '67 by Richard Kaufman, Folding Money Fooling Vol.1 by Robert Neale, Hauntics! by Christian Chelman, The Effortless Card Book by Peter Duffie, Charles Bertram, The Court Conjurer by Edwin A. Dawes, Vis a Vis, The Magic of Jack Avis by Jack Avis and John Derris, and Arcade Dreams: Marlo Without Cards by Jon Racherbaumer. A most impressive list!

Post-publication item 2/20/97 SECRETS OF THE GODS -- David Blaine speculates on the conjuring secrets behind biblical miracles in a feature article in February's Detour magazine. This is the stuff that would have banned the Beatles from the airwaves years ago.

DESERT MAGIC SEMINAR -- It's that time of year again, kids! Joe Stevens is about to present the twentieth edition of his Desert Magic Seminar in Las Vegas. This year's outing, from March 2-5 at the Tropicana, will feature lectures and magic by Paul Gertner, Juan Mayoral, Lennart Green, Juan Tamariz, Hans Moretti, Bob Green, and Ascanio, truly some of the best of the best of the past 20 years. Add to this all the other DMS features, a lecture by Dan Harlan, "townie" magic shows such as Siegfried and Roy, Lance Burton, Caesar's Magical Empire, Spellbound, Showgirls of Magic, EFX, and Cirque du Soleil, and you have a convention no one else can top. A built-in feature of the DMS is its high stakes contest, with $5000 to the winner. This year's contest is a World Challenge 97 Invitational Stage Competition, and will include James Dimmare of the U.S., Yuka from Japan, Vikj from Italy (musical comedy magic), Junge and Junge from Germany (a shoeshine act), Yusuda from North Korea (a costume change act), and Enric Magoo from Spain with a comedy Frankenstein act. And if all this isn't enough, and you just want to come to Las Vegas and hang out, the WAC basketball tournament will be taking place. Tyrone Nesby, from my home town of Cairo, Illinois, is starting for UNLV this year, and we wish him and his teammates the best.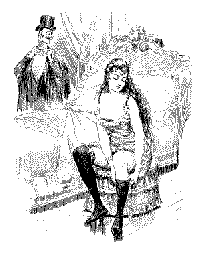 "Ever since Joe came up with this alternative prize to the Gold Lion's Head Award, the level of the competition has skyrocketed."
GHOULS RUSH IN -- Speaking of comedy Frankenstein acts, take a look at the Valentine's Day issue of The New Yorker (February 17), which features a happy Frankenstein monster, flowers and candy in hand, about to receive a new partner off the laboratory table. The drawing is titled "Ghouls Rush In" and it's by Edward Sorel.
A-1 PROJECTS -- In working out the details of this month's Paul Harris issue, I had the pleasure of dealing with Mike Maxwell of A-1 Multimedia. Mike is working on a 12-part Advanced Card Control series by Allan Ackerman. The first three installments, on Palming, Controls, and False Deals, will be out in March. Additional videos in the works include new material from Rafael Benatar, Juan Tamariz, and Darwin Ortiz. Books in the works include titles by Carl Cloutier and Tabary.