MAGNIFICENT SEVEN, TAKE TWO -- Back in April (and May), it was a great pleasure to review Nick Trost's Subtle Card Creations Volume 7. Unfortunately, a change of printers caused a slight delay in publication. I am pleased to report that copies are now on hand for a mere $50 each and shipping from a new site but from old friends at hrmagicbooks.com.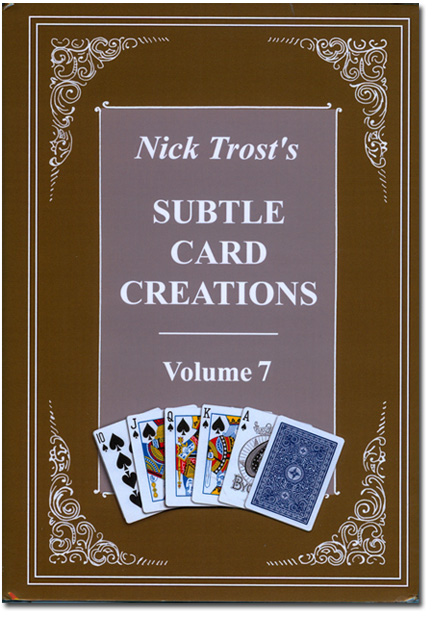 Now shipping!
Trost's brilliant tricks are accessible to anyone and great fun to work through. Repeated from my April and May reviews, you may particularly enjoy these:
All Backs Royal Flush. You cleanly display five cards with backs on both sides. Following a through the fist flourish, the cards morph to a royal flush with faces. And the trick cleans up nicely. Fun to watch.
Blackjack Lesson. A nutty plot but fun to watch and easy to perform. Show four cards as two pairs of red tens. A score of 20 each, not good enough in blackjack. The four cards change to two blackjack hands, each an AS and a JS. But you are a poker player, so the cards change to five jokers.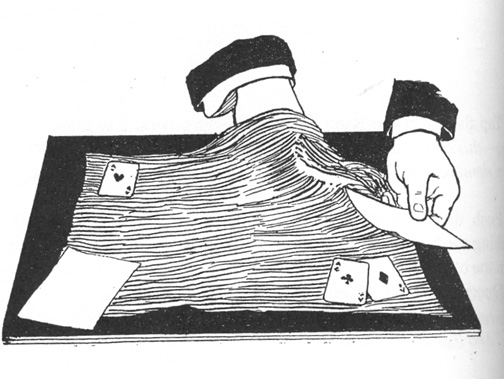 Vintage illustration from Volume 3.
One of my favorites of the entire series was Shuffle Tracking, from Volume 3. Via a poker deal involving 25 cards, the magi deals two, three, four, six, seven, or eight hands, at spectator request. (This is repeated as desired, the sequence owing to Roy Walton.) The dealer receives a royal flush, his opponents receive four pat hands named through amusing insider poker lingo. Volume 7 explores further variations. Shuffle Tracking a Royal Flush begins by extracting a royal, then controlling it despite the two through eight hands, the other players receiving 9 to 5 straights. Shuffle Tracking Another Version is similar to the Volume 3 effect, the dealer eventually getting a straight flush and the others four strong pat hands. A Draw Poker Demonstration "mixes" the cards via the Walton procedure, then ends by causing the players to draw cards to fill strong hands a la the Vernon Poker Demonstration.
Even Odder. Bro. John Hamman's Odd-Even-Odd is a longtime favorite and used to be part of my regular repertoire. Nick supplies an easy and effective version. Odd and even spot cards trade places, but the odd cards become "more odd" as they turn into court cards.
Total Coincidence with One Deck. If you like Juan Tamariz's two-deck version from Sonata, you should love this one-deck version.
Ten-Hand Poker Deal and Repeat. This routine is a close cousin to Allan Slaight's excellent Heavy Breather. It seems impossible. I'll resort to the actual text:
The performer removes the four aces and the KH, explaining that he will demonstrate "shuffle tracking" with these five cards. A spectator shuffles the rest of the deck, which is then divided into five packets. The four aces and the KH are inserted into the five packets. Each packet is shuffled by running cards in a random fashion at the spectator's discretion. The spectator dictates how many cards are run in each packet. The packets are stacked in any order, then dealt into ten poker hands. The performer predicts which hand the aces and KH will fall in—and he is correct! The tenth hand—the performer's—is the winner. It contains a straight flush in spades.
The effect is repeated with the spectator losing the straight-flush cards in the deck himself. Again ten hands are dealt, and the performer ends up with the straight flush in the tenth hand!
Ace to Five. A very easy version of the ambitious-type five-card trick in which the ace through four of spades rise to the top, then the five of spades turns into the five of hearts. What knocks this into orbit is that you are left dirty with a reversed card, and you clean that up via a strong card discovery trick.
Separating the Men from the Boys. Another visual, fun to watch effect. Four kings and four jacks (men and boys) alternate. Two boys and two men are dealt to the table. But suddenly the cards in your hand are all kings, and those on the table are ... queens! In Phase 2, the four jacks reappear and are placed on top of four piles. Suddenly, they all congregate on one pile and are set aside. The top cards of the piles turn out to be the four kings who unite with a queen of each suit to form four royal marriages.
Soapy Smith's Klondike Poker Deal. In a 20-card game between Reverend Bowers, Slim Jim Foster, the sucker Harvey Henderson from Indiana, and Soapy Smith, Soapy's straight flush beats Harvey's full house. Even though the spectator is allowed a legit riffle shuffle, what endeared me to the routine is the milk build shuffle justified by the patter "in Alaska the dealer's fingers were so cold, about the only way he could shuffle was to strip off the top and bottom cards and drop them on the table."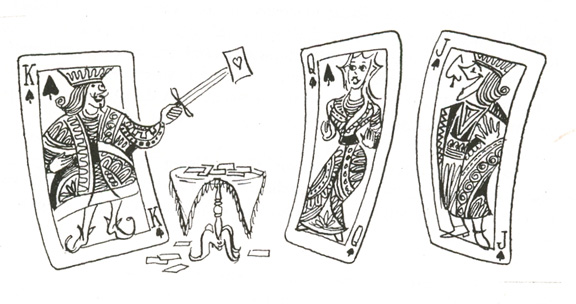 Vintage illustration from Volume 7.
The Lollapalooza Hand. Spectator seems to win with a straight flush, but the dealer tops him with an unbeatable Lollapalooza hand (2,4,6,8, and 10). Following a spectator riffle shuffle and cut, spectator seems to win with his own Lollapalooza hand, but dealer takes all with his straight flush. Why? Because a Lollapalooza hand is only good once a night!
A Passing Thought. A fan of aces, four red-backed and four blue-backed. Any ace thought of by a spectator leaves its group and appears among the aces of the contrasting color.
Clock-a-rama. I love clock effects ... and predictions with surprise endings. From the text: "The performer writes a prediction and sets it aside in full view. The deck is shuffled and a spectator thinks of any hour on a clock from 1 to 12, removes that number of cards and hides them. The performer deals a card clock. The spectator cuts the deck proper, and the point cut to is marked. The performer now tells the spectator how many cards he cut off. His cards are counted to verify this. Now the performer counts to the corresponding hour on the clock; it is the 8H. The card cut to by the spectator is the 8D— the mate of the selection! For the climax, the prediction is revealed. It says that the spectator will select a red card, which is true, but this is not too impressive until the cut-off cards and the rest of the cards in the clock are turned face up—they are all black!"
MAGIC AT THE BPP -- Last October, reporting on Glitches in Reality with Simon Coronel, we introduced the Bloomington Playwrights Project, whose magic-friendly director Chad Rabinovitz showcases original and contemporary plays only. This month Chad premiered two more magical productions, Mind Tricks with mentalist Max Major and Simon Coronel's Magic Smackdown.
Max Major returns to the stage following an absence to recover from Lyme disease, bringing a high-energy, hip, modern, youthful brand of mentalism. I tallied nearly a dozen strong routines in a fast 90 minutes, only one involving a deck of cards. Max opened with a lottery ticket prediction in a giant balloon (that fooled me!) and closed with a locked box prediction of virtually everything that happened and was happening in the show. The audience of me, my granddaughter, a handful of local magicians, and some 80 BPP regulars loved every moment. Per the Bloomington Herald-Times review: "You will hate yourself if you miss this man, this creature, this unbelievable doer of weird things. ... You will gasp. Yell even, as we all did Thursday night."
Internationally famous disc jockey DASTAN backed Max up, providing techno mood music or punctuating the show with 21st-century versions of rim shots. All in all a delightful show, with many instances that felt like real magic. Annemann would have approved.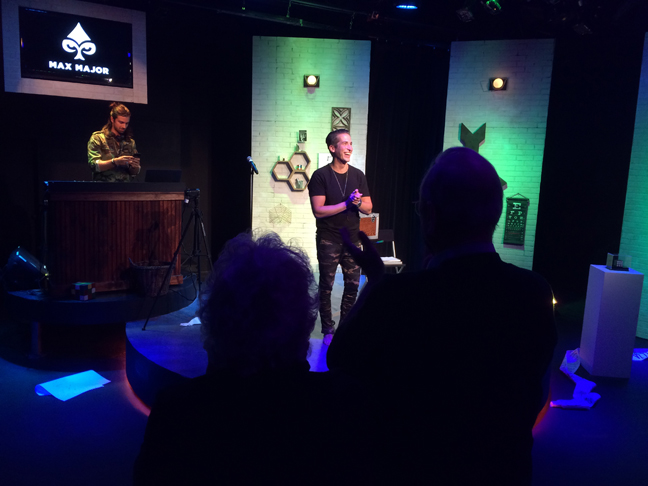 Max enjoys the standing O.
And then we have Simon Coronel with his magical game show Smackdown, billed as a combo of "Penn&Teller: Fool Us," "Whose Line Is It Anyway," and "America's Got Talent."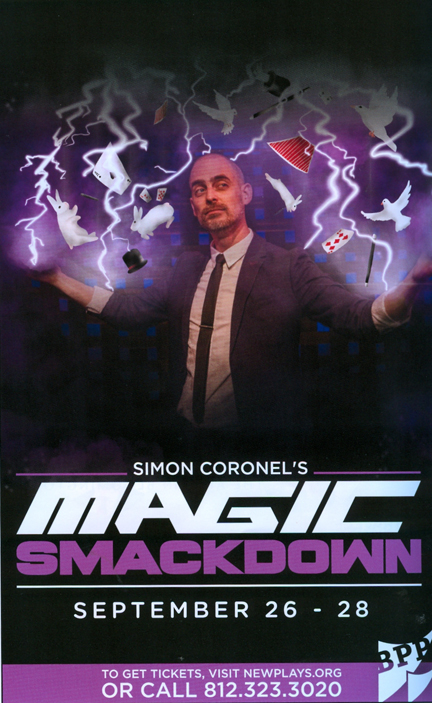 Simon is back with a new show.
The gifted trio of Simon, Nick Paul, and Robert Ramirez vied for glory and a big mystery prize. Following a getting-to-know-you routine from each each, there were four rounds of competition: Lightning Round (magic in a minute), Music Round (magic accompanied by a song shouted out from the audience), Object Round (impromptu magic performed with objects borrowed from the audience), and Bonus Round (each magician's best). Voting was conducted by smart phone with each round hotly contested. Each performer held his own, with the magic delightfully eclectic and consistently funny. Nick impressed me with a signed gift card to wallet using my granddaughter's gift card, Robert fooled me badly with a liquid and bucket routine (sort of Sands of the Desert), and Simon makes me jealous that he can do a complete killer routine using nothing but his fingers. Nick and Robert were new to me, both great at physical comedy, and Robert especially impressed with his extended skill set: he can tap dance (while tearing a newspaper), play ukulele, sing (sort of), and do eye-popping old school card manipulation, purportedly learned from a 25-cent Thurston booklet. On the opening Thursday of a three-night run, Robert scored a come from behind win, and the big prize tied everything together. (I'll keep the details a secret.)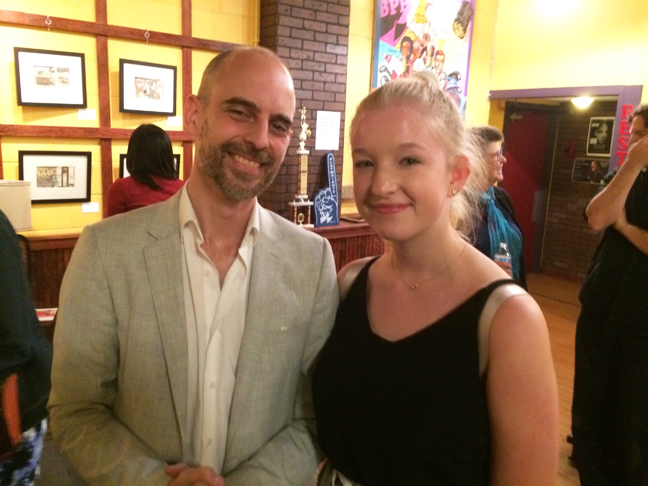 Simon and a young fan.
On weeknights especially, the BPP crowd is a senior crowd. One of the funniest moments, in the call-out-a-song Music Round:
Lady: Lydia, the Tattooed Lady.
Simon: Who is that by?
Lady: Well, Groucho Marx sang it.
Simon (laughing): There's a generational gap from the songs we had in rehearsal.
The show is a lot of fun. Simon told me they had been working on it off and on for three years, and it's come together nicely. It's a brilliant piece of theater, and the performers seemed to be having as much fun as the audience. I hope a tour or a TV deal is in the offing.