The three books to follow are, each in its way, unlike any books I've read before. (In the So Sato case, for the sheer caliber of the material.)
FASHION SHOW -- It was back in October 2011, nearly five years ago, while reviewing a quite funny episode of Fitzgerald's WHO'S HOO, that I first noted that John Lovick was working on a book of Handsome Jack material. Praise be to the gods of magic that the prediction turned out to not only be true but that the book would become, as hoped, a brilliant new entry to the limited works devoted to A-list commercial material. Handsome Jack etc. instantly ranks highly among Harry Anderson's Wise Guy, Tom Mullica's Show Time at the Tom-Foolery, Ron Wilson's The Uncanny Scot, In a Class by Himself/The Legacy of Don Alan, Albert Goshman's Magic by Gosh, and Mike Caveney's Wonders.
The fundamental conceit, that the book is written by male model Handsome Jack and heavily annotated with John Lovick footnotes, might have been an overworked single gag but instead has become an extraordinary vehicle for citing extensive credits and exploring alternative methods and presentations. To boot, it's a blast to read, a schizo narrative worthy of one of those horror movies where the dummy and the ventriloquist are at odds. I predict you will have more fun reading the footnotes than the "real" text.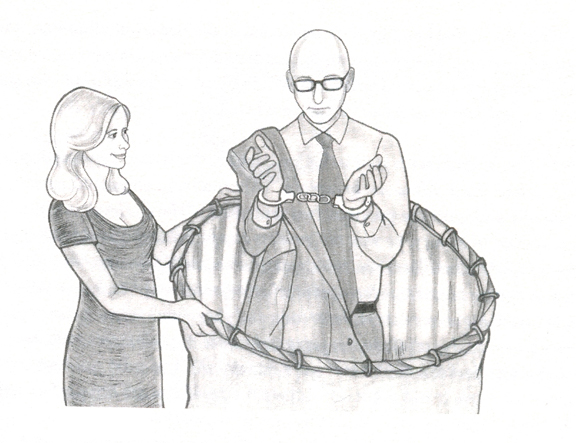 Handsomest stand-up magic of the year.
The really great news is that you don't have to adopt a male model persona to perform the material. It is all adaptable and is uniformly excellent. (Rob Zabrecky's recent performance of Chic Thief on "Penn and Teller's Fool Us" is an example of how far you can adapt. Handsome Jack would never write on his face with a Sharpie.) I tally 21 tricks (and two essays), and there isn't a weak trick among them. I'll mention a few that I have personal connections to, but I could easily have picked any of the others.
My Dream of Mind Reading. This blank deck mental effect has long been a favorite Lovick trick for me. Because of Handsome Jack's success and Lovick's sidekick role, it's easy to forget that Lovick is one of magic's great modern inventors. His Skinny Lecture Notes (along with More Skinny) still occupy a preferred shelf in the Little Egypt office, and it's interesting to note how many of these early creations made it into Handsome Jack's act.
Little House on the Scary. I've studied dozens of spirit slate routines over the years, but this is one of the few that is actually spooky. (OK, not as spooky as the one in The Little Egypt Book of Ghosts, but far more practical.) I love it.
Vainfabulation. Lots of meat in this one, including presentations ranging from the heartache of a Carly Simon song to the fear of dealing with a stalker. There are interesting new methods for the necessary "double writing," but I still prefer Ron Wilson's.
A Dip into Scripture. This is a biblical take on David Regal's trick Journey to Love. I mention it mainly because the joke on page 64 is the funniest line in the book. (This is a curious presentation, as I would have thought the original Regal presentation was more Handsome Jack-ish.)
The Reparation. I suck at these tricks (J.C. Wagner's is the best I can do), but I appreciate the ingenuity and work that lie behind them. What caught my attention this time was the brilliant additions by Spanish magician Ines.
Handsome Jack etc., hardbound at 214 pages, was nearly five years in the making, and it looks it. The book is illustrated with delightful cartoon drawings by Robin Fuqua and John Lovick and handsomely (how else?) laid out by Gabe Fajuri. $55 from Squash Publishing. (I've also seen it at Vanishing, Inc. and H&R Magic Books.) I expect to see many of these routines in play in the next few years.
ALL THE WORLD'S A STAGE -- In Robert Parrish's New Ways to Mystify, one of the earliest magic books of my acquaintance, he notes "The old-time magicians by no means confined their peculiar activities to the stage. They went around being magicians all the time, and as a matter of fact some of their most charming tricks were performed in such unlikely places as in grocery stores, or at restaurant counters, or even on street corners. Alexander Hermann used to upset store clerks by finding gold coins within fresh eggs and alarm unsuspecting waiters by vanishing a glass of wine with a swift decisive toss. He did things like this anywhere, especially when newspapermen were around."
Although TheJerx.com's provocative, mononymous, and somewhat anonymous host, Andy, might still characterize such stunts as magician-centric "professional" performances, I daresay some of the book's tricks rise to Andy's more laudable audience-centric "amateur" events as Mr. Parrish discusses magic for the tea table, for women's sewing clubs, for after dinner, for late-night men's clubs, for weekend house parties, and for cafes. My favorite, in the chapter on the magic counterpane: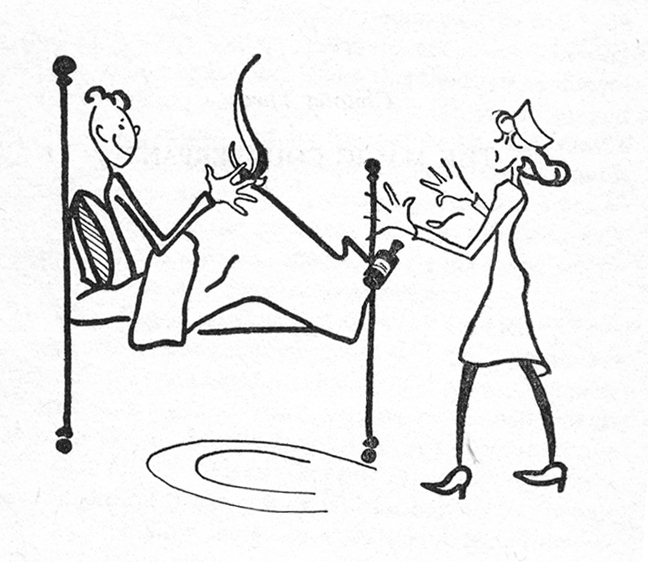 My first notion of amateur magic.
People with sufficient leisure occasionally take to their beds for a period of days or weeks, depending upon the weather and the position of the planets, and during this interval it is sometimes necessary for them to receive callers. It is very difficult for a person who is comfortably ensconced in bed to put his visitor at ease unless he is on familiar enough terms to extend an invitation to crawl in under the covers. If he can't bring himself to do this, the really decent thing to do is to show a few magic tricks. The invalid might look wistfully out of the window and say, "Sometimes I get very despondent. Sometimes while I lie here smoking cigarettes, I get a terrible urge to set fire to the sheets." With this remark he would gather up a part of the sheet and light a match to it. After it had burned a little, he would blow out the fire and gather the mutilated section into his hand, rub it a little and, laughing like mad, spread the sheet out whole and spotless. This and some less violent tricks to do in bed will be explained early in the book.
The point is, although the idea of organic amateur magic was part of my earliest training, I've never before seen it championed with quite the enthusiasm, creativity, and hilarious Crimp-level vulgarity as TheJerx.com's Andy. It has seldom been this much fun to read about magical theory.
Over the past year, Andy has collected some of his published and unpublished essays into a 368-page hardback, The Jerx Volume One, along with a newly-written 50-page softcover manifesto, The Amateur at the Kitchen Table. Each is a delight.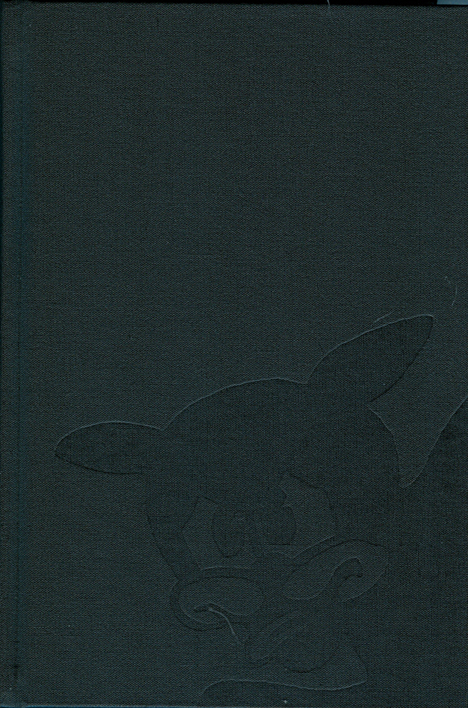 Black cat magic.
The hardback, following some necessary intro concepts and a chapter on presentation of audience-centric magic, rewards the reader with 32 case studies that illustrate (including the female anatomy when necessary) everything you need to know to create some unforgettable life experiences. (I was going to say magical experiences, but "life" seems more appropriate.) Bear in mind that these are designed for small audiences, indeed some with whom you share casual sex familiarity. The presentations range from simple yet potent twists on Bannon-level card tricks to a Mission Impossible-level time travel card trick in which a young lady uses a very out-of-date stamp to mail some torn card pieces to an address you used decades ago and then you show up at her door with the card restored except for "the missing piece" and, oh, yes, you are 20 years younger! I kid you not.
Here are a few that I might actually attempt:
Spectator Cuts the Aces Three Ways. Of the three, I like the way in which your soothsaying niece foretells how your trick will turn out.
Bazillion Dollar Bill Mystery. This is the trick Andy first impressed me with, on the web site, a grand takeoff on an old U.F. Grant classic. OK, I probably won't incorporate a facetime call from Paris. Hmm, but I do have friends in London.
Passion of Donny Ackerman. A kid you once knew could stop time so he could peek at girls' breasts. You demonstrate his power (with the help of a thread loop and a peanut butter and jelly sandwich). By the way, I would condense the last sentence of the patter to simply "Phenomenal."
Dewey Defeats Truman. A terrific way to deal with tragedies when performing a newspaper headline prediction.
Dear Penthouse Forum. I love wacky story tricks with a deck of cards, such as Tyler Wilson's. In this one you are clearly making up a stupid story from a Penthouse magazine. (Does that still exist? I haven't seen one in years.) Then you produce the actual magazine page and it matches your story! (Prop supplied.) The downside is that you must cast yourself as a masturbating perv. (Too much of a stretch? You are a magician.) This story line rivals Kent Gunn's. But the least-PC card trick I know still belongs to Mike Rogers.
Meta-Bored. A swear word and the least impressive prediction you could possibly make elevate John Bannon's Wait Until Dark.
The Mad Libs Ploy. This is the Fred trick on steroids. Four seemingly random words lead you to creating a never-before-seen magic trick, and then your $600-a-year magic blueprint service has predicted it.
The elephant in the room, I suppose, is that the book is pricey at $260 (so far). Physically it's fine, in a solid black hardback with black on black cover text and the Jinx-like cat that adorns TheJerx.com, and with end papers that look like wallpaper featuring the cat logo. It isn't fine in the lavish sense that the two-volume Caveney books or the two-volume Tenyo books are fine, to mention some in the same price range, but certainly the book is OK. Rather than shooting for lavish, Andy is shooting for some seriously screwball magic tricks and a new way of looking at magical performance. I am happy with my purchase.
I hope that TheJerx.com continues (donations are encouraged) and that new material evolves. Perhaps my favorite Andy presentation, one that didn't make the book, is his takeoff on Arthur Monroe's Voodoo, which you can experience here. What fun!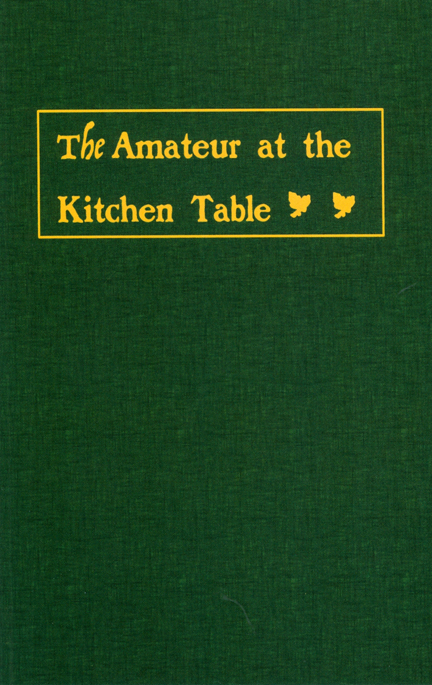 You don't have to be a professional.
The adjunct booklet The Amateur at the Kitchen Table is also a fun read and an interesting look at what it means to be a magician. I particularly enjoyed the professional vs. amateur discussion re "The Professional: Learn to do six tricks well" vs. "The Amateur: Learn to do 100 tricks well enough."
RISING SON -- If you mention the 2015 Genii convention, one memory dominates: the squeaky clean magic of Tenyo inventor and self-described "Japanese card guy" So Sato. Richard Kaufman has rewritten So Sato's two Japanese magic books and combined them into The Secrets of So Sato, and secrets they certainly were. So Sato fooled us badly in Orlando. The book is a lovely package including a 192-page hardback and a DVD on which So Sato performs 20 of his routines.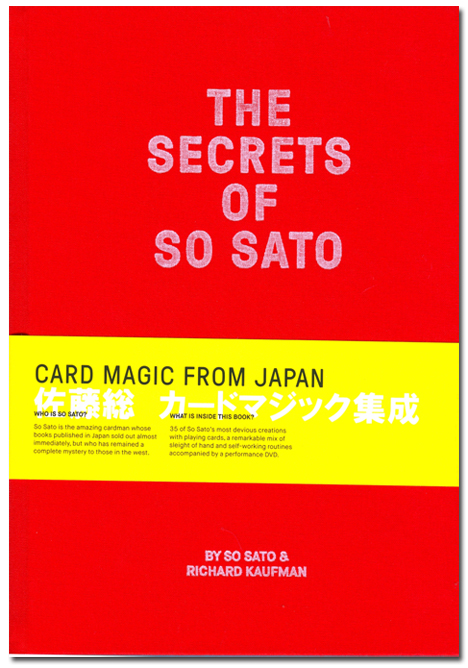 Knee-buckling magic.
The material is strikingly new. To borrow from Richard's Introduction, "You will find self-working material, some of it mathematically based, that is drenched in brain-twisting psychology; you'll also find some very difficult sleight of hand which, when combined with So Sato's unique psychological approach, will weaken the knees of even the most stout cardman."
Among its 33 or so tricks and two powerful techniques, a few highlights:
Magic Slap. So Sato opened his Orlando set with this instantaneous appearance of a selected card between his bare palms.
So-Lution 1. This is a really clever ACAAN that includes an equivoque ploy that fascinates me. The cheating is essentially over before it starts.
Brushfire Triumph. Another of the routines So Sato demonstrated in Orlando. A Triumph in which the cards are spread to show a face up-face down mess before the climax.
Zen Derby. This is one of several routines that use Mass Destruction Stacking, where spectators seem to shuffle so much that no stacks can possibly remain. In this one you predict the complete outcome of a horse race.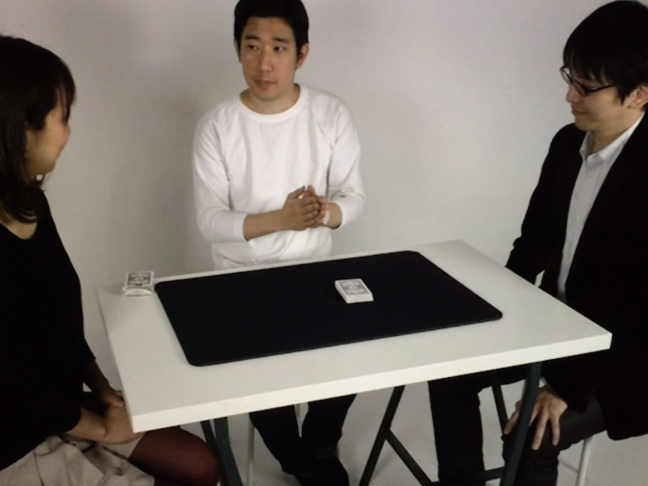 Squeaky clean magic.
Amnesia. So Sato's technique Mimic Show uses what many have derided as the least useful ruse in Erdnase, yet I would wager all of the Mimic Show routines on the DVD would fool anyone watching, including an Elevator routine, a Collectors routine, and so on. In Amnesia, a random card is placed between each of the four aces (a la Oil and Water), then the random cards instantly vanish leaving only the aces. In all these routines, it is amazing how So Sato capitalizes on a simple initial deception.
Acrobat Leader. This was the killer, the routine that fooled us most in Orlando. A Follow the Leader that looks like trick photography.
The book and the performance DVD are welcome surprises; I don't know how Richard Kaufman slips these into his schedule. (As he says, it helps to type 80 words a minute.) The DVD is in Japanese, but it is easy to follow the selected routines. As clever as So Sato is at inventing these tricks, it is also quite a pleasure to watch him perform them. Already famous in Japan -- So Sato's books sold out almost immediately -- he should become equally regarded elsewhere when this book and DVD get around. I ordered my set directly from Kaufman and Company. $60 postpaid.