EXPERTISE AT THE CARD TABLE --In January 2011, a copy of the 1905 F.R. Ritter book, Combined Treatise on Advantage Playing and Draw Poker, exchanged hands for a record (including Potter and Potter auction premium) $19,200. Thanks to a handsome and enhanced reprint from Geno Munari, you can acquire a copy of this fascinating work for much, much less.
According to David Ben's biography of Dai Vernon (Part 1), this is the book on card cheating that Vernon's father described over dinner, and which Vernon thought to be Erdnase's book when the lad purchased it six weeks later. There are marked differences: Ritter was illustrated with photos, Erdnase with line drawings, for example.
But also marked similarities. Despite Ritter's prospectus assertion that he had thoroughly investigated every book and treatise on draw poker and advantage card play and found "all of them of little or no value," he had clearly read Erdnase and found, if not content, then at least language of value. The opening line of Ritter's Introduction reads, "The passion for play is probably as old and will be as enduring as the race of man." Erdnase students will recognize the exact same sentence (with the addition of a couple of commas) as the opening line to Erdnase's Introduction. Ritter's Dedication contends, "It will not make the novice a cheater, nor transform the pastime player into a professional." Compare this to the phrasing in Erdnase's Preface: "But it will not make the innocent vicious, or transform the pastime player into a professional." And both gentlemen have their tongue in cheek (my opinion here; some Erdnase hunters strongly disagree) when it comes to the financial motivation for writing: Erdnase ("... if it sells, it will accomplish the primary motive of the author, as he needs the money.") vs. Ritter ("It is my object in writing these treatises ... to make some money for the Author.").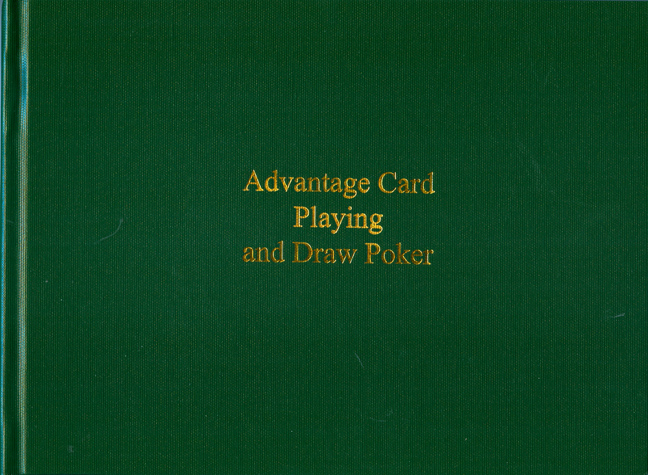 How to be "bad" at poker.
The bulk of the original text plays out in three treatises. The first deals with marked cards, which Ritter broke down into scroll work, line work, shade work, and blot-out work. It provides 71 pages of photographic examples as applied to popular back designs of the day. The second treatise covers physical and mechanical examples of advantage play. It's a brief section (12 pages) on false deals, false cuts, and holdouts along with one excellent page on strategies. The third treatise is on old and new hands (new, maverick rules for poker games) and an ample supply of lists of numbered Don'ts, Tips, Rules, and Strong Plays. The new games, new to me at least, include such hands as Skips (2,4,6,8,10 of mixed suits, with a Skip beating an ordinary Straight). It might be fun to return to the gaming table with my friends and try these out. The various lists are interesting, ranging from sensible wagering advice to etiquette to common sense (Don't play more than eight hours at a stretch) to math-based advice. My sixth sense says to take that last category with a grain of salt.
The new edition also includes a nicely researched biographical article from Bill Mullins ("Fred Ritter: Mail-Order Card Sharp"), a letter from Ritter to a prospective customer (he is anything but modest), and "Confidential Tips" on the game that he marketed separately.
Geno has printed 350 copies in a handsome hardbound edition with glossy pages and 600 softbound reduced copies. Erdnase collectors and scholars will consider this a must, both for its differences and its similarities, and it should also delight general students of gambling technique and lore. Geno has posted on the Genii forum that it sells for $95 with a prepublication offer of $85. The soft cover edition will not be available until the hard cover sells out. Inquire at munari@msn.com. Additional info is available here. Be aware that the latter link is dated.