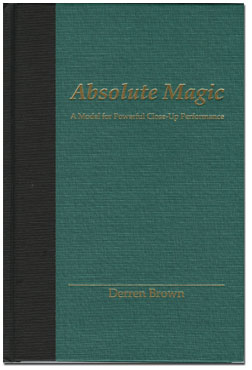 An approach to real magic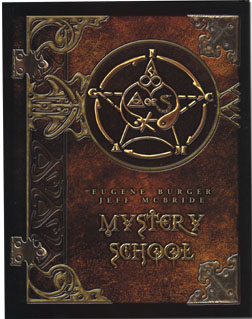 Assigned reading
CAMP MYSTO -- Before taking a look at the new book Mystery School, I must address my prejudices. When Jeff McBride first began his Mystery School sessions in 1992, I was highly suspicious. I have no desire to gather in the woods with drums and facilitators, I have no desire to see any magicians skyclad unless they are of the general construction of Melinda or Princess Tenko, and I particulary have no desire to partake of any situation that hints of being a religious experience (unless, of course, it directly involves Melinda or Princess Tenko). Nonetheless, over the years, word spread of many Mystery School activities and sessions I would have enjoyed participating in, and many magicians I admire (including moving forces Jeff McBride and Eugene Burger) attended. Now, in this sumptuous 448-page book edited by Jeff and Eugene and published by Todd Karr, I can safely sample what I missed. Perhaps the best description of what went on can be found in Stephen Minch's "Diary of a Mystery Fiend," which offers a daily account. I would have especially enjoyed the Works in Progress sessions. There are some 44 contributors (faculty, guests of honor, and alumni), with essays and magic, and the book is lavishly illustrated throughout, including 17 pages in color by Katlyn Breene. A positive of the school and the book is a high incidence of female contributors. There is some New Age hooey among the pages (I thought one of the authors certifiable), but also much I enjoyed. In particular I liked Dan Harlan's "Horror Matrix," Max Maven's common sense (in a piece called "Simplicide"), Bob Fellows' "Magazine Clipping Prediction" (it reminds me of Harry Anderson's "The Children's Garage Sale"), and Ormond McGill's essay, "The Presentation of Miracle." While I might disagree with some of the participants as to the nature of real magic (my feelings are far more in line with those of Derren Brown, reviewed elsewhere here), this book certainly looks more like a "real magic" book than any others I own (except my first edition Our Magic). It would be at home in a Hogwarts library, or among those books the Scooby gang researched in Buffy, the Vampire Slayer. It will grace your coffee table and enlarge your vision. It's another whopper of a book that justifies its high sticker price, and it's much, much cheaper than it will cost you some day on eBay. $100.
NUMISMATICS -- Todd Lassen makes the best gaffed coins since the Big Bang. Todd has recently changed his web address and upgraded his web site. Check it out from our Favorite Dealers page.
September 2003
With Halloween looming, it's fitting that a couple of the products examined below delve into aspects of performing "real" magic. Plus great baby news, buggy coffee, coin tricks that just might be real magic, and a master business session with Paul Daniels. Next month will be a very busy month for all. In case we don't speak until then, Happy Halloween.
PRODUCTION TRICK -- Melinda, First Lady of Magic, gave birth on August 24 to a 6-lb 15-oz boy, Mason Ray Evansvold. Mom is doing great, and I can attest that the kid has great lungs. Our warmest congratulations.
ABSOLUTE FUN -- The ads for Derren Brown's Absolute Magic feature a serious face and the serious warning that this is not a book for "the casual reader nor one who is easily offended." The ads fail to convey that the book is seriously funny, one of the wittiest I've encountered in a while. Even the occasional profanity is brilliant; this is stuff I can use! (Derren's characterization of therapists easily applies, say, to attorneys or national leaders or any other groups or individuals you wish to disparage.) I laughed aloud at his remarks re Jeff McBride, Guy Hollingworth, Cameron Diaz. With both wit and wisdom Derren Brown makes a case for more effective magic, his own take being that magic played for real is strong stuff: "Real magic would draw you in, and make you nervous." Such thinking is in vogue lately, with roots in Paul Harris's The Art of Astonishment and in much of the work of David Blaine, but Derren Brown breaks new ground in his analysis of what magical entertainment is, and how to enhance the experience. He makes a strong case for his model while insisting it is not the only one (indeed, it would be a terrible world if all magicians suddenly attempted to become "mysterious"). He does insist that you think about what it is you are doing out there, which in its simplest terms is "to give a fresh bunch of people an unforgettable time." Time spent with this book will help you reach that goal. A 251-page hardback from H&R Magic Books, $40.
MORE LOOSE CHANGE -- Last month I praised Reed McClintock's Coin Ovations. This month I also watched Reed's The Coin Patriot, a DVD with five more incredible coin tricks that I will never do but which are terrific fun to watch. I was reminded of those vintage "Miser's Dream" drawings where the magician secretes numerous coins in his hands. On a couple of these Reed produces lots of coins from seemingly bare hands. This is first-rate magic. $30. Also interesting from Reed is "Stars and Hexes," with a gimmick that allows you to stamp a design on yourself or a spectator at will, or to cause the same mark to vanish. A new approach to the Heba Haba Al sugar cube trick. $30.
YIKES -- Caffeine Rush by Vincenzo Ravina is a spendy little booklet at $15, but it's a cool way to turn a cup of hot coffee into a cup full of live bugs (or coins or coffee beans or whatever). Is this how Criss Angel did it on his first tv special? Maybe not, but it's a practical approach, and just what some of you may be looking for this Halloween.
TWO FROM ACROSS THE POND -- Paul Daniels' new DVD, Highlights of Paul Daniels Masterclass, is self-illustrative. In his discussion "How to make more money from every show you do," Paul advises upgrading the name of your show, just as Starbucks upgrades the names of its coffee sizes. Accordingly, when Paul toured this country a year ago with his lecture on the business side of magic, he didn't present a "lecture"; rather, he presented a "masterclass." Magicians, including many well-established and well-paid professionals, paid accordingly. (Or, I wonder suspiciously, did Paul seed his attendance with gratis slots for the big names, as their presence certainly added to the allure? I think not, for Paul reminds me of what someone once said respectfully of Dick Clark: He will go anywhere and do anything for that extra $5000. Why not have the famous lads pay as well?) The DVD is also an example of adding value to each show you do. By having filmed the lecture (excuse me, masterclass), Paul earns additional money by marketing the tour to we poor sots who were unable to attend the live sessions. It's awe-inspiring to hear someone speak of setting a goal of $400,000 from magic for a year (which Paul did to replace a Thames-flooded home) and of how to reach it. It's a meaty, educational, and entertaining talk by a man with real credentials. Additional menu selections include "Dreams, Goals & Ambitions," "Selling Yourself and Your Shows," "Managing Your Money," "Business Cards," "Getting a Gig in a Restaurant," "Creating an Act," and 11 others. Along with this DVD came another by Paul, Inner Secrets of Professional Magic. This is a trick video with a dozen or so simple items (including the classic force and the boomerang rubber band that I've seen Chris Kenner kill with) nicely routined to look like real magic. My only complaint about these two DVDs is that they don't contain enough of Debbie McGee! Like Bob Hope, Paul should know what makes him popular with the troops. $35 each.