The 43rd Magic Collectors Weekend is in the books,and it was a fine third Chicago production by Magicana's hardcore team of David Ben and Julie and Sandra Eng. I love to attend as I get to be a kid again: many of the participants are actually older than I am, yet all seem to have a teenager's enthusiasm for magic.
OPENERS -- Hosted by Tom Ewing, the opening day's Tricks Old and Seldom Seen segment always provides memorable moments. The first of these for me was a pair of color changing Deland cards, demonstrated by who else but Richard Kaufman. Richard promises to have the Deland book out this year, and it should be sensational. Last year at this time, Gale Molovinsky made Julie Eng's head vanish via some U.F. Grant prop. This year he made it slide around like a die in a Die Box, to her similar discomfort. It's hilarious that he bothers to construct these crazy gadgets.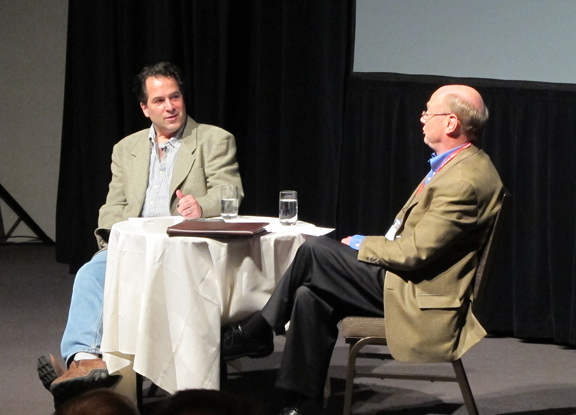 The Kaufman and Hagy Show.
HONORABLE MENTIONS -- This year's honorees were Richard Kaufman and Jim Hagy. In a departure from the normal format, the principals interviewed each other. Richard and Jim complemented each other perfectly, and the format was ideal for showcasing two very different and interesting lives. The most fascinating nugget re Richard is that he financed his house by selling off 800 magic sets, and he financed the purchase of Genii by selling off his collection of James Bond posters. Collecting can be profitable! The most fascinating re Jim is that he started a monthly magic magazine at age eleven (!) and attracted contributions from dozens of famous magicians. His exploits as a young performer, with a program of 29 tricks in 30 minutes that required the client to drive him to the venue and back, were similarly impressive. (Later, when I visited his booth for the hundreds of pages of freebees he was giving every attendee, he was able to list off the 29 tricks for me!)
TALK SHOW -- I attended all the talks this year and found something to enjoy in each. Some of the topics were all over the map, some in clusters (there was a small Hoffman cluster, a larger Houdini cluster). With no disrespect intended to any not singled out, here are a few that resonated with my own interests:
"Guests & Ghosts of 278" by John Cox was my favorite of the Houdini group. Mr. Cox uncovered a guest sign-in book kept at Houdini's brownstone (he lived there 1904-1926) and kept going long after his death. The signatures revealed when S.A.M. meetings must have occurred, when seances must have occurred. A delightful find.
David Charvet presented a history of Emil Jarrow, exciting as it was a preview of a book on Jarrow coming out next month, with all of Jarrow's five most famous tricks fully revealed, with patter.
David Ben filled us in on the magical life of Max Malini with the interesting assertion that most of Malini's magic came directly from Sachs' Sleight of Hand. I shall have to spend more time with that book, as I confuse it with Magic Without Apparatus, which stands next to it on my shelf.
Charlie Miller, aka magic's house guest, was the subject of a 31 Faces North panel discussion in 2004. For those of us 32 and higher outsiders, it was a treat to see a video of this tell-all look at Charlie by some of his best friends.
"The Prophet, the Assassination, the Cult of Doom, and Top Hat Magic" by Diego Domingo wins as title of the year and was the story of a Reverend Ike wannabe whose godlike powers came from a plastic Lota bowl.
"Magical Jews - By One of Them" was an update of the talk Max Maven gave at the Skirball Cultural Center in L.A. last year. Max made the case that Jews account for about 20 percent of the magicians you know by name, a higher than expected showing, and he posed five theories on why this is so. Although the scholarship was interesting, it was just fun to watch so many beloved faces projected onto the screen, climaxing with my favorite, that of Carl Ballantine.
Mark Wilson and Nani Darnell were on hand to introduce a video montage of their life in magic and to answer questions posed by a room full of lifelong fans. An interesting trick in the video was a McDonald's Aces done with no Elmsley counts. Mark and Nani rated a standing O at the end of this encounter.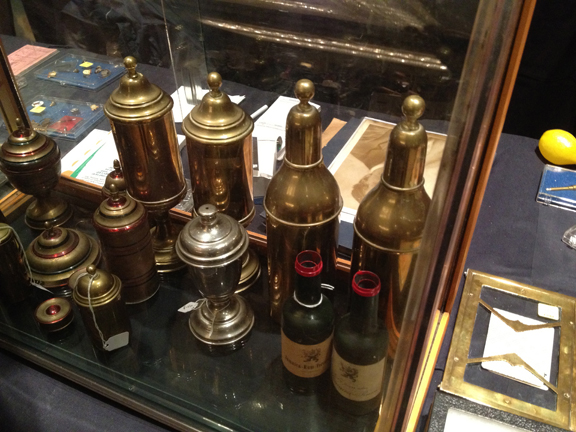 Shopping at MCW.
THE SHOPPING MALL -- The dealer room seemed to be doing brisk business throughout the weekend. In addition to the usual suspects, it was nice to see Mario Carrandi in the house. I'll mention a couple of my purchases elsewhere in this sheet (Smoke and Mirrors, Ireland's Yearbook 1961). I also acquired a pristine Nelson catalog (number 27; mine of that era has been read to shreds over the years) and a new book on Charles Dickens by Trevor Dawson. Trevor gave a well-received talk,and physically the book is beautiful. On the down side, Ian Keable poses serious challenges to the scholarship in this blog. Finally, I placed an order for the Jarrow book, due in June.
SHOW TIME -- The big Saturday night magic show transpired this year in the guise of a vaudeville performance at the McVickers Theater in Chicago, May 12, 1912. An opening Bioscope featured rare footage of the Titanic and its aftermath and such great entertainment as a singing duck. Very funny. David Charvet appeared briefly as Jarrow himself performing the newspaper tree. Later he returned to do Jarrow's Sawing a Lemon in Two among other items. David Ben did magic by Bertram, Miller, and Malini, my favorites being Charlie Miller's Magnetic Knives and Malini's Card Stab. The Surprise guest was Mark Wilson with a streamlined Torn and Restored Napkin and with Silk to Egg. The napkin idea was a clever updating.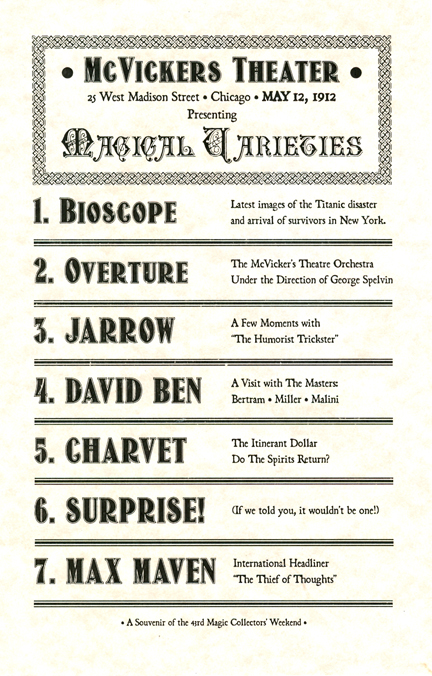 Classic magic show.
And closing was Max Maven with a portion of his Max Maven Thinking in Person show. As does David Charvet, Max has a great voice for show business and could have been huge in radio. The magic was quite baffling and entertaining, my favorite being a routine in which the spectator kept choosing the same card from a deck, under different conditions each time. Normally the magician makes it harder to choose each time (one out of ten, next one out of fifty-two, etc.). Max went the opposite direction, ending with a one out of two choice, and he made this the strongest challenge of the set. You have to see it. And you can, in New York City, June 12 - July 1 at The Abingdon Theatre Arts Complex. The show will be produced and directed by Sandy Marshall and will have lighting by the amazing Jules Fisher. Max has probably never looked better than he will in this show. Meanwhile, for those of us this past weekend, it was a treat to see a preview in Chicago.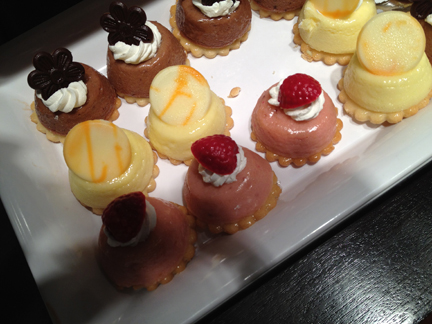 Way off my diet.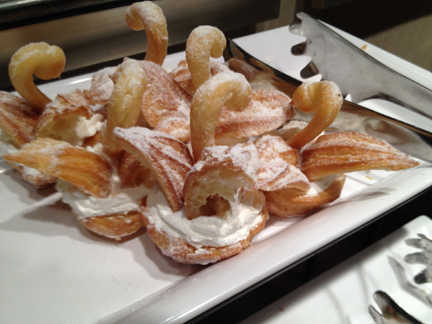 Still farther off my diet.
SWEET JESUS -- The social side of the MCA weekend kicked off with a wine and cheese reception with drinks on Thursday night and closed with a dessert reception on Saturday night. The catering was first rate, and just the idea of having a party on two nights out of three with a small convention (MCA usually numbers around 200) is brilliant. I loved the company, and I fell so far off my diet ...