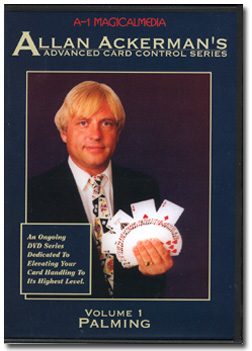 A world of card magic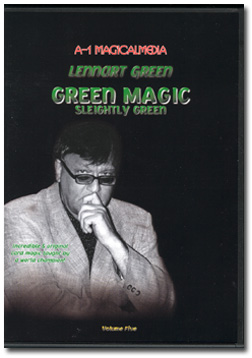 Another world of card magic
IT'S NOT EASY BEING GREEN -- If God did card tricks, they would look like what Lennart Green does with a deck of cards. Here at last on six dvds is magic that is strikingly visual, intellectually stimulating, and--with no gags or one-liners as crutches--achingly funny. Those who have seen Lennart's FISM act (it's all here on Volume 1) have seen cards evaporate as they are dealt into a laser beam, have seen cards from a shuffled deck segregate into colors and suits, and in order, have seen a spectator's phone number culled from a shuffled deck. Lennart's work is a world apart from the rest of card magic. Imagine groundbreaking false shuffles and cuts. Imagine magician-fooling new culls, even a mathematical cull. Imagine a Follow the Leader routine dealing a genuinely shuffled face-up deck into alternating red and black piles. Imagine dealing perfect poker hands from what has to be the world's sloppiest and most convincing series of shuffles.
Lennart Green expresses great reluctance each time he surrenders a valued secret, and who can blame him? They are not just his children, but gifted children. It will take work to learn this material. The individual moves aren't difficult, but they are different from what you are accustomed to performing. They are also sneakily sprinkled throughout the series. Tools necessary to perform Lennart's Volume 2 poker deal don't come along until Volume 4, for example. But what you need is there, sufficiently detailed to reward the patient student and, I hope, sufficiently distributed to discourage the idle curious. Volumes 1-3: $95. Volumes 4-6: $90.
CLUBBIN -- A beautiful book sadly remaindered at Barnes and Noble is Nightclub Nights by Susan Wagner. This handsomely illustrated work covering "Art, Legend, and Style 1920-1960" showcases all the hot night spots of that era. According to Ms. Wagner, "One of the more unusual staples of nightclub entertainment was the fortune-teller," and she goes on to describe how Martin and Lewis as well as Jimmy Durante would parody such acts. It isn't clear to me whether Ms. Wagner is correct or whether she confuses such acts with the magicians of the day. One highlighted in a Rainbow Room poster was Gali-Gali as an "Egyptian Mystifier." While we know him as a magician, to Ms. Wagner he fell into the fortune-telling camp. And so the question is: did Gali-Gali also prophecy during his nightclub stints, or is Ms. Wagner simply mistaken? Write me if you know.
May 2004
May began with one of the best Magic Castle Awards Banquets in recent years. In part because it was dedicated to Roy, there was an extraordinary talent lineup and huge media attention. Congratulations to the winners, namely lecturer Aldo Colomobini, parlour and comedy magician Dana Daniels, close-up magician Whit Haydn, stage magician Kevin James, and of course magician of the year Mac King. This month we wade through a ton of videos and stuff from Allan Ackerman, Scott Alexander, Ken Weber, and Lennart Green. Let's see: Just learn all the stuff from Allan and Scott and Lennart, professionalize it as Ken suggests, and perhaps next year you'll be one of the Castle winners. Also note a book on some of the posh clubs where 20th-century magicians once worked.
SCHOOL DAZE -- One of the pleasures of attending magic conventions in Las Vegas is observing informal card sessions centered around Allan Ackerman. Often, Allan can be seen demonstrating advanced card technique to a group of youngsters or viewing with undisguised joy their own accomplishments. A college math/computer instructor, Allan Ackerman is patient, expert, and just plain nice. I can think of no better educator to pass along the myriad moves of advanced card handling. The complete eight-dvd course from A-1 Magicalmedia contains hundreds of moves and dozens of effects (the Benzais "Oil and Water," to mention one, fooled me badly), all a click away via your computer or dvd remote. You'll want the whole set, but Allan Ackerman's Advance Card Control Series' complete syllabus includes: Palming; False Deals; Controls; Flourishes, Lifts, & Changes; Shuffle Work; The Faro Shuffle; False Counts; and Utility Moves. Although I've long favored books over video, this is a fantastic resource that shows you how the fundamental and advanced moves of card magic should look. Oh, to have had this in my teens. Allan Ackerman is a researcher as well as an instructor, and his own creations are available in a "two-dvd-in-one" volume that combines The Las Vegas Card Expert with Every Move a Move. A treat on this dvd is Allan's anecdotes about Ed Marlo. 150 minutes of top magic, the kind you might have seen a Michael Skinner perform. All dvds mentioned are $35 a pop.
THE LATE SHOW -- According to the latest (Losander, June 2004) issue of Genii, Scott and Jenny Alexander are appearing at Fitzgerald's in Las Vegas, in Two Girls and a Guy. I've no idea who the second girl is, but Scott stars alone in two dvds from Bob Kohler, titled 10 O'Clock Show and Midnight Show. The latter is the prize of the pair, with such treats as new phases for Dean's Box, a monte routine in which water jumps from one styrofoam cup to another, and a coin to cup routine that climaxes with coffee appearing in the cup. The strongest routine is "Shattered," a "dangerous" monte routine in which a broken beer bottle is concealed in a paper bag. My favorite on Scott's 10 O'Clock Show dvd was "Diving Fork," a card stab using a fork rather than a knife, most effectively. "Jumping Jacks" is also a stong routine with four toy jacks. I hadn't seen Scott Alexander work before, but his enthusiasm is infectious and these dvds constitute a pleasant introduction. $35 each.
FROM THE DIRECTOR'S CHAIR -- Although I am suspicious of any book that contains a pyramid as a visual aid (they remind me of every athletic banquet speech I ever heard), Ken Weber's Maximum Entertainment is a fine new how-to book on performing that earns a spot alongside the early books of Eugene Burger, Darwin Ortiz's Strong Magic, and the recent works by Derren Brown. What makes for especially enjoyable reading is that Mr. Weber points out what works and what (in his opinion) doesn't work in the acts of magicians you are familiar with. He also skewers needless words, phrases, and jokes too common in modern magical patter. Ken Weber speaks with a director's authority, and, assuming you can't get David Mamet to direct your magic show, he can teach you how to direct yourself. His detailed advice on scripting, material, appearance, voice, language, humor, sound and lighting, spectator management, and much more cannot help but improve your act or at least reinforce wise decisions you have already made. A fun read unless you are one of the top professionals whose work he critiques, but, hey, you guys can laugh all the way to the bank. Hardbound, 252 pages, $40.