YOU SNOOZE, YOU LOSE -- One of the nice guys I met at the new and improved Magi-fest last month was Scott Robinson, who lectured on the opening evening. Alas, thanks to a personal problem that goes all the way back to an Astronomy class in college, when the lecture was in a comfy hall just after lunch, I tend to nod off during lectures, and because of this I missed some of Scott's information. (Totally my fault, not Scott's. I also nodded off during Dani DaOrtiz's lecture.) I caught enough to grasp, hey, this guy is good, and that left me wanting more. Fortunately the gods (in this case Josh Jay and Andi Gladwin) took care of me by offering a ten-dollar download from Vanishing, Inc. titled Pure Imagination.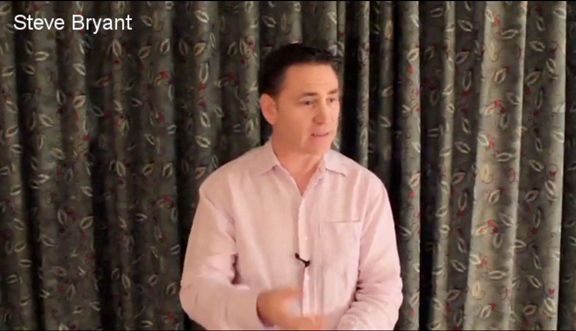 Scott Robinson live (sort of).
Whether you are new or old to Scott's material, you should really enjoy this download. It contains four tricks, including two versions of the Willie Wonka Card Trick and two coin tricks, Differences and Loose Change. The card trick offers a terrific gaffed and an ungaffed effect using a Krenzel vanish in which a card is pushed at right angles between two other cards, and it just melts away. Very visual.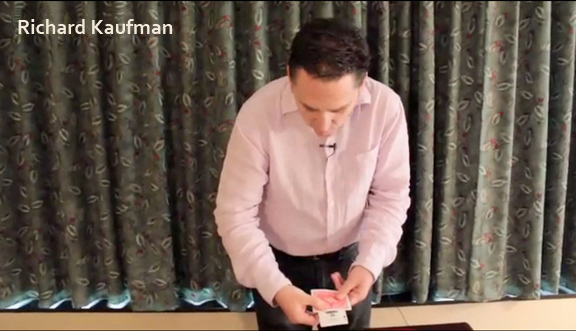 A card vanishes.
In Differences, three silver coins inside a purse change places, instantly, with a copper coin outside the purse. And with Loose Change, my favorite, a nickel (or quarter) almost visibly morphs into a penny, changing places with the penny that was previously trapped in your fist. If you have these two coins on you, you will never be without a miracle. Such a deal. (You can also see Scott do this in the digital supplement to the March Genii.) Josh and Andi have great ways to view your downloads. After paying your ten bucks, you can download the video (they embed your name in it to minimize thievery) and store it or play it at your leisure, or you can log into your account at Vanishing, Inc. at any time later and either view it via streaming or re-download it.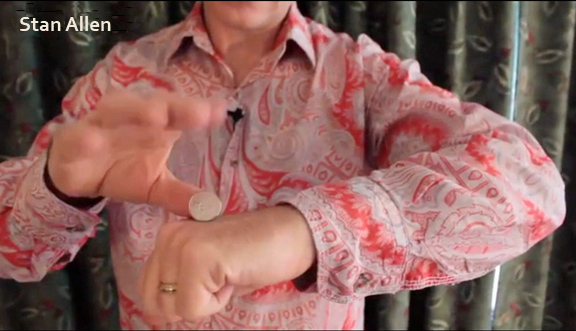 A coin is about to morph.
Getting back to Scott, I dug into the library and discovered that he has published tons of material in The Trapdoor. If you've recently acquired the bound editions, you'll find twelve Scott Robinson items in Volume 3, eighteen in Volume 2, and one in Volume 1. I understand he is working on a book, but, if you just can't wait, the Vanishing, Inc. download and the Steve Beam books are good places to start. (Late news flash: I just received an ad from H&R Magic Books, and they are selling Scott's new Magi-fest lecture notes, Varied Methods. The material sounds terrific. $25.)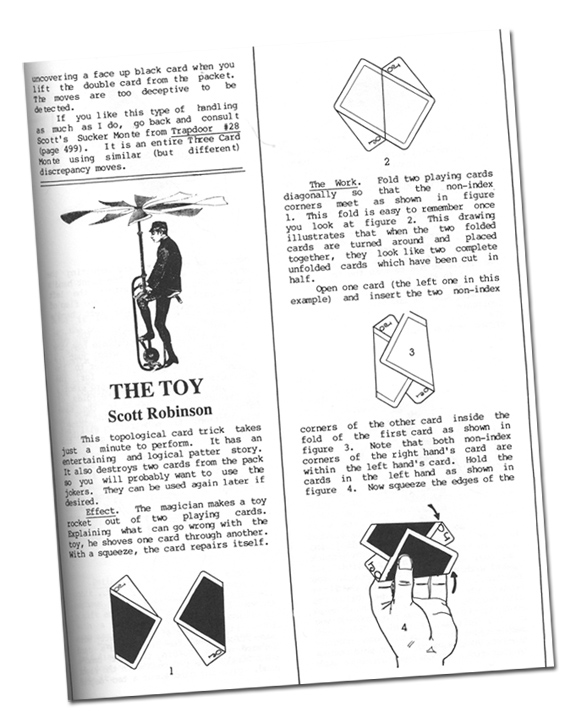 Catch up with Scott in the Steve Beam books.
P.S. I got a C in that stupid Astronomy class.