TALL PAUL -- While in Las Vegas a few weeks ago, I joined a band of magicians including Richard Hatch, Gene Matsuura, Curtis Kam, Allen Okawa, and John Signa (among others) on an evening's field trip to the Mirage. The specific destination was the King Ink Tattoo Studio Bar & Lounge, where mind reader and magician Paul Vigil held forth in an opulent lounge. (Skulls adorned our parlor, while the facilities for the needlework were in an adjacent room and not being used during our stay.) In stark contrast to the Mirage's prior resident magic show, the King Ink show focussed on Paul alone, a soft-spoken, slight man with amazing larger than life powers and a beautifully crafted script. No tigers. Although most of the audience on this night was composed of receptive magicians, I took note of one young lady who gasped throughout the performance; she was as thrilled as her boyfriend at the bar was threatened. Paul Vigil is a force to be reckoned with. The mentalism was exceedingly direct, the coin work was nicely done, and the card work baffling, but my favorite piece of the evening was Paul's McDonald's Aces. Lovely handling, much of it new to me.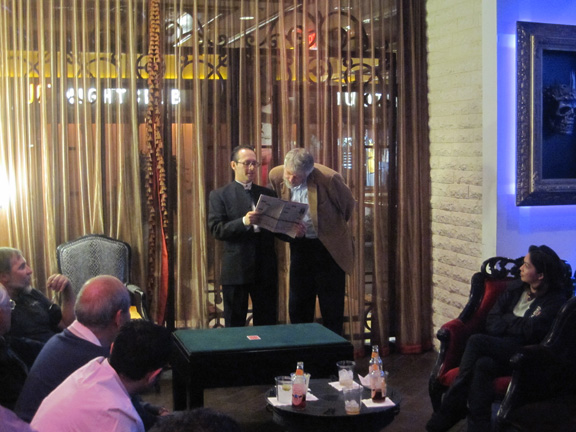 Richard Hatch peruses a paper during Paul's elegant parlor show.
Check Paul's web site for a who's who of testimonials, Dodd Vickers' The Magic Newswire for a podcast with Paul, and the King Ink web site for general information. Dunninger probably never imagined performing in a tattoo parlor, but Paul Vigil has made this the place to be in Las Vegas on Wednesday evenings.
BLIND MAN'S BLUFF -- One of the ruses that fascinates Tom Stone is change blindness, which first came to my attention in his trick Reality Glitch, from the e-book Prey of the Prestidigitator. He returned to the strategy in the March issue of Genii with a fabulous card trick called Cognitive Color Change. As he put it, his goal was "to begin by showing a blue-backed deck, then cause the audience to forget that the deck is blue, so that they will be surprised at the end when the deck is shown to be blue." At least a few readers didn't think it was possible, but I aver that it can. I've soundly fooled groups of engineers with it as well as such magicians as Andrew Martin, Eugene Burger, Tom Frank, Auke Van Dukkom, and Harry Monti. Give it a try. You may even fool yourself.
NAME GAME -- I would be remiss in not dropping a few more names. For the few days that I visited Las Vegas this month, in addition to friends I socialized with, the following reinvigorated my love of magic through their performances and lectures: Jeff McBride, Abbi McBride, Eugene Burger, Bizzaro, Rudy Coby, Jonathan Pendragon, Cody Sanders and partner, Eli and Emma Portala, Reuben Moreland, Jon Armstrong, Simon and Ginny Aronson, Peter Samelson, Stan Allen, James Dimmare, Circe Martinez, Romany, Asi Wind, and the incredible Juan Tamariz. By the way, Jeff McBride really knows how to throw a party. Join him live at the Wonderground, third Thursdays in Las Vegas.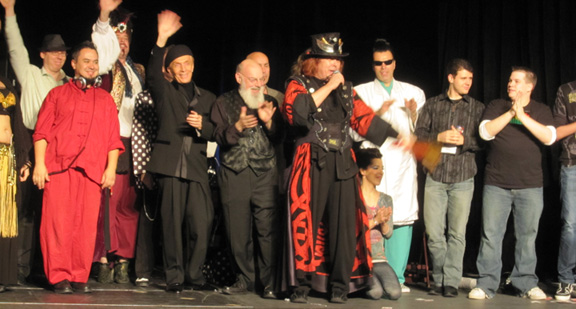 The cast of Wonderground.